You can click the above post to read our pre-cruise and cruise trip. We were heading to Orlando as soon as we disembarked our cruise ship.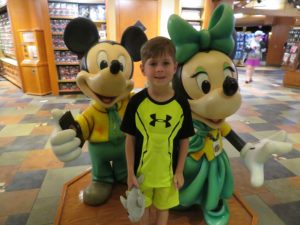 We had reserved a shuttle from the cruise terminal to the Orlando Airport since that's where everything seemed to run to. We used Cortans Shuttle Service which was $80 for the 4 of us 1 way. We met the Cortrans staff right outside of the terminal and they got us loaded into a mini-bus with about 7 other people and we headed for Orlando airport.
He asked us which airline (to know where to drop us off) and we told him we didn't care. He was perplexed but went along with it. He dropped us off at the airport and we walked down to the area where we would catch an Uber.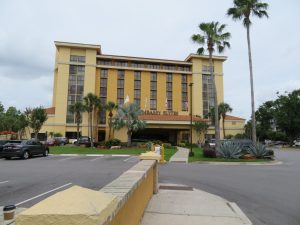 I booked an Uber and they were there in about 3 minutes. They took us to our hotel and it was $34.41 for a 19 minute ride in an UberXL with Oreste, to International Drive.
I had booked us the Embassy Suites by Hilton on International Drive through booking.com. It was 2 rooms with 2 queen beds and a couch bed. It was $614.25 for 4 nights.
We arrived at the hotel and checked in early. We went to our room and dropped off our luggage. The hotel has free breakfast so we went downstairs to grab some breakfast.
The hotel was very busy because MegaCon was happening at the convention center. That crowd would die down on Sunday though.
PRO TIP: If you stay here and they aren't full, run your hot water for a few minutes if you're on a high floor before you shower. Otherwise it tends to take forever.
PRO TIP: Be sure to get a room that doesn't face I-4 because it's noisy.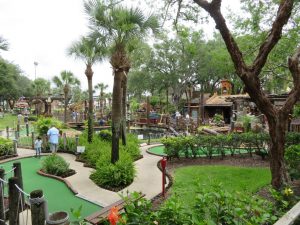 After breakfast we decided to walk across the street to play putt-putt at Pirates Adventure Mini-golf. It wasn't too busy nor hot. We played the first round of 18 and it was so nice, we decided to play the other part of the course for a total of 36 holes.
By the time we reached hole 36 we were super tired. We ended up walking up to Denny's for some lunch. The service at this Denny's was horrible. The food was good, but the service sucked. That was $63.54 wasted.
After we finished at Denny's we went back to the hotel to rest for a little bit. Finally after we rested (aka mom took a nap) we decided to go to Disney Springs to do some shopping and grab dinner.
I called for an Uber and they were there in about 3 minutes. It was $14.07 for the 32 minute trip from I-Drive to Disney Springs with Emma in an UberX.
We ended up eating at D-Luxe Burgers in Disney Springs. The food here was very good, the burger was huge. It was a great spot for us to have dinner. We all got hamburgers and a drink and the total was only $69.55.
After we ate, we did some shopping in Disney Springs. We ended up going in Ghirardelli Chocolates and spending $27 on chocolates. However our best purchases were 2 Disney paintings as well as a Disney figurine of Mickey Mouse painting a portrait of Walt. The figurine and painting was only $150 for the both of them. My wife spent $50 on the painting she liked.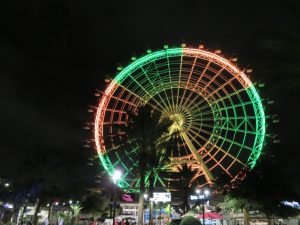 After we finished at Disney Springs, we decided to head back to I-Dr. We called for an Uber and Fredo picked us up in his UberX. It was $14.61 to get from Disney Springs back to I-Dr.
We didn't have any packages since we had Disney ship all of our purchases back home (which arrived today via UPS btw, 6 days after our purchase).
When we arrived back on I-Dr, we walked down to the Orlando Eye. I had pre-purchased a combo pass for the Orlando Eye and Sea Life Aquarium from TicketsAtWork before we left.
We got on the Orlando Eye and went very high up. After that, we went back to the hotel to call it a night. We were beat!!!
We slept in a little this morning. We finally rolled out of bed around 11:30 and got motivated. Primarily because we were hungry.
We wanted to go to Universal City Walk, so we called for an Uber and off we were. From I-Dr to Universal City Walk was $6.92 for the 13 minute ride with Harrison in an UberX.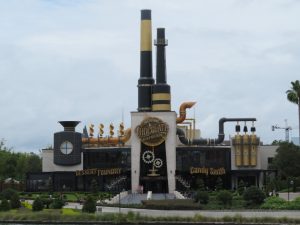 We got to Universal City Walk and went through security and into the area. We ended up going to the Toothsome Chocolate Emporium for lunch. This place was awesome! They had awesome food and awesome deserts.
After we ate we walked around Universal a little bit just checking out the shops and things there were to see and do there. It was a nice place, very clean and lots of places to eat if you were hungry.
After we left Universal City Walk, we wanted to go to the Chocolate Kingdom Factory and do the adventure tour. We called for an Uber to pick us up at Universal and take us there. It was $11.21 for the 17 minute ride in an UberX with Ramon.
This was a neat little place. The tours were very overcrowded (or people just weren't watching their kids). The one guy working up front was so swamped, he couldn't keep up.
I did enjoy the tour though and learned a lot about the history of chocolate, how it's made, etc. I did enjoy it. It was $55.17 for the 4 of us to get in.
Once we left here, we hopped on the I-Ride Trolley and went down to the mall where we would go to Putting Edge Blacklight Minigolf, which we had purchased on Groupon. It was 2 rounds for $44 for 4 people. It gave us something to do.
It was a neat indoor blacklight putt-putt course. It would have been a great time had the kids not been arguing. That ruined it for us though.
So we walked across the street to some outlets. Mom went to the VF Outlet while me and the oldest went to the Nike and Under Armour Outlet. It was somewhere to shop and something to do.
Once we were done shopping, it was time to eat again.
Actually I never realized how much we ate until I started this blog. Anyway, we caught the trolley and went up to our favorite restaurant, Uno. We love going to the one inside Union Station in DC and in Inner Harbor in Baltimore.
The one on I-Dr didn't disappoint. We were just so tired after this though.
Once we ate, it was late. In fact it was almost 11pm and my youngest had fallen asleep in the booth. So we called for an Uber to take us to the hotel (trolley stops at 10 or 10:30). It was $6.51 for the 2 minute ride in an UberX with Wilfredo to get back to the hotel.
We got back to the hotel and crashed. 
We knew we wanted to spend the day at SeaWorld because it would take all day to see and do things. I had purchased a code on Ebay for $3 before we went for discounted tickets. That code saved us about $70. I ended up getting the 1 day pass with deluxe dining.
We took the trolley to SeaWorld and arrived around 9:30. We watched the dolphin show, went to see the penguins, saw the otters, saw some sharks, and rode some rides. We also ate and then saw the killer whale show at Shamu Stadium.
It was a fun day at SeaWorld. The kids enjoyed the rides, the shows we okay. My thought is this… If you enjoy theme park rides, SeaWorld is a fun place for you to go. If you would rather see the aquatic animals and the shows, Miami Seaquarium is MUCH better. The shows at SeaWorld aren't half as good as they are at Miami Seaquarium.
Once SeaWorld closed, we headed back toward the hotel on the trolley. When we got back, we walked across the street to Hooters for dinner. The service here was worse than Denny's. After a 40 minute wait and the manager coming to apologize I told him if the food wasn't here within 5 minutes, we would pay for our drinks and go to a decent restaurant. They weren't even busy!! Finally the food came, we ate and left. Now honestly my food was terrific. The service killed it though.
Today we wrapped up anything we wanted to do in Orlando.
First we walked down to Sea Life Aquarium which is at the Orlando Eye. We have one of these in Charlotte which I haven't been to but I wasn't too excited about it, I figured it was fairly small. Boy was I wrong! It was a very nice aquarium and my youngest son was very intrigued by some of the fish. The best part is they had tablets next to each exhibit explaining about each fish. He stopped at every single one of them and read them. He learned a lot!
Once we left the aquarium, we took the trolley down to the Epic McDonald's. Now I hate McDonald's but my youngest loves it, so what's better than going to the largest McDonald's in the world? They had self serve computers where you place your own order which is great. They also serve pasta and pizza.
I ordered a pizza and surprisingly, it was pretty good. The meal was cheap, only $33 for all of us to eat. It was a fun experience at least.
After we finished there, we went to the hotel to go swimming. We just wanted to relax today. We swam, mom slept.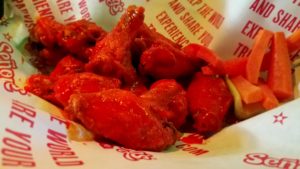 After mom woke up and we were done swimming, we walked across the street to Señor Frogs for dinner.
The service here was great and the food wasn't bad. I did order chicken wings and they were kind of small but not bad at all. This was our last meal in Orlando. 🙁
We finished our food and walked back to the hotel.
Our hotel offers free alcohol and snacks between 6-7:30 each night so we sat in the atrium and ate/drank and played Uno.
One of their representatives was "selling" a package for $250. You could get a 5 day 4 night stay at 1 of 4 Hilton properties and 1 of the areas was Myrtle Beach. As part of this, you agreed to attend a 2hr timeshare sales pitch. After that, you got your $250 back + $100 voucher for any Hilton.
Now let me say I hate Myrtle Beach but a free vacation is a free vacation, right? We've done several of these timeshare pitches before to get the free vacation out of them. What's 2 hours wasted if we get a free 5 day trip out of it? So I purchased it.
Now we have at least 2 vacations and our cruise lined up for 2019.
After that, it was time to head to the room and pack up. We have to get up early tomorrow for an early flight. 🙁 
We woke up at 3:30 this morning to get ready to head home.
We had our bags packed so we headed downstairs and called for an Uber. An UberXL was there within 5 minutes and it cost us $29.98 for the 20 minute ride to the airport with James. He got us to the Southwest terminal and dropped us off.
We used the Skycap to drop our luggage then get through the massive security lines at MCO.
Then we caught the monorail to the next building to get to our terminal where we would wait for our flight to board.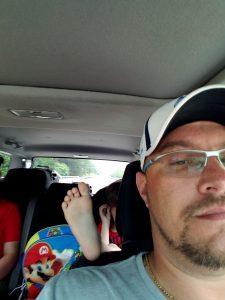 We got boarded and comfy for our flight back to the Carolinas.
We were supposed to arrive early but got stuck in air traffic around Raleigh.
We landed safely at RDU though and got our luggage. We walked outside and called Days Inn to come pick us up and take us back to our car. The Days Inn driver took us right to our vehicle. We got loaded up and drove across the street to Cracker Barrel for some breakfast.
After we ate, we hit 86n to head home.
We made it home safely around noon. We got unpacked, and relaxed the rest of the day.
This was a very fun vacation. We saw a lot, learned a lot, and had an excellent time. I cannot wait to head out on another vacation on another cruise in July.
Thanks for taking the time to read this and if you have any questions, feel free to ask!
[rl_gallery id="1688″]