Why should I decorate my cabin door?
When you stay at a hotel, it's very easy to know where your room is. All of the rooms are labeled with a room number, and the app you use to get into your room has the room number, or if you're at an old hotel that still uses key cards, the sleeves have your room number.
This is different on a cruise ship. The first thing you need to do, is remember your cabin number. Your sail & sign card does not have your cabin number on it. Then you need to remember what deck it's on, and which side (port or starboard) and the location of it (aft, fwd, mid?). After you're in the general area, then you have to remember which cabin is yours. Once you add a few adult beverages to the mix or even have small kids, it gets impossible to find your cabin.
Decorating your cabin door on a cruise can create a festive, personalized atmosphere that makes your voyage more memorable and enjoyable. Cabin doors are an excellent canvas to showcase your unique style and personality through decorations that range from simple, subtle accents to more elaborate and elaborate displays.

Adding decorations to your cabin door can also make it easier to spot your cabin within the sea of similar-looking doors in the hallway. Moreover, decorating your cabin door can be a fun activity to do with your traveling companions, whether they are family members or friends. It can foster a sense of camaraderie and connection among everyone on the cruise.

Finally, decorating your cabin door is a relatively low-cost way to add some extra personality to your cruise experience.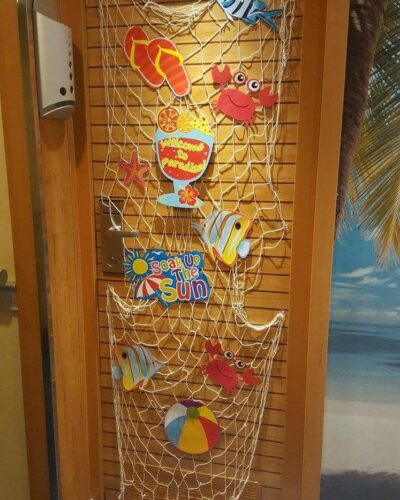 There are a few simple rules to follow when decorating your cabin door. As long as you follow the rules, the steward will leave your décor in place and you'll have a cabin door that's easy to remember, and that stands out. Here are the guidelines for decorating your cabin door and stateroom.
Decorating your cruise cabin door is a great way to add some personality and flair to your cabin. Here are some ideas to get you started:
1. Use magnetic decorations, such as letters, shapes, or characters, to spell out your name or create a fun design.
2. Create a banner or garland using light-weight materials, like paper or fabric, and attach it to your door with adhesive strips or magnets.
3. Print out photos or graphics that represent your interests or hobbies, and create a collage on your door using magnets.
4. Write a funny or inspirational quote on a chalkboard or whiteboard, and hang it on your door with a ribbon or lanyard.
If you're cruising over a holiday, you may want to decorate your cabin door in a holiday theme. Perhaps Easter eggs, or pumpkins or maybe candy canes on your door. You can also just be patriotic and put a flag on your door. 
You may be super proud of where you're from and want to decorate your door with something displaying where you're from. Maybe pictures of Niagra Falls, or a Texas rodeo or perhaps a beach theme. 
This is common and easy. Decorate your cabin door with items from your favorite sports team. Perhaps colors from the team, the team logo, pictures of players, etc. Just be prepared for feedback from opposing fans if you go this route. 
You can use pictures or themes of the ports you're visiting on your cruise. Perhaps ruins in Mexico or flamingos in Aruba. 
One easy way that many cruisers decorate is by personalizing a door banner. This is the easiest and quickest method to decorating your cabin door. You can order a custom banner from Etsy or CustomCruiseWear on durable vinyl where you can roll it up and use it on many cruises to come. If you're going to make your own banner, the common size is 18″ x 54″ for your banner to fit the cabin door.
Are you planning a trip but worried about unforeseen events ruining your plans? Look no further than InsureMyTrip.com! Their website offers a comprehensive range of travel insurance options to protect you against unexpected trip cancellations, medical emergencies, lost baggage, and more. Compare and choose from their top-rated providers to find the perfect policy to fit your needs and budget. Plus, with their 24/7 customer service and support, you can travel with peace of mind knowing they're always there to help. Don't risk losing your hard-earned money and precious vacation time – visit InsureMyTrip.com today for your travel insurance needs! Love2Cruise highly recommends InsureMyTrip.com for hassle-free travel protection.