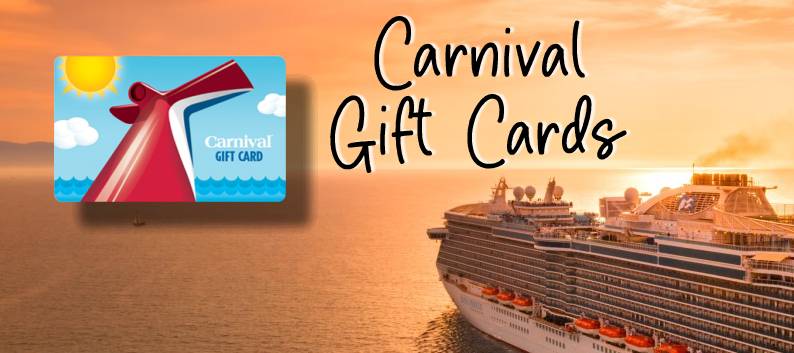 Save money with gift cards!
To save on your cruise vacation without sacrificing quality, consider using discounted gift cards. Many online and offline stores offer these gift cards with discounts ranging from 10-20% for various cruise lines. Before purchasing, compare prices and review the terms & conditions to ensure the gift card fits your planned cruise. In summary, discounted gift cards are a great way to reduce costs and enjoy all the amenities of your cruise without breaking the bank.
With Carnival, if you pay for something with a gift card and then cancel your order, your funds are placed on a new gift card and will be shipped to you via FedEx.
When you purchase gift cards for Carnival Cruises, you can use them for anything as there are no restrictions. You can use them to pay for your cruise fare, on-board spending, excursions, dining, drinks, casino, photos, etc. 
Once you purchase your gift card(s), you can apply them to your balance or any Fun Shop purchases prior to your cruise. Once on board, you can either pre-load them onto your sail & sign account, or you can go the last day of your voyage and pay your on board spending balance with them.
I highly discourage purchasing Cruise Cash of any sort since it's use it or lose it. 
With Royal Caribbean, their gift cards are restricted to only the cruise fare. They are very limited with theirs.
Norwegian ended their gift card program in 2021.
Where to buy the gift cards
Save 5%
Target
As a RedCard member at Target, you have yet another way to save money! You can use your RedCard to purchase gift cards and receive a 5% discount every day. Whether you're gifting someone for their birthday or using gift cards for yourself, using your RedCard to make the purchase will ensure you get the most out of your money. This discount applies to a wide variety of gift cards that Target offers, from restaurants to clothing stores to streaming services. So, next time you're at Target, be sure to use your RedCard to save 5% on gift cards and maximize your savings!
Save on gift cards at Costco
Costco
Occasionally you will find gift cards at Costco for cruises. These can be found in store more than online, but keep a look out. Also booking through Costco Vacations is a great way to save money.
Save 10% at Allstate Rewards
Allstate Rewards
Allstate Rewards encourages safe driving and rewards policyholders with points that can be redeemed for discounts on popular retailers such as Amazon, Walmart, and Starbucks. Users can earn points by driving safely and can save up to 10% on gift card purchases with a discount code.
Earn 4x fuel points
Kroger
Earn 4x fuel points at Kroger by buying gift cards. For every dollar spent, shoppers get four times the usual fuel points, saving money on gas purchases. This offer applies to qualifying purchases, including Visa and Mastercard gift cards. Redeem fuel points for discounts on fuel purchases at Kroger or partner gas stations. Customers can also get the gift cards that they need for themselves or loved ones while saving on gas.
Save 10$
AARP
AARP offers a 10% discount on gift cards from over 20 popular retail brands, which can mean significant savings for members who frequently shop at these retailers. Membership also includes discounts on travel, dining out, and other services. Additionally, members can access exclusive resources and information on important areas such as health care, retirement planning, and financial management through the AARP website. Joining AARP and using the gift card discount is a smart way to save money.
Get up to $300 credit
American Express
The American Express Cruise Privileges Program offers exclusive benefits for Platinum and Centurion Cardmembers when booking a cruise through American Express Travel. These benefits include onboard credits, free shore excursions, and stateroom upgrades on select sailings with participating cruise lines such as Azamara, Crystal Cruises, and others. To access these privileges, Cardmembers must book through American Express Travel and identify their status. This is a wonderful way for Cardmembers to enjoy their cruise experience with exclusive benefits that are not available to the general public.
Are you planning a trip but worried about unforeseen events ruining your plans? Look no further than InsureMyTrip.com! Their website offers a comprehensive range of travel insurance options to protect you against unexpected trip cancellations, medical emergencies, lost baggage, and more. Compare and choose from their top-rated providers to find the perfect policy to fit your needs and budget. Plus, with their 24/7 customer service and support, you can travel with peace of mind knowing they're always there to help. Don't risk losing your hard-earned money and precious vacation time – visit InsureMyTrip.com today for your travel insurance needs! Love2Cruise highly recommends InsureMyTrip.com for hassle-free travel protection.