Carnival Splendor
May 27, 2017
Day 1
Embarkation, 4 ports, 3 days at sea
We woke up fairly early to load the vehicle to return it to FLL and go to our ship. This day was different though, because this was Sunday and the festivities in Miami Beach were starting to heat up. All of the residential streets were closed in Miami Beach so the traffic was crazy getting out. I was in a residential area which was good to keep traffic off of our road but bad when trying to get out.
We finally made it out of our neighborhood and stopped at a CVS next to the apartment to get everyone soda to take on the ship with us. If you cruise with Carnival, each person is allowed to take a 12pk of canned soda on with you. So we took 48 cans with us.
We then headed to FLL to drop off our rental car. No issues there except they thought the car I was returning was the one I totaled. Once I got that straightened out, we went downstairs and out front of the airport and called for our Uber to pick us up. Within 3 minutes our Uber arrived. Eduardo was our driver for our Uber XL which he had a black Yukon which was super nice. The trip took 17 minutes/8.19 miles and cost $29.56. Again that was for an UberXL which we needed a large vehicle to fit all 4 of us + our 4 suitcases + our backpacks + our sodas. A regular Uber would of been around $12. Anyway. Eduardo got us loaded and delivered safely to Port Everglades.
Port Everglades was great. Very secure, very organized. We arrived to the terminal around 10:30am There were a ton of people waiting in line outside, I'd say a few hundred people. However, we had Faster To The Fun (FTTF) booked through Carnival which is where you can pay to have platinum perks. We skipped the entire line and went straight in. We didn't wait behind a single person at any given point. When we went through security, my handle broke on my sodas causing it to fall. Well, 1 can busted and there was soda everywhere. I was so embarrassed. Thankfully we had a Target bag so I put my sodas in there. We were then lead to the waiting area where we waited until the "all clear" was given to board. We were the first group to board since there was no wedding parties on our ship. There were a few other diamond/platinum guests but not a ton of them, so our entire group went first. It was great.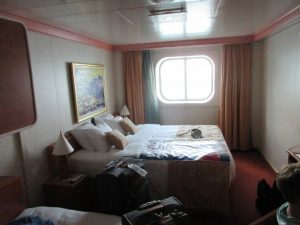 Once we embarked the ship, we went straight to our room and got our sail & sign card from our mailbox and went in our room to drop off our carry on luggage, wash the drink cans and put everything down. Our luggage came very shortly after. After we got settled into our room, we went up to Lido Deck to meet everyone from our Facebook roll call. We had a roll call on CruiseCritic that had a total of 6 people in it. Our roll call on Facebook had over 160. So on Facebook we all agreed to wear pink and black beads on Lido on day 1. We were able to find some people we had chatted with for the last year and meet them. All great people. Last year we met 1 really odd couple. Well, her specifically. Very strange, lots of drama. They never even left the ship in ports. That's another story… Anyway we just toured the ship checking things out. We grabbed a bite to eat to kill time until 4pm. Finally at 4pm that emergency alarm we had been waiting on, went off. IT WAS MUSTER TIME!! We went to our assigned muster station which was Muster D. It took about 45 minutes which was hell for me because my sciatic nerve is messed up and I was almost in tears standing there. Finally muster was over, and it was time to get the party started! We went back to lido to listen to the horn blow and watch us sail away from Port Everglades in Ft. Lauderdale!
The confetti shot out, the horn blew, the music cranked up and we were off! Everyone was dancing and I ordered my first (of many) Kiss on the Lips on this cruise. (I've had this before, this was just my first time this cruise). I love this drink. We partied for a while before heading down to get ready for dinner. I say "get ready" which meant, using the bathroom and my wife fixed her hair. We all wore what we had on which was regular shorts with t-shirts. Our assigned MDR was The Black Pearl which was nice because it was on level 3 with the entrance at the atrium. We were on level 2 so it was close. We also always get YTD (Your Time Dining)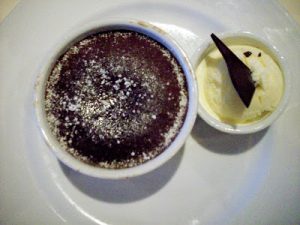 The first few nights our servers were not the greatest. We had 1 server several times who we did not like. The first night however we REALLY didn't like our server. He had NO personality. The other guy we didn't like TRIED to be funny but in his own way. More annoying than anything. The food was much faster on the Splendor than it was the Ecstasy last year. It was also really good. I will say we are all very picky eaters. I promise myself every cruise I will try something different since it's free and I can order as much as I want. I never do though. I stick to the same thing, 2 appetizers of shrimp cocktail and then flat iron sirloin as my main meal. I of course get the warm chocolate melting cake as desert. If you've never been on a Carnival cruise and not had the WCMC, you don't know what you're missing. I get it Mickey Mouse style which has extra ice cream. No complaints at all on the food though. It was all great. Even the food up on Lido and other areas of the ship were awesome.
After dinner we just went back to Lido to see who we could find. We all had the Hub app and paid the $15 so we could chat ($5×3 devices) so my oldest son went and did his own thing around the ship. He was gone most of the rest of the day. We didn't do a lot this day ourselves. We were just tired. I think we just wondered around the ship, getting pictures, talking to people. I know we took our youngest to the kids splash area so he could have fun. Our oldest was up at the basketball court playing basketball. Oh, and eating ice cream, of course.
We woke up and went to The Black Pearl to eat breakfast. We spent the rest of the day going to various events around the ship, just meeting people and having fun.
Then, it was dinner time. We got ready for dinner and went to eat. We had Your Time Dining (YTD) which meant we could eat when we wanted. After dinner, we went to have family pictures taken since we all matched. I love the Pixels photographers on the ship. They're all amazing. My favorite, was Yulia. She was from the Ukraine and took the time to work with us on our poses, took dozens of shots. etc. On the ship there are so many photographers set up around the ship you can stop and get pictures made. Then once they print if you like them you can purchase them. If not, no obligation. It's around $20 for an 8×10. They definitely do a good job though, we ended up purchasing over $300 worth of pictures*. It's great though because you pick the photos YOU like without having to buy some package like you do on land. Pixels is great!!
*Since this posting, Carnival has implemented photo packages where you don't have to spend this much on pictures anymore. Hooray Carnival!
After we ate, we went to a few more shows, went to Lido to watch the sun set, and just played around. I think we may of played putt-putt this day also.
Memorial Day!

As mentioned earlier, we had a roll call on Facebook for this cruise with about 160 members, and a small handful on Cruise Critic. We used Cruise Critic as a platform to get our meet and mingle organized on the ship. This was our second full day at sea and this was when our meet & mingle was set up for. My oldest and I headed up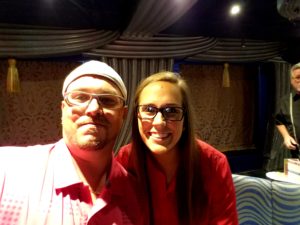 to the Cool Lounge to meet everyone. There were 2 (or 4?) people from Cruise Critic at this meet & mingle and probably 30 from our Facebook group. Not sure where everyone else was. It was listed in the Fun Times for that day and also everyone should have gotten a flyer. It was fun though. Sydney, the entertainment director was there with us and we had drinks and cookies. This was Sydney's first cruise on the Splendor so it was new to her as well. She's a Vegas girl with a very bubbly attitude. We hung out for an hour or so then everyone departed and went their own way. I met up with my wife and youngest and we went to the Dr. Seuss parade. After that, we went to the pool and hung out. Then when time came, we went to the HASBRO Game Show which is really neat. It's HASBRO games brought to real life. On this first show, they did Connect Four and Simon Flash. For Connect Four, each team took turns throwing their colored basketballs into a Connect Four grid to, well, Connect Four. Simon Flash each person wore a color box that changed colors and then the board showed a color pattern. Then the team had to organize themselves in the respective pattern. It was fun to watch.
A little girl ended up winning all of the "loot", which was a prize pack from HASBRO. All runners up won a game from HASBRO. The game is rigged (I assume) to let the small kids win but that's great. They have the most fun doing it anyway. This was definitely a fun show!
After the HASBRO game show, I headed over to the "name that tune" trivia game with DJ Atomic. This was fun, I sat with Tasha, Eric and company that I had met on the roll call. Very fun people. Eric was hilarious. Especially doing the Cotton Eyed Joe dance with DJ Atomic. I didn't win. BOO!
Since this was Memorial Day, lots of people gathered in the atrium for a moment of silence. It was very touching. All of the vets were honored there and was just a very patriotic moment.
After the moment of silence, I went to lunch at my favorite lunch spot on the ship, the BBQ restaurant. I was surprised so many people didn't know about this place or couldn't find it. For those in the future, it's on 10 aft. If you go to the burrito bar, walk up the stairs across from it going up behind the desert bar.
Afterwards we went back to the cabin and took a nap. We knew we wanted to stay up late tonight, so we wanted about an hour nap. We got up and got ready for dinner. Went to the MDR and got the normal dishes. It was as good as always. After dinner, we went and got some more pictures taken of the family since our oldest was with us again. He's 13 so it's hard to get him to want to be with us around a ship when there's so much to do. However he did blow $50 at the arcade on day 1 so he was pretty bored since I wouldn't load more money onto his card.
After dinner, we talked him into babysitting our youngest for us. He stayed in the room with our youngest and they played and watched TV and went to sleep. Mom and I had a night out! First we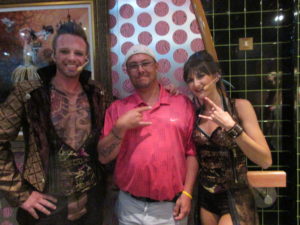 went to the production show, "Epic Rock" by 88 Keys. I must say, they rocked. So many reviewers gave them bad reviews but we loved them. We met them after the show and had a more personal conversation with 1 of them, Kay from the UK. She was super awesome. We are now in contact and will remain friends moving forward.
After we left the Epic Rock show, we went to the casino to waste a few hundred dollars. I think I went through a couple of hundred dollars faster than there were that many seconds. My wife on the other hand loves the quarter game, where you put a quarter in and it knocks down quarters. Typical game you see at a fair or somewhere. She did win some, including some cocktails, Players Club shirts, and some cash. I was proud of her. By this point however, we were tired and knew we had an early morning. So we headed back to the stateroom to wind down for the day and go to bed. Both boys were knocked out when we got back. I knew they were tired.
This day has a dedicated post. Click on the link below to read about our day in St. Maarten. 
This day has a dedicated post. Click on the link below to read about our day in St. Kitts. 
Day 6
San Juan, Puerto Rico
This day has a dedicated post. Click on the link below to read about our day in San Juan.
This day has a dedicated post. Click on the link below to read about our day in Grand Turk.
This is our last day at sea, how sad. An 8 day cruise can go by so fast. I don't know how people do the 4 day cruises. 🙁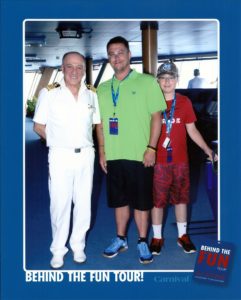 This day my son and I had to be up early since we had booked the "Behind the Fun" tour. The security on this is TIGHT. No cameras, no phones, no nothing. Security is strict.
First we went to the bridge where we got to meet Captain Carmelo Marino, see all of the ship controls, how the ship operates, everything. It was so cool! After we left the bridge, we got to see the morgue, the clinic, I-95 which is the hallway going the entire length of the ship, crew quarters, crew mess, crew galley.
Then we went to see the main galley which was awesome. It's amazing they can feed 3,000 people per day. It's awesome to see how it's all done. Then we saw the laundry room which was pretty cool. We saw the storage rooms, engine rooms, control rooms, everything. We went to the front of the ship and got a picture. We ended the tour in the steakhouse where the chef there gave us a lot of information on steaks. It was definitely worth the money for this tour. I think it was $95 for each of us. I'd do it again. In fact we plan on doing it on the Magic and Conquest next.
While we were gone, mom and youngin' went to the towel animal theater where they teach you how to make towel animals, then the animals "come to life". Youngin' really liked it.
After our Behind the Fun Tour, we went to find mom & younger brother. They were up on lido watching the Groove for St. Jude. Within 5 years, Carnival will have raised $18 million dollars for St. Judes by selling t-shirts, bracelets and Build-a-Bear bears. The shirts are $10/ea which include the wrist band. I don't know how much the bears are. I bought us all a shirt and bracelet so we would have a donation to a great cause.
Afterwards I wasn't feeling great so I went to take a nap. Mom and the boys went up to the water park area and the pools. I tried to take a nap but didn't really get one. Once they came back, we got ready and went to dinner. This was our last dinner in the MDR on this cruise. 🙁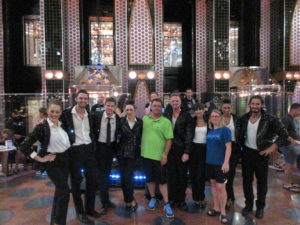 After dinner, older brother agreed to watch younger brother one last time for us. They stayed in the room, while mom and I went to the last show from 88 Keys, which was "80's Pop". They nailed it. I am really going to miss these guys. Kay sent me a message on Facebook and said they would be on the Splendor until October so if you're on the ship before then, be sure to see them. I am not sure where they will be afterward.
After the concert, mom and I just did a few last minute shopping things we wanted on board. Then we just hung out in the atrium watching the 80's cover band until we were tired.
We really enjoyed the Splendor. This was not a typical Carnival ship since she was built for the Costa line of cruise ships. She's actually a sister ship to the Costa Concordia. The staff was all great, we had twice a day room service, food was excellent, the BBQ restaurant was my favorite for lunch. MDR for breakfast was good on sea days. I'd love to go back on her. Unfortunately she's going to California for a few years before being sold to P&O Cruise Lines in Asia. My favorite ship will be gone. 🙁
Our crew for this sailing was:
Captain: Carmelo Marino
Chief Engineer: Angelo Strano
Hotel Director: Alina Chefneux
Cruise Director: Steve Knisley (Steve from Canada)
We had FTTF so that allowed for priority disembarkation as well. We had zone 2. We woke up around 7:30 in the morning to take showers and get ready to go. We had packed up our stuff the night before and left our luggage outside of our stateroom for them to pick up for us. That way we do not have to lug it around getting off.
We had to be at The Spectacular Lounge at a given time to disembark. I want to say that time was 8:30 but could be mistaken. Once it was our turn we went up. We didn't even have to go to the lounge, just straight off the ship.
That was nice. There wasn't much of a line getting off. In fact there was no line, just some really slow people in front of me. Specifically a girl who kept wanting to turn around and talk. SHUT UP AND KEEP MOVING!! Geez. Anyway. We were off the ship and down the gangway. Finally we were in Port Everglades terminal.
I had the Mobile Passport app on my phone so I went to use it. "No Connection". Yet, I could connect to Facebook and anything else online. I had data service. The app just wouldn't work. Everyone else was having the same problem with the app. So I had to be old school and go through the regular lines at US Customs. It moved fairly quick. I had to fill out a declaration form quickly in line but we made it through fairly quick.*
*CBP no longer requires you to fill out this form.
Once we made it outside of the terminal, I called for our Uber. Again, we have a lot of luggage including our 4 bodies, so I have to call for an Uber XL. Within 6 minutes, John arrived in a 2017 Honda Odyseey. Very friendly, and we went 9.34 miles at $29.89 back to FLL to get another rental car. Remember a regular Uber is much cheaper, but we needed something big.
Once we got to FLL, we picked up our rental from National and were on our way. No Jeep this time, and the Acadia was gone. I ended up with a 2017 Hyundai Santa Fe. Again, very basic. Maybe I am just spoiled with vehicles but I just can't see purchasing something so basic. Oh well it's only for a short time. Now that we're off the ship, we're heading to Key West!!