We woke up this morning around 8 so we could get ready to head toward our ship. We were excited!!
We had originally planned on using the free shuttle that the hotel offered but then realized that the hotel used a shared shuttle with the Hampton Inn next door. I am not a fan of shared shuttles since there are so many people on them. We just decided to take an Uber to port.
From the Courtyard by Marriott on Atlantic Ave. to Port Canaveral Cruise Terminal in an UberXL was only $26.85 for the 6.3 mile trip with Robert.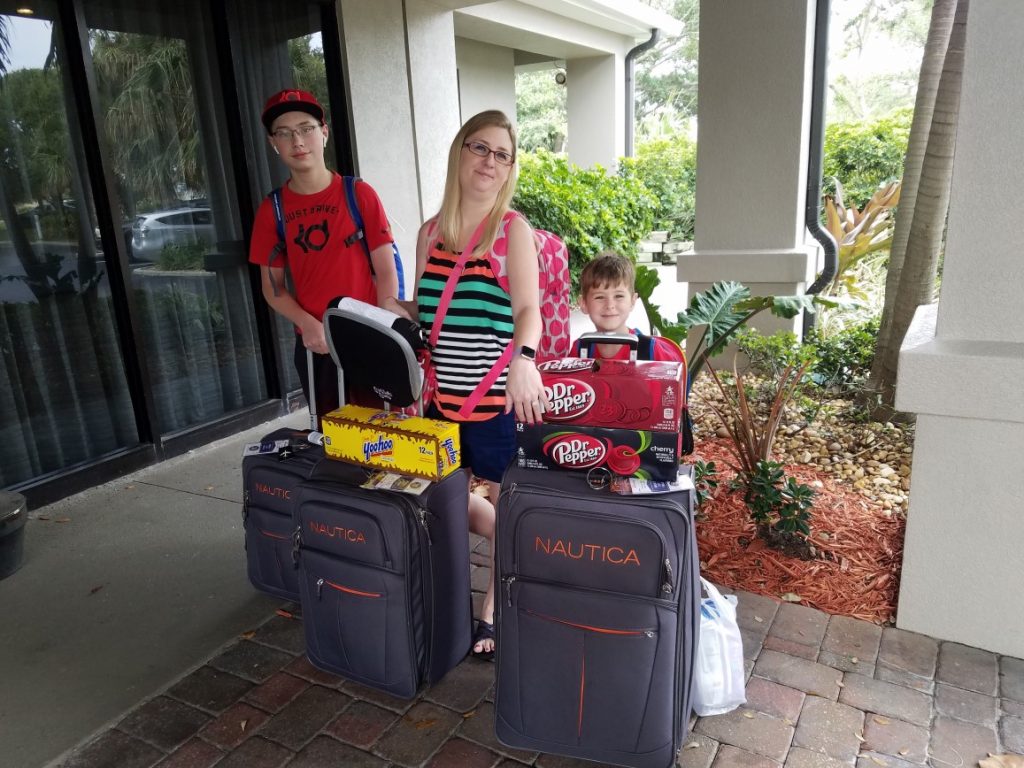 We called for an Uber at 9:30, it arrived to our hotel at 9:35 and we arrived at the terminal at 9:45.
When we arrived at the terminal there was only 1 car in front of us, which we both had to wait on a parking spot to open up so we could pull in to unload our luggage. The wait was minimal, maybe 5 minutes.
We pulled into a spot and a porter came to unload our luggage. I made sure he knew they were priority and he thanked me for letting him know because they go on a separate cart to be delivered. I tipped him $5 for our 4 pieces of luggage and into the terminal we went.
Since we had FTTF we were able to skip the 90,267 people that were already in line and go to the front.
There was a hold up there because the agents computer was freezing on him. Finally he got another one and was able to scan us in.
From there we went and sat in the FTTF area of the waiting room to wait. It wasn't too long of a wait, we were on the ship by 10:45.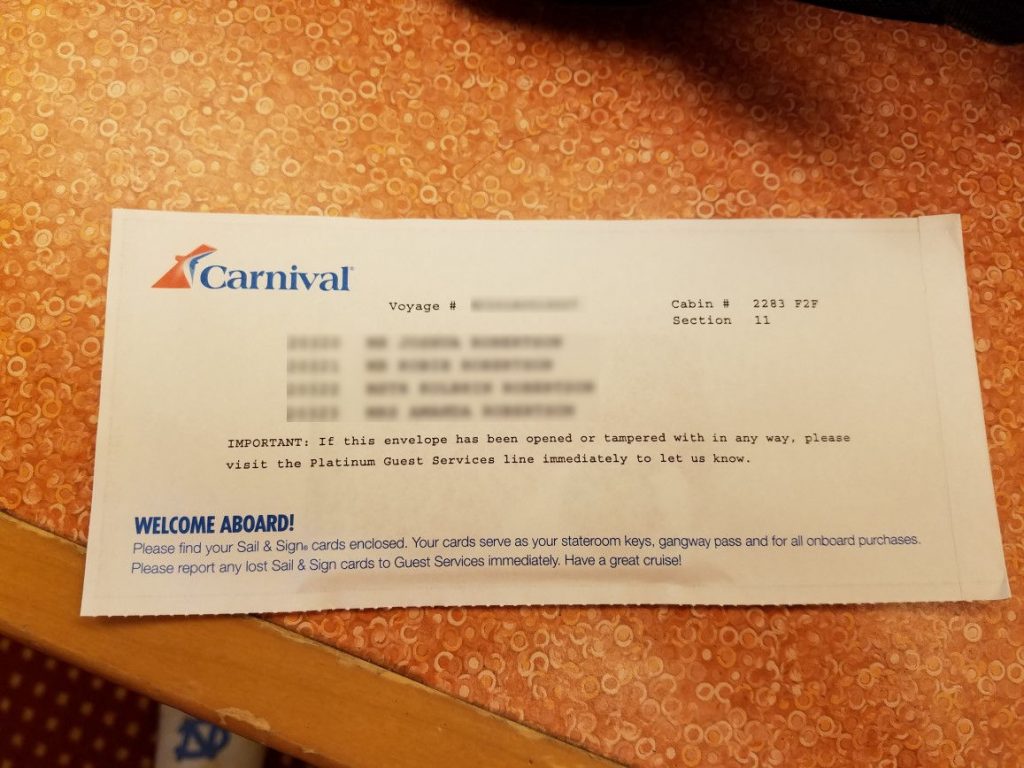 For those who wonder about the S&S cards, on the Magic at Port Canaveral they're put into the mailbox outside of your cabin in a sealed envelope. This prevents people from going to their cabins prior to 1:30. (Priority guests they're there when you embark). You use your boarding pass for purchases prior to getting them.
We went straight to our cabin once we embarked to drop off our carry on bags and sodas.
Then we went straight to lido to eat at Guy's Burgers. We knew it would get busy quick there (which it did) so that's why we did that. We didn't even look around the cabin. We literally just dropped the luggage off and nothing more.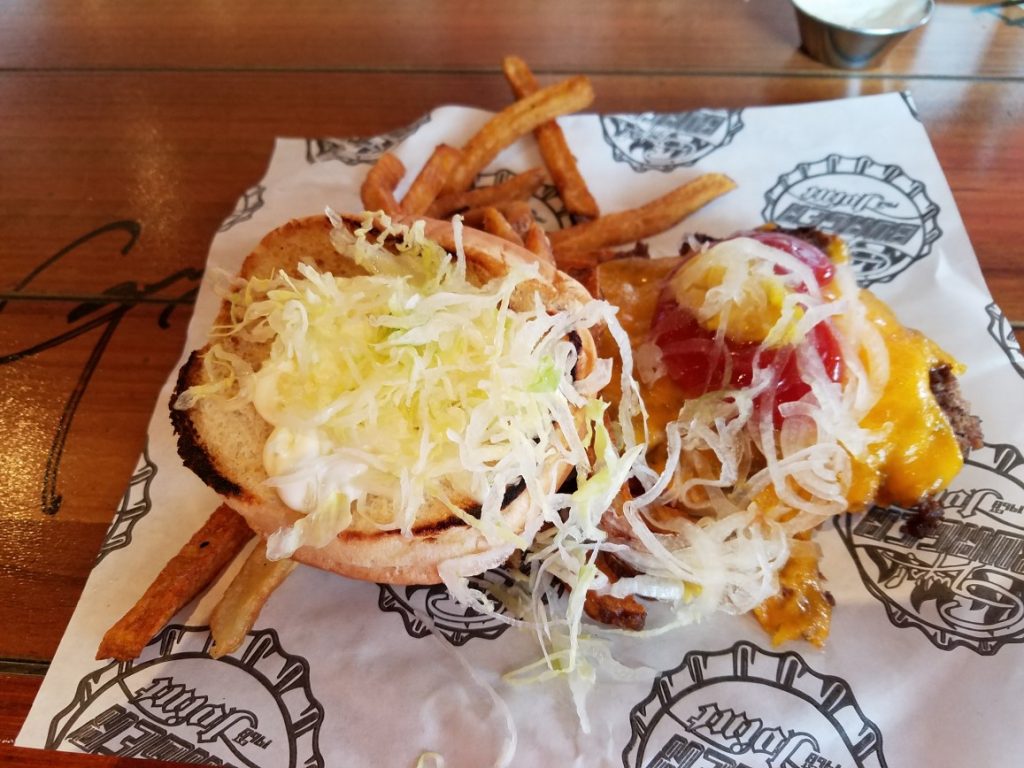 After we ate at Guy's, we went back to our cabin and our luggage had arrived. We unpacked everything and just sat on our balcony and relaxed for a little bit until muster.
One thing I love about the Magic is that all muster stations are indoors at a club or restaurant. This was perfect.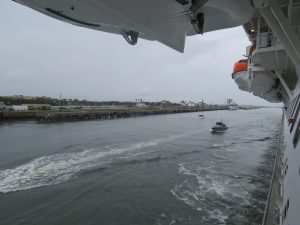 Around 3:30 (I think?) we went to the Southern Lights Dining Room which is where our muster station was. It lasted all of 15 minutes max.
From there we went back to our balcony to watch sail away. It was raining so there was no party on lido for sail away. It was fun watching us sail away on the balcony though.
After we sailed away, we took a (short) nap since we were tired. It had been a long day. We woke up around 5pm and got ready for dinner.
We always get YTD (Your Time Dining) for our dining assignment because we don't like sitting with strangers. Also when we're in ports we don't want to rush back or skip the MDR because we're at a set time. Not to mention if we don't like our wait staff, we're not stuck with them. If we like them, we can get them each night. It's a win-win. 
We went to get in line around 5:30. We waited in line and once the doors opened we were sat. We sat at a table by the window which was great. On the first night our wait staff was Cristian as our head waiter, Ireneo as the assistant waiter and Beverly as the other assistant. This was an amazing trio, we loved them.
I typically get the same thing each night which is a flat iron sirloin and 2 appetizers of shrimp cocktail. I do get the filet mignon when it's on the menu.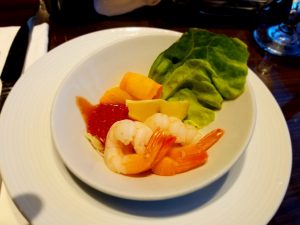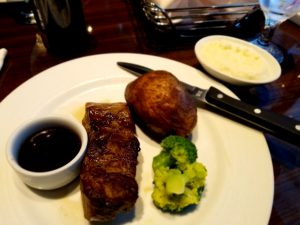 After dinner, we ordered our usual warm chocolate melting cake with 2 scoops of ice cream with it. It was fantabulous as always. This was the best dining experience we've ever had on a cruise. We loved it because 4 things:
We had an excellent wait staff each night which we requested the same staff.
We had a great table each night which we sat at the same table, we requested.
The food was excellent, no complaints about any of it.
We were in and out of the MDR in 45 minutes every single night. We were never there an hour or longer like on previous cruises. There is no reason it should take us over an hour to eat a meal.
Once we were done, we just went walking around the ship to explore and people watch. We did this until bedtime.
We went back to our cabin to call it a night. Our cabin steward, Noel came to see us.
We requested extra pillows as well as twice a day service which he came morning and night. He did a great job despite us never seeing him. Literally, we didn't see him once after that.