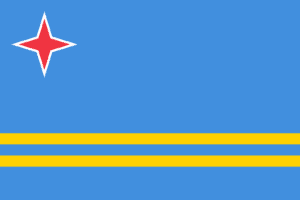 Aruba! Bon Bini! Mi Stima Aruba!
Aruba is a small island nation located in the southern Caribbean Sea. It is a constituent country of the Kingdom of the Netherlands and its capital is Oranjestad. The official languages are Dutch and Papiamento, but English and Spanish are also widely spoken. The island has a tropical climate, with warm temperatures year-round, and is known for its beautiful beaches, turquoise waters, and coral reefs.

Tourism is the main industry on the island, with many hotels, restaurants, and tourist activities available. The local culture is a mix of many influences, including Dutch, African, and South American. The island has a rich history, with evidence of indigenous settlements dating back over 4,000 years. In recent years, Aruba has become a popular destination for adventure sports such as kiteboarding and windsurfing.
It is located about 1,000 kilometers west of the main part of the Lesser Antilles and 29 kilometers north of the coast of Venezuela. 
When you dock in Aruba, you will walk through a Dufry area to exit the cruise terminal. There are lots of little shops you can stop at to buy local trinkets. I would buy these on your way back to the ship though so you don't have to carry them around all day. 
Once you leave the Dufry shops, there will be taxi drivers hanging out to take you anywhere you want to go.
All of the roads in Aruba are modern and safe so if you want to rent a car, this is also an option for you. 
There is also a city trolley that goes most places. The trolley is free and you can hop on and hop off at your leisure. The trolley runs every 15 minutes from 5:45am until 6pm. Buses also run until 11:30pm.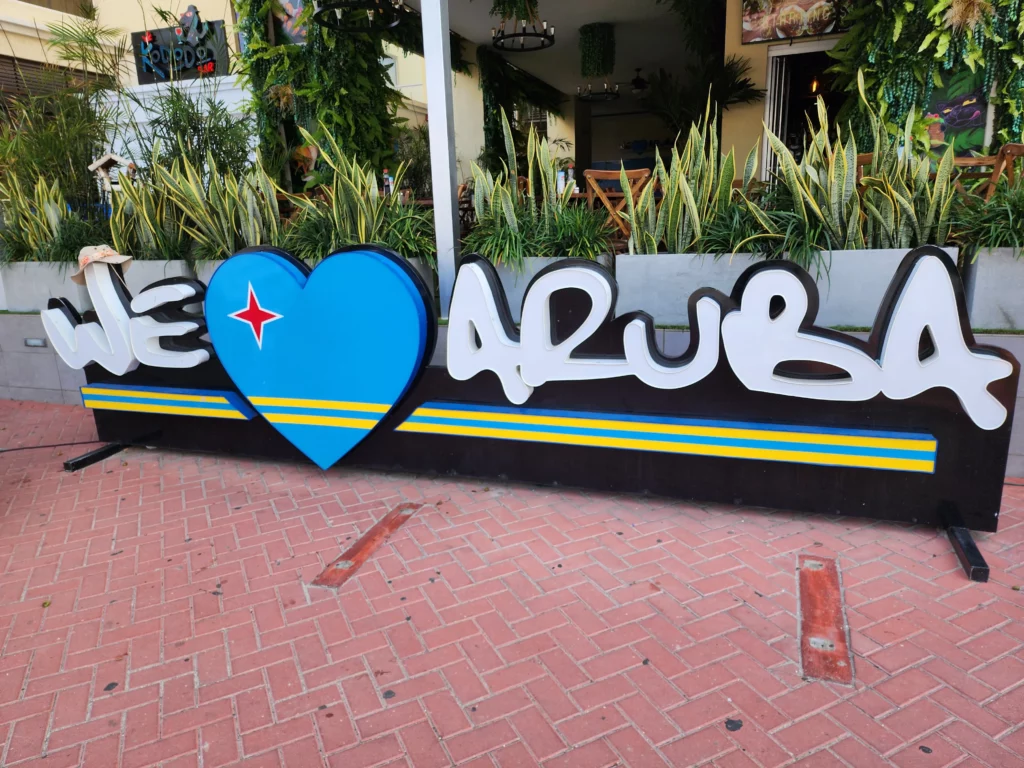 Love2Cruise Aruba 7.18.23 We've been to Aruba several times so we knew what to expect
Read More
Aruba is an island in the southern Caribbean known for its warm climate, white sandy beaches, and crystal-clear waters. Visitors can enjoy a wide range of activities, including water sports such as snorkeling, scuba diving, kite surfing, and stand-up paddleboarding. Aruba also boasts several natural attractions like Arikok National Park and the Natural Pool, as well as historic sites like the California Lighthouse and Fort Zoutman. The island has a vibrant nightlife scene and plenty of restaurants serving up a mix of traditional Aruban cuisine and international flavors. Other activities on the island include shopping for souvenirs and locally made crafts, playing golf, visiting casinos, and relaxing at a spa. In short, Aruba has something for everyone, making it an ideal destination for families, couples, and solo travelers alike.
Alto Vista Chapel
Arikok National Park
Aruba Ostrich Farm
Ayo & Casibari Rock Formations
Baby Beach
Bubali Bird Sanctuary
Bushiribana Gold Mill Ruins
California Lighthouse
De Olde Molen
Donkey Sanctuary Aruba
Eagle Beach
Fort Zoutman Historical Museum
Go check out the artwork in San Nicolas
Hadicurari Beach
Natural Bridge
Palm Beach
Phillip's Animal Garden
Sunset Sail
The Antilla
Aruba is a foodie's paradise, with a wide range of restaurants that cater to different tastes and budgets. Many of Aruba's restaurants offer outdoor dining options with stunning views of the sea, making for a romantic and memorable culinary experience.

Seafood is the specialty of the island, and many of the restaurants offer delicious seafood dishes prepared with locally caught fish. Some of the most famous restaurants in Aruba include Passions on the Beach, which allows visitors to dine with their toes in the sand, and The Old Fisherman, which offers a traditional island experience with fresh fish dishes and a relaxed atmosphere.

Non-seafood lovers also have plenty of options to choose from, including Argentinean-style steakhouses, Italian trattorias, and Japanese sushi bars. Those looking for casual dining options will appreciate the many beachfront snack bars and food trucks that offer tasty local snacks such as Dutch Bitterballen or Venezuelan arepas.
Lindas Pancake House/Palm Beach: Serves traditional Dutch pancakes all day
Nos Clubhuis/Palm Beach: Offers authentic Aruban cuisine with a large part of the menu ingredients produced locally from the farms and fishing boats around the island.
Ritz Aruba/Oranjestad: You could call it Aruban "fast food". Local snacks like pastechris, Johnny cakes and croguettes are served as well as burgers, wraps and a local Dutch treat – French fries with peanut sauce.
The Old Fisherman/downtown Oranjestad: A local favorite lunch spot, this restaurant features authentic home-style Aruban cooking.
Lucy's Retired Surf Bar: This is personally my favorite place to eat in Aruba. The atmosphere is great, it's close to the cruise terminal in downtown Oranjestad and they have fantastic tacos on Taco Tuesday! 
Zeerovers/Savaneta: Serves deep-fried fresh seafood
La Granja/Savaneta: Serves roasted meats and local Caribbean side dishes
Gallo Rojo/San Nicolas: Serves fresh baked goods and sandwiches
Pueblito Paisa/San Nicolas: Serves authentic Colombian dishes
Rum Reef at JADS Dive Center/Seroe Colorado: Serves burgers, wraps, grouper sandwiches and chicken sate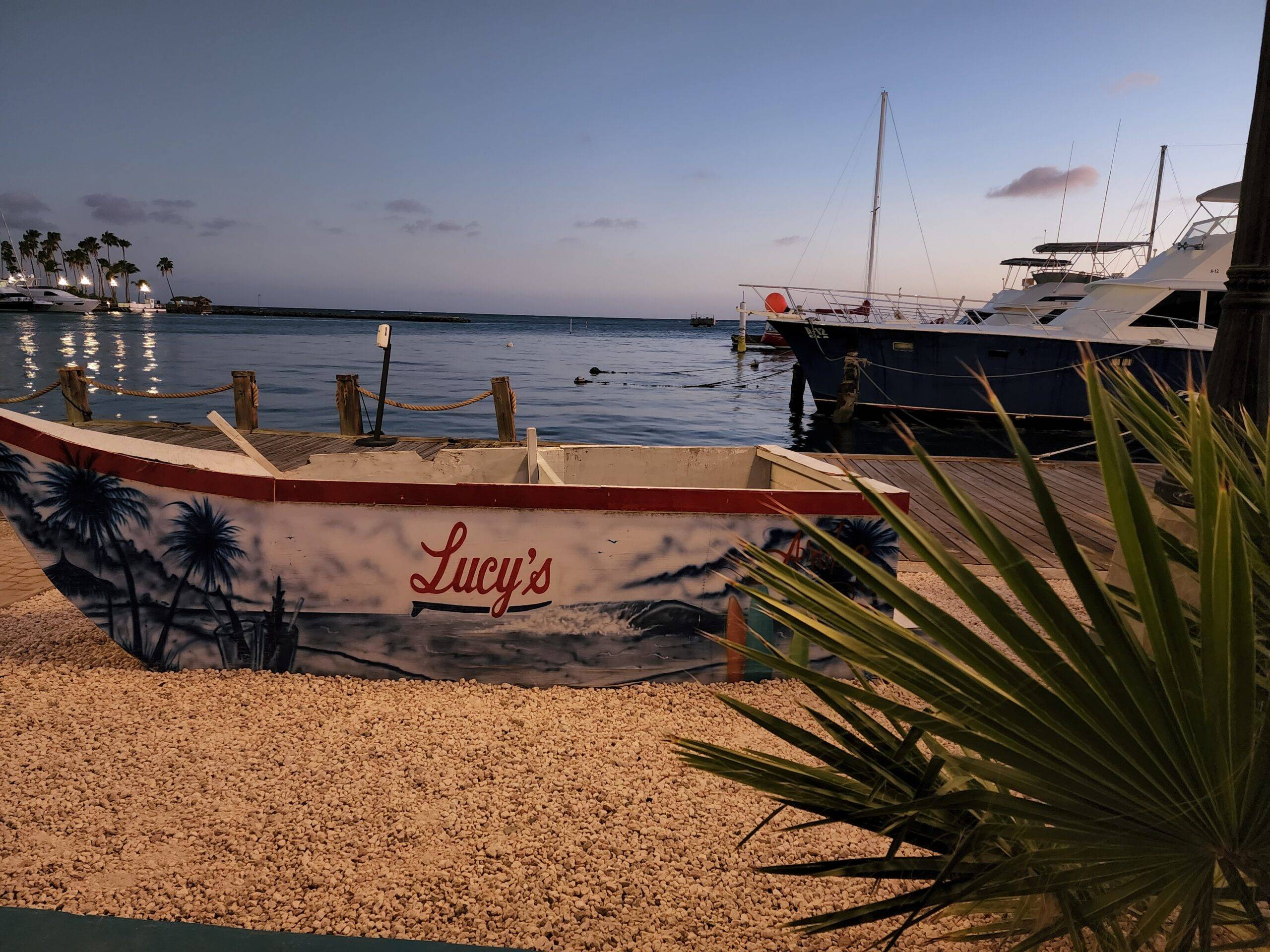 Are you planning a trip but worried about unforeseen events ruining your plans? Look no further than InsureMyTrip.com! Their website offers a comprehensive range of travel insurance options to protect you against unexpected trip cancellations, medical emergencies, lost baggage, and more. Compare and choose from their top-rated providers to find the perfect policy to fit your needs and budget. Plus, with their 24/7 customer service and support, you can travel with peace of mind knowing they're always there to help. Don't risk losing your hard-earned money and precious vacation time – visit InsureMyTrip.com today for your travel insurance needs! Love2Cruise highly recommends InsureMyTrip.com for hassle-free travel protection.