Cove balconies
on
Carnival Cruise Lines
A cove balcony on Carnival cruise ships is a unique type of balcony stateroom located on the lower decks of the ship. These balconies are situated closer to the waterline and enclosed by the ship's "cove." They are typically larger than regular balconies and offer a more intimate and private outdoor experience.
Due to their location, cove balconies provide a great view of the ocean and the ship's wake, making them a popular choice among guests. Additionally, the cove balcony's location near the waterline helps to reduce the motion and turbulence of the ship, providing a smoother sailing experience.
On a Carnival ship, a cove balcony is a balcony that's built into the hull of the ship. It's the lowest balcony on the ship, and is enclosed by a solid steel panel. 
Cove balconies can be found on either deck 2, or deck 5 depending on the ship. The Dream, Vista and Excel Class ships have them. They are generally a 7C category cabin.
The Excel Class ships also have Cloud 9 Spa cove balconies, which are category 7S. With the Cloud 9 Spa cove balconies, you have access to the thermal suite.
The Vista Class ships have the Spa 9 cove balconies, but they also have cove balconies as part of their Family Harbor area. You can get a cove balcony in the Family Harbor area (FM category) or in the Family Harbor suites (FS category)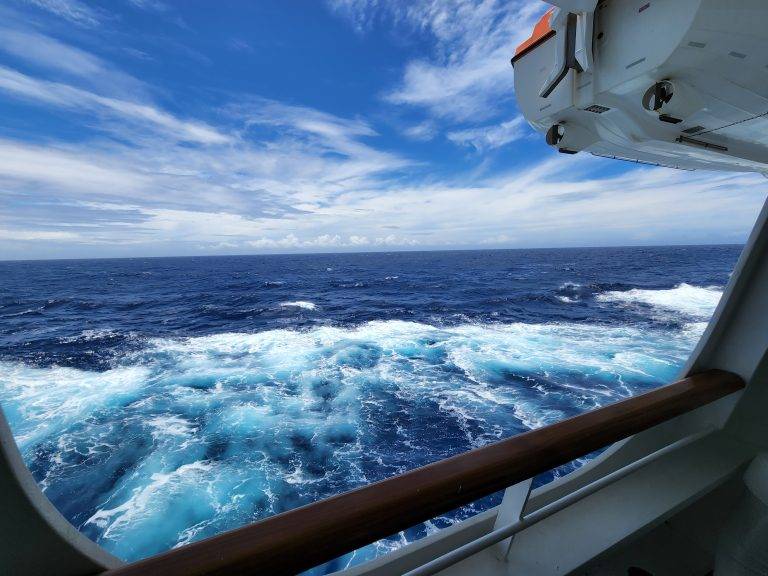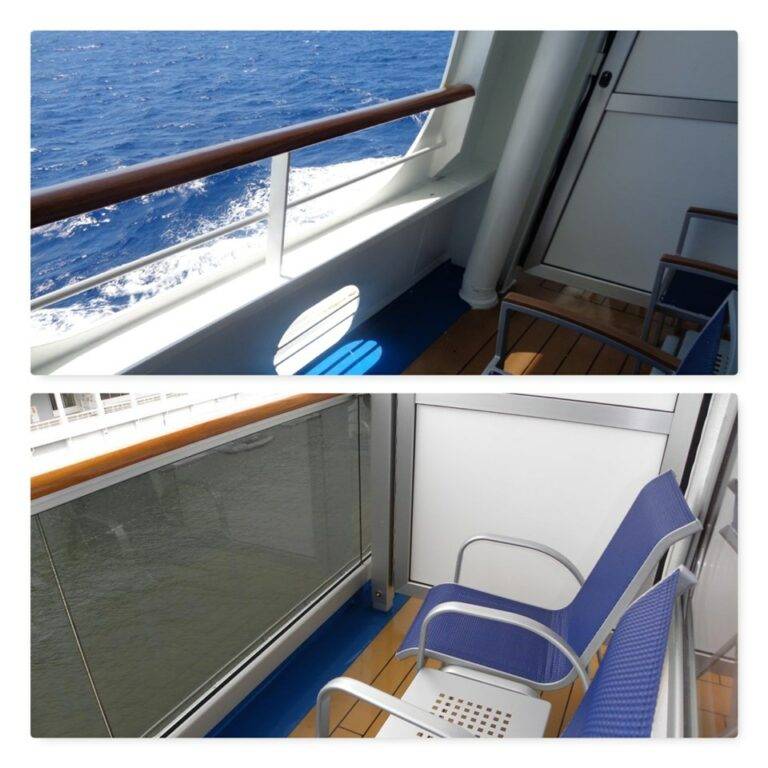 What's the difference between a cove balcony and a regular balcony?
Cove balconies are located on the ship's lower decks and offer a more private outdoor space since they are shielded by the hull of the ship. Regular balconies, on the other hand, are located on the upper decks and offer more elevated views of the surrounding ocean and ports of call.

Cove balconies tend to be larger than regular balconies, but they may be partially obstructed by lifeboats or other ship structures. Regular balconies are generally unobstructed and offer more sunlight throughout the day. Additionally, regular balconies tend to cost more than cove balconies due to their location on the ship.
The biggest difference between the 2 balcony types is that a cove is enclosed by steel and has a smaller opening than a regular balcony. It also has more solid walls between you and your neighbor. 
A cove balcony is much more private than a regular balcony. With a regular balcony, your neighbors can look over into your balcony, other cruise passengers can look up onto your balcony depending on where you're located, or down into your balcony. With a cove balcony being enclosed, this eliminates that possibility. Also there are no balconies or public walkways below you so nobody can look up onto your balcony. There are typically lifeboats over top of the cove balconies, eliminating any way for people to look down into your balcony. 
Being that the cove balcony is partially enclosed and has a lifeboat over top, this provides much more shade than a regular balcony. This allows you to sit out on your balcony and enjoy it without baking in the sun. If you prefer to be in the direct sun all day, then a cove balcony may not be for you. 
Despite being enclosed partially, a cove balcony is quite a bit larger than a regular balcony. A cove balcony is 45ft² where a regular balcony is 35ft². That's 28% larger than a regular balcony so it gives you more space to enjoy. 
If you are in the very front of the ship, it's possible your steward could close your cove balcony in rough conditions. I have personally never experienced this since we stay mid-ship, but I have read about it happening. We have sailed through 2 tropical storms and numerous other rough seas conditions in a cove balcony and never once had our door closed. We've sat on the cove balcony during a tropical storm before and watched the waves.
As I mentioned, these are the lowest balconies on the ship. This is great if you're prone to sea sickness because you feel less motion on a cove balcony than anywhere else on decks above. Also when you're in port, it's very quick to debark the ship, and very quick to get back to your cabin when you return from port. You're closer to the gangway than other balconies.
With a regular balcony, depending on where you are located you may not have the best views. With a regular balcony, when you look down, you see a walking track, a lifeboat, a hot tub, another balcony or a pool. With a cove balcony when you look down, you see water. Depending on the sea, you could see marine life as well. Lots of people have reported seeing dolphins from their cove balconies and flying fish. We've seen several sea turtles.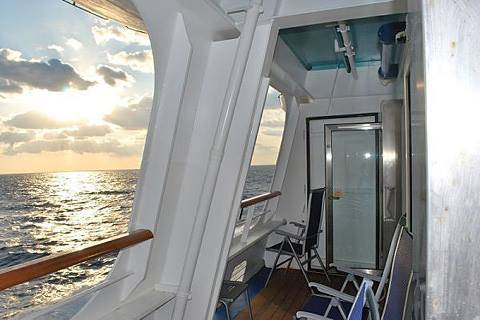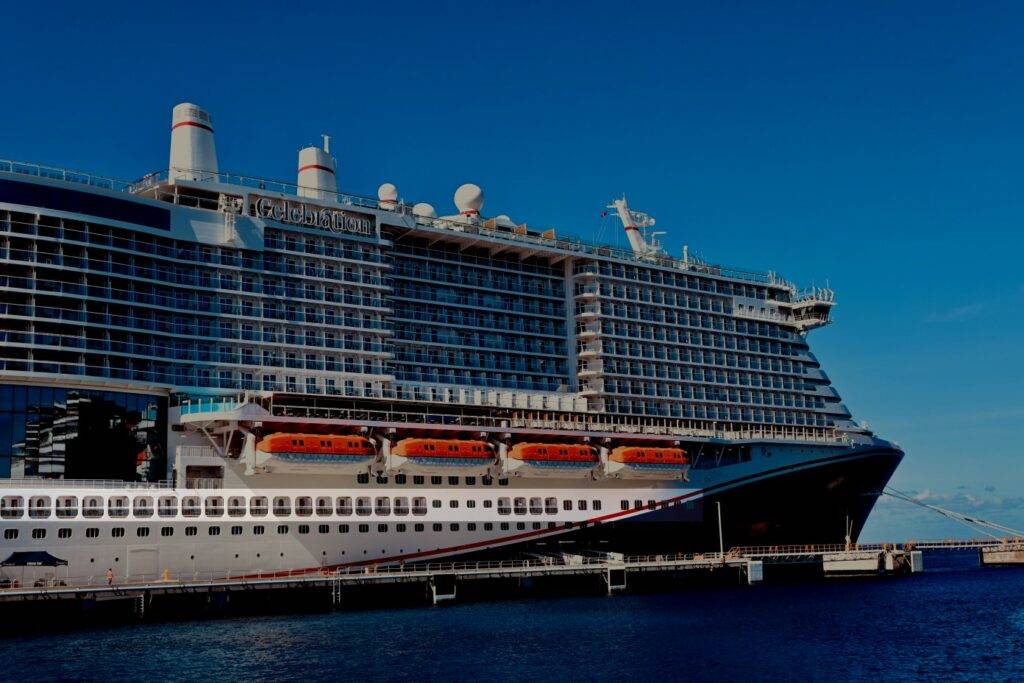 The highlighted area are the cove balconies on an Excel Class ship. Pictured is the Carnival Celebration
Are you planning a trip but worried about unforeseen events ruining your plans? Look no further than InsureMyTrip.com! Their website offers a comprehensive range of travel insurance options to protect you against unexpected trip cancellations, medical emergencies, lost baggage, and more. Compare and choose from their top-rated providers to find the perfect policy to fit your needs and budget. Plus, with their 24/7 customer service and support, you can travel with peace of mind knowing they're always there to help. Don't risk losing your hard-earned money and precious vacation time – visit InsureMyTrip.com today for your travel insurance needs! Love2Cruise highly recommends InsureMyTrip.com for hassle-free travel protection.