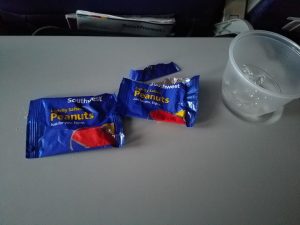 Our flight was very smooth from RDU to MCO. We arrived in Orlando at 7:05am and deplaned. The flight was great as always. I love flying on Southwest. I had an early morning breakfast of 2 packs of peanuts and a Dr. Pepper.
We got our luggage and went searching for the rental cars. Finally I found National Rental Car. Since I am an Emerald Club Member, I don't have to go to any desk. I had made my reservations online and simply go to the lot, grab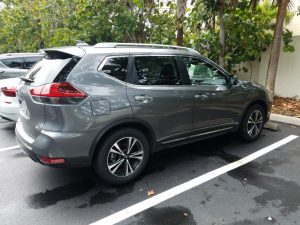 a car and go. I almost picked out another Jeep but remembering how the thing crumbled after we got hit in Miami last year, I decided against that.
I ended up picking out a Nissan that had just been put back. It was a nice SUV. It was $267.72 for 2 days which included drop off at a different location since I was going to drop it off in Cape Canaveral.
Once we got the car we were off. It was still early in the morning and I knew we couldn't check into our hotel so we went to Kennedy Space Center instead.
I knew we would be tired today so we would end up spending 2 days at Kennedy Space Center.
I did the math before we left and for all of us for 2 days + parking would be $588. The better deal was to buy annual passes. I ended up buying all 4 of us annual passes for $366.65. This gives you passes to get into KSC, KSC Explore Tour, 10% discounts on purchases, and free parking. We only went 2 days but we still saved over $200 by doing this. Plus if we end up going back to the space coast within a year, we can go back! #NoBrainer
We arrived at Kennedy Space Center around 8:30 but it doesn't open until 9, so we drove down the road a little ways and found a Cracker Barrel. We were starving! The service here was nice, it was in a good location and the food was great as always.
Back to Kennedy Space Center we went after breakfast. This time, they were open. 🙂 I presented my annual pass and didn't have to pay the $10 parking. We parked fairly close and into KSC we went!
This was an awesome place and we learned so much here. We checked out all of the rockets out front, then took our tour several miles out to the launch pads. This was super cool.
The crawler that is used to take the shuttles from the VAB (Vehicle Assembly Building) to the launch pad is massive. It is 131ft long by 114ft wide. It's between 20-26ft tall (adjustable) and weights 6 million pounds. The load capacity is 12 million pounds! It moves as a whopping 1mph loaded (2mph unloaded). We also rode down to see the SpaceX building and where they're setting up to launch their next rocket. The VAB also has the largest garage doors in the world, taking 45 minutes to open. It also has the largest painted American Flag in the world.
We also saw the Space Shuttle Atlantis here which was pretty cool. We have seen the Discovery in Washington D.C., so seeing the second was really cool. Now a trip to LA to see the third?

By this time, it's getting late (ok, so maybe it's only around 4pm but we're tired!). We decided to call it at a day at KSC so we went to our hotel. We had been up since around 3am!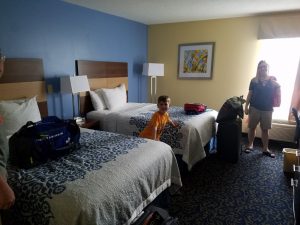 I had booked the Courtyard by Marriott in Cocoa Beach since it was on the beach and close to the cruise terminal. I also originally booked this hotel since it had a free shuttle to the cruise terminal. Normally I book hotels through Hotels.com but since I am a Marriott Rewards Member, I booked through the Courtyard directly so I could get my points. We had 2 nights booked for 2 queen beds + sofa bed and a balcony. The total was $491.68
The hotel was very nice, as expected from a Marriott property. The location was nice, staff was great and room was great. The only "complaint" I would have was on the beach there was a TON of seaweed. Now I have been going to beaches all of my life, from Key West all the way up to the Chesapeake and I have NEVER seen this much sea weed. It was crazy. I don't blame the hotel though for obvious reasons and it was like this as far as the eye could see south, all the way up to at least Port Canaveral. Hopefully the state gets it cleaned up.
We ended up riding up to Cape Canaveral by the cruise port to eat at Grills. I had gotten this recommendation from our Facebook roll call for the sailing.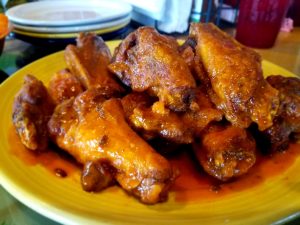 They said it would be a 45 minute wait, which it was 6pm so I figured it would be like that anywhere since it's dinner time.
We took our pager to walk across the street to the surf shop to kill time. No sooner than we got out the door to the street, the pager went off. I swear she said 45 minutes. Maybe she meant 4-5 minutes? Anyway, we got set and ordered our drinks and food. The food was fantasmic! We all loved it and it will be our go-to next time we go out of Port Canaveral. I can't say enough good things about Grills. Not to mention they have live music outside and a great view. I ordered Voodoo wings and they were awesomesauce! My son ordered a grilled cheese and my other son ordered French fries. My wife had grilled chicken and we all had tea. The total was $51.88+tip. Not bad at all!