Golf cart rental in Grand Turk, TC.
Renting a golf cart is the most popular mode of transportation for visitors to Grand Turk, Turks & Caicos. The island is only 7 miles long and 1.5 miles wide, so a golf cart is a convenient and fun way to explore the island's many attractions. You can pick up a golf cart rental at the cruise port or from one of the island's rental companies. Some popular spots to visit include the Grand Turk Lighthouse, the historic Cockburn Town and its museums, and the iconic "Welcome to Grand Turk" sign for photo opportunities.

Visitors also love to go snorkeling, diving, or swimming in the crystal-clear waters of the island's many beaches. Additionally, there are many restaurants, bars, and souvenir shops to visit along the way. Renting a golf cart is a great way to spend a leisurely day on this beautiful Caribbean island.
Sure you can rent a taxi or car or something but a golf cart is so much more fun. Keep in mind this is a British Territory so you will be driving on the left hand side of the road.
All golf carts are right outside of the cruise terminal. Walk through the shops when you debark the ship, then across the parking lot past the taxis. You will see the security gate, walk out of this gate and the golf carts will be set up right there.
I do highly recommend renting a golf cart before you arrive as they do sell out, depending on how many ships are in port and what size the ships are.
Also keep in mind that some companies require you to fill your cart back up with gas when you return and others just charge a flat gas fee. Gas on the island is around $5.50 per gallon.
One thing to point out to new cruisers… The island is called Grand Turk. This is the spelling nazi coming out in me. It's NOT "Grand Turks", it's not "grand Turk", it's not "Turks". It's Grand Turk. Just like it's New York City, not "City", or New York Cities. It's a singular island.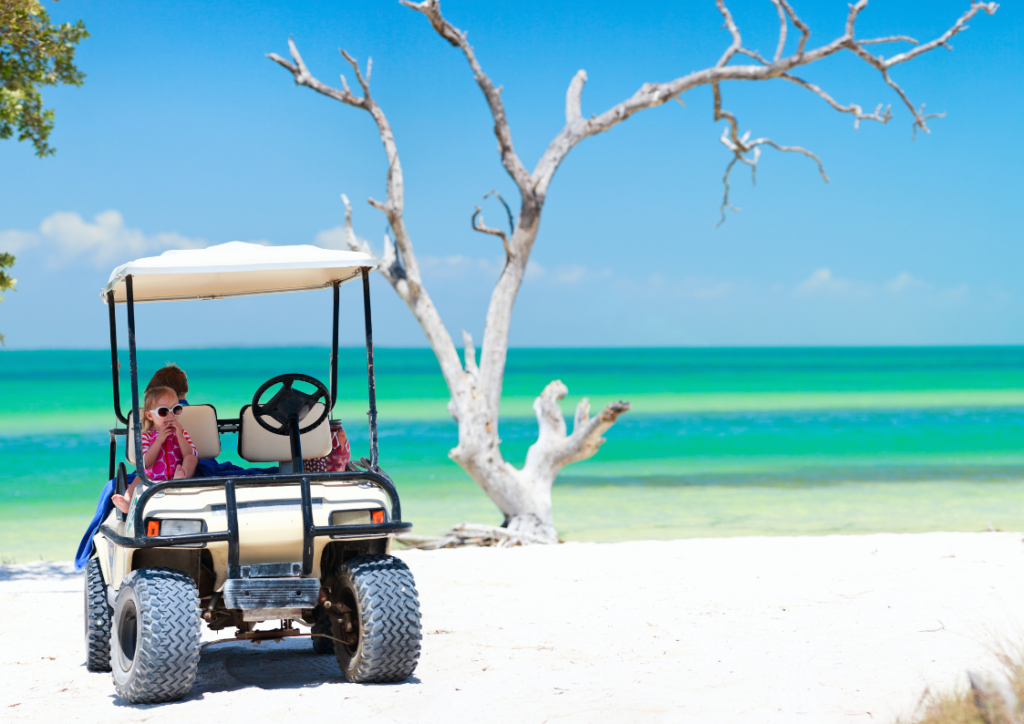 MaxKart
MaxKart has a 4 seater for $90
They also have a 6 seater for $130
Tony's
Tony's has a regular 4 seater for $100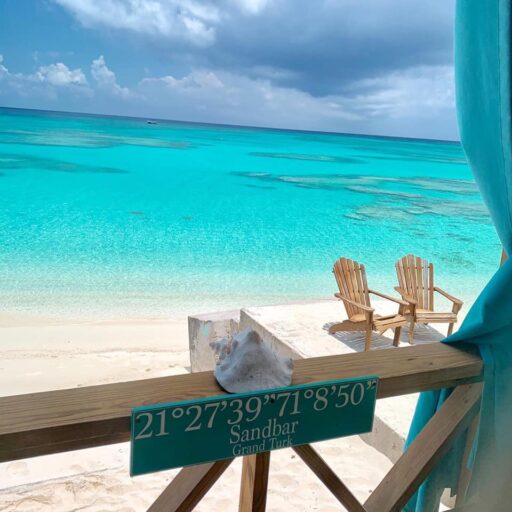 The Sandbar Restaurant is a popular eatery located in Grand Turk. Situated on the beachfront, it offers stunning views of the crystal-clear waters and is known for its relaxed atmosphere and delicious food. The menu features a wide variety of dishes, including fresh seafood, burgers, salads, and cocktails as well as vegetarian and gluten-free options. It is popular among both tourists and locals alike, and is a great spot for lunch, dinner, or drinks. The friendly staff and casual vibe make it an ideal spot to unwind and soak up the tropical atmosphere.
Jack's Shack is a popular beach bar and grill located in Grand Turk. The iconic beach bar is known for its laid-back atmosphere, delicious food, and friendly staff. Jack's Shack is located on the southern end of the island and is accessible by foot from the cruise center. It is situated on a stunning beach, which is perfect for swimming, snorkeling, and sunbathing.
The menu at Jack's Shack offers an extensive range of fresh, flavorful dishes, including conch specialties, burgers, and seafood. The bar serves delicious cocktails, beer, and icy-cold drinks, and is known for its signature cocktail, the "Sandy Vagina."
At Jack's Shack, visitors can relax, soak up the ambiance, and enjoy the beautiful surroundings. The outdoor seating area provides a picturesque view of the ocean and is perfect for watching the sunset. The staff at Jack's Shack is friendly and always willing to help, making this a must-visit spot while in Grand Turk.
You can get an umbrella and chair here and hang out by the beach. The beach isn't rocky like at the port and it's a lot less people. I will warn you however that if you go here on a golf cart, when you come in from the road side it looks like a dump. Just park your golf cart and walk around the building and you'll see the awesome place. I highly recommend Jack's Shack to anyone going to Grand Turk.
If you're wanting to walk to Jack's Shack, once you reach the end of the dock from your ship, take a left and walk 0.41 miles. You will come to Jack's Shack.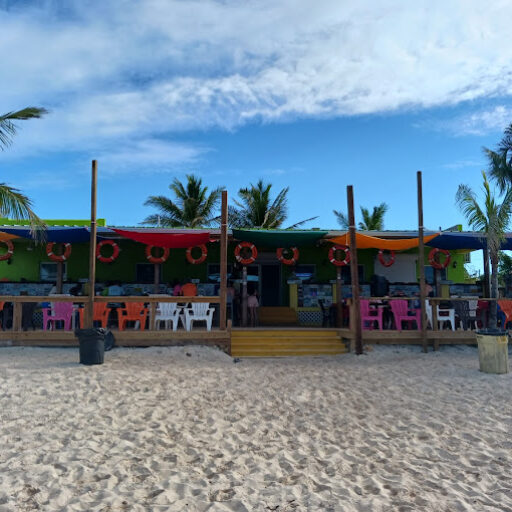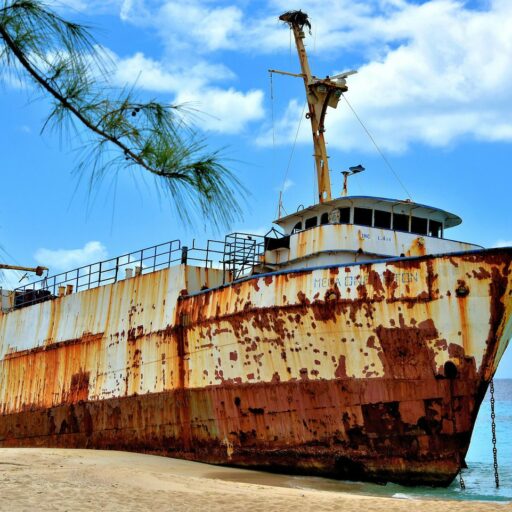 Governor's Beach is one of the most popular tourist destinations in Grand Turk. This stunning beach is located on the eastern side of the island, just a few miles from the cruise ship terminal. It boasts crystal-clear water, pristine white sand, and plenty of sunshine, making it the perfect place to relax and soak up some rays.

The calm and shallow waters are ideal for swimming, and the beach is also ideal for picnics and family outings. Visitors can explore the nearby coral reefs, which are home to a variety of colorful fish.

Governor's Beach also offers excellent views of the Turkish coastline and is known for its breathtaking sunsets.

In summary, Governor's Beach in Grand Turk is a must-visit tourist destination featuring pristine beaches, calm waters, magnificent coral reefs, and stunning sunsets.
The Grand Turk Lighthouse, also known as the Turks and Caicos Lighthouse, was built in 1852 and is located on the northern tip of Grand Turk in the Turks and Caicos Islands. It stands at 60 feet tall and has 60 steps to the top.

The lighthouse was constructed to assist ships traveling through the treacherous waters surrounding the island, which were known for shipwrecks and incidents of piracy. It was originally fueled by whale oil, but later switched to kerosene and then electricity in the 1950s.

Today, the Grand Turk Lighthouse is a popular attraction for tourists visiting the island. Visitors can climb to the top for incredible views of the surrounding waters and island scenery. The lighthouse is also commonly featured in postcards and other tourism materials promoting the Turks and Caicos Islands.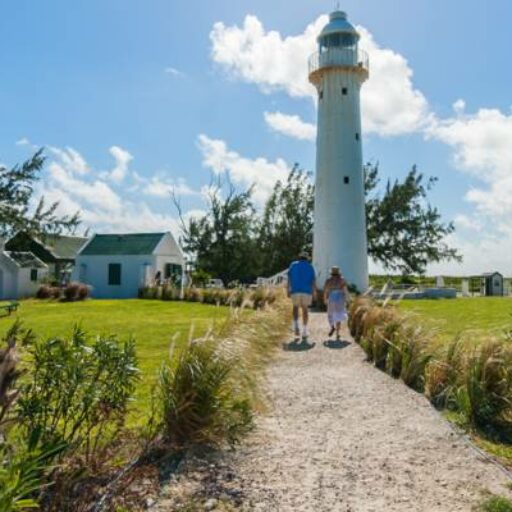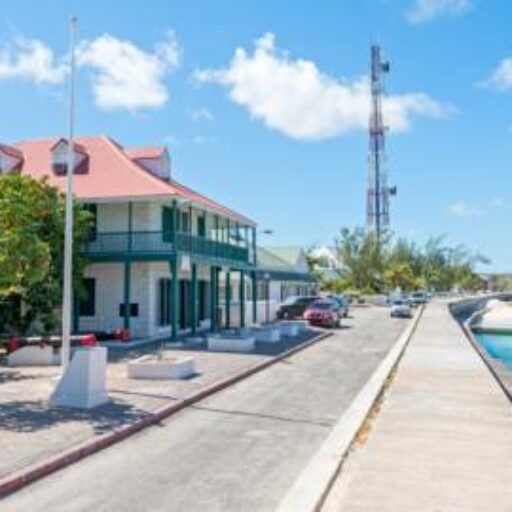 Cockburn Town is the capital and historical center of Grand Turk Island. The town has a population of about 3,700 and is known for its colorful colonial architecture, sandy beaches, and turquoise waters. Many of the town's buildings date back to the 18th and 19th centuries, and several have been converted into museums and cultural centers.

Cockburn Town is also home to several restaurants and bars, where visitors can enjoy local cuisine and drinks. Popular activities in the town include swimming, snorkeling, and diving in the nearby coral reefs. Overall, Cockburn Town is a charming and laid-back destination that offers a glimpse into the Caribbean's colonial past.
Are you planning a trip but worried about unforeseen events ruining your plans? Look no further than InsureMyTrip.com! Their website offers a comprehensive range of travel insurance options to protect you against unexpected trip cancellations, medical emergencies, lost baggage, and more. Compare and choose from their top-rated providers to find the perfect policy to fit your needs and budget. Plus, with their 24/7 customer service and support, you can travel with peace of mind knowing they're always there to help. Don't risk losing your hard-earned money and precious vacation time – visit InsureMyTrip.com today for your travel insurance needs! Love2Cruise highly recommends InsureMyTrip.com for hassle-free travel protection.