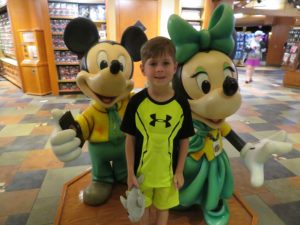 We had reserved a shuttle from the cruise terminal to the Orlando Airport since that's where everything seemed to run to. We used Cortans Shuttle Service which was $80 for the 4 of us 1 way. We met the Cortrans staff right outside of the terminal and they got us loaded into a mini-bus with about 7 other people and we headed for Orlando airport.
He asked us which airline (to know where to drop us off) and we told him we didn't care. He was perplexed but went along with it. He dropped us off at the airport and we walked down to the area where we would catch an Uber.
I booked an Uber and they were there in about 3 minutes. They took us to our hotel and it was $34.41 for a 19 minute ride in an UberXL with Oreste, to International Drive.
I had booked us the Embassy Suites by Hilton on International Drive through booking.com. It was 2 rooms with 2 queen beds and a couch bed. It was $614.25 for 4 nights.
We arrived at the hotel and checked in early. We went to our room and dropped off our luggage. The hotel has free breakfast so we went downstairs to grab some breakfast.
The hotel was very busy because MegaCon was happening at the convention center. That crowd would die down on Sunday though.
PRO TIP: If you stay here and they aren't full, run your hot water for a few minutes if you're on a high floor before you shower. Otherwise it tends to take forever.
PRO TIP: Be sure to get a room that doesn't face I-4 because it's noisy.
After breakfast we decided to walk across the street to play putt-putt at Pirates Adventure Mini-golf. It wasn't too busy nor hot. We played the first round of 18 and it was so nice, we decided to play the other part of the course for a total of 36 holes.
By the time we reached hole 36 we were super tired. We ended up walking up to Denny's for some lunch. The service at this Denny's was horrible. The food was good, but the service sucked. That was $63.54 wasted.
I called for an Uber and they were there in about 3 minutes. It was $14.07 for the 32 minute trip from I-Drive to Disney Springs with Emma in an UberX.
We ended up eating at D-Luxe Burgers in Disney Springs. The food here was very good, the burger was huge. It was a great spot for us to have dinner. We all got hamburgers and a drink and the total was only $69.55.
After we ate, we did some shopping in Disney Springs. We ended up going in Ghirardelli Chocolates and spending $27 on chocolates. However our best purchases were 2 Disney paintings as well as a Disney figurine of Mickey Mouse painting a portrait of Walt. The figurine and painting was only $150 for the both of them. My wife spent $50 on the painting she liked.
After we finished at Disney Springs, we decided to head back to I-Dr. We called for an Uber and Fredo picked us up in his UberX. It was $14.61 to get from Disney Springs back to I-Dr.
We didn't have any packages since we had Disney ship all of our purchases back home (which arrived today via UPS btw, 6 days after our purchase).
When we arrived back on I-Dr, we walked down to the Orlando Eye. I had pre-purchased a combo pass for the Orlando Eye and Sea Life Aquarium from TicketsAtWork before we left.
We got on the Orlando Eye and went very high up. After that, we went back to the hotel to call it a night. We were beat!!!