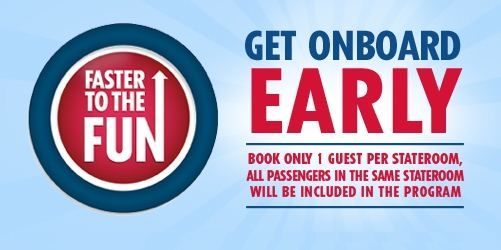 Faster To The Food......er....Fun!
FTTF is Faster To The Fun. It's a perk you can purchase from Carnival that allows you some of the same privileges as diamond & platinum guests.
You get priority embarkation at the terminal, priority tendering at your ports, priority line at guest services, and your cabin is ready when you get on the ship. Otherwise you have to wait until 1:30 to get to your cabin. Your luggage also comes to your cabin priority.
To me, it's definitely worth it regardless of the cost (~$100). When you walk past the line of 500+ people waiting to embark on the ship, you skip those people and walk straight to the counter. That alone is worth its weight to me. Plus I can drop off my sodas in my cabin as soon as I embark.
Priority Security, Check-in and Boarding
A dedicated security and check-in lane has been set aside for all priority guests on embarkation day.
FTTF guests will board after wedding parties, VIFP Diamond, Platinum and guests traveling in deluxe suite accommodations.
First Access to Stateroom
Your stateroom will be ready for you as soon as you board, so you can relax or freshen up for all the fun you are about to have.
Priority Luggage
While we process thousands of bags, FTTF luggage will receive priority delivery.
Guest Services
Quickly have any of your questions answered or requests addressed as you will have a dedicated phone extension and line at Guest Services.
Dining Reservations
Priority Dinner Time Assignment: FTTF guests will be cleared after VIFP Platinum guests. This benefit does not include specific time reservations for 'Your Time Dining'.
Tender Priority
You will have priority tender service from ship to shore (multiple departure times may be possible) so you can explore ashore as quickly as you want to.
When ready to go ashore, if not on a Carnival shore excursion, present yourself at the Guest Services Desk.
Debarkation Choices
When it's time to say good bye, you may choose an early or late disembarkation time upon arrival to your home port.
The FTTF price is not per person. One ticket per stateroom covers all occupants of the stateroom, so only one guest needs to purchase and all occupants receive the benefits.
For guests sailing on multiple cruises back to back, FTTF must be purchased for each cruise in order to benefit from the program.
FTTF can only be purchased prior to the cruise; al a carte services cannot be purchased onboard.
All FTTF guests must check-in online and select an arrival appointment.
Guests who completed their Online Check-in prior to purchasing the FTTF package, will need to re-print their boarding pass and luggage tags so the FTTF stamp reflects on the documents.
FTTF can be purchased in your cruise manager, under your home port excursions.
In my experience, FTTF has gone on sale 12-18 months prior to the sail date. There are a very limited amount of FTTF slots available and they do sell fast. Typically it's announced by someone in the Facebook group for each respective sailing.
Once it goes on sale, it sometimes sells out within a matter of a few hours. 
A few slots may open up between the initial sale date and your sail date, but it's not guaranteed.
If it's sold out, the best thing you can do is check several times every day. The best day to check is the final payment date of your cruise.