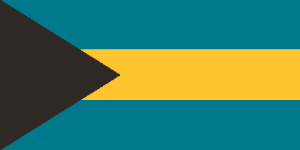 Little San Salvador Island, also called Half Moon Cay, is a tiny private island in the Bahamas located between Eleuthera and Cat Island. It's owned by Holland America Line. The island offers a pristine sandy beach, crystal clear waters, and a variety of water sports activities such as snorkeling, kayaking, and parasailing. It is known for being one of the most beautiful and unspoiled islands in the Caribbean.

The island's amenities include a straw market, several beach bars and restaurants, and a nature trail showcasing the island's flora and fauna. There are also various organized excursions like horseback riding, stingray encounters, and eco tours. The island is uninhabited and serves solely as a tourist attraction for Holland America & Carnival guests.
Accessible by cruise ship, it's known for the long, crescent-shaped Half Moon Beach. Luxury cabanas dot the beachfront, which gives way to trail-lined country rich in birdlife. Half Moon Lagoon Aqua Park has water slides and playgrounds. Stingray Cove, a lagoon enclosure, is home to tame stingrays.
Half Moon Cay is pronounced Half Moon KEY (not CAY, despite the spelling) and is owned by Holland America which is owned by Carnival Corp. 
Half Moon Cay is currently a tender port, which means you take a small boat from your cruise ship to the island. However, plans to develop a dock is planned.  

Overall, Half Moon Cay is a paradise for beach lovers and those seeking relaxation in a tropical setting. It is a must-visit destination for anyone traveling to the Bahamas with Holland America and Carnival.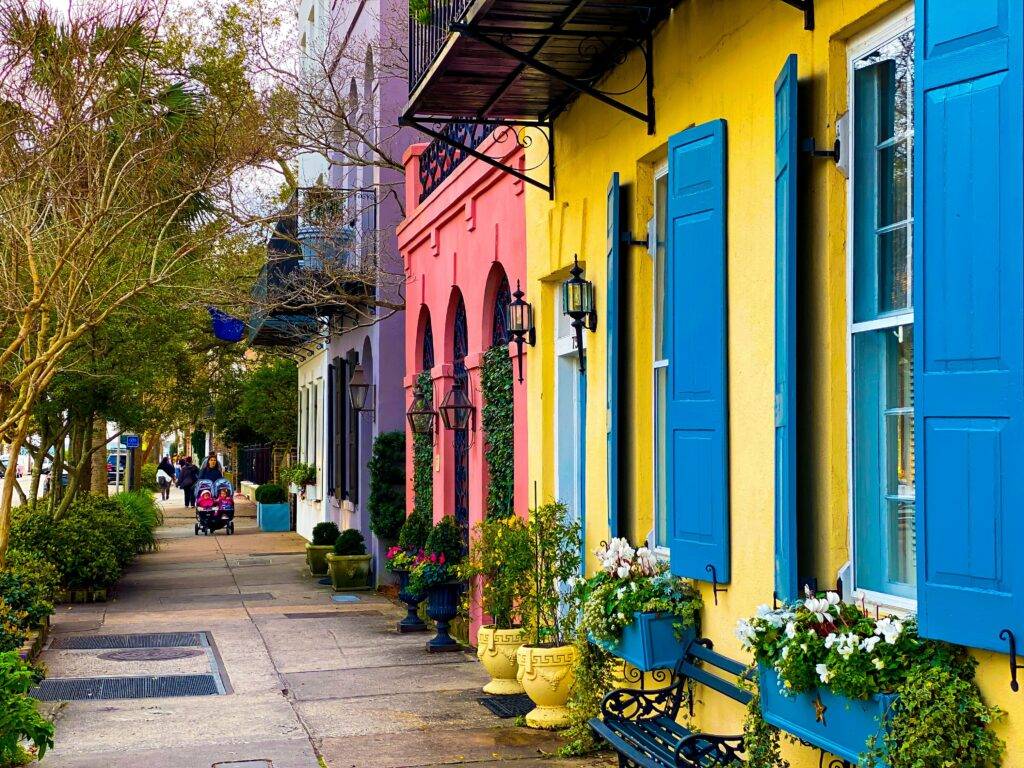 This cruise was during "Covid" This cruise was just when cruises were getting restarted from
Read More
Your day in Half Moon Cay
Half Moon Cay is a tender port, so you will anchor off-shore and take a small boat onto the island.
Once you arrive at the island, you will enter at a few little tents of people trying to sell things from the neighboring island of Eleuthera. There is also a little hut to sign up for island excursions, and you can go straight to the beach from there.
There are plenty of lounge chairs you can pick from, or you can rent clam-shells. There is also a little water area for children.
Around lunch time, there is a free buffet that you can eat at and enjoy yourself. They have hamburgers, hot dogs, BBQ, fruits, you name it. You need to go earlier rather than later because they do run out of food.
There is a wooden ship bar here you can grab your drinks at if you wish to drink while you're relaxing on the island.
The sand is baby powder and the water is a perfect temperature and is as clear as your swimming pool. Half Moon Cay is amazing.
One thing to keep in mind, to get a good seat you need to get there early. People with excursions get priority tendering, meaning they will get to the island first.
Personally we have never been to the island where we did not have a villa or cabana. They are a must for us.
The villas are amazing. They are 2 stories tall and include 4 lounge chairs (2 upstairs, 2 downstairs), a kitchen table with chairs, a refrigerator, a hot tub, a shower, a bathroom, floats and snorkel gear for everyone in your party as well as floats for the ocean. They are air conditioned.
They also provide you with enough chips, salsa, fruit, water and soda for everyone in your party also.
THESE BOOK UP FAST SO BE SURE TO BOOK ONE AS SOON AS YOU BOOK YOUR CRUISE. 
In my experience, they usually book up within 2-3 days of going on sale, about a year-18 months prior to your cruise.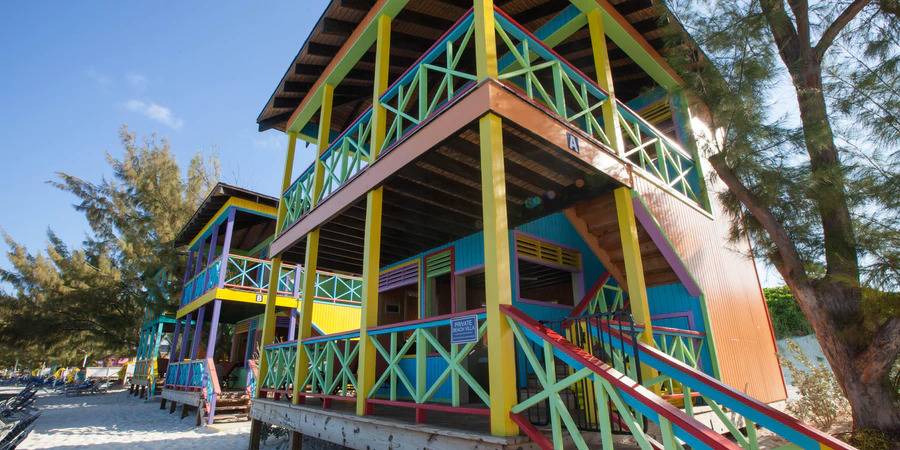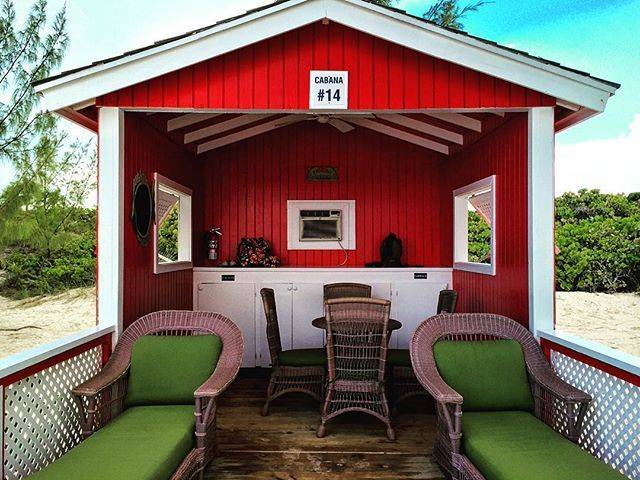 The cabanas are great also if you don't want to spend the money on a villa. The cabanas come with 2 lounge chairs, an outdoor shower, an air conditioner and a refrigerator.
They also have a table and chairs and are provided chips, salsa, fruit, water and sodas as well as the floats. The cabanas are very nice also. 
THESE BOOK UP FAST SO BE SURE TO BOOK ONE AS SOON AS YOU BOOK YOUR CRUISE. 
In my experience, they usually book up THE SAME DAY of going on sale, about a year-18 months prior to your cruise.
411 on the cabanas and villas
The cabanas and villas both are numbered. You cannot reserve a number when you book them.
However when you embark your ship, go straight to guest services and reserve your cabana number. You will also tell them then what size show you wear for your snorkel gear, and what type of sodas you want at your villa/cabana. 
When selecting your cabana or villa, the numbers/letters start off low. Cabanas are numbered, villas are lettered. If you want to be near the loud music and large crowd of people, then you want to pick a low number/letter for your cabana/villa. 1-5 and A,B,C are close to all of that. You'll be right in the mix of the action.
If you want more seclusion and serenity, then pick a higher number/letter. Cabanas 6-15 are your best bet for that, with 15 being the better end of the scale. The villas, D & E are the furthest away. 
One thing to keep in mind that while you have your own private cabana/villa, the area right in front of you is open to anyone. There could be a party of 10 people come sit in the lounge chairs right in front of your location.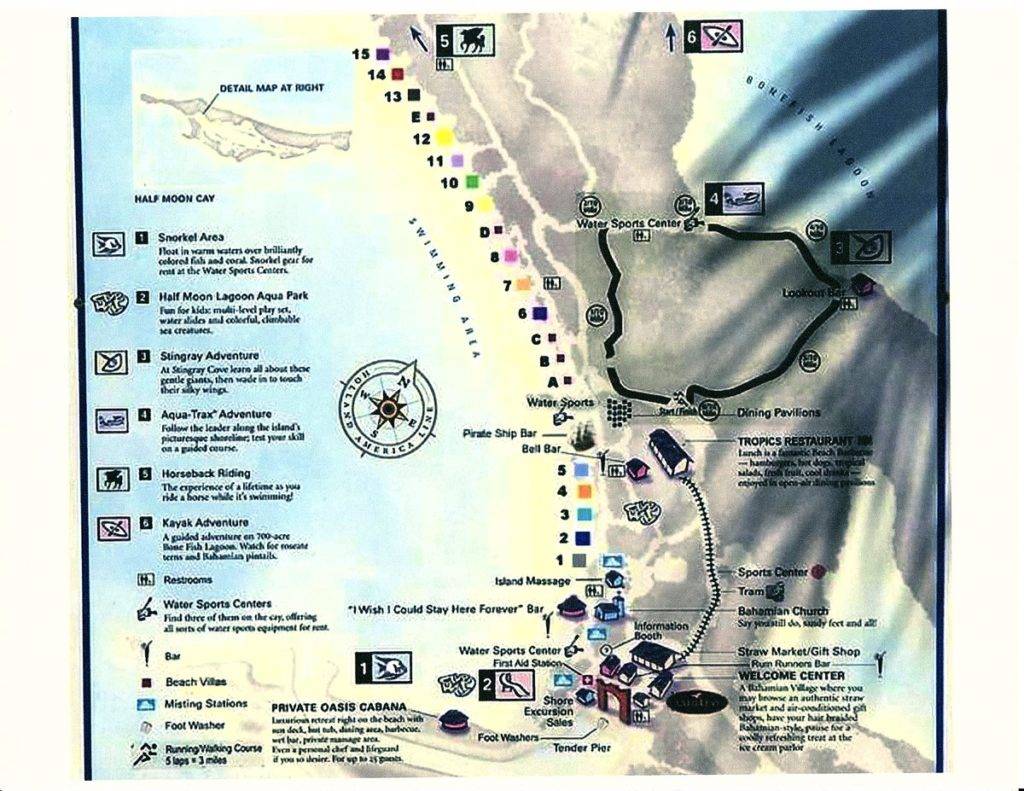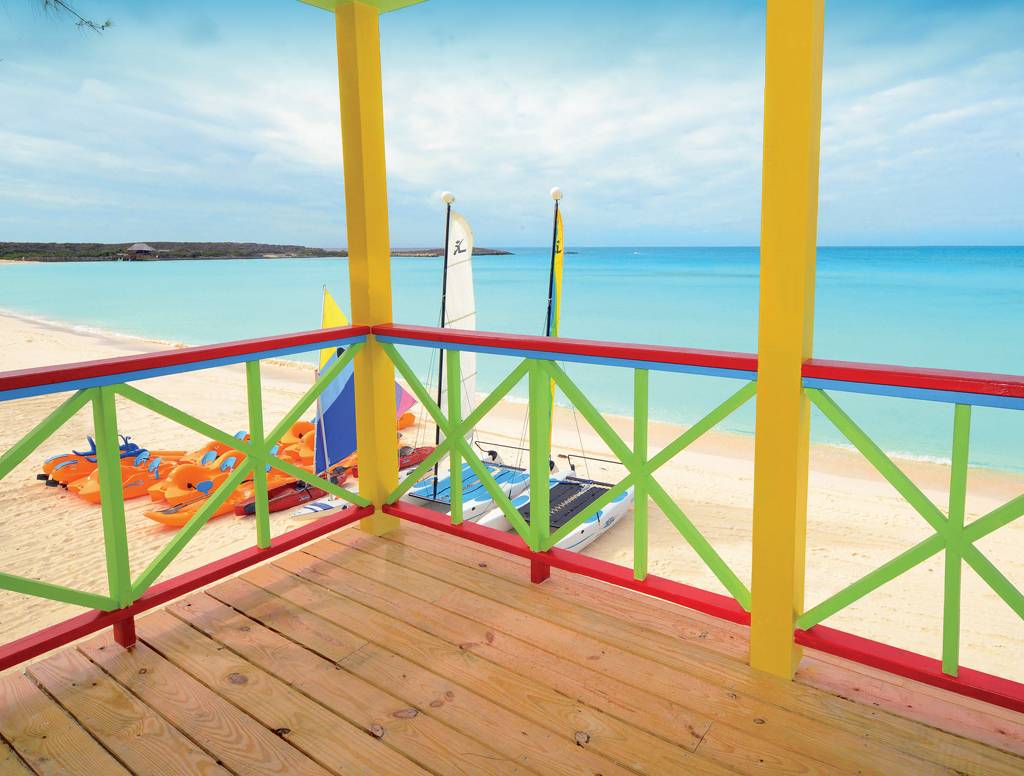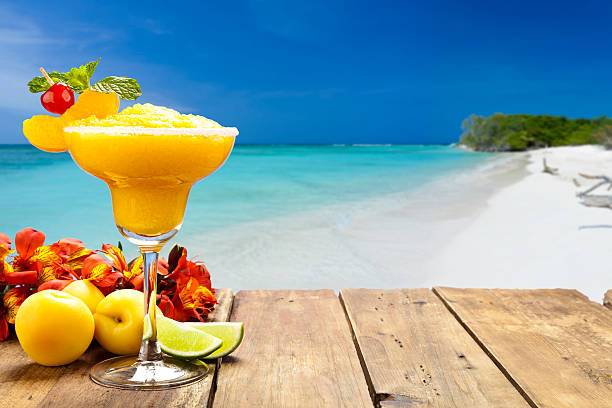 Cheers & Bottomless Bubbles at Half Moon Cay
One thing that's confusing to new cruisers is how their Cheer's (drink) package works. A lot of people are under the misconception that everything is included, everywhere. It's not.
Once you leave the ship, your drink package is invalid. This is no different at Half Moon Cay.
If you want a drink at Half Moon Cay, you're going to pay for it. Your drink package does not work on the island, so be prepared. Also if you want to shop on the island (limited), then you need to bring cash. The locals do not accept your sail & sign card. 
The island boasts a variety of food and drink options that cater to all tastes and preferences. Guests can grab a bite from the complimentary Beach BBQ and indulge in delicious grilled meats and seafood, as well as salads and sides. There are also island-style bars that serve a range of alcoholic and non-alcoholic beverages, including tropical cocktails and beer.

For those who prefer a more formal dining experience, there are a number of specialty restaurants, such as the Lobster Shack, that offer fresh seafood and other gourmet dishes at an additional cost. Additionally, guests can enjoy the convenience of beachside service and have food and drinks delivered directly to their beach chair or cabana.
There are several bars around the island where you can get your frozen concoction, ice cold beer or soda. There is the Lookout Bar, Bell Bar, Rumrunners Bar and the "I wish I could stay here forever" bar. The "Bahama Mama" is the traditional drink of The Bahamas. 
All food venues on the island are operated by the cruise line and food is brought from the ship.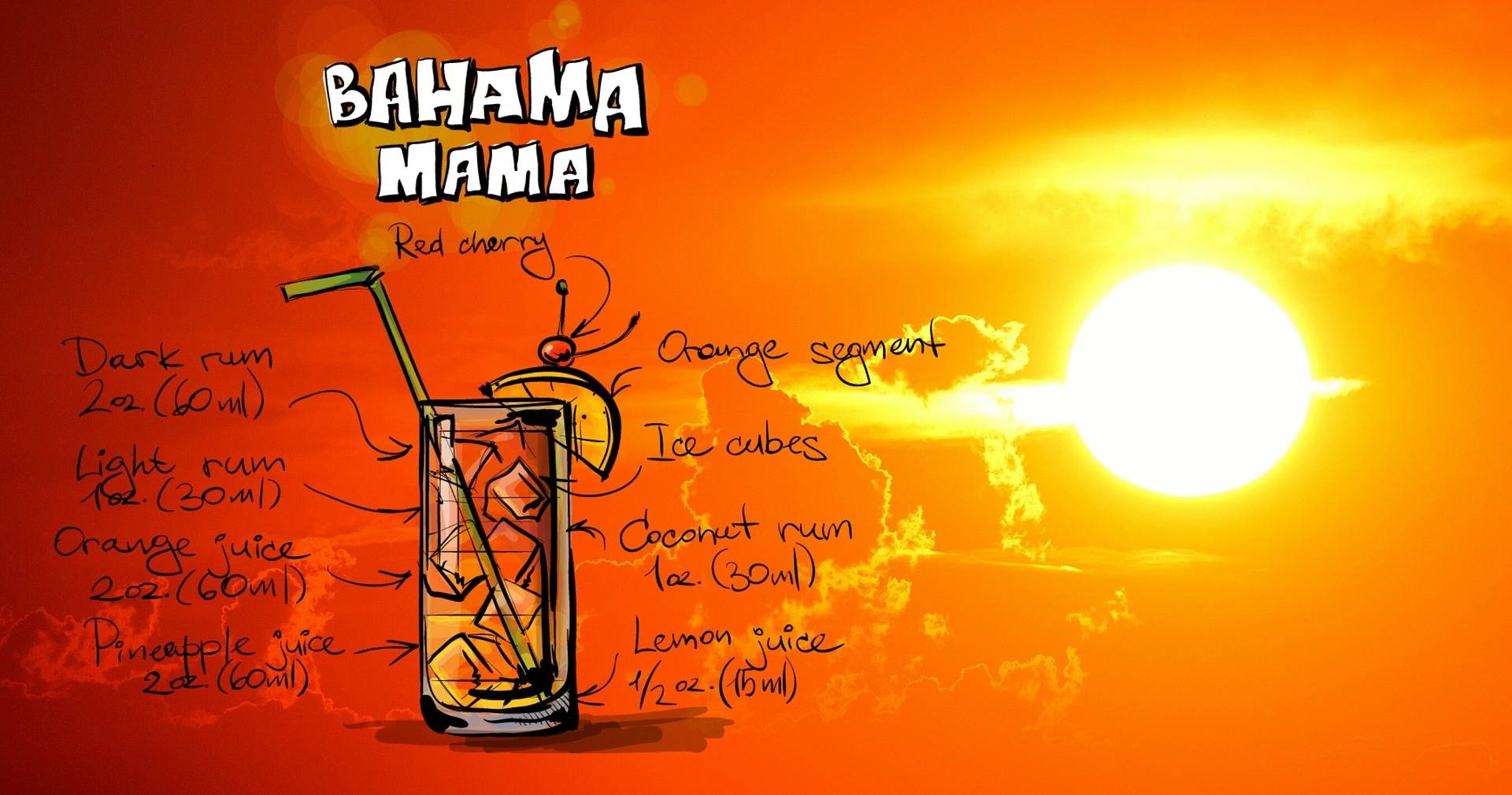 Full day rental – Enjoy your own shady spot on the beach. One clamshell will cover up to two lounge chairs.

Hobie catamaran sail boat

Hourly rental

Water paddle boat (2 people)

Hourly rental

Water paddle boat (4 people)

Hourly rental
The island offers a range of activities including snorkeling, beach volleyball, horseback riding, and water sports such as kayaking, paddle boarding, and parasailing. The island is known for its clear blue waters, soft sandy beaches, and relaxing atmosphere. Other popular activities on Half Moon Cay include guided island tours, eco-tours, or simply lounging on the beach. Carnival also offers private cabanas and beach villas available for rent, which provide an exclusive, upscale experience for passengers. With its beautiful views, secluded beaches, and exciting activities, Half Moon Cay is a highlight of any Carnival cruise itinerary.
Stingray Adventure
You will go with a guide to a secluded part of the island where you will be able to touch and interact with the stingray as they swim by. Another hit with the kids.
Horseback Riding
Ever wanted to ride a horse along the beach? Here's your chance to do it. You and your tour group will go with a guide and meet the horses where you will ride them along the pristine beaches of Half Moon Cay.
Snorkeling
You will go on a boat to do some offshore snorkeling to see the amazing marine life and reefs. The water is so clear in this area, this is something you don't want to miss if you want to snorkel. 
Eco Bike Tour
If you don't want to enjoy the beach but don't want to stay on the ship, then the eco bike tour may be for you. You will ride a bike and hike around the beautiful island to see untouched nature in its finest.
Tram Calypso Tour
This is a 1hr tram ride around the island to see "behind the scenes" of how the island operates. 
Beaches
The island is known best for its white, baby powder sand and its tranquil, crystal clear water. There is plenty of beach space for you to enjoy without being too crowded. Grab a lounge chair and enjoy your day by the beach. Half Moon Cay has the nicer beach than other private islands such as Princess Cays.
Watersports
There are plenty of watersports activities you can enjoy on the island such as sailing, kayaking, catamarans, water bikes and snorkeling.
Hiking
There are trails where you can walk on the island and explore some of the wildlife on the island such as the wild chickens, at least 47 bird species, and other natural beauties.
Massages
There is an air conditioned cabana on the island that offers massages. The massage specialists will come off of the ship and give you a fantastic massage on the island.
Hair braiding
Some of the locals will come over from Eleuthera for the day and braid your hair for a charge. This is fun especially for the kids.
Kids activities
Around the pirate ship is a water park for the children to play in. This is a safe area and there are plenty of water toys for the young kids to play with.
Shopping
There isn't much shopping on Half Moon Cay compared to other ports, but there are a few tents operated by Eleuthera locals where they sell their goods. You will need cash for these tents as they do not accept your sail & sign cards.
Are you planning a trip but worried about unforeseen events ruining your plans? Look no further than InsureMyTrip.com! Their website offers a comprehensive range of travel insurance options to protect you against unexpected trip cancellations, medical emergencies, lost baggage, and more. Compare and choose from their top-rated providers to find the perfect policy to fit your needs and budget. Plus, with their 24/7 customer service and support, you can travel with peace of mind knowing they're always there to help. Don't risk losing your hard-earned money and precious vacation time – visit InsureMyTrip.com today for your travel insurance needs! Love2Cruise highly recommends InsureMyTrip.com for hassle-free travel protection.