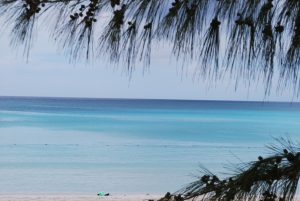 Half Moon Cay is probably the most beautiful place on Earth. It's a private island owned by Holland America Cruise Line, which is a subsidiary of Carnival Corp.  The sand is as soft as baby powder, the ocean was as warm as could be and the water was crystal clear. It was heaven.
Our first time there, we rented cabana #12 through Carnival (this is a Carnival excursion) and since we had that and FTTF we were the first off the ship and the first on the island.
It was heaven. With the cabana we got fruit, chips, veggies, dip, guacamole, salsa, water, sodas, snorkel equipment, floats, a private shower, private beach area (for cabana people), AC, fridge, and a place to keep our stuff. Oh and the loungers. Seriously, this was heaven and my favorite place ever.
Oh and this is pronounced Half Moon KEY despite the spelling.