Belize City
90°F
Moderate or heavy rain with thunder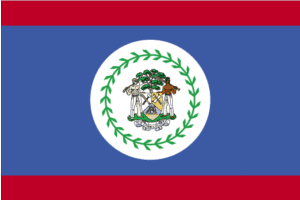 Belize is a small Central American country bordering Mexico to the north and Guatemala to the west and south. It is known for its beautiful Caribbean coastline, numerous offshore islands, and world-class scuba diving and snorkeling opportunities at the Belize Barrier Reef.
Though English is the official language, Spanish, Creole, and various Mayan languages are also spoken. The country's population is diverse, with a mix of indigenous Maya peoples, Creole, Garifuna, and Mestizos. The economy relies heavily on tourism, agriculture, and fishing.
Belize is also home to numerous nature reserves and national parks, including the Cockscomb Basin Wildlife Sanctuary, Mountain Pine Ridge Forest Reserve, and Blue Hole National Park. The country's cuisine is influenced by its diverse ethnic groups and features dishes such as rice and beans, baleada, and fresh seafood. Overall, Belize offers a unique blend of natural beauty, cultural diversity, and outdoor adventure.
Belize is a wonderful country with wonderful people. In the Facebook cruise groups, I see a lot of cruisers, mainly old people or first time cruisers saying they're scared of Belize or won't leave the ship. That's nonsense. Belize is fantastic and once you leave the port area, I think you'll find the same thing.
Belize is a tender port, due to the reefs off-shore. This is one of the longest tender ports that I have been on, about a 20 minute tender ride. It's not horrible though. 
Once you arrive at the Belize port, there's not much inside the port area to see or do, but you can exit the port area into Belize City and shop.
There are plenty of things to do in Belize that cater to a variety of interests. Some popular activities include exploring ancient Mayan ruins, visiting national parks and nature reserves, snorkeling or diving in the Belize Barrier Reef, cave tubing or kayaking in the country's many rivers and waterfalls, and trying out local Belizean cuisine.
Other interesting attractions include cultural festivals and events, the Belize Zoo, and exploring the country's colonial history. With its warm climate, beautiful beaches, and lush rainforests, Belize is a popular destination for travelers looking for adventure, relaxation, and a glimpse into the country's unique culture and history.
There are also tours and excursion companies that will take you to see different attractions and do different activities. I personally always recommend David Castillo with AlTournative Belize Services
David Castillo can take you to pretty much every one of these places if you just tell him what you want.
Also, Belize is a very impoverished country so if you do use him as your guide, ask about taking supplies for the local schools. The schools there aren't ran by the government and rather by churches and the communities. We took school supplies and got to meet the kids and teachers. It was a very cool experience.
AlTournative Belize Services
Visit King David Castillo today to see how he can make your day enjoyable and memorable on your stop in Belize!
Actun Tunichil Muknal Cave (cave diving)
Altun Ha (Mayan Ruins)
Barton Creek Cave (cave diving)
Belize Zoo
Big Rock Waterfalls
Black Hole Drop
Cahal Pech (Mayan Ruins)
Caracol (Mayan Ruins)
Cave tubing
Caye Caulker
Cocksomb Basin Wildlife Sanctuary
El Pilar (Mayan Ruins)
Frio Rio Cave
Horseback riding
Lamanai (Mayan Ruins)
Placencia Peninsula
See the Great Blue Hole
Thousand Foot Falls
Xunantunich (Mayan Ruins)
Zip lining
Belizean cuisine is a combination of Caribbean, African, Mayan, and Spanish influences, resulting in a unique blend of flavors and ingredients. The country is known for its fresh seafood, tropical fruits, and spicy sauces.

Some popular dishes include rice and beans, stewed chicken, fry jacks (fried dough), and ceviche. Belize is also famous for its hot sauces, particularly Marie Sharp's.

Belize has a variety of dining options, from street vendors and local eateries to high-end restaurants. Many restaurants offer both Belizean and international cuisine. Lobster is a popular dish during the season, and most restaurants offer seafood options.

Some popular restaurants in Belize include Elvi's Kitchen in San Pedro, The Smoky Mermaid in Belize City, and Hidden Treasure in San Pedro. There are also many beachfront restaurants and bars that offer a relaxed atmosphere and stunning ocean views.
Bird's Isle
Celebrity Restaurant
Midtown Restaurant & Bar
Riverside Tavern
The Little Boar House
The Sahara Grill
Tony's BBQ
Wet Lizard
Are you planning a trip but worried about unforeseen events ruining your plans? Look no further than InsureMyTrip.com! Their website offers a comprehensive range of travel insurance options to protect you against unexpected trip cancellations, medical emergencies, lost baggage, and more. Compare and choose from their top-rated providers to find the perfect policy to fit your needs and budget. Plus, with their 24/7 customer service and support, you can travel with peace of mind knowing they're always there to help. Don't risk losing your hard-earned money and precious vacation time – visit InsureMyTrip.com today for your travel insurance needs! Love2Cruise highly recommends InsureMyTrip.com for hassle-free travel protection.