Documents
needed to
cruise
Do I need a Passport to cruise?
This is a very common question for new cruisers. Many do not know the requirements to cruise and are looking for the correct answer. The short answer is, no, you do not need a passport to cruise in most instances.
What does Carnival require to cruise for US Citizens?
Carnival is very easy when it comes to cruising with your birth certificate. All you need is a photocopy of your birth certificate made from your home printer. It does not need to be notarized or certified. As long as it's legible, you're good to go. Just make sure it's a copy of your actual birth certificate, not the novelty paper the hospital gives you with footprints on it. While this is common sense for most, there are people who think that's an actual birth certificate–It's not.
However, there are some excursions on Alaska cruises that require you to have a Passport when going into Canada. Martinique and Cuba also require Passports.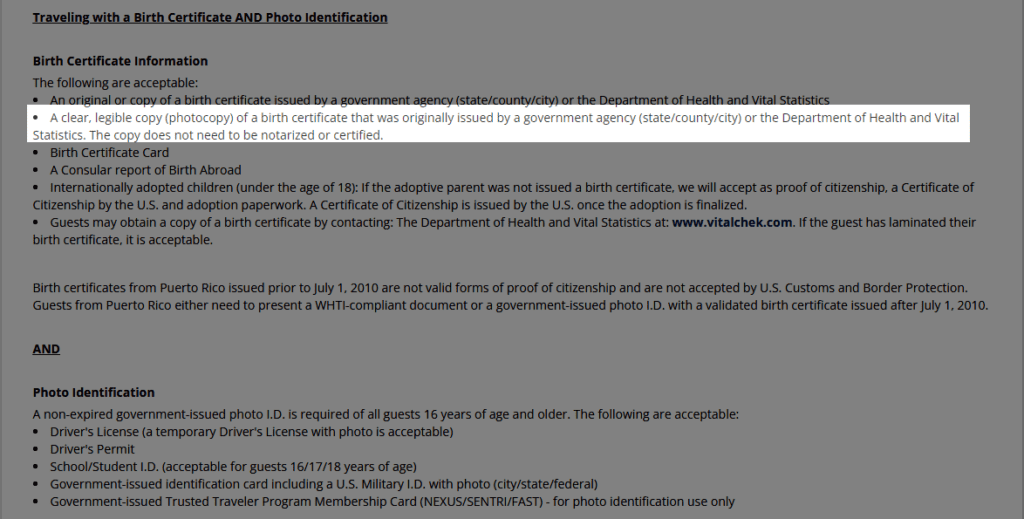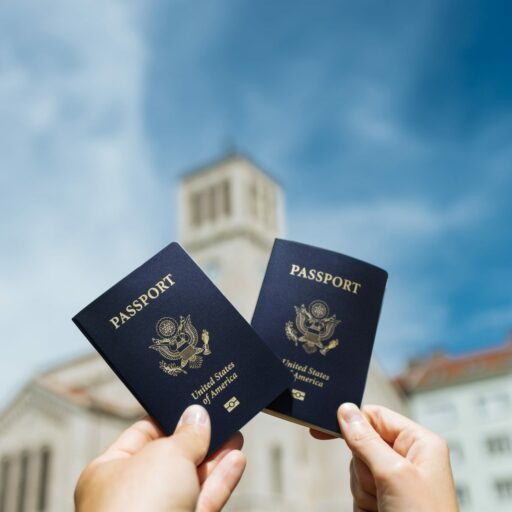 What does Royal Caribbean and Norwegian require for US Citizens?
Both RCCL and NCL require you to use your original birth certificate or a state certified copy. You can order a copy of your birth certificate from VitalChek here
What about an Enhanced Drivers License (EDL)
With Carnival, if you have an Enhanced Drivers License, then you do not need to have your birth certificate. An Enhanced Drivers License is all that you need. Just make sure you state has an Enhanced Drivers License, only a few do. 
There's a difference between an Enhanced Drivers License, and a RealID.  
As of this posting, I do not have the EDL requirements for RCCL or NCL.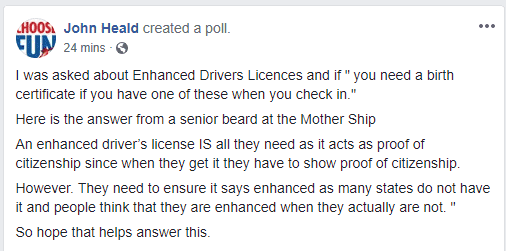 Currently only the following states have an Enhanced Drivers License:
Michigan
Minnesota
New York
Vermont
Washington
Ohio²
² In 2023 Ohio passed a law to offer EDLs. However as of this posting, they are not available to residents of that state yet.
If you are traveling without a valid US Passport, there is a risk you are taking. If there is an emergency where you need to fly home or if you miss your ship in port for some reason and need to get to the next port, you will need a Passport.
However, this does not mean you're stuck if you do not have a Passport. There is just more red tape for you to cut through. If you miss your ship or you need to fly home for an emergency, then you will need to visit the United States Embassy in whatever country you're in to get an emergency passport to return to the states. They can do this on site and get you back home. There will be fees and headaches to endure, which is why most people just say get a Passport to begin with. 
Do I need a Passport Book or a Passport Card?
If you're planning to travel internationally, a passport book is definitely the way to go! It opens up visa-free access to more than 180 countries worldwide and provides detailed information about the holder. Plus, it's a great form of identification and lasts for up to ten years! This makes it an ideal option for those who frequently travel and want to save money in the long run. While passport cards may seem like an attractive option due to their lower cost, they only permit land and sea travel to a limited number of countries and are only valid for five years. So, if you're a frequent traveler looking to explore the world, a passport book will make for a perfect companion on your travels!
Apply for a United States Passport
To apply for a US passport book, you will need to provide proof of identity, proof of US citizenship, a completed DS-11 application form, and a passport photo. You can apply at one of the over 7,500 passport acceptance facilities across the country by scheduling an appointment or visiting during walk-in hours. You will need to pay a fee for the passport book, which varies based on age and processing time. You can also pay for expedited services if you need your passport quickly. Once your application is processed and approved, you will receive your passport book in the mail within a few weeks. Remember to keep your passport book in a safe place, as it is a valuable document that can be used for travel and identification purposes.
Apply for US Passport
You will be redirected to the United States State Department
Are you planning a trip but worried about unforeseen events ruining your plans? Look no further than InsureMyTrip.com! Their website offers a comprehensive range of travel insurance options to protect you against unexpected trip cancellations, medical emergencies, lost baggage, and more. Compare and choose from their top-rated providers to find the perfect policy to fit your needs and budget. Plus, with their 24/7 customer service and support, you can travel with peace of mind knowing they're always there to help. Don't risk losing your hard-earned money and precious vacation time – visit InsureMyTrip.com today for your travel insurance needs! Love2Cruise highly recommends InsureMyTrip.com for hassle-free travel protection.