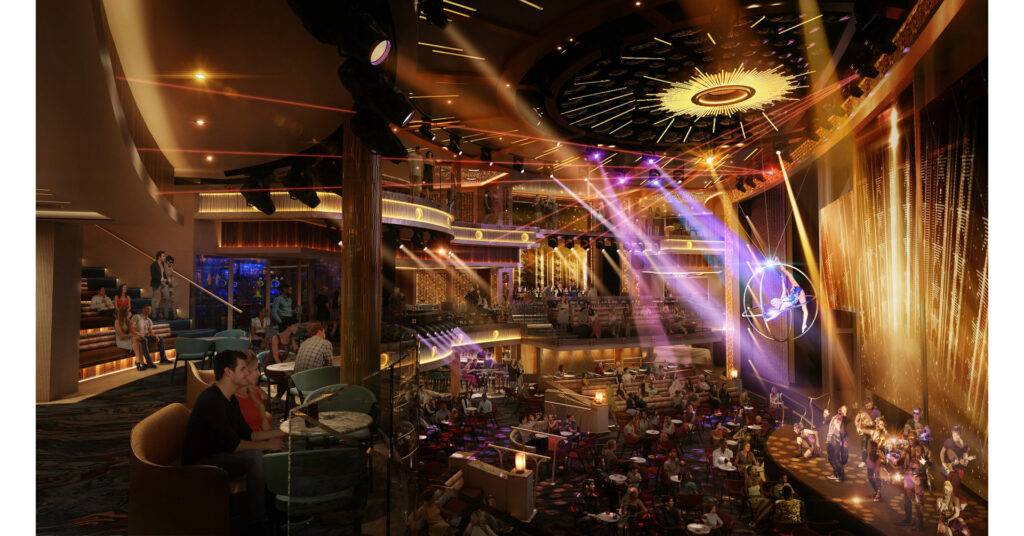 What, why and how do I...... ?
Now that you're on the ship, you may be overwhelmed by everything and not know what to do or where to go. A ship is a floating city and can definitely be overwhelming.
Here are some tips I have that may make life much easier for you once you're on the ship.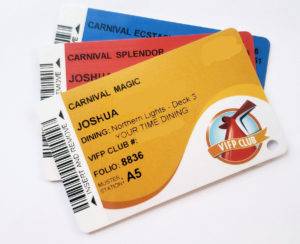 There are 5 different colored cards (or VIFP levels) that you can have.
Blue – Your first cruise
Red – 2 thru 24 cruise nights
Gold – 25 thru 74 cruise nights
Platinum – 75 – 199 cruise nights
Diamond – 200+ cruise nights
Green – Crew members
On most Carnival ships, this is given to you at 1:30 when you're allowed to get to your cabin.
This will be in a tamper-proof envelope, in your cabin mailbox. There are a few terminals that still give you this when you check in, before you even get on the ship. Each person on the ship has a sail & sign card
Your sail & sign (or S&S) Card has multiple purposes. First, it's your cabin key. Just like a hotel.
The second purpose of your S&S card is for your onboard spending. The ships operate a cashless system, so everything that you purchase on the ship, will be charged to your S&S card. Food, drinks, shopping, casino donations, arcade, you name it. It's all charged to your S&S card.
You can put a credit card on file when you do your online check-in, or you can use cash on board. Personally I prefer to use a credit card so I am not checking my balance every 20 minutes.
This is also your ship ID for ports. When you get back to a port after being out all day you will need to show 2 things. Your ID, and your S&S card. You cannot access the port area without your S&S card.
Then once you get back to the ship, you'll need to scan your S&S card once again. You also cannot get of of the ship without scanning your card.
Gratuities on a cruise ship are additional charges for the services provided by the staff and crew members. These fees are usually added to the account at the end of the trip and can be paid in cash or included in the overall bill.
The amount of gratuities varies depending on the cruise line, but it is typically around $13 to $20 per person, per day. This amount covers the work of the dining room and cabin stewards, as well as other support staff, such as the kitchen and housekeeping personnel.
Some cruise lines have a mandatory gratuity policy, while others may include gratuities in the overall pricing. It is important to check the specific cruise line's policy on gratuities to avoid any unexpected fees.
Don't worry about carrying cash to try to tip everyone. This is all done on the back end by Carnival. You can tip them extra if you'd like but you don't need to. There are also people behind the scenes that you never see that get part of the tips also. People who clean up your dishes that you leave sitting behind, steward assistants, etc. Leave your tips in place and don't worry about them moving forward. If you're too cheap to tip, then just don't cruise and stay home.
| | | |
| --- | --- | --- |
| | $14.50 per person, per day | $16.50 per person, per day |
| | $16.50 per person, per day | $18.50 per person, per day |
| | $20.00 per person, per day for Club Balcony and below | $25.00 per person, per day, for The Haven & Suites |
Port excursions are activities organized by cruise lines or local tour operators for cruise ship passengers during the port stop. These excursions typically offer a range of options that cater to different interests, such as city tours, historical and cultural experiences, nature and wildlife encounters, adventure sports, and culinary tours. They can last a few hours to a whole day, and are usually led by experienced guides who provide detailed information about the destination and its attractions.

Port excursions are a great way to explore and experience the local culture and attractions of a port of call. They also provide a convenient and hassle-free way to explore the destination, as transportation, tickets, and other logistics are taken care of. However, they can be expensive, and you may not have the flexibility to customize your itinerary or explore at your own pace. It's important to research and compare different excursion options to find the ones that suit your interests and budget, and to book in advance to secure a spot.
If you are new to cruising or have a very low comfort level, you may want to stick with excursions through the cruise line until you get comfortable knowing how to get back to the ship and how things work on the islands. Some people love to stay on the ships leash and that's fine. It's whatever you're comfortable with.
However, booking an independent excursion with a local operator will be about half the cost, you will see and do more, and you can customize it to your liking. You need to do your research and check reviews on whichever excursion you go with.
If you book your excursion through the cruise line, TripAdvisor, Viator, ShoreExcursioneer, ShoreFox, Island Marketing or one of the companies, you're using an excursion broker, not an excursion operator. You cannot vet the operator you'll be with, read true reviews or really know what you're getting. That's why I recommend booking directly with a local. That way you can read their reviews, see other peoples experience, and know what you're getting.
The cruise line promises to either wait for you or get you to the next port if you're late from your excursion and miss your ship. Do know that most of the cruise ports have no major export and tourism is their main source for their economy. They know that if they have passengers back late or miss their cruise, the negative reviews will put them out of business. They do everything that they can do have you back to the port in time. However, it's your responsibility to be mindful of the ships time. Stay sober, keep an eye on your watch, be sure you're on ships time, and plan to be back to the ship an hour prior to departure and you should be fine.
If you book your excursion through the cruise line or one of the many brokers, you'll most likely have to pay for your excursion at the time of the booking. If you book through a local, you'll likely pay when you arrive at the port. If you do have to put a deposit down, it should be a refundable deposit in case your ship cannot port for whatever reason.
Personally, I would never do a ship excursion. I always book private, independent excursions for my family and myself.
Guest services can handle just about everything for you. Any problem that may arise during your voyage, questions you may have, billing issues, complaints, compliments, you name it and they can help you. These are very knowledgable crew members who will do whatever they can to make your cruise more enjoyable.
Be aware the queue for guest services can be extremely long, especially on embarkation day and the day before debarkation. Guest services is open 24 hours a day. Diamond, platinum and Faster To The Fun guests have a seperate line to use at guest services to skip the regular long lines.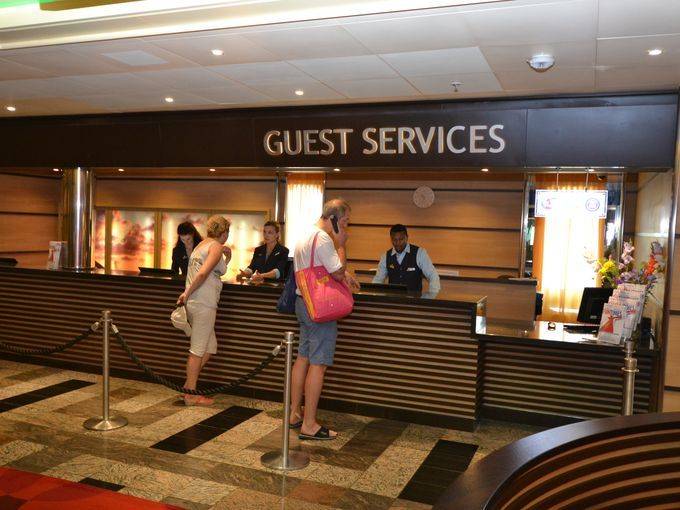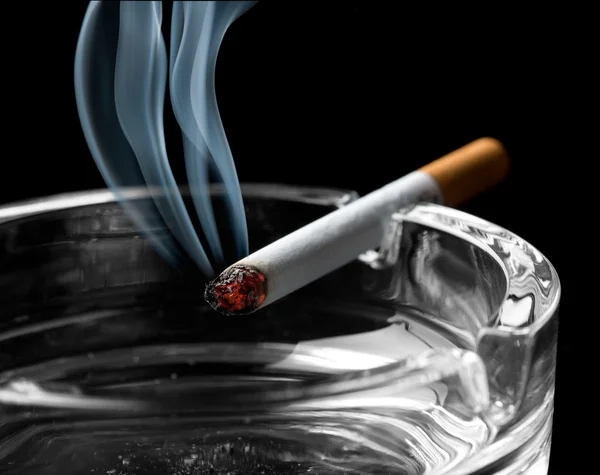 Smoking is prohibited on the ship except in designated areas. You're allowed to smoke in the casino on most ships, and there is also a smoking area on certain decks. You are not allowed to smoke in your cabin or on your balcony. This applies to cigarettes, e-cigarettes and cigars. Marijuana is not allowed on the ship. Also be advised on embarkation day there is NO SMOKING anywhere on the ship while the ship is refueling. 
Everywhere you turn, there will be food. With the exception of the specialty restaurants, all of the food you see is included. Eat all you want. Eat as much as you want. Try new things. Rather than paying $50 for a dish at an expensive restaurant to "try", try it on the ship. If you don't like it, order something else. Order 2 steaks if you want them. Order 6 appetizers. Order 9 desserts. Whatever makes you happy, do it. Nobody is going to judge you, people do it all of the time.
On embarkation day everyone heads to the lido deck to eat at buffets. The lines will be long this day, but it's not always like this. Don't worry.
You can eat breakfast EVERY DAY in the Main Dining Room. On sea days, there's sea day brunch as well.
Aside from the buffet and the MDR, there are always other places to eat. Some ships don't have certain places. You have to check to see if your ship has a certain restaurant you want.
Guests cruising on the Excel Class ships are able to enjoy some of Carnivals specialty dining options for free at dinner. This includes Cucina del Capitano, Guy's Pig & Anchor Smokehouse and Chibang! These venues are alternative options to the main dining room.
Guests with Your Time Dining can eat dinner at the above mentioned restaurants any time during their nightly open hours.
Guests with traditional time dining (Early/Late) are allowed to eat at the above mentioned restaurants after 7:30pm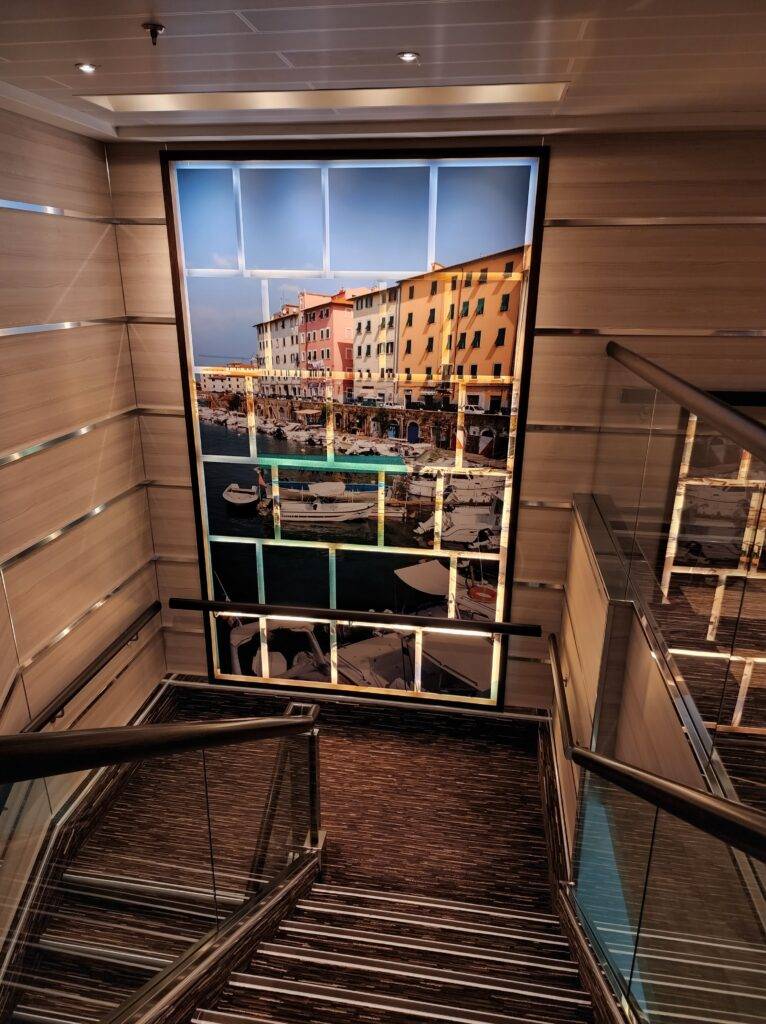 You do not realize how much you are going to eat on a cruise, and how much you'll be drinking and relaxing. Unless you're handicapped, you'll want to take the stairs as much as possible to help work off some of those cruise calories. Unless you're going from the riviera deck to lido deck, it doesn't take much to go a few flights of stairs.
However, if you want to take the elevator, please remember basic elevator etiquette. When the door opens, allow those coming off to get off before you rush on. Also if you notice someone in a wheelchair, please allow them to get on.
On most ships, there are 3 elevator banks. 1 aft, 1 fwd and 1 mid. Sometimes you can save time by going to a different elevator bank to catch one.
On the Vista Class ships, they have "smart elevators". You do not get on the elevator and push which deck you wish to go to. Instead, you use a screen outside of the elevator bank to push which deck you want to go to. You do this for each guest. So if you have 6 people in your party and you want to go to lido deck, you would push lido deck 6 times total. It will then tell you which elevator to get on. When people read directions and use them properly, they're much faster than standard elevators.
On embarkation day, the mid-ship elevators will be out of service for most of the day. They use these elevators for luggage delivery.
Cell phone usage on cruise ships is a bit different than on land. While most major cruise lines offer cell phone service onboard, it can be quite expensive. Most cruise lines offer their own cellular network for guests to use while at sea. This network allows guests to make calls and send texts, but at a much higher rate than they might be used to on land. Some cruise lines also offer Wi-Fi packages that allow guests to use messaging apps like WhatsApp or iMessage. However, even these packages can be costly. When at port, guests may be able to connect to local cellular networks, which can be more affordable, but it's always best to check with your service provider beforehand to avoid unexpected charges.
Your best course of action is to put your phone in airplane mode when you embark and turn on WiFi. Even if you purchased an International plan from your cellular provider, that is only good while on land. Cellular at Sea is operated by the cruise line and they can charge what they wish. This can cause your cell phone bill to be in excess of a thousand dollars or more. If you must use your phone, consider WiFi calling or wait until you're in port. Most cell carriers offer International plans. With Verizon, their top tier plan includes 1 free day of International calling per month, and those days can bank and roll over.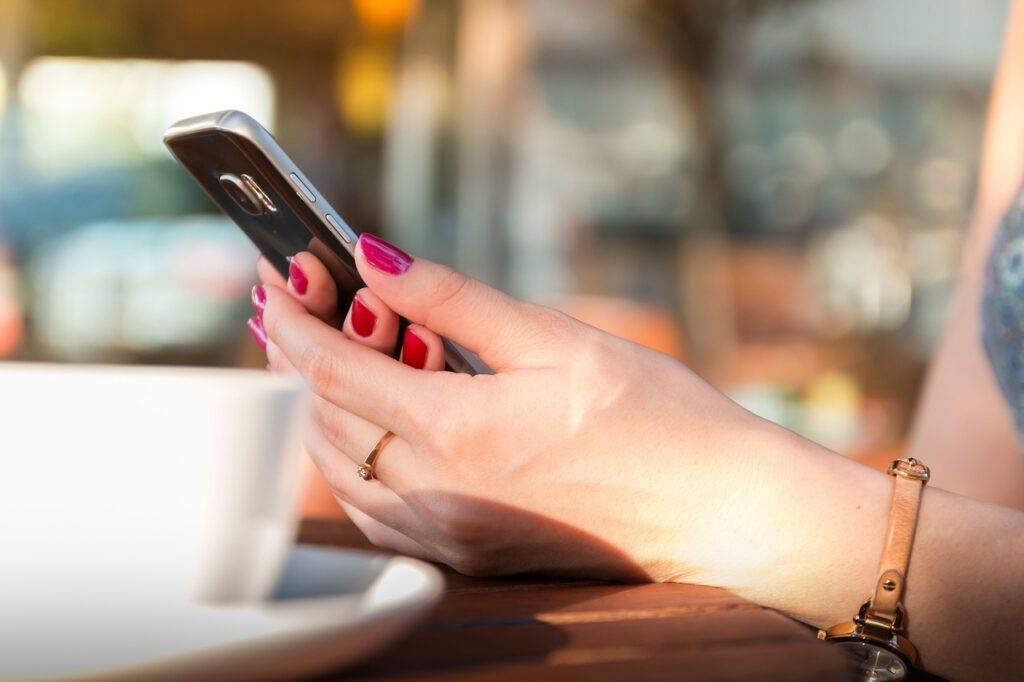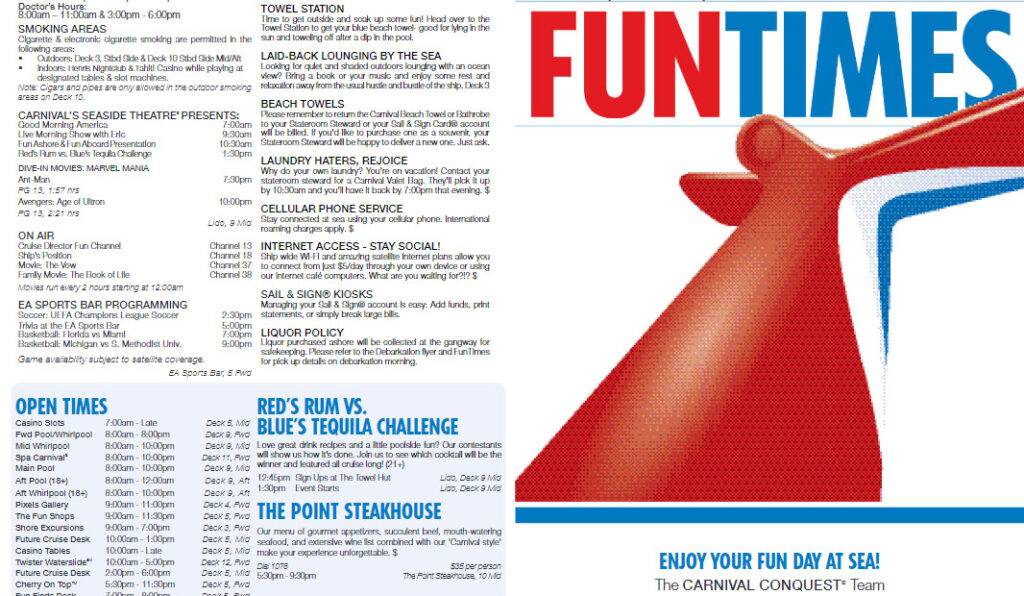 The Fun Times is Carnival Cruise Line's daily schedule of activities and events onboard their ships. The Fun Times is delivered to your stateroom each day, and it lists everything that's happening on the ship from morning until late at night. The Fun Times includes a variety of activities, such as trivia games, dance classes, pool parties, comedy shows, and live music concerts, to name a few.

Additionally, the Fun Times lists important information such as dining times, port arrival and departure times, and shore excursion options. It's a fun way to stay informed and make the most out of your time onboard a Carnival cruise.
The best and easiest way to access The Fun Times is directly on The Hub app. Within the app, you can "like" any activities you want to do, and you will get a reminder on your phone before that activity is set to begin. You can also see what others in your party are interested in and this will help you with planning. 
Carnival Cruises has a variety of fun shops onboard their ships where passengers can shop for souvenirs, clothing, jewelry, and other items. The Fun Shops offer a range of options, including duty-free shopping, specialty shops, and on-trend brands like Swarovski and Kate Spade. In addition to standard apparel, the shops also carry Carnival-branded merchandise, including shirts, hats, and souvenirs.

Passengers can also shop for premium spirits, electronics, and snacks. The Cherry on Top candy store is also a popular destination for those with a sweet tooth. There are a variety of special deals and sales to take advantage of as well, such as Halloween items during the fall season. Overall, the Fun Shops offer a great way to find unique souvenirs and gifts to remember your Carnival Cruise.
People tend to wait until the last day of the cruise to buy souvenirs on the ship. If there's something you want, go ahead and get it. They don't have to sell out of something just because it's the last day of the cruise, remember an hour after you are off the ship, others will be on it.
They do have sales though, you can always inquire about what day things will be on sale like the cologne, shirts, etc.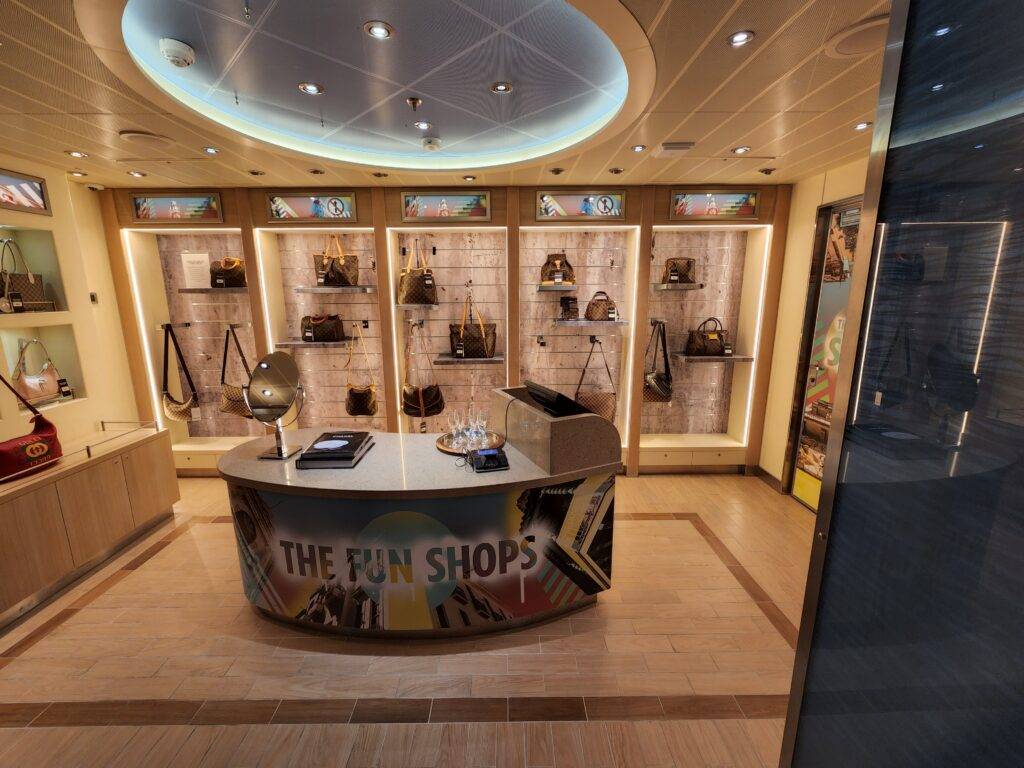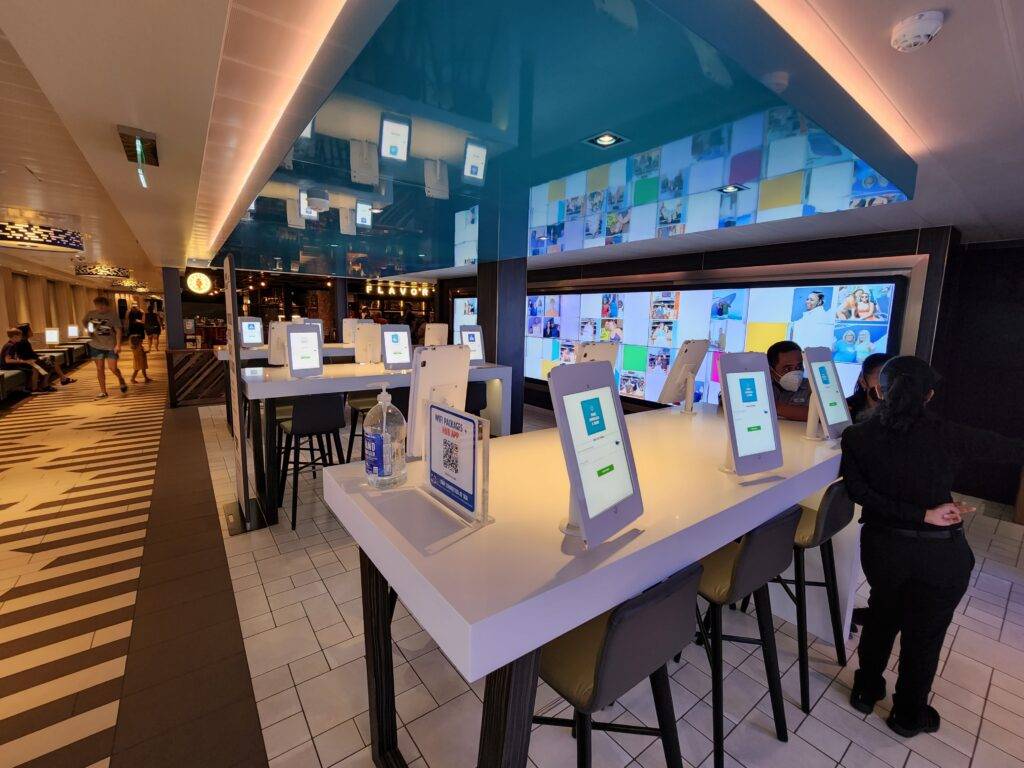 Pixels is a photography service offered on Carnival Cruises. The service allows one to capture memories of their cruise experience through professional photos. Guests are able to choose from various photo packages that suit their needs, including prints and digital copies.

One can schedule a photo shoot session with the Pixels team at various locations on board for formal portraits or casual shots. The team also captures candid moments during events, excursions, and dining experiences. The team's work is displayed on screens throughout the ship, allowing guests to easily view and select their desired images.

Pixels provides a convenient way for guests to remember their cruise experience with quality photos and videos taken by a professional team.
Carnival Cruise Line offers guests the convenience of onboard laundry services. Guests can choose to use self-service laundry facilities located throughout the ship or opt for full laundry and dry cleaning services provided by the ship's crew.

Self-service facilities provide washers, dryers, and ironing boards with detergent and fabric softener available for purchase.

For those who prefer full laundry services, a laundry bag and pricing list will be provided by the cabin steward. The crew will collect the guests' laundry, wash, fold, iron, and return it to the cabin usually within a day or two. The cost of laundry services varies depending on the item and the service selected.
The cost is $3.50 to wash a load and $3.50 to dry. 
There are no self-launderettes on Excel Class ships.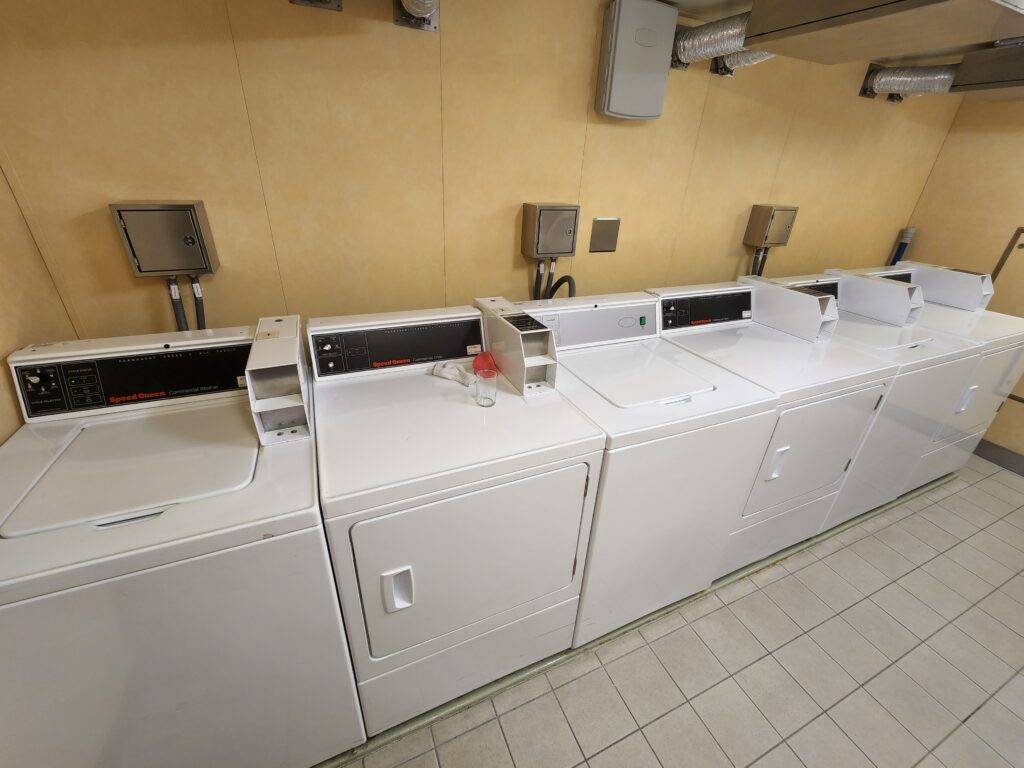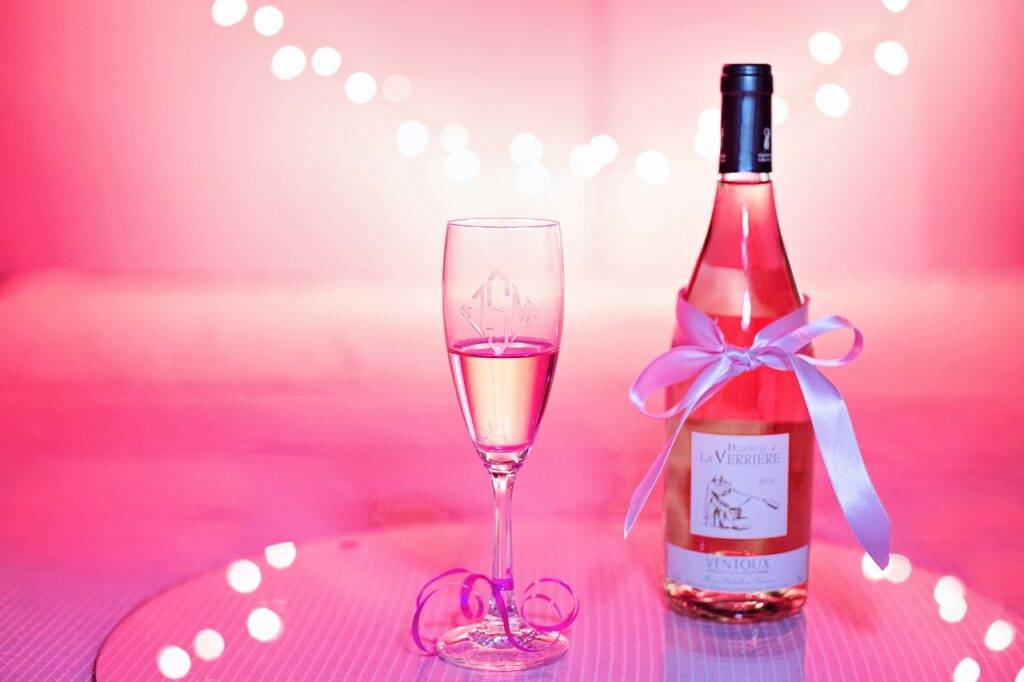 Carnival Cruise Line offers various services to make guests feel special during special occasions like birthdays and anniversaries. These services vary based on the amenities that the guests have opted for. For instance, guests staying in a suite can avail of personalized gifts and decorations such as chocolate-dipped strawberries, wine, balloons, and banners in their stateroom. Moreover, guests can also request for personalized greeting cards and messages from the ship's crew. Additionally, guests can celebrate their special occasion by treating themselves to various activities, such as dining at specialty restaurants, relaxing at the spa, and attending entertainment shows. Overall, Carnival Cruise Line aims to provide a personalized experience tailored to their guests' preferences to make their celebrations extraordinary and memorable.
Are you planning a trip but worried about unforeseen events ruining your plans? Look no further than InsureMyTrip.com! Their website offers a comprehensive range of travel insurance options to protect you against unexpected trip cancellations, medical emergencies, lost baggage, and more. Compare and choose from their top-rated providers to find the perfect policy to fit your needs and budget. Plus, with their 24/7 customer service and support, you can travel with peace of mind knowing they're always there to help. Don't risk losing your hard-earned money and precious vacation time – visit InsureMyTrip.com today for your travel insurance needs! Love2Cruise highly recommends InsureMyTrip.com for hassle-free travel protection.