Pre-cruise planning
We booked this cruise in January 2017. I emailed my PVP at Carnival and told her what I wanted and we booked it. I always book through her because she lets me know of cabins that aren't on the Carnival website. She knows the type of cabins we like and helps me get the best one. As soon as we booked it, I went ahead and started watching for FTTF, awaiting on it to become available. Finally on April 26th 2017 it opened up and I snagged it. Then I went and searched Facebook for a cruise group and there was none, so I started one. It had gotten around 40 people in it and we were starting to make plans. A few months later someone else started another Facebook group (didn't search for an existing one) so there were 2 groups. I ended up just ditching the first one because there's no point in having 2, and kinda laid back in the second one. There were a lot of activities planned but not as organized as previous groups I've been in. Previously we had some way of knowing who was who once we were onboard. Last year on the Splendor, we all wore Mardi-gras style beads around our neck so we would know. This year the group went in the way of pineapples toward the end, which kinda got silly but who am I to complain, I just didn't partake in any of it. After all, it wasn't my place to say anything, I just have fun in the other cruise groups for other upcoming cruises.
Now if you know me, you know we won't do Carnival excursions. They just do not look fun at all. In fact, I have seen a "party boat" excursion twice while in ports and they do not look fun at all. In fact it looks way too crowded and I just can't go with a group of 50 people on an excursion, going at someone elses pace, waiting on an old man or woman in the back to catch up. We want to see what we want to see and do what we want to do while in port and do it at our pace. So I looked for independent tour operators in each port in the months leading up to the cruise. I ended up finding someone in each port, which I will touch on later in this posting.
As soon as I put down my deposit, I started getting the discounted gift cards online to pay off my cruise fare. I ended up getting about $4,000 worth of gift cards to pay off the cruise fare and pictures, which saved us $400 on the cruise. I had a couple of the physical cards but I prefer the digital cards.
On December 13th dates opened up for us to get our airline tickets through Southwest. We only fly Southwest due to it being the cheapest, and always been the best for us. I also went ahead and booked our pre-flight hotel as well as our pre-cruise hotel in Cocoa Beach, Florida. We always go down a few days before we sail to do things, so I looked at things to do. I ended up getting passes to Kennedy Space Center.
Also in December I went ahead and checked into the cruise online, printed our luggage tags, printed the health questionnaire and signed it so those 2 things would be done.
I also went ahead and ordered a case of water to be in our cabin when we arrived. I always do this since it's only $5 and we only end up drinking a bottle or 4. I am not sure why I do this, I guess it's out of habit.
I also went ahead and purchased travel insurance through insuremytrip.com like I always do. I cover our entire cruise including pre/post activities. I paid $183.00 for the entire trip which I valued at around $10,000.00. Not bad, and they include a TON more coverage than the basic overpriced insurance Carnival offers.
We booked our hotel based on the fact they had a free shuttle to/from the cruise port as well as the airport. We ended up booking the Courtyard by Marriott in Cocoa Beach. However after we decided to go to Kennedy Space Center, I cancelled the shuttle and we just decided to rent a car from National. That way we could drive back and forth to KSC the 2 days.
On March 22nd Carnival announced the Pixel Plus Digital package which included ALL of your photos printed as well as digital copies. I paid $249.99 for this package. I ended up buying it for 3 upcoming cruises we have. About 2 weeks later they started changing the package and ended up changing it several times. I am so thankful that I purchased it when I did. It's now no longer offered.
From this point, it was a waiting game until time to go to vacation! I try not to countdown or pay attention to any countdowns because it makes time go slower. This time that paid off because the cruise definitely snuck up on us.
Time to start vacation!
On Wednesday morning I went and got a haircut, then checked both kids out of school around lunch time and on to Raleigh we went to fly to Orlando!
Day 1, Raleigh, North Carolina
Day 2, Cocoa Beach Florida
Day 3, Cocoa Beach Florida
Day 4, Embarkation!
We woke up this morning around 8 so we could get ready to head toward our ship. We were excited!! We had originally planned on using the free shuttle that the hotel offered but then realized that the hotel used a shared shuttle with the Hampton Inn next door. I am not a fan of shared shuttles since there are so many people on them. We just decided to take an Uber to port. From the Courtyard by Marriott on Atlantic Ave. to Port Canaveral Cruise Terminal in an UberXL was only $26.85 for the 6.3 mile trip with Robert.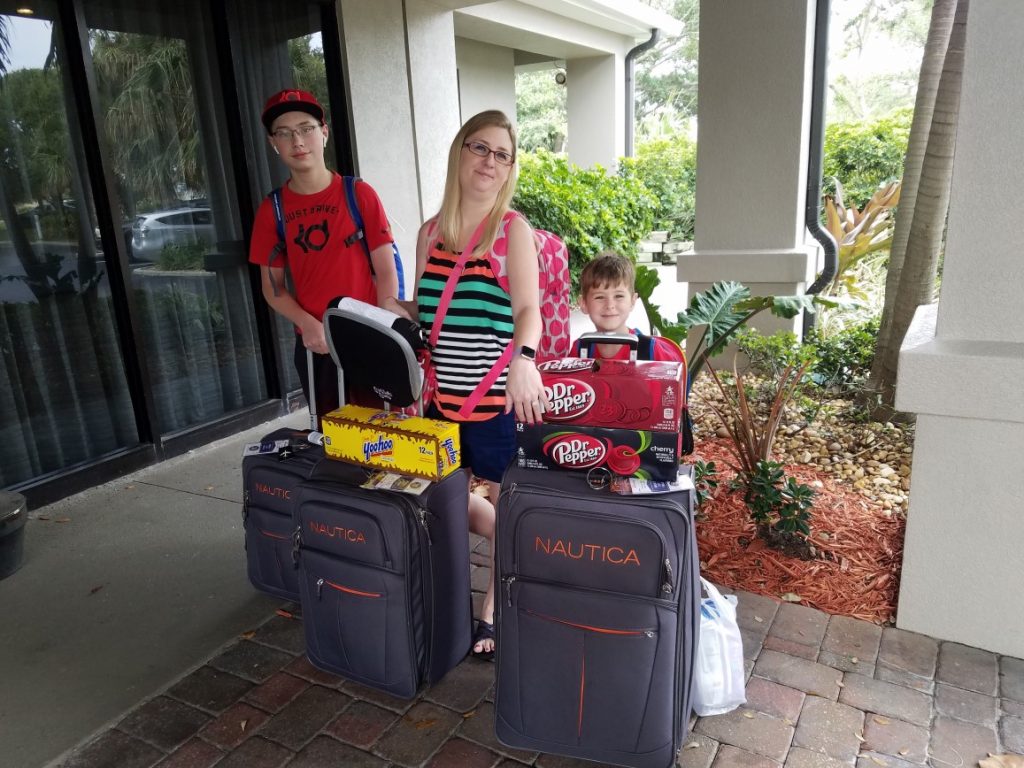 We called for an Uber at 9:30, it arrived to our hotel at 9:35 and we arrived at the terminal at 9:45. When we arrived at the terminal there was only 1 car in front of us, which we both had to wait on a parking spot to open up so we could pull in to unload our luggage. The wait was minimal, maybe 5 minutes. We pulled into a spot and a porter came to unload our luggage. I made sure he knew they were priority and he thanked me for letting him know because they go on a separate cart to be delivered. I tipped him $5 for our 4 pieces of luggage and into the terminal we went.
Since we had FTTF we were able to skip the 90,267 people that were already in line and go to the front. There was a hold up there because the agents computer was freezing on him. Finally he got another one and was able to scan us in. From there we went and sat in the FTTF area of the waiting room to wait. It wasn't too long of a wait, we were on the ship by 10:45.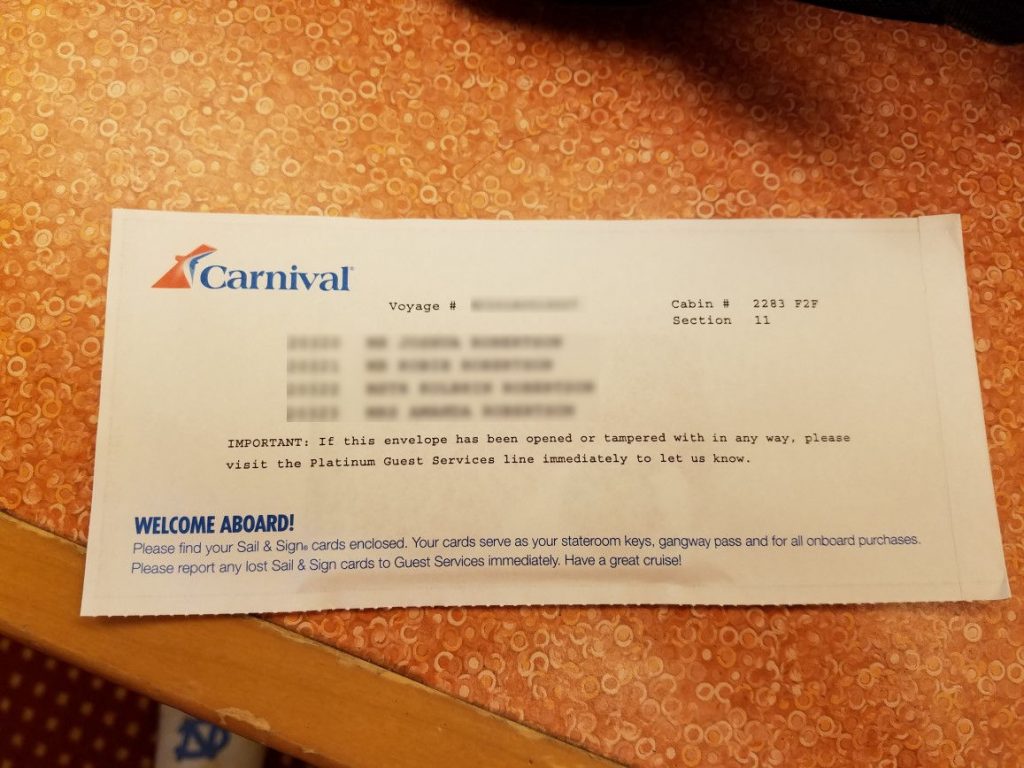 For those who wonder about the S&S cards, on the Magic at Port Canaveral they're put into the mailbox outside of your cabin in a sealed envelope. This prevents people from going to their cabins prior to 1:30. (Priority guests they're there when you embark). You use your boarding pass for purchases prior to getting them.
We went straight to our cabin once we embarked to drop off our carry on bags and sodas. Then we went straight to lido to eat at Guy's Burgers. We knew it would get busy quick there (which it did) so that's why we did that. We didn't even look around the room. Literally just dropped the luggage off and nothing more.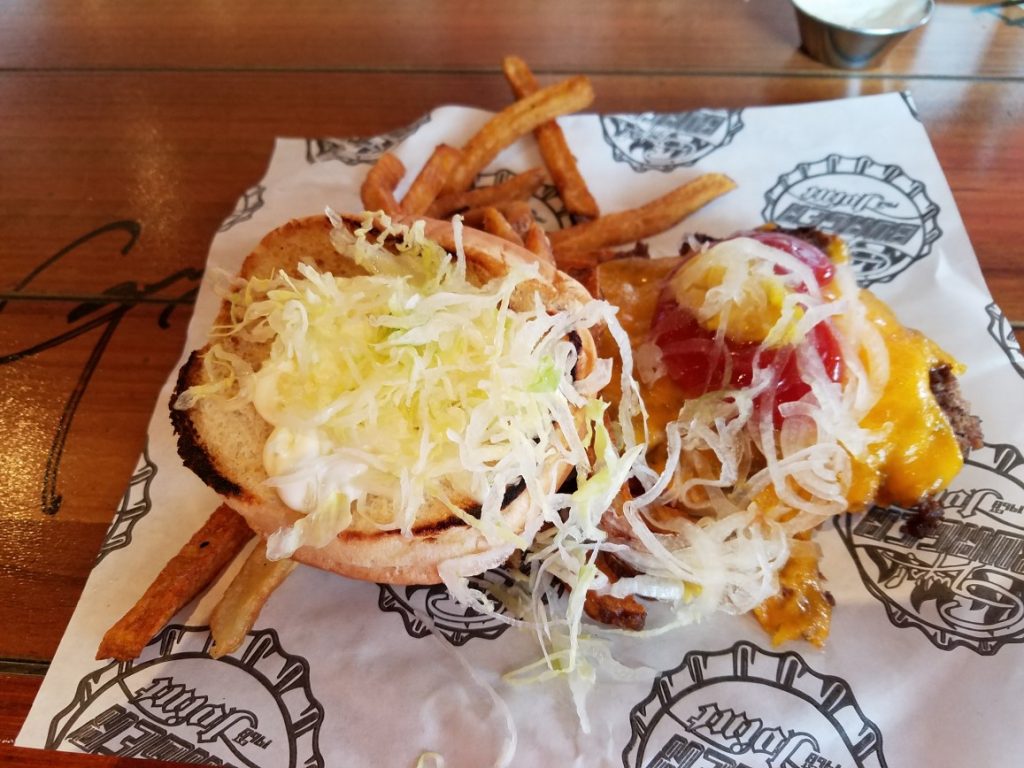 After we ate at Guy's, we went back to our room and our luggage had arrived. We unpacked everything and just sat on our balcony and relaxed for a little bit until muster. One thing I love about the Magic is that all muster stations are indoors at a club or restaurant. This was perfect.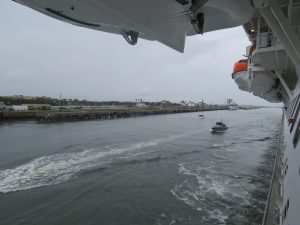 Around 3:30 (I think?) we went to the Southern Lights Dining Room which is where our muster station was. It lasted all of 15 minutes max. From there we went back to our balcony to watch sail away. It was raining so there was no party on lido for sail away. It was fun watching us sail away on the balcony though.
After we sailed away, we took a (short) nap since we were tired. It had been a long day. We woke up around 5pm and got ready for dinner.
We always get YTD (Your Time Dining) for our dining assignment because we don't like sitting with strangers. Also when we're in ports we don't want to rush back or skip the MDR because we're at a set time. Not to mention if we don't like our wait staff, we're not stuck with them. If we like them, we can get them each night. It's a win-win.  We went to get in line around 5:30. We waited in line and once the doors opened we were sat. We sat at a table by the window which was great. On the first night our wait staff was Cristian as our head waiter, Ireneo as the assistant waiter and Beverly as the other assistant. This was an amazing trio, we loved them. I typically get the same thing each night which is a flat iron sirloin and 2 appetizers of shrimp cocktail. I do get the filet mignon when it's on the menu.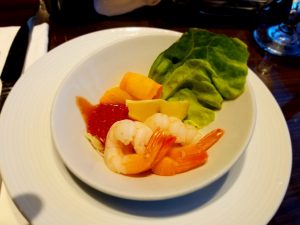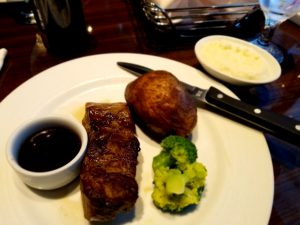 After dinner, we ordered our usual warm chocolate melting cake with 2 scoops of ice cream with it. It was fantabulous as always. This was the best dining experience we've ever had on a cruise. We loved it because 4 things:
We had an excellent wait staff each night which we requested the same staff.
We had a great table each night which we sat at the same table, we requested.
The food was excellent, no complaints about any of it.
We were in and out of the MDR in 45 minutes every single night. We were never there an hour or longer like on previous cruises. There is no reason it should take us over an hour to eat a meal.
Once we were done, we just went walking around the ship to explore and people watch. We did this until bedtime. We went back to our cabin to call it a night. Our room steward Noel came to see us. We requested extra pillows as well as twice a day service which he came morning and night. He did a great job despite us never seeing him. Literally, we didn't see him once after that.
Day 5, Day at sea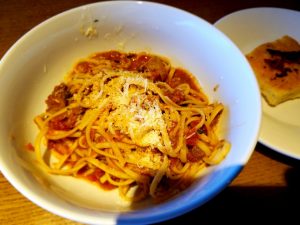 Today we were at sea traveling to Mexico. We slept in, sleeping until around 9:30 I think. Once we woke up, I went around the ship to take some pictures and check things out. I ended up stopping at Cucina del Capitano for some lunch. It was just me and another couple in there eating. I ended up getting linguini with bolognese sauce and Italian sausage. The food was pretty good too!
Mom and the youngest was on lido at the pool area. I went to watch things going on up on lido myself. It was fun, I didn't do too much. This day was a relaxing day around the ship just watching things happen.
Around 5:00 we again got ready for dinner. Tonight was cruise elegant night so that meant I had to put on tennis shoes and jeans to eat. We went to dinner at 5:30 again and had the same wait staff, table and food. When we were finished eating heading out, I told Cristian I'd see him tomorrow and he said no we wouldn't, he was being transferred to the Fantasy tomorrow. BOO!
We left the dining room and headed to get pictures taken since we were dressed up and I had purchased the pictures package. We spent a little while going to each station getting photos taken. After we were done with photos, my oldest went to lido or somewhere (not sure where) and we went to the showtime theater where we would watch the 88 Keys perform. This was not my favorite performance at all. In fact the 88 Keys on other ships have been much better. They were okay, just not great.
After that, we went back to the room to call it a night, only to find out the oldest had gone back to the room since he was tired. This was great for us! We left the youngest in there with him and mom and I went to the casino for about an hour. We both won a little, went to get pizza and head back to the room ourselves. Tomorrow we were in port!
Day 6, Costa Maya, Mexico
Once we got back on the ship, we showered and got ready for dinner. Again we headed to the dining room at 5:30. I knew Cristian had left us but I asked for his staff. We went to our normal table and met our new waiter, Julio. We still had Ireno and Beverly as well. They were still great and Julio was awesome. He made my youngest something out of napkins each night. By this night Beverly knew what we were eating, deserts, etc. It was great. Again, out in 45 minutes. Perfect!
After dinner we went to get pictures made again. I wanted to take full advantage of our picture package. Which we did. 🙂
Once we were done with pictures, we went to see the playlist production of Country Road. This was much better than the previous show. After Country Road was finished, we went up to the atrium area to watch what was going on there, then shop a little bit. Finally we went back to the cabin to shut our eyes for a little bit.
Day 7, Isla Roatan (Mahogany Bay)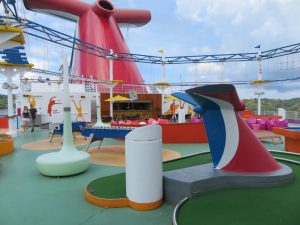 Once we arrived back on the ship, we went up to lido to play putt-putt. We had a lot of fun because there was NOBODY on the sports deck. We enjoyed our time up there alone. Then we went to the water park area to cool off. It was nice to get wet on this 623 degree day. After that we went to get ice cream, then go get ready for dinner. You guessed it, it was about 5:00pm and we wanted to get up in line around 5:30. (How did you know?) After dinner, we went to get pictures taken. (See a pattern here?) and once pictures were done, we went to the HASBRO Gameshow. It was fun, typicall HASBRO show on the ship though with Connect Four and Simon Flash.  From here we were tired so we went to the room to get ready for bed.
Day 8, Belize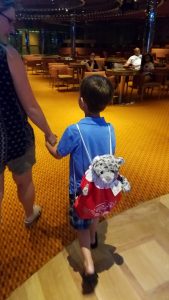 Once we got back to the ship from Belize, we went to the Build-A-Bear Workshop for my youngest. I don't know why, and I never will. We have always tried to avoid this but this time, we didn't. $47 later, we have a bear with a Carnival shirt and camo shorts, and shoes.
From here, we went to get ready for dinner. Same dining experience as the last few days so I won't elaborate again.
After dinner, we took pictures and then went to the playlist production of America Rocks. This was a great show! We really enjoyed this one. From here we went to the atrium to see what was going on, before going to our cabin and getting ready for bed.
Day 9, Cozumel
Once we got back onto the ship we went back to the cabin to take a nap. Once we got up, we went to shop for a little bit then get ready for dinner at our usual time, for our usual food, at our usual table, with our usual staff. 😉
After dinner we went to get more pictures taken, then the kids went to the room for the night. Mom and I went to the casino to donate some more money for a little bit. Then we went to the Punchliner Comedy Club at 9:45 and stayed for both shows. The first guy Killer Beaz was funny. The second guy Cee Jay Jones wasn't that funny.
From there we went up to get pizza and then head to the room for bed.
Day 10, Day at sea
This was our last day on the ship, BOO. We slept in, and woke up around 10:30. We went up to the main dining room for breakfast just as we had the other sea day. From there we went to explore the "secret decks" that you can access from certain floors. After that, we just shopped around the ship, walked around, checked our various things going on around the ship until time for dinner.
After dinner we went to the Lip Sync Battle main event which was one of the best shows I've seen. Not because of the contestants, but because of the little boy on stage, Noah. If anyone was on this sailing and has the video of him, if you want to contact me I'd love to share it here.
Once we were finished with the Lip Sync Battle we went to the atrium for Cookies goodbye and the balloon drop. This is always a sad night because it's the last night of our cruise. We hate it. Once we were done here, we went back to the cabin to pack things up and set our bags outside. You're supposed to have your bags out by 11p but if you're later, they'll still get them. We ended up setting ours out around 12:30'ish. I had to do laundry first. We were all packed up and ready to go. The depressing night.
Day 11, Debarkation
Debarkation went very smoothly. We had our letter telling us to meet in the showtime theater at 7:45 for debarkation. We were there maybe 10 minutes and then Laura tells us it's time to go. We got down the gangway fairly quickly and to the terminal. There was a little bottleneck in the terminal since they have elevators but once we made it through that, we were out into the terminal and quickly found our luggage and made it to Customs. They don't do the papers anymore, he simply looked at our passports, and told us to have a great day.
Thoughts on the cruise:
Food: Excellent. We never ate on lido with the exception of Guy's. We always ate dinner and breakfast in the MDR.
Service: Outstanding. Never had an issue with anything.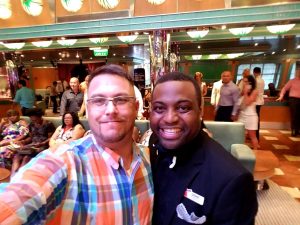 Cruise Director: Cookie is fairly new so he doesn't have that great reputation yet, but time will bring it. Dr. E has always had the Magic but it's Cookies for a while until later this year. Cookie is by far the best cruise director I have ever encountered. He is simply amazing. I would book a cruise based on him in the future, not even the ports or the ship. He was awesome.
Pixels: The photo package was GREAT! I hate they did away with it. They tried to tell me that I only got 50 prints when I embarked but I told them that the original package was honored and I got ALL of my prints + digitals and I showed them John Healds screenshot from Facebook. They marked it down and in the end, I got ALL of my photos + digital. I had 175 printed photos + all on a USB drive.
This was a fantastic cruise and I met a lot of awesome people.
Day 11 – It's not over!! We're still on vacation a little while longer. Check out our Orlando trip.
If you're interested in The Fun Times and other documents, you can download them all here.
Download Fun Times
For those wanting hours, locations, menus, etc., here are some screenshots from The Hub app.