It's here!! Embarkation Day!!
We booked this cruise on January 29, 2019 directly with Carnival (we won't use travel agents)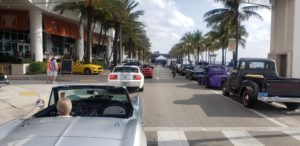 We woke up around 8am to get ready. It didn't take too much to get ready since I had gotten everything together the night before. I am not sure we even had breakfast this morning.
After my shower, I realized we didn't have enough Q-tips to last the entire vacation so I ran down to CVS to get some. Today also starts "The Great American Beach Party" in Ft. Lauderdale.
They had A1A closed to all vehicles, so they could have the car show and concerts on the strip. While I was downstairs, my son and I walked around a little bit checking out the cars.
After we were done looking at the cars, it was close to 9 so I decided to go ahead and call for our Uber.
With A1A closed, we had to go to the back (front?) side of the resort to catch the Uber. Elie picked us up in his black Chevrolet Tahoe UberXL and took us to Port Everglades. It was $21.63 for the 20 minute ride to port.
We got through Port Everglades security and off to terminal 19 which is where the Carnival Magic was. Broward County Sheriffs Office was directing traffic at the terminal and I think it was the academy doing it because it didn't seem like they had a clue what was going on.
Elie dropped us off with the porters and they took our luggage from us. I tipped them $5 for our 4 pieces of luggage and told them to make sure they put the orange priority sticker on each bag. Here's where the nightmare of Port Everglades begins.
We walked to the front of the line where priority passengers enter. The guy stopped us and told us to go to the back of the line, which snaked around the building. He said the line was for everyone. There was no way in hell all eleventy bazillion of those people were priority. Seriously, it was probably 2,000 people in line at 9:30. Whatever, I know better than to argue with the people at the port. So to the back we went.
Well the lady back there, said we were priority and that we needed to be in the front. So I walked by myself back to the front, where the clueless little man sent me to the back, again.
We stood there for maybe 10 minutes, frustrated. Finally another man came through and pulled the priority guests out and took us through another line.
Finally once we fought through the crowded mob we were in the priority line at the terminal entrance. From that point, everything was good.
We went through the initial greeter where we gave them our boarding passes, then through security. Then we went to the priority boarding seating area where we sat.
Finally we were allowed to board at 10:35. It was a mess and Port Everglades has never been that bad. It's always been my favorite port until now. At last though, we were on the gangway, on our way up to the ship!
Once we got onto the ship, I had 4 cases of soda, and a carry-on bag. Kobie took that to the cabin for us, along with mom and Kolbrin.
We had a villa reserved in Half Moon Cay, so I had to go to the shore excursion desk to reserve the villa we wanted. No issues there at all.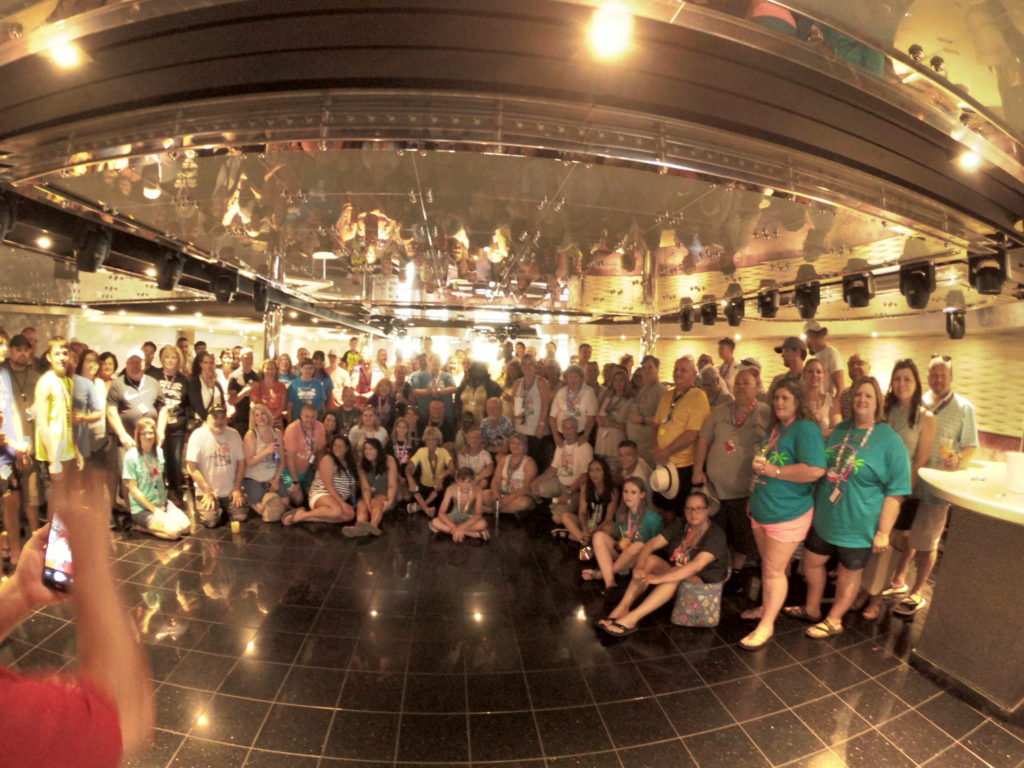 From there, I had to go to guest services to speak with the guest services manager. We had a Facebook roll call for our group that grew to a little over 960 members.
I had contacted John Heald (Carnival brand ambassador) prior to sailing, and he told me who I needed to speak with on board, that he had arranged everything. She told me that the nightclub was reserved for our group and that we would have a bartender and also gave me a bag of prizes to give out to people. That included 2 ships on a stick, 2 bottles of champagne, 4 Carnival medallions, and 4 other Carnival items. It was fantastic!!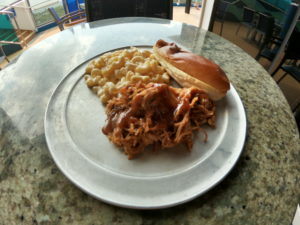 After I left guest services, I went up to our cabin to join the rest of the family.
We were staying in cabin 10264 which is a balcony cabin on lido deck. There was absolutely no issues with our cabin, it was in a perfect location. We sat on the balcony for a while and watched them load and unload the ship. I did go to Guy's BBQ and get some BBQ and macaroni and cheese. It was good, as always.
It was nice to just sit on the balcony and relax. Most people were off exploring the ship and checking things out. We've been on the Magic before so we didn't need to do that.
Finally at 2pm, our meet and greet for our Facebook group was scheduled. I went to The Vibe nightclub where I would greet everyone, and host the event. I am shy so I didn't do much talking. It was fun meeting the people I'd been talking to for the past year and a half on Facebook in our group.
There are some people I was excited to meet and I'll keep in touch with forever and then there are a select few that I'm glad I'll never have to deal with again.
Our meet & greet lasted about an hour and had maybe 200 people show up. Some people were in and out. It was awesome though. The group was the largest Facebook group I'd ever been a part of in terms of roll calls, and one of the most fun groups. We were the #MagicalMisfits !!
After our meet and greet, it was time for muster. I ran back to the cabin after everyone had left the nightclub to drop off the remaining prizes for the people who were MIA. Then my family and I went to our muster station.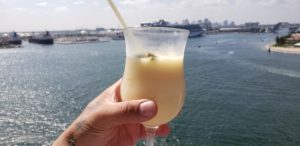 Muster lasted maybe 15 minutes and was in the main theater.
Once it was over, I went back to lido for the sail away party. I must say, this was the lame'est sail-away party I'd ever attended. I don't know if it started late or what, but it just wasn't much to it. To be fair, it was our cruise director Simon London's first day as a cruise director so maybe he didn't know what to do. Who knows.
We then sat on the balcony and watched Ft. Lauderdale drift into a distance. By that time, it was time for dinner!
We always do Anytime Dining and we went early today. We showed up and got our table. We usually get the same thing(s) and don't venture out of our comfort zone. We all got a flat iron sirloin with warm chocolate melting cake.
After dinner we hung out and did different activities around the ship. I honestly cannot remember what all we did. haha