We arrived in Grand Turk on time, and we sat on the balcony and watched us pull into port next to the Carnival Conquest.
I had a friend sailing on the Conquest so I took some pictures of her ship for her. I never saw her in port though.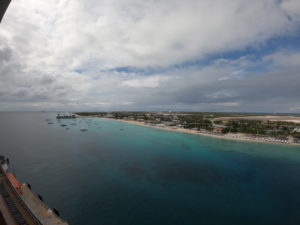 We have been to Grand Turk a septillion times and usually rent a golf cart through Karib.
They went out of business late 2018 so this time we rented a golf cart through Omar Morris, from Grand Turk Adventures. It was $70 for the day which is $20 less than Karib charged. The carts weren't as nice though.
We walked through the dufry shop, through the port area, out the parking lot and into the island, to find Omar and get our cart. We knew exactly where to go but I guess it could be confusing to a new cruiser.
I didn't meet Omar but he had 2 guys working for him. They spoke good English and were very nice. We got our cart, which only had a quarter tank of gas in it. Thankfully I checked before we left. Off we went!
The first stop we made was at a gas station where I put $20 worth of gas in the tank, which just about filled it up.
After that, we went up to Cockburn Town to show some friends of ours who had their own cart Her Majesty's Prison. Apparently it's closed down now and you cannot tour it. I was bummed by that.
From there, we rode up to the light house, which after being there 938,724,928,374 times, I STILL go up the wrong side of the large Salinas initially, and have to turn around.
We finally made it to the light house though where we saw 2 other friends and talked to briefly. By that point, we were hungry so we decided to go get some food.
We went to Jack's Shack which use to be a really fun and active place. Now don't get me wrong, John, Janet, Topher and Calypso are wonderful and they have good food.
However with the cruise groups and everyone telling people to go there, it's just become way too busy with cruise passengers to really enjoy it. The service is pretty much obsolete and it's very crowded. Next time we'll go elsewhere. We never even got waited on, so we went back to the ship for some food and ended up staying there.
I think the next time we're in Grand Turk, we'll just enjoy the ship while all of the cruise passengers are off. We've met every donkey, every horse, been down every road, seen every house, numerous times.
With Jack's Shack being so crowded now and lack of service, it's just not for us anymore. The new cruisers will still enjoy it though.
Remember, it's Grand Turk, not Grand Turks. There is no "s".
To continue reading the rest of this cruise, click the blog link below.