If you stumbled upon this page without reading from the beginning, you can catch up on our vacation by reading the blog entry below. That way you'll know what happened Monday-Friday. 
2019- Ft. Lauderdale
Saturday, May 25, 2019
Embarkation Day!
It's here!! Embarkation Day!!
We booked this cruise on January 29, 2019 directly with Carnival (we won't use travel agents)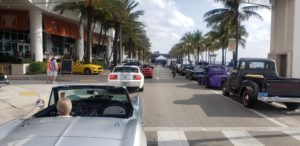 We woke up around 8am to get ready. It didn't take too much to get ready since I had gotten everything together the night before. I am not sure we even had breakfast this morning.
After my shower, I realized we didn't have enough Q-tips to last the entire vacation so I ran down to CVS to get some. Today also starts "The Great American Beach Party" in Ft. Lauderdale.
They had A1A closed to all vehicles, so they could have the car show and concerts on the strip. While I was downstairs, my son and I walked around a little bit checking out the cars.
After we were done looking at the cars, it was close to 9 so I decided to go ahead and call for our Uber.
With A1A closed, we had to go to the back (front?) side of the resort to catch the Uber. Elie picked us up in his black Chevrolet Tahoe UberXL and took us to Port Everglades. It was $21.63 for the 20 minute ride to port.
We got through Port Everglades security and off to terminal 19 which is where the Carnival Magic was. Broward County Sheriffs Office was directing traffic at the terminal and I think it was the academy doing it because it didn't seem like they had a clue what was going on.
Elie dropped us off with the porters and they took our luggage from us. I tipped them $5 for our 4 pieces of luggage and told them to make sure they put the orange priority sticker on each bag. Here's where the nightmare of Port Everglades begins.
We walked to the front of the line where priority passengers enter. The guy stopped us and told us to go to the back of the line, which snaked around the building. He said the line was for everyone. There was no way in hell all eleventy bazillion of those people were priority. Seriously, it was probably 2,000 people in line at 9:30. Whatever, I know better than to argue with the people at the port. So to the back we went.
Well the lady back there, said we were priority and that we needed to be in the front. So I walked by myself back to the front, where the clueless little man sent me to the back, again.
We stood there for maybe 10 minutes, frustrated. Finally another man came through and pulled the priority guests out and took us through another line.
Finally once we fought through the crowded mob we were in the priority line at the terminal entrance. From that point, everything was good.
We went through the initial greeter where we gave them our boarding passes, then through security. Then we went to the priority boarding seating area where we sat.
Finally we were allowed to board at 10:35. It was a mess and Port Everglades has never been that bad. It's always been my favorite port until now. At last though, we were on the gangway, on our way up to the ship!
Once we got onto the ship, I had 4 cases of soda, and a carry-on bag. Kobie took that to the cabin for us, along with mom and Kolbrin.
We had a villa reserved in Half Moon Cay, so I had to go to the shore excursion desk to reserve the villa we wanted. No issues there at all.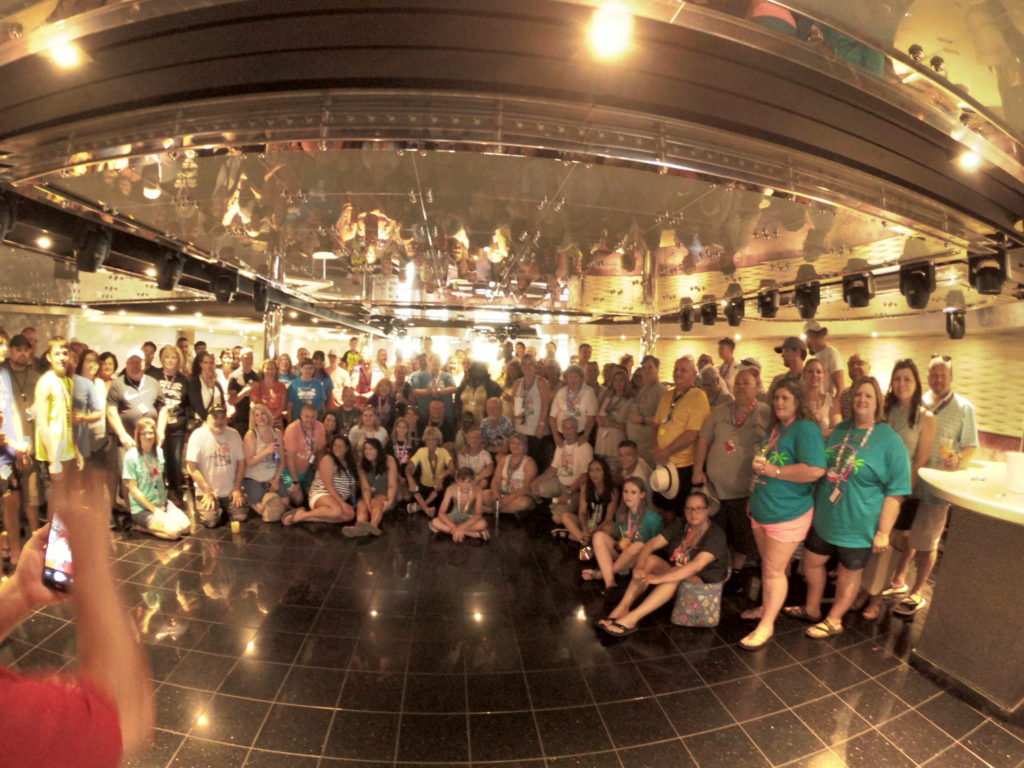 From there, I had to go to guest services to speak with the guest services manager. We had a Facebook roll call for our group that grew to a little over 960 members.
I had contacted John Heald (Carnival brand ambassador) prior to sailing, and he told me who I needed to speak with on board, that he had arranged everything. She told me that the nightclub was reserved for our group and that we would have a bartender and also gave me a bag of prizes to give out to people. That included 2 ships on a stick, 2 bottles of champagne, 4 Carnival medallions, and 4 other Carnival items. It was fantastic!!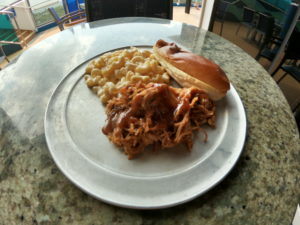 After I left guest services, I went up to our cabin to join the rest of the family.
We were staying in cabin 10264 which is a balcony cabin on lido deck. There was absolutely no issues with our cabin, it was in a perfect location. We sat on the balcony for a while and watched them load and unload the ship. I did go to Guy's BBQ and get some BBQ and macaroni and cheese. It was good, as always.
It was nice to just sit on the balcony and relax. Most people were off exploring the ship and checking things out. We've been on the Magic before so we didn't need to do that.
Finally at 2pm, our meet and greet for our Facebook group was scheduled. I went to The Vibe nightclub where I would greet everyone, and host the event. I am shy so I didn't do much talking. It was fun meeting the people I'd been talking to for the past year and a half on Facebook in our group.
There are some people I was excited to meet and I'll keep in touch with forever and then there are a select few that I'm glad I'll never have to deal with again.
Our meet & greet lasted about an hour and had maybe 200 people show up. Some people were in and out. It was awesome though. The group was the largest Facebook group I'd ever been a part of in terms of roll calls, and one of the most fun groups. We were the #MagicalMisfits !!
After our meet and greet, it was time for muster. I ran back to the cabin after everyone had left the nightclub to drop off the remaining prizes for the people who were MIA. Then my family and I went to our muster station.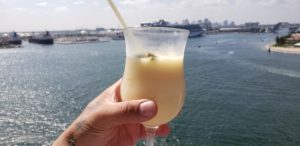 Muster lasted maybe 15 minutes and was in the main theater.
Once it was over, I went back to lido for the sail away party. I must say, this was the lame'est sail-away party I'd ever attended. I don't know if it started late or what, but it just wasn't much to it. To be fair, it was our cruise director Simon London's first day as a cruise director so maybe he didn't know what to do. Who knows.
We then sat on the balcony and watched Ft. Lauderdale drift into a distance. By that time, it was time for dinner!
We always do Anytime Dining and we went early today. We showed up and got our table. We usually get the same thing(s) and don't venture out of our comfort zone. We all got a flat iron sirloin with warm chocolate melting cake.
After dinner we hung out and did different activities around the ship. I honestly cannot remember what all we did. haha 
Sunday, May 26, 2019
Half Moon Cay, Bahamas
Once we were back on board…
Once we got back onto the ship, we took showers. Tonight was our first cruise elegant night.
We don't really dress up for dinner. I wear jeans, a polo and tennis shoes on the 2 elegant nights. Shorts, t-shirt and sandals every other night. I'm on a Caribbean vacation, not a prom.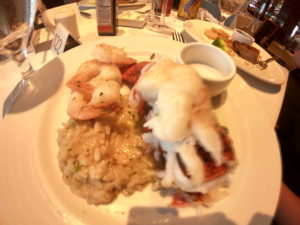 This night my wife wanted to do some pictures, so we went and had some pictures taken. Once we were done with pictures, we went to dinner.
I did end up ordering a lobster for us to try. I think between 3 of us, we ate it. We did eat all of our steaks, shrimp cocktail, and melting cakes though. 🙂
We were in the dining room about 45 minutes and we were done, so we went to a show. We went to see 88 Keys, again. We've seen this show I don't know how many times. The shows are getting boring to us since we've seen them all so many times. I wish Carnival would change them up a little.
Now I was in the $150,000 slot tournament (as was my wife) so at some point today we had to go compete in round 1. I advanced to round 2, she didn't.
That was about it for the day. After we spent time around the ship eating, drinking, etc., it was about time for bed. We had a busy day tomorrow as well since it was another port day.
Monday, May 27, 2019
Grand Turk, Turks & Caicos
To read about our day in Grand Turk, Turks & Caicos Islands, click the blog entry below. Be sure to to hit 'back' to come back and finish reading once you're finished with that page.
2019- Grand Turk
Once we were back on board…
Remember, it's Grand Turk, not Grand Turks. There is no "s"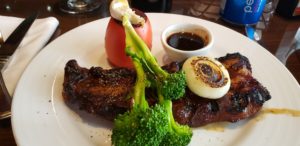 Once we got back to the ship we went ahead and took showers and cleaned up from our day out on the island.
We got dressed and went to dinner. Tonight I ended up ordering the $20 steak from the steakhouse selection since there was no flat iron on the menu. It was good as expected.
After we had dinner, we went to the HASBRO Game Show and watched it. After that, we went to the Love & Marriage Show which is one of our favorites. It didn't disappoint this time either. It was a lot of fun.
We then just hung out around the ship per the usual. I think we made some donations in the casino as well. 🙂
We ended up calling it an early night since we were burnt from Half Moon and then the day out today was hot, hot, hot.
Tuesday, May 28, 2019
Day at sea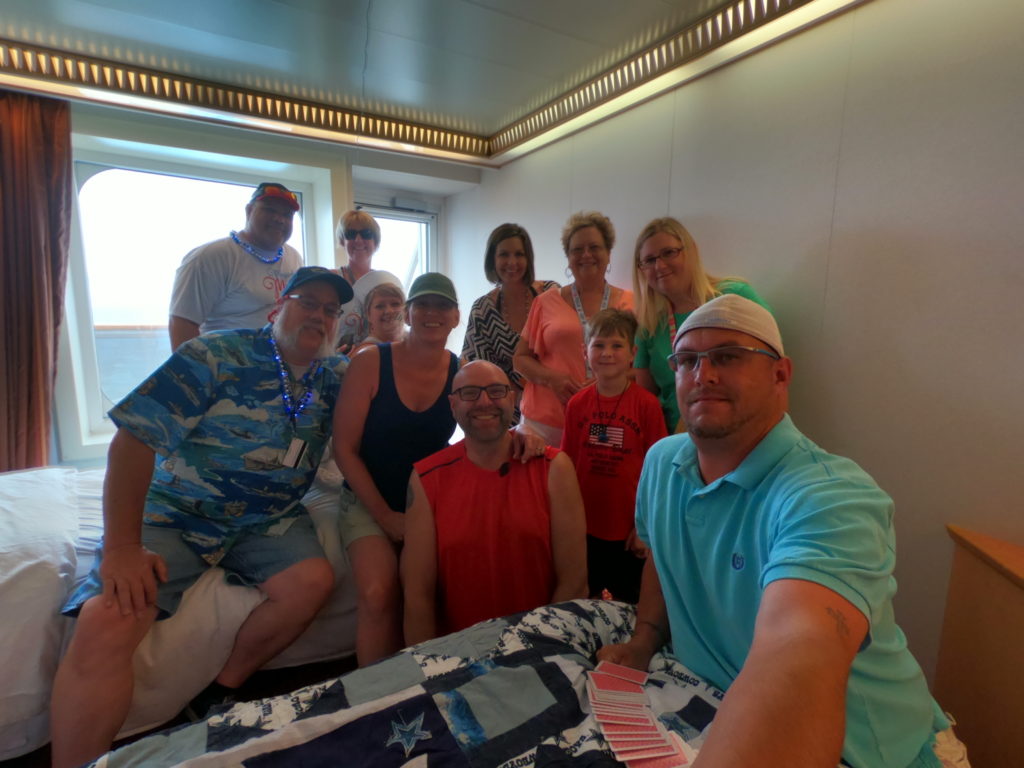 Today was a day at sea. We slept in a little late. Our Facebook group had a slot pull planned but it was planned at 9am on our first day at sea. We weren't up in time for it. I did get up in time for my round 2 at the $150,000 slot tournament though! I played and advanced to round 3!!
At 1pm our group also had a cabin crawl planned which I was excited for. I like seeing other people cabins. It's interesting to see how others decorate their cabins.
Unfortunately the person who organized this really dropped the ball and didn't even show up. However those of us who did, ended up doing it together and had a lot of fun doing so.
After the cabin crawl, we just hung out around the ship. Eating, drinking, shopping, drinking, going to different activities, drinking, and hanging out with friends. Oh, and drinking.
Wednesday, May 29, 2019
Day at sea
To read about our day in Oranjestad, Aruba, click the blog entry below. Be sure to to hit 'back' to come back and finish reading once you're finished with that page.
2019- Aruba
Once we were back on board….
Once we arrived back on the ship, we dropped our shopping items off in the cabin then went to get some food. We were ready to go to bed since we had been in port since 10am and active the entire day. We had an early day tomorrow in Curacao.
Thursday, May 30, 2019
Willemstad, Curacao
To read about our day in Willemstad, Curaçao, click the blog entry below. Be sure to to hit 'back' to come back and finish reading once you're finished with that page.
2019- Curaçao
Once we were back on the ship….
Once we arrived back on the ship, I had to go to play my round 3 in the $150,000 slot tournament. Unfortunately I had a crappy machine and didn't advance past this stage. We stayed in the casino and made donations though.
Then, we took showers, and got ready for dinner. We ate dinner then went to see America Rocks. They did okay, but like all of the other shows, we've seen them a bunch so it wasn't new to us.
After the show we decided to crash for the night. We were all tired.
Friday, May 31, 2019
Day at sea
This was a day at sea, so we slept in. When we woke up, we went to Southern Lights to get some breakfast. It was good as usual.
Well, then we realized Kolbrin wasn't feeling well. In fact he was sick. He and mom stayed in the cabin most of the day and he slept. She stayed on the balcony on her phone.
Later in the evening, my wife took him to the ship medical office. She said there were a bunch of sick people there. He had a fever of 101.3 and was diagnosed with an upper respiratory infection and inner ear infection. The MD gave him some amoxicillin and Motrin. The total bill for medical was $154.50 which wasn't bad. Thankfully we always purchase trip insurance. I submitted that to our trip insurance this morning so we should be reimbursed for that within the next week or so.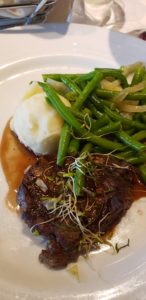 They both skipped dinner this night, so Kobie and I went. Him and I both ordered filet mignon. It was so good we ended up ordering a second plate each. It was that good!
After dinner, Kobie went back to lido to watch a movie. I headed over to see Flick. Every time I've ever gone to see Flick on a ship, they've had "technical difficulties" and not been able to perform the entire show. I think this is the 4th time it's happened. I've yet to see the actual thing. I am not even sure there is a real thing. Carnival just needs to nix this from the lineup and add something they can actually perform each night.
Once I was done with Flick, I went ahead back to the cabin to relax on the balcony for a while. I was tired.
Saturday, June 1, 2019
Day at sea
This was another sea day. In fact, this was our last sea day and last day on the ship. BOOO!! 🙁
The first thing that I did was wake up and we all went to breakfast. Kolbrin wasn't feeling good still so he ended up staying in the cabin, again. I went around the ship to do a video tour for my vlog which is at the end of this post.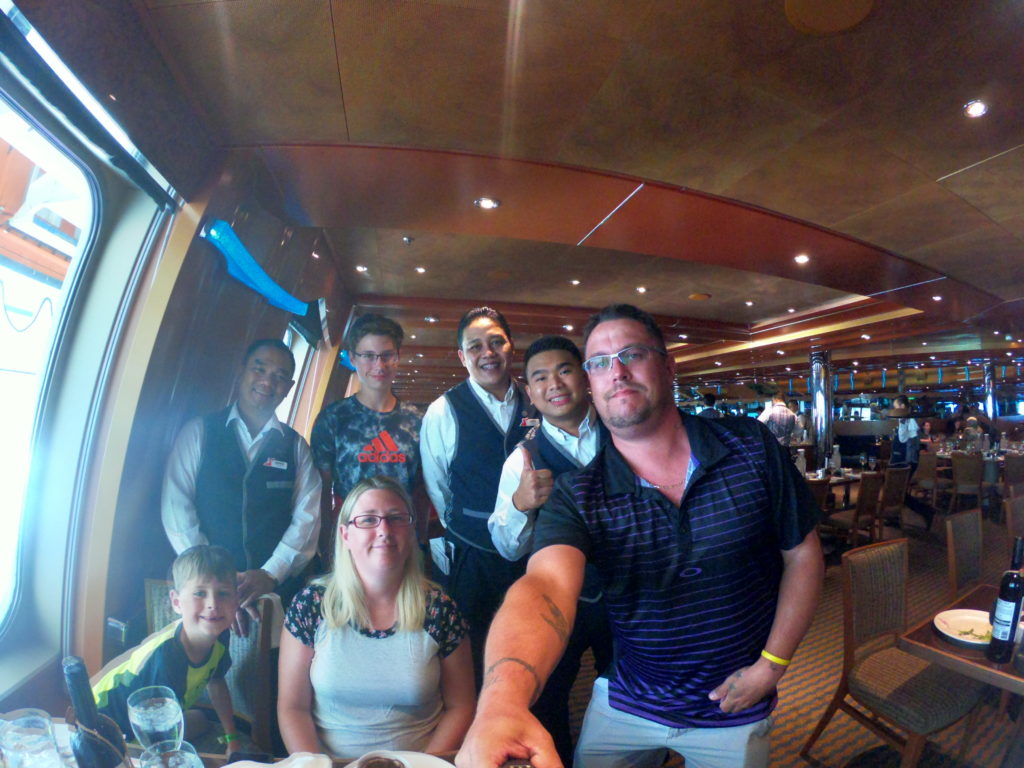 After the video, I just hung out with the family on the ship. Kolbrin actually went to lido and watched Lego Movie 2 which I was glad to see him out of the cabin.
After we just hung out all day, it was time for dinner. We all went to dinner together tonight since it was our last night.
I always keep my gratuities in place that we pre-paid, but ended up tipping the wait staff an extra $75 because they were that awesome.
After dinner, Amanda and Kolbrin went to watch a movie on lido, Kobie went somewhere. I went to wash all of our laundry. It ended up being 3 loads of laundry, which cost $18 total. Had I sent it for the ship to wash, it would of been $270. Definitely worth my time to save that money.
Once laundry was done, I went down to the atrium for the farewell with Simon.
It was time to say goodbye to the ships staff, our Facebook group, and most importantly, our friends. This is always a sad moment to say bye to everyone. Some you'll see the next voyage as you cruise together, others you'll never see again. There was also the balloon drop, which our friend Sarah won the grand prize from it. Congrats Sarah!
I stayed in the atrium for a while, and then ended up going back to the cabin to start packing things up. We had to have our luggage out by 11pm so they would pick it up for us. That way we don't have to carry it off of the ship. We know tomorrow is going to be a chaotic day. It always is. 
Sunday, June 2, 2019
Debarkation
We had zone 2 debarkation and was told to meet in the showtime theater at 7:45 for debarkation. That's where we went!
Well, apparently people don't know how to listen and follow directions and the terminal was overloaded, so they closed the gangway. It was well after 9am until we debarked the ship.
Once things started moving though, it went smoothly. There was a HUGE line of people wanting to use the elevator but another line of those who would use the escalator. We obviously went down the escalator. CBP moved the customs line pretty quickly. I don't think we were stopped at the agent more than 30 seconds.
After we made it out of the terminal, I called for our Uber to pick us up. It took maybe 3 minutes for Gennady to pick us up in his 2019 GMC Yukon XL UberXL. It cost $16.27 for the 8 minute ride to Ft. Lauderdale Airport, where we were going to pick up our rental car.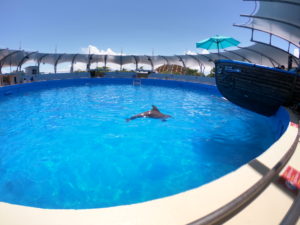 We made it to Ft. Lauderdale Airport, where we would get the rental car.
Normally I rent with National but I got a discount through Budget this time since I am a member of the University of North Carolina General Alumni Association.
I rented a "Ford Explorer or similar" and it was $261.47. I ended up getting a GMC Acadia which was really nice. I'd driven one before so I really liked that vehicle. We loaded our luggage and off to Miami we went!
We stopped at a Denny's first when we got into Miami to get some breakfast. Surprisingly, breakfast was pretty good. It was about $50 for the 4 of us to eat.
After we left Denny's, we were heading to Miami SeaQuarium. We've been here before and enjoyed it. Since I knew we were going ahead of time, I went on Groupon and bought us discounted admission tickets. It was $110 for the 4 of us to get in.
We saw the killer whale show, the dolphin show, the sea lion show, the Flipper show, and all of the other animals. I really enjoy SeaQuarium.
Once we were done at Miami SeaQuarium, we decided to go ahead and go back to Ft. Lauderdale.
We stopped at a Wendy's for lunch on Marina Blvd in Ft. Lauderdale and let me tell you, this was the nastiest place ever. The people there couldn't care less about their jobs, the FRIED food was burnt, it was just nasty. We wasted $40 here.
So we went to our hotel. I had booked the Hampton Inn there on Marina Mile primarily because we only needed it for one night and it was dirt cheap. It was $138.48 after my Hilton Honors and AAA discounts.
Oh and I forgot to mention that we went here BEFORE we went to Miami since Kolbrin had refrigerated amoxicillin. They put it in a fridge for us while we were in Miami. Anyway, we got back to the hotel to check-in. Valerie at the front desk was the most polite, welcoming person I've ever encountered at any hotel. She was fantastic.
The hotel wasn't in the best location but the property itself was fine for what we needed. The hotel was clean, beds for comfy.
After we dropped everything off at the hotel, we were still hungry since Wendy's was so nasty we didn't even eat. We hopped in the car and headed back to Beach Place.
We went to Lulu's for lunch, per the usual. We hung out at Lulu's for a little bit, just watching the strip and saying our goodbyes to the beach. Then we went back downstairs to Maui Nix surf shop so Kobie could buy some Vans sandals. We also bought a few more shirts here.
Once we were done shopping, we went upstairs to Escapeology again and did another escape room. Still the same cost of $125 for the hour. We did Arizona Shootout this time. This was my favorite and was really fun. We beat the room and our name got put into second place on the leader board.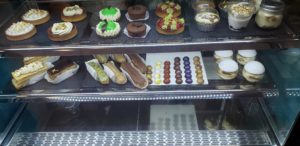 Once we finished the escape room, it was getting close to time to head to the airport, so we decided to venture that way. We did stop by Nanou French Bakery and buy another $75 worth of macaroons to bring back home with us. We loved this bakery and will miss it until we get back to Ft. Lauderdale.
After we left Nanou we went to the airport. We got there super early, almost an hour and a half before our flight!!
So we went to Air Margaritaville to grab some dinner since we knew everything would be closed when we landed. Surprisingly for airport food, it was decent. I got fish and chips, nobody else was hungry. So we just hung out at Margaritaville for a bit, before proceeding to our Southwest terminal.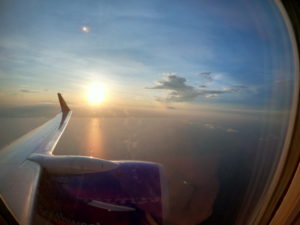 Our flight was on time, but the ride out of Florida had a lot of turbulence. My wife did not like it at all. Normally our flights to south Florida are smooth but heading back it was rough this time. The second half of the flight was smooth though, with clear skies.
We touched down in Raleigh, I grabbed our luggage and called the Holiday Inn Express to come pick us up. The shuttle was prompt in picking us up.
We arrived back to the hotel about 10 minutes later where we got in our 4Runner and off we were.
It took the standard 2 hours and we made it home! The drive home was uneventful.
We were home by 12:30am. We checked out the house, turned on all of the electronics I had unplugged, untangled the Roomba from a rug, checked on the fish, took showers and went to bed. It was a great trip but as the old saying goes, "there's no place like home". 
Pre-Cruise
Since we booked this cruise a year and a half out, normally that seems like a long time.
However we cruised twice since we booked this cruise. With a very active Facebook group it helped make the time go by. Pre-cruise, I couldn't be more happier. The location, Airbnb, food, everything was perfect.
The next time we go back to Ft. Lauderdale, I'll definitely get an Airbnb in the Marriott BeachPlace Towers.
This portion of the vacation gets 10/10 stars from me.
Ports
The ports are what attracted us to this sailing. Half Moon Cay never disappoints. I am disappointed in Carnival for telling us we had to go to that information hut which we'll never do again. Everything else was wonderful though. Definitely no complaints here.
Grand Turk, as I mentioned in that segment, we'll stay on the ship next time. We've just done Grand Turk way too many times.
Aruba was wonderful. I cannot wait to go back to the ABC islands. I loved Aruba.
Curacao was great as well. I wish we had more time in port to shop in Willemstad.
This portion of the vacation gets 8/10 stars from me.
Ship
The ship itself was good. No complaints at all. We had a very cold a/c in our cabin, despite some people saying the a/c didn't work on the ship.
The only part I found warm, was deck 9 as I walked through. Half of the games in the arcade didn't work, including the air hockey table which I was excited for. The service overall was good.  Every morning at breakfast they wanted to sit us with strangers and of course we said NO WAY!!
No real waits anywhere on the ship though, except for debarking. I also like the fact you can check in for dinner on The Hub app. This was really nice.
The cruise itself seemed to lack a little for me. I think mainly because the cruise director wasn't as fun as others I've sailed with. He's better than Steve from Canada and maybe Ben Lambert but that's about it. Definitely way far from Cookie, Rev. Dr. E or Mat Seguin. Those 3 are on a whole other level.
The food was good on the ship, no complaints there. I ate at Cucina Del Capitano every day for lunch pretty much because I enjoy their spaghetti.  The room steward I wasn't impressed with and didn't leave additional gratuities for. The entertainment we'd seen plenty of times so it didn't impress us. It's time for something new. As far as the ports, they were fantabulous.
This portion of the vacation gets 6/10 stars from me.
Post-cruise
No complaints about our post-cruise experience except that nasty Wendy's. While the Hampton Inn was nice, the location wasn't very good. The next time I'll book something closer to the beach and where there's things to do. I just don't like being away from everything. Marina Mile just isn't for us.
We still love Carnival and still love the Magic and Dream Class ships.
Our next sailing (as of this post) is on the Fascination out of San Juan.
It's a 7 day voyage to St. Thomas, St. Maarten, St. Kitts, St. Lucia and Barbados. Those are 3 new ports for us so that should be fun.
I hope you've enjoyed reading this blog entry and if you have any questions, please feel free to ask. I'm also including the Fun Times below as well as menus from each day.
Menus
[rl_gallery id="2323″]
Fun Times (Activity listings)
[rl_gallery id="2347″]