15 Year Anniversary
Ft. Lauderdale, Florida
In case you missed our planning, and day in Raleigh, here's those posts so you can catch up. 🙂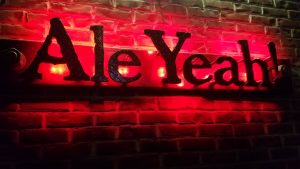 15 Year Anniversary Trip Raleigh, North Carolina In case you...
Read More
We woke up at 3:15 so I could take a shower and get ready to catch our 4am shuttle. Man this is an early morning. I think I finally opened my eyes at some point. We're both excited though, and guess what…  WOO, it's time to head out. 🙂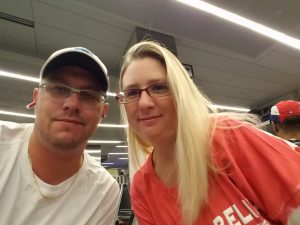 We walked downstairs at the hotel and hopped on our shuttle. It took us a whopping 5 minutes to get to the airport.
Typically we use the skycap when we get to the airport to save time but there was literally nobody in line. There's always a line at the Southwest counter at RDU. What gives?
Anyway we gave the oh so friendly lady our luggage so we could go through security. We made it through TSA and to our gate. Now it's time to sit and wait.
We were a little late leaving because the flight before ours was late leaving. Finally, we were on the plane and ready go head to Ft. Lauderdale. Wheels up!
We landed in Ft. Lauderdale and went downstairs to grab our luggage. It didn't take too long. Then we went BACK upstairs to the car rental counters. Normally I rent our cars through National since I am an Emerald Club member and get to skip the lines and pick out our cars and go.
This time however we booked through Budget Car Rental. They had a drop off location near our apartment so that's why we went with them.
When I got to the counter, the line was really long. Instantly I missed National. I finally got to the counter to get my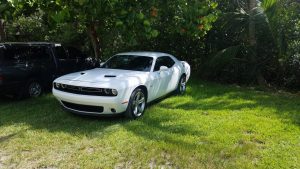 vehicle. The lady informed me that there was a "special" that day for sports cars for only +$20. I had originally reserved a mid-sized sedan. Only +$20 per day? Heck yea, sign me up!
The lady put us in a 2018 Dodge Challenger with a Hemi. We signed the papers and out the door we went to get our car and head into the city.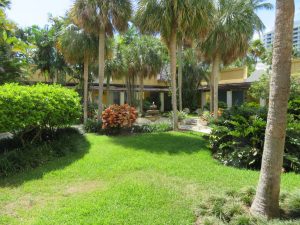 Since our room would not be ready until 2pm, we had some time to kill. First we headed to the Bonnet House Museum & Gardens. I had found the coupon online for 2 for $20 on admission so I printed that so we could save $20. We paid our $20 and off we went with our guide.
There was only us and 2 other people with our guide so it went pretty smooth.
The Bonnet House was built in 1920 by the famous artist Frederic Clay Bartlett. The house is very artsy and very large for a house back then.
We spent about 2 hours at The Bonnet House then we were super hot and hungry. We decided to leave her and go find lunch. My wife had found the Primanti Brothers on TripAdvisor so we decided to ride out there to eat.
This is a pizza place right on the beach, that's open 24/7. They're a Pittsburgh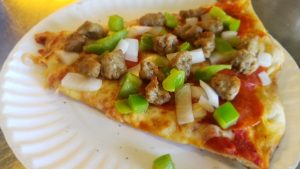 based establishment with some pretty good pizza. They were very busy also!
The prices were great and the service was awesome. The pizza even better!
After we left Primanti Brothers, it was time to get our spa services done. We had booked a couples massage online through Lifestream Spa. They had a special for new customers, so we took advantage of it.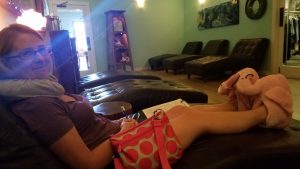 We walked in and they put funny little critter slippers on us for 20 minutes with some type of foot treatment stuff.
Then we had Annakay and Tee (both girls) give us an hour long massage which was phenomenal. So relaxing!
After the hour long massage we had a 20 minute foot scrub and massage which was amazing. I just wanted to stay there all day and relax. It was just, amazing. For the hour and a half massage and foot treatment for the 2 of us was $198 which I left a $52 tip to make it $250 even. I would highly recommend this place and will definitely return.
After we left Lifestream Spa it was time to arrive at our apartment. We had booked a single bedroom apartment through AirBnb which was located right on the beach in the Galt Ocean area of Ft. Lauderdale which is just up from Las Olas. We arrived at the complex which was Ocean Manor Resort. We pulled up to the valet so they could park the Challenger. We unloaded our bags and went up to our room.
The room was super. There were 2 queen beds, a little kitchenette area and of course the balcony. It was a perfect room for us, in a perfect location.
We were finally settled in our room and went for a walk around the property and down to the ocean.
The property has a restaurant, some shops, a salon, and a few other little things on the premises. It was very nice.
After we walked around a bit, we were hungry. This was our anniversary day so we decided to do some "fine dining", so we went to Lulu's Bait Shack (HA!) which is down on Ft. Lauderdale Beach.
Don't let the name of the restaurant fool you, the food was amazing! I ordered buffalo shrimp and she ordered some chicken thing. The bill was only $34.98 for the 2 of us. Not bad at all!!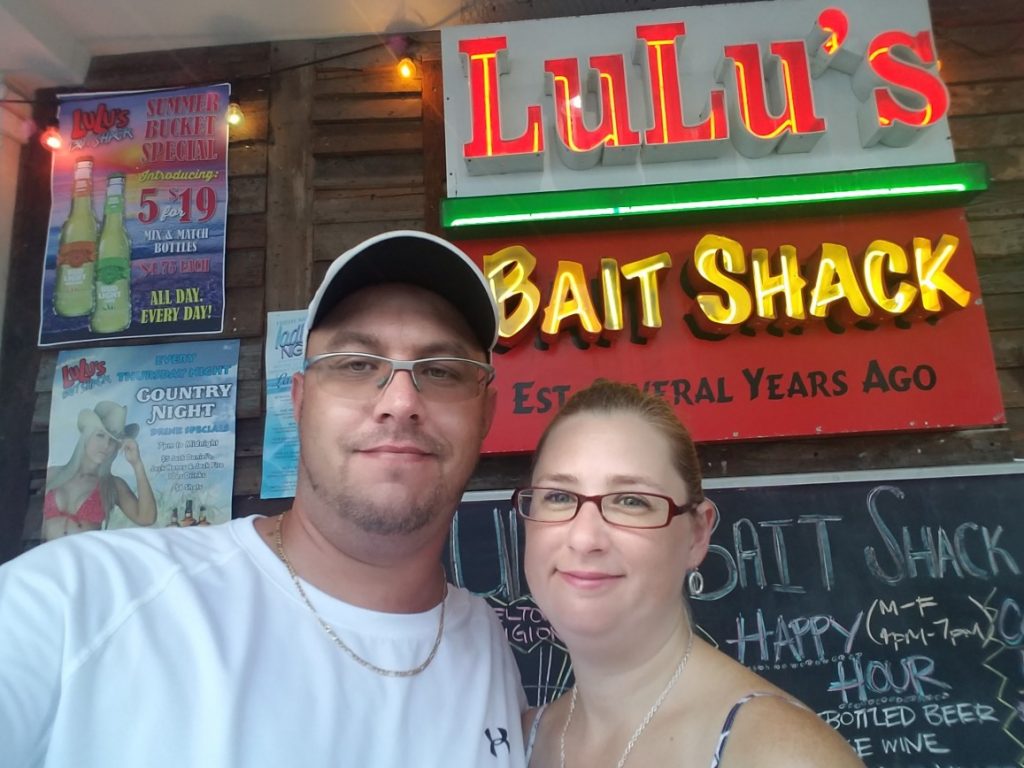 After we left Lulu's it was getting late and we had been up since 3:15am. We were super tired so we went back to the apartment.
It didn't take long for us to fall asleep once we returned either. 
Ft. Lauderdale, Florida
Day 2
We woke up this morning and decided we didn't have anything planned until tonight. My wife had been wanting to see "Mama Mia 2" which came out today. So we went down and got our Challenger from the valet and off to Sawgrass Mills Mall we went to see Mama Mia 2.
Since we had not had breakfast we wanted to eat first, so we went to Johnny Rockets to grab a burger. The service was awesome and the food was great as well.
The burger seemed to be bigger than a typical Johnny Rockets. At least from what I remember.
We ate our food and out to see Mama Mia 2 we went. My wife is a Cher groupie so she was dying to see this. Me, not so much.
After the movie was over, we went shopping around Sawgrass Mills a little bit. We were flying so knew we were limited on what we could buy. We didn't buy much at all, honestly. We bought my oldest son a hoodie from Under Armour as well as a lanyard. Then we went to Nautica where I bought several shirts. After that, we went to Target to get a lunchbox for our desserts tonight.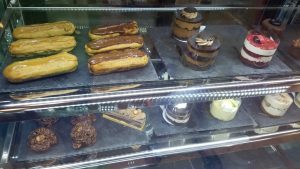 After we finished at Sawgrass Mills we went to Nanou French Bakery & Cafe to get some desserts for tonight. We had a special night planned. 🙂 My wife got 6 macarons, a red velvet cake and I got 3 chocolate eclairs. Everything was FAN-TAS-TIC!
After we got our desserts (which would be consumed later) we went back to the apartment to get ready for our fun night out.
We had made reservations for a riverfront gondola tour through Riverfront Gondola Tours. This was a 1½ hour private gondola tour which was so awesome. We got to see so many of the great houses such as the owner of Wendy's, Motel 6, Blockbuster/Ray-Ban, as well as many other rich and famous people.
We ate our desserts on the boat and had a bottle of wine. It was a nice romantic night. We loved it and would highly recommend it to anyone. It was $222.88 for the private tour. There are others available at a lower cost, just not private.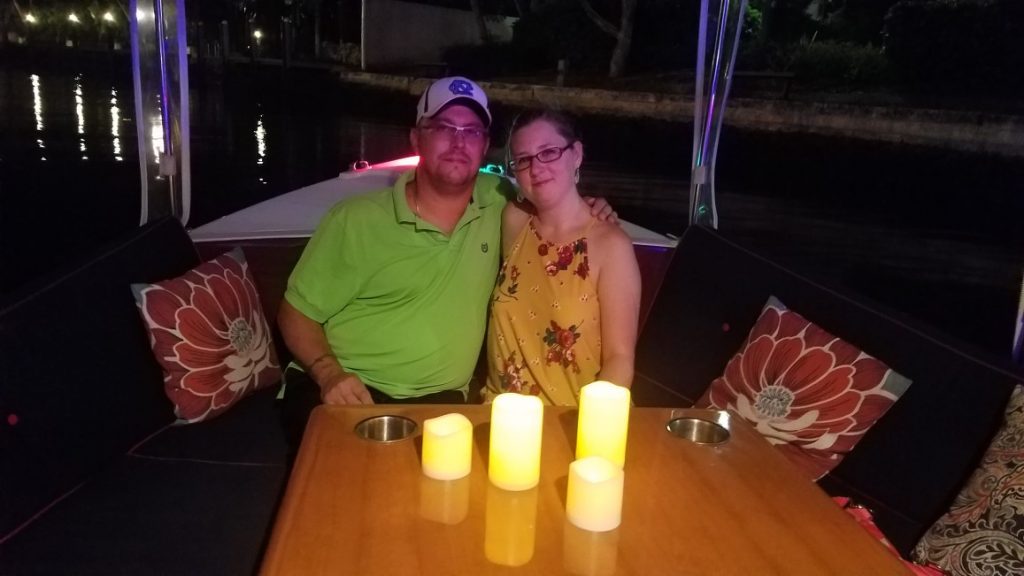 After we finished our river tour, we went to dinner to none other than, Lulu's Bait Shack.
Tonight is Friday so they have a live band. It was nice sitting overlooking the beach, watching the live band and enjoying the great food. We both ordered the same thing as we did last night. Yes, it was that good.
From there, we went back to the apartment. We just wanted to relax in the room. 
Ft. Lauderdale, Florida
Day 3
I had to turn the car in today, boo. I woke up around 8 and went down to get the Challenger to take back to Budget.
I stopped and filled it up with gas, then dropped it off at Budget on 15th street. I had to wait about 15 minutes for them to open. Finally they opened and I was in and out. I called for an Uber and they came and picked me up and took me back to the apartment. The 11 minute ride with Peter was $8.71.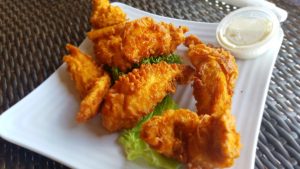 After I got back in, I went back to sleep…. until noon.
When I finally got up, we walked down to the tiki restaurant at the hotel to get some lunch. Now normally hotel restaurants aren't very good. However this place was different. The food was great. I had some chicken strips and my wife had some chicken sandwich thing. It was good though.
After we ate, we went to spend the rest of the day on the beach. It was nice just sitting out, watching people, basking in the sun. We spend the day doing this.
Finally around dinner time, we took showers and got ready to head to our favorite place!
We called for an Uber to take us to Lulu's which was $10.88 with Anthony for the 18 minute drive.  Tonight's dinner was a little more because I got a drink. I also ended up buying a t-shirt because we loved Lulu's so much. Since I wasn't driving, I could drink tonight, woo hoo! After we were done eating, we called for an Uber to come pick us up. It was $9.27 with Jose to take us the 11 minute ride back to the apartment. 
Ft. Lauderdale, Florida
Day 4
This was our last day in Ft. Lauderdale, boo! We woke up and walked down to Wave's to do some shopping. We didn't buy much.
We then went to the wine store next to it to buy a bottle of wine for the ship. Afterwards, we went to DaVinci's Pizzeria. They had a lunch special so my wife and I both got pizza and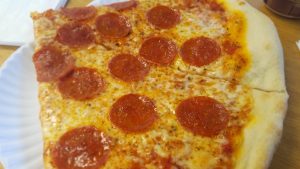 drinks for $15.76. After we ate our pizza, we walked back to the hotel and just rested. I think we both took naps, played Uno on the balcony, and just hung out.
Finally around 6 we got ready for dinner. We called for an Uber to come pick us up. We initially were going to try something different but looking at the lines, we decided to go back to Lulu's. The Uber was $10.68 for the 13 minute ride with Dean.
We first went to Lynn Nails which is near Lulu's so my wife could get a manicure. They were very busy but she didn't have to wait. It didn't take forever either and was only $15 to have her nails done.
After she was done, it was time to eat! Tonight though I thought that I would try something different for dinner. I ordered the fish and chips and it was just as awesome as the buffalo shrimp. YUMMY!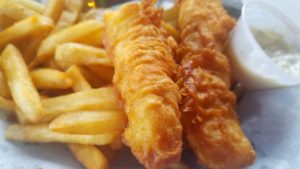 After we finished eating at Lulu's, we just walked around Ft. Lauderdale Beach, down to Las Olas, people watched then headed back. We called for an Uber to pick us up and it was $10.58 for the 12 minute ride with Roberto.
We got back to the apartment and they were having a birthday party for some guy there. He had a $156k Maserati and the entire parking lot was filled with Lamborghini's, Ferrari's, Porches and Rolls Royce's. It was crazy. Meanwhile we pulled up in a Volkswagen Uber. HA!
We got the apartment cleaned up, packed up our stuff to get ready for tomorrow. It's an early morning and a busy day. It's time to sail!
Ready to keep reading the journey on the cruise? Click below. 

If you somehow landed here without reading the first few...
Read More