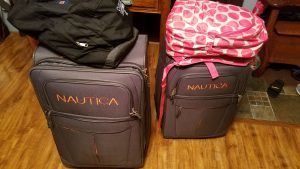 We woke up on Wednesday morning and packed our stuff and loaded the car. We had to wait on our house, dog, and kid sitter to arrive. Once she arrived, we were off.
We drove approximately 20 minutes and decided we were hungry so we stopped at Chick-Fil-A to get lunch. We always stop here on our way out, so this was the norm for us. After we got our lunch, we were REALLY on our way this time.
We made it to Raleigh about 3pm so we went ahead to our hotel to drop our luggage off. I had originally booked a Holiday Inn on Miami Blvd in Durham for us but once they sent the "your vacation is almost here" email, in the fine print it said their shuttle doesn't start until 6am which would not work for us, so I called and cancelled that reservation.
I then went back to ParkSleepFly.com and reserved another hotel with earlier shuttle times. I ended up booking the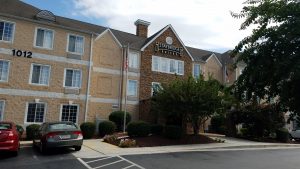 Staybridge Suites Raleigh Durham Airport which this was a first for us for this hotel chain. They had a 4am shuttle though to RDU which is what we needed. To stay 1 night and keep our car there for 11 days was only $173 so not a bad price at all. It would of been $77 to park at the airport for that duration so really we got the hotel for less than $100. Before I booked this I did read reviews on TripAdvisor and one negative review was someone said it was hard to find. They had to pull over and call and ask for directions. Seriously? You leave a bad review for this? First of all if you have to call and ask for directions because you don't have GPS on your phone or in your car, and it's the hotels fault? Whatever. I don't even use GPS in Raleigh because I am familiar with the city.
I went straight to the hotel, very easy to find. Anyway, enough with that. We checked in, dropped our luggage off in our room, pee'd and decided my wife wanted her nails done. Off we went!
We headed over to Crabtree Mall so my wife could have her pedicure done. She knew where she wanted to go, the same place she did last month.
We went to Polish Nail Wax to get her pedicure done. I decided to walk around the mall and kill that hour it took her. Finally she was done. The cost for all 10 piggies was $38.
After she we were done here, we decided we wanted dinner so we headed into downtown Raleigh to the Carolina Ale House. There is a parking garage right behind the restaurant and only $5 to park. However you have to walk up 18,972,629½ steps to get to the restaurant since it's upstairs.
I ordered fish and chips and my wife ordered some chicken sandwich thing, I think. The fish and chips were good as was the service. The only complaint (not really a complaint) I have is the décor. I am a Tar Heel from the University of North Carolina at Chapel Hill. Everything in this establishment is from NC State University which is our schools little sister. (bad blood there)
BUT this is in Raleigh which is where NCSU is, so I let it slide. 🙂 I would definitely eat here again though, we had a great time. It was $30.26 for the both of us to eat. #GoHeels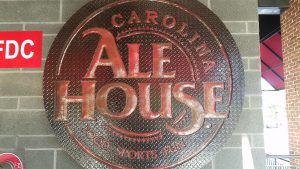 After we finished dinner, it was about 7pm so we decided to head back to the hotel and wind down. We have an early flight tomorrow!
We got back to the hotel and this hotel served complimentary dinner, beer, soda, wine, etc. It was great! I got a bowl of coleslaw and we both got a glass of wine and went to our room.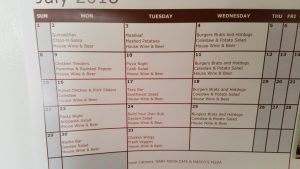 We drank our wine and ended up falling asleep watching TKO on TV.
Ready for day 2? Let's continue!