Day 1
It seems all of my cruise blog entries start out the exact same way, with picking my son up from school. This is no different.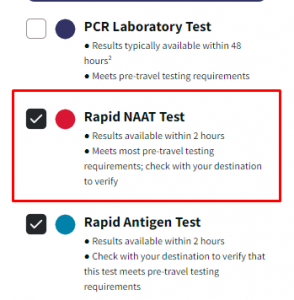 We decided to leave for Charleston on Wednesday to enjoy a few days in the city before our cruise. This would have both kids missing school but not much since spring break is the week after. So Wednesday about noon we picked him up from school and off we went. We stopped at Chick-Fil-A in Martinsville for some lunch first because we were hungry. Then we went across the street to Walgreens for our Covid test. I had purchased the at home test from Binax for this trip, but decided to save those tests since we have several cruises coming up. I scheduled the rapid NAAT test at Walgreens which was free and simple. We drove to the drive through, the lady sent our swabs out and we swabbed ourselves in the car. Then we were on the road. We had our results in about 30 minutes emailed to me.
The drive to Charleston was very uneventful. There was a delay on I-77 in Charlotte but nothing major. I think it was a 7 minute delay? Once we got through that, we were fine. It was nice because once we entered into South Carolina, traffic flowed around 80mph almost the entire way. That was nice because it made for good time.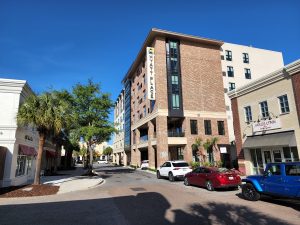 Once we arrived in Charleston, we went to our hotel to unload our luggage. We were staying at the Hyatt Place Town Center in Mount Pleasant. We really like Mt. P because it's more upscale and just right outside of downtown Charleston. The crime is virtually none in Mt. P and when it rains in Charleston it doesn't flood in Mt. P like the downtown area is prone to do. Hyatt is a great brand and I like to stick to brands that I stay at often. The Town Center area in Mt. P is fantastic. It's an open air outdoor mall with a ton of little shops around it that are all walking distance from the hotel.
This Hyatt has free parking in a [public] parking garage adjacent to the building. This was super nice because it gave us somewhere to keep our vehicle for free for the week while we were on our cruise. Being this was an very safe area, I knew the car would be okay while we were gone.
We unloaded our vehicle and went to our room to drop off the luggage. We were hungry by this point so we decided to go get some dinner. We decided to do something light and cheap tonight for dinner so we went down to Come Back Shack.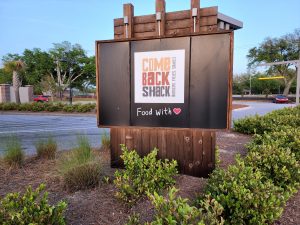 Come Back Shack is an awesome little burger joint in the Carolinas. We decided to go there for a burger. It wasn't far from the hotel, maybe a 5 minute drive at most. They were closing soon but the food was fast and the service was good. At Come Back Shack, all of the ingredients are fresh, never frozen.
After dinner, we went back to the hotel. We'd been in the car for several hours and were all tired especially since this was a school/work day and we'd all been up since before the sun. We hung out at the hotel for a little bit before finally calling it an early night.
Day 2
We woke up pretty early this morning. It's Thursday and we have lots of plans for this trip so we need to get started. The first thing we did was get ready and head toward Patriots Point. Now if you've been following me for a while, you know we've been here before. Well, Kobie and I have. We went down to breakfast in the hotel then hit 17 down to Patriots Point which was only about 10 minutes from the hotel.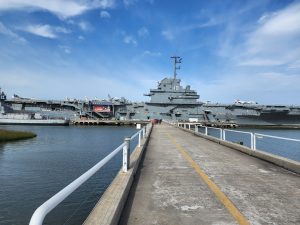 We got there and there weren't a ton of people at this point since it was still early in the morning. It was $5 for parking and about $100 to get into Patriots Point. First we would walk to the USS Yorktown which was one of 24 Essex class aircraft carriers built in World War II for the US Navy. She was sunk at the Battle of Midway. She has a ton of history with her including the recovery of Apollo 8 and the Vietnam War. This is an amazing aircraft carrier and I encourage you to go see her. We spent about 2-3 hours here touring around the ship. Even though I have been twice now, I would still go back for a third time and enjoy every minute of it.
After we finished the USS Yorktown, we went to the next ship over which was the USS Laffey. The USS Laffey is an Allen Sumner class destroyer which was also constructed during World War II. It has the nickname "The ship that would not die" for her exploits during D-Day. She was hit by a kamikaze air attack and still would not sink. She's an awesome ship. This is a must see destroyer!
I wanted to take my wife into the USS Clamagore which is a Balao class submarine but you can no longer tour that at Patriots Point. I believe they are going to sink it to create a reef. It was a fun submarine to go into though. You can still see the outside of it as of this posting since it's still at Patriots Point but I have no clue how much longer it's going to be there.
We spent most of the morning at Patriots Point. By lunch time, we were starving to we went back to Come Back Shack for some lunch. I had this planned so we were trying to stick to our itinerary. It was good today just like it was last night.
Once we were finished with lunch, we were WAY ahead of schedule so we decided to knock out some things on our list. My son and I are huge Outer Banks fans [Netflix] so we decided to go around and see some of the filming locations from the show. I had a list of places where they filmed including Geechie Seafood and Old Village Historic District. It was fun to see the places they had filmed. When we stopped at Geechie Seafood, we told the lady we were just there to see the OBX spots and she showed us different parts where they filmed there. She was super nice. After we finished seeing all of the Outer Banks film locations, we headed toward a few other places for photo ops such as Rainbow Row and the Edmonston-Alston House. These are things that are IG worthy so that's what we did.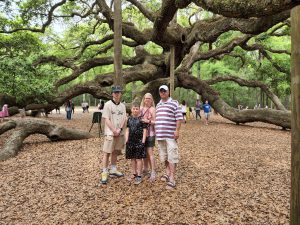 After we finished being tourists, we headed over to John's Island to Angel Oak Park to see the Angel Oak. This is a 500 year old oak tree that stands 66.5ft with a 28ft circumference and has shade that covers 17,200sqft. From tip to tip its longest branch is 187ft. Some people contend that it's at least 1,500 years old! If you're ever in Charleston, this tree is a must see.
After we finished at Angel Oak Park, we decided to go dinner since it was getting to be about that time. We decided to head over to the Marina Variety Store & Restaurant which is at the Charleston Marina.
When we got there, there was no wait but the place was fairly busy.
I ordered popcorn shrimp as did Kobie. My wife and Kolbrin both ordered chicken. The food was good and the service was decent. I had this restaurant on my itinerary because I wanted some good popcorn shrimp. It was good and fresh. I would recommend this place for someone wanting some seafood.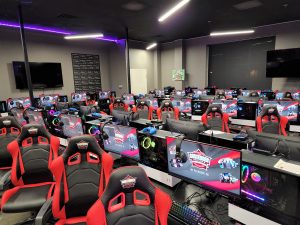 Finally we were finished with dinner and our long day, so we decided to head back up to Mt. P to our hotel. We got back to the hotel and ran into our cruise friends from Ohio. They told us about a video game place that was there in the Town Center and of course my kids are big gamers. I walked over with them. The name of the place was eContender Sports. The place was pretty cool. They had a ton of gaming computers built, then in another room it was full of the new Xbox game systems. They also had a ton of Switches and other games for kids to play. It cost $10 for an hour for both of my kids to play. They were in heaven. My oldest played Grand Theft Auto and my youngest played Roblox. This was a good way for them to unwind from such a busy day. We stayed there for our hour.
Finally we walked back to the hotel to shower and get ready for bed. Today had been a super busy day!
Day 3
It's Friyay!! We knocked out a lot of stuff we wanted to do yesterday so we had a lot of flexibility today to do things we wanted to do. We got up fairly early and decided to hit the Charleston City Market. If you've never been to this, it's a huge market downtown Charleston with tons of local vendors selling pretty much anything you can think of. We then went over to the Pineapple Fountain to take some pictures. The Pineapple Fountain is an iconic landmark in Charleston. After The Pineapple Fountain, we went to the South Carolina Aquarium. We have been here before so we knew what to expect. It was really busy and cost $113 to get in. It is a nice aquarium but fairly small. Our favorite part is the sea turtle hospital. The last time we were there, the new portion wasn't built yet so we were in the actual hospital. Now, you just look through windows to see the operations. It was nice though.
After we were finished at the aquarium, we went to The Griffon for lunch. This is a little Irish pub located downtown Charleston. It reminds me of No Name Pub in Key West. There are dollar bills hung everywhere and it just has that Key West dive shack vibe. The food was excellent and the service was good as well. This instantly became one of our favorite restaurants in Charleston. We'll definitely be back here and recommend it.
After lunch, we drove over to Share House which is a neat little bar that used to be a bus depot. I went there to see my cousin Hunter who works there for a second. Then, we went to Time Traveler Escape Room. We're huge escape room enthusiast and have done them everywhere we go. This was a fun room, and we beat the clock and escaped. It was fairly cheap also. It cost $112 for this one.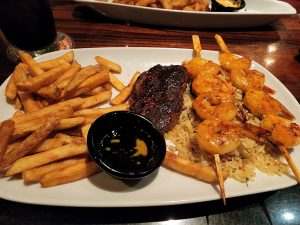 We beat the escape room and had done everything we wanted to do in Charleston, so we headed back to Mt. P to our hotel. It was getting later in the day so we needed to start unwinding. We did make a stop at Walmart to get some meds and drinks for the cruise. We also ran next door to the wine store to get our wine. Then we headed toward the hotel. Once we got back to the hotel, my wife and I walked over to a few shops near the hotel. First we went to Palmetto Moon and bought a few Yeti cups since they had a good price on them. Then, we went to Belk. Normally we do not shop in stores, only online. However we were trying to kill time. Belk had a great sale going on with 55% off most things. They had a whole section of Tommy Hilfiger clothes for kids. We literally bought everything that they had. We stocked up on school clothes for next year. Once we were done shopping, we went to the room and got the kids and went to Longhorn Steakhouse since it was right in front of the hotel. This Longhorn was really good. There was only a short wait but the service and food were excellent.
After dinner, we went back to eContender Sports to let the kids play video games for an hour, before heading over to the hotel where we would pack up and get ready for tomorrow. Tomorrow is cruise day!!
Day 4
It's Saturday, embarkation day!! Now let me preface this by saying that this is a very short 5 day cruise on a very small ship to the Bahamas, which are the least desired ports there are. However we have some friends in Ohio who booked this trip and asked us to go with them, so we did. Plus. it was spring break for us. We had nothing else to do.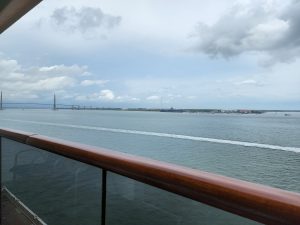 We woke up about 8am and went to the hotel lobby to grab some breakfast. We had a 9:30 arrival time at the port so we had a little time to kill. We packed our Charleston bag (clothes we wore in Charleston and other toiletries) and I took them to the car and locked them up. I called for a Lyft about 8:45 and  Cynthia came to pick us up in her minivan. This was her first Lyft trip and she had no clue how to use her phone, GPS or the Lyft app. She also didn't know much about Charleston so this was a recipe for a disaster. We got in and off to the port we went. Well, Cynthia got lost. It got to the point where I was giving her directions and telling her what to do, where to go, etc. We finally made it to the port at 9:15, which should have been a 10 minute trip. Whatever.
She dropped us off and we had to wait about 10 minutes for the porters to show up to take our luggage. Once the porters showed up, they took our luggage and loaded it onto their trolley, and we walked across the street to the first building where we would check in with medical. We had to show them the VeriFly app which was quick and easy. Then we got on a shuttle to go to the second building to officially check in. Once we got to that building, they checked our boarding passes, Passports, and got us ready to roll. We have priority boarding so we sat in the priority area, and waited for a shuttle. Once they started boarding the shuttle, we got on and went to the third building. This building is for security where they checked our bags. Typical airport security. From there we stood in a line and waited for the official boarding process. About 5 minutes later it began. We were on the ship at 10:15 which was great. The long walk up the gangway was fantastic. I missed that walk!
Once we were on the ship, we went straight to the shore excursion desk to claim our villa number for Half Moon Cay. If you don't go early, you don't get the villa you want. After that, we went to our cabin. Normally cabins aren't available until 1:30 but since we were in a suite, ours was available instantly. We dropped off our carry on luggage and sodas and went to muster.
The new muster process is fabulous. We watched a guy put on a lifejacket and scanned our cards. It took less than 3 minutes. Muster was done, vacation has begun!! We went straight to lido from there to Guy's to grab some burgers. We ate food and ice cream, then went back to the cabin to sit on the balcony and relax. We saw 3 dolphins playing around the ship which was really neat. We kinda just chilled the rest of the day. We did have a Facebook meet & greet on the ship, and I met some really great people from our group. It was pretty relaxing from that point on. I do know we went to bed at 9pm because we were so tired.
Day 5
It's Easter Sunday. We slept in, then went to sea day brunch for breakfast. About 11am we had a slot pull planned in the casino and I was hosting it so I had to be there. I went to the cage to zero out my card, and we chose the Wheel of Fortune game. This game had $5 spins which was perfect. The buy in was $20 so everyone got 4 pulls on the game. After all 25 people went, we had enough money in the bank for each person to do 2 more spins, so we all agreed to do that. After everyone took their 2 additional spins, we decided to end the slot pull. We cashed out and each person walked away with $12 in their pocket. We all only lost $8 each which was good and we had fun. At least, I had fun. I think everyone else had fun as well. There were some shows around the ship we went to but we pretty much relaxed all day today.
Day 6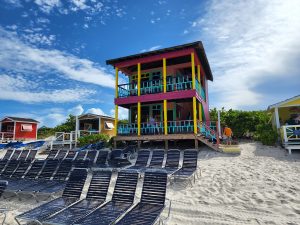 It's Monday and our first port is Half Moon Cay. We've been to Half Moon Cay several times before so we knew what to expect. The seas were a little rough when we got on the tender from the ship, and it was rocking quite a bit. We made it to the island, jumped on the tram and off to our villa we went. I chose villa E because it's the furthest one down and we want to be as far from the crowds as possible. When we arrived at the island however, we were informed that our villa did not have electricity this day. In fact, all of the cabanas and villas toward the second half of the island were without power. They did give us a percentage off, but it sucked because we had no fridge, no fans, no hot tub, nothing. That sucked. It was still nice to have a private area for the day and private loungers. The water today was cold. At least I thought it was, my kids didn't. We relaxed in the villa all day and the kids played in the sea and built sand castles. At lunch we went and got the buffet and came back and are. Half Moon Cay is very relaxing and there's not much to do there aside from chill in the beach.
At the end of the day we hopped on the tender and back to the ship we went.
Day 7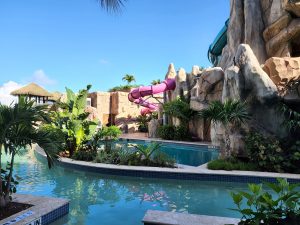 It's Tuesday and today we're in Nassau. Nassau is the second most least desired port of call only behind Freeport. Let's face it, it's a dump with rude people. At least, it always has been in the past. We knew what to expect going in since we had been there before. We docked and got off of the ship and I was shocked. Let me say this. I think Nassau got hit hard by the hurricane a few years ago and the people of Nassau had a come to Jesus meeting to change how things were there. It was evident this time. The area was much cleaner than before, and the people were very nice. There were no pushy people selling their Chinese crap and it was a great experience.
We had originally planned to stay on the ship today, but ended up booking a day pass at Margaritaville. It was about a 15 minute walk from the port, just past the British Hilton. This is a brand new resort that opened in July '21. We were some of the first people there when we arrived. They showed us where everything was and we picked out our lounge chairs. We picked a location in the shade by the lazy river and it was perfect. We were out of the sun all day. Margaritaville was absolutely fantastic. They have a huge water park which consists of a huge lazy river, a zero depth entry pool, a 1 story dive pool, 4 water slides, a wave rider surf machine, a huge rock climbing wall, an infinity pool, a beautiful beach and a few bars. The place was very clean, the staff was super nice and fantastic. It wasn't crowded at all. We even said we may consider flying to Nassau to stay here in the future. We loved Margaritaville.
We spent the day here, and left about an hour before it was time to be back on the ship. We did a little shopping inside of Margaritaville and I bought a shirt. There is also a Tortuga Rum store on site so we bought 5 bottles of rum which we LOVE Tortuga rum. After we got our rum, we took the walk back to the ship. It was just like the walk to Margaritaville, uneventful. No pushy vendors, no rude people, all nice folks. I was so shocked at the 180° that Nassau has done since we were there last.
We got back on the ship, took showers and relaxed for a bit until dinner time.
Day 8
This is a sea day for us, our final day on the ship. We did some shopping and spent some time in the casino. There was a cologne in the shop I liked. I price checked it on Amazon and it was $130 + tax. On the ship it was only $90 with no tax! I bought a bottle. It smells so good!
We didn't win much in the casino. I think I won $80 and my wife only plays the quarter games. It was fun though. We then went to the rock show in the theater. It was almost full and we saw a seat up top. We went up there and this fat girl in leopard pants said she was saving those TWO ROWS for her friends. Sorry honey, no you're not. We sat down. Well she started pouting and screaming. Her and my wife had some choice words for one another. Another lady came up and sat down after she told her she was saving those rows. Well she ended up huffing and puffing and ended up waddling away with her little boyfriend. I can understand if you want to save a seat or 2 for your family, but you cannot save TWO ROWS for your friends. It doesn't work that way.
The show went on and it was fun. We did the other shows as well such as Bingo and Deal or No Deal. It was all good.
Day 9
Debarkation Day
This is always a sad day.  We woke up at 6 and I took a shower. We sat on the balcony and watched the sun rise over Charleston since we were already back in port. We just laid around the cabin waiting to have our zone called off. We were in zone 3 so we would get off soon. Right at 9am, they called zone 3 to debark. Debarkation went super fast. We did not have to go through US Customs or anything. It was SUPER fast. From the time we left our cabin until the time we had our luggage outside was less than 10 minutes.
We got our luggage, walked across the street in front of the Custom House, and called our Uber. Michael picked us up in his GMC Acadia and off to Mt. P we went to get our vehicle.
We got back to the Hyatt, loaded our luggage up and off to Virginia we went.
There was a wreck in Charleston which delayed us by about 10 minutes but once we were past that, traffic flowed smoothly the entire way. I was about to run about 80mph the entire way with the exception of going through uptown Charlotte.
We made it home, unloaded the car, unpacked, did laundry and had dinner. I think we went to bed early this night as well since we were super tired. I know I was.
Trip Review
I should have known what to expect being on a small ship, to the "cheap" ports, on spring break. I didn't listen to my brain. Charleston, was fantastic. We had a lot of fun. The 2 ports were great and we enjoyed them. The ship however, is another story. There is a whole other demographic of people who cruise on these short cruises. The clientele is totally different, and they're the people who give Carnival the reputation of being the "Walmart of the seas". I get it. If you haven't been on other voyages, I can see why you would think that about Carnival if you've only been on the short cruises and on spring break. The kids were down right out of control. I can't even list everything they did but it would turn anyone from Carnival if they saw what these kids were doing on this cruise. Everything from trying to throw other kids overboard, putting feces in the elevators, dunking kids in the hot tub, sexually assaulting girls, running wild, kicking food down the hallways, throwing food on the floor, etc. It was horrible. We will never sail on spring break again, especially not on a short cruise to the Bahamas. I guess the parents were drunk somewhere or just didn't care that their kids were running wild on the ship. But of course, every parent thinks their kids are angels and "would never do that".
Overall, we had fun and enjoyed ourselves. Most importantly we were together and made more memories to last a lifetime. Our next cruise is in less than 30 days!