We were going to pick up the boys from school as soon as Kobie was finished his exams,  which would be around 10am. Then head to the Triangle. For those that aren't from the area, the Triangle is Raleigh, Durham, Chapel Hill which is also known as the Research Triangle, due to the universities and all of the technological companies.
It's vacation day! I did some last minute things around the house and went and picked up Kobie from school.
We came home, loaded up the luggage into the 4Runner and headed to pick Kolbrin up from school also. I was ready to roll!
We picked up Kolbrin from school and went to get lunch at Chick-Fil-A. Kolbrin had already had lunch at school but the rest of us were starving. In typical 7 year old fashion, he was too. We went through the drive through and got our food and off we went!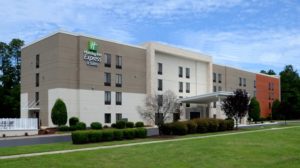 Raleigh is about 2 hours from our house, so it didn't take long at all to get there. We had a hotel booked at the Holiday Inn Express & Suites on Miami Blvd. I booked this room through parksleepfly.com so we could leave our car here for the duration of our trip.
They also have a free shuttle that runs to RDU. It was a cheap hotel at only $174.12. That was for a suite with 2 queen beds. Queen beds? YUCK! How do 2 people sleep in small beds like that? I about died. lol
We made it to the hotel and dropped off our luggage in our room. Kobie needed some new air pods, so we went to Crabtree Valley Mall to the Apple Store so he could buy him some new air pods.
He got his air pods, and then he needed to go in Hollister. We shop online exclusively. We do not shop in stores, ever, so he doesn't get the chance to go into stores, so he took the opportunity.
He ended up buying a few shirts and shorts from Hollister. Then we were done at the mall, ready to leave. Then I realized, I didn't have MY headphones. Nowhere at the mall had the kind I wanted, so we went to a nearby Target. They didn't have the kind I wanted, so we went to a Walmart. They didn't have the kind I wanted either, so I just ended up getting a cheap $50 pair of Bluetooth ones. They were nice and did what I needed them to do.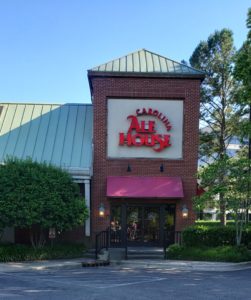 After we were done running all over Raleigh to find me some headphones, it was getting close to dinner time.
We decided to go eat at Carolina Ale House which we've eaten at before and were familiar with. The place was empty since we were kinda early. The service was nice, the food was nice, everything was nice about it except the decor. They had a ton of Duke and NCSU stuff but I guess being in Raleigh it was expected. They just needed more Carolina stuff. 🙂
Finally we were done eating and shopping and were just tired. We decided to go back to the hotel and get showers and rest since we had an early morning tomorrow. After all, it's the morning we fly to Florida!