It's 2018, school is out, and it's time for another cruise! As usual, we head down to Raleigh to begin our vacation.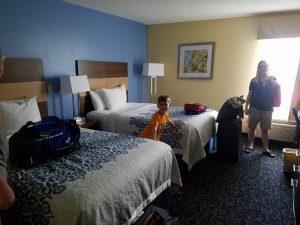 We checked the boys out of school around noon on Wednesday and headed down to the triangle.
We went straight to our hotel which we had booked the Days Inn on ParkSleepFly.com like I always do. We went with the Days Inn because we stayed here before when we went to Disney. It's less than 5 minutes from RDU and has a Cracker Barrel across the street. Not to mention it's right off of I-40.
This is just a cheap, no frills hotel that gets the job done for 1 night. Not to mention I can keep my car there for the duration of our vacation for 14 days at no charge. The cost of the hotel was only $108.61
We checked into the hotel so we could drop our luggage off in the room. We were going out for the night so I didn't want to haul our things around with us.
Once we dropped everything off, we headed to Crabtree Valley Mall which is the mall in Raleigh. We've been there numerous times so I was familiar with the mall.
Once she was done, we walked up to The Cheesecake Factory for dinner. By this time we were all starving. I've been to The Cheesecake Factory before and was not impressed. We went back this time though because mom and the boys wanted it. Well, the same rang true in Raleigh. The food wasn't good and the service was super slow.
Finally once we got our food, we ate and went back to the hotel. We had an early flight in the morning.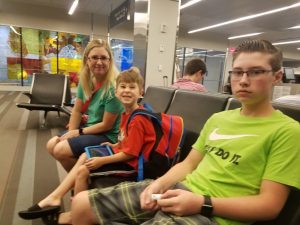 Our flight was at 6:45 so we got on the first shuttle headed to RDU to begin our vacation. The shuttle driver was nice and on time. We skipped the breakfast at the hotel since we left at 4am and breakfast didn't start until 4am.
We arrived at RDU at exactly 4:10 and there was already a line inside at the Southwest line so we decided to use the Skycap. I didn't mind tipping them $10 to skip that line inside. I just needed to drop off our 4 suitcases.
Once we dropped off our luggage, we went up to our gate to wait on our flight to Orlando. Vacation 2018, here we come!!