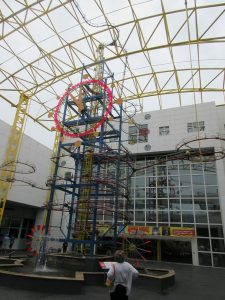 Welp, another day in Ft. Lauderdale. We couldn't do too much today though, it was still raining. Ft. Lauderdale/Miami has gotten over 15″ of rain in a week, breaking records. Crazy! It hasn't rained on us at all except for yesterday and the drizzle at the zoo. We need something to do inside.
First we headed to Ihop, yet, again. Yuck. It was close though. However the food and service was much better. I think it was cheaper also, it was only $50 this time.
After breakfast we went over to the Museum of Discovery and Science which was really neat. Outside is a huge clock powered by balls rolling around. Really neat! Very affordable too at $58 for the 4 of us. There was so much interactive exhibits in this museum for everyone to play with. We loved it and it was a great way for us to kill a day inside out of the rain. We had nothing else to do and had to kill time since the rental is due back at 4 and we're suppose to fly out at 6.
After we left the museum, I stopped and filled up the rental car with gas and off to FLL we went.
We got back to FLL and dropped off the rental car, no problems. Then we made our way to the 3rd floor to check in our luggage with Southwest. We had priority boarding with automatic check-in, so we didn't have to worry about any of that.
We got up to checked luggage, printed our luggage tags and waited. People kept cutting in line from the automatic machines but finally it got under control. We got our luggage checked in, and went to find food. But first we had to go through security.
This is where things get interesting.. Remember when we boarded and my son was flagged to skip security? That was awesome, for him. Going through TSA at FLL…. Well, remember those cakes my wife bought at Kermit's in Key West? Think about a pound cake and how it looks. Now imagine that on an x-ray machine. Now imagine 2 of those, on an x-ray machine. Yep. Son gets cleared, wife gets flagged to 'step aside'. They hold her bag and wait for a TSA supervisor to come. He wipes the bag down with several different wipes, assuming he was checking for bombs or something. But he opened the bag up and searched it. Needless to say the 2 bricks of cocaine that showed up on x-ray ended up being 2 Key Lime cakes. We all got a good laugh out of it.
We ate in the airport at Landshark which is a bar and grill inside FLL. If you're ever here, don't waste your money. This place was terrible and $57 wasted. That $57 was for 2 hamburgers, a BLT and 3 drinks. Youngin' had water. It was not good either.
Well remember the rain I was telling you about and storms? 150+ flights were cancelled, even more delayed. The airport was packed, people were pissed, tired, anxious, etc. All we could do is sit there and wait. 6:05 came, and went. 6:30 came, and went. They said there was a plane there and we had the crew as well.
Everything was in order, but we weren't moving. The terminal next to us boarded, then everyone came off. Nobody was going anywhere. 7:00 came, and went. 7:30 came, and went. I had the Southwest app open on my phone to see delays/cancellations but we just kept getting delayed by 5-10 minutes here and there. Everyone else was getting 2-3 hour delays or cancellations. WHAT WAS GOING ON?! FINALLY, 8:00 came around, and we were allowed to get on our plane.
We got on the plane and taxied to the runway. Now it's pouring and you can't even see out the window hardly. Finally we have the "ok" from the tower for takeoff. We got on the runway and off we went, fast, takeoff speed, about to go, up, up and awaaaaaawait a minute, not so fast. Let's hit the brakes. Are we cancelled, at the last second, literally?!
The pilot said that the tower needed more space for an inbound. SO, back to the runway we go, back in line. Let's do this all over again.
FINALLY we take off. I wasn't excited for takeoff because I thought it was another sick joke. Finally, we're heading in the air. I could see Ft. Lauderdale lights and the Florida coastline drifting off into a distance. Raleigh, here we come. Despite the horrible weather, the flight actually wasn't that bad. Not much turbulence at all.
Finally we arrive at RDU. The airport is a ghost town. Nobody there. It was odd. It was also 11pm by this point. I had originally planned to drive home since I am used to the drive from Raleigh home and it's a short 2 hour drive. I wasn't feeling good though and was just tired, so we decided to get a hotel.
I called the Sleep Inn we left the car at and requested a shuttle to come get us. They didn't have a shuttle so they told us to get an airport taxi and they'd pay for it. Now I hate taxis and would take an Uber but since they're paying, I do as I'm told. The taxis at RDU are nice though, we were in a black 2017 Ford Explorer. He took us to our hotel and dropped us off. I think it was $15 and change. Not sure though. The hotel did reimburse me as soon as I got there.