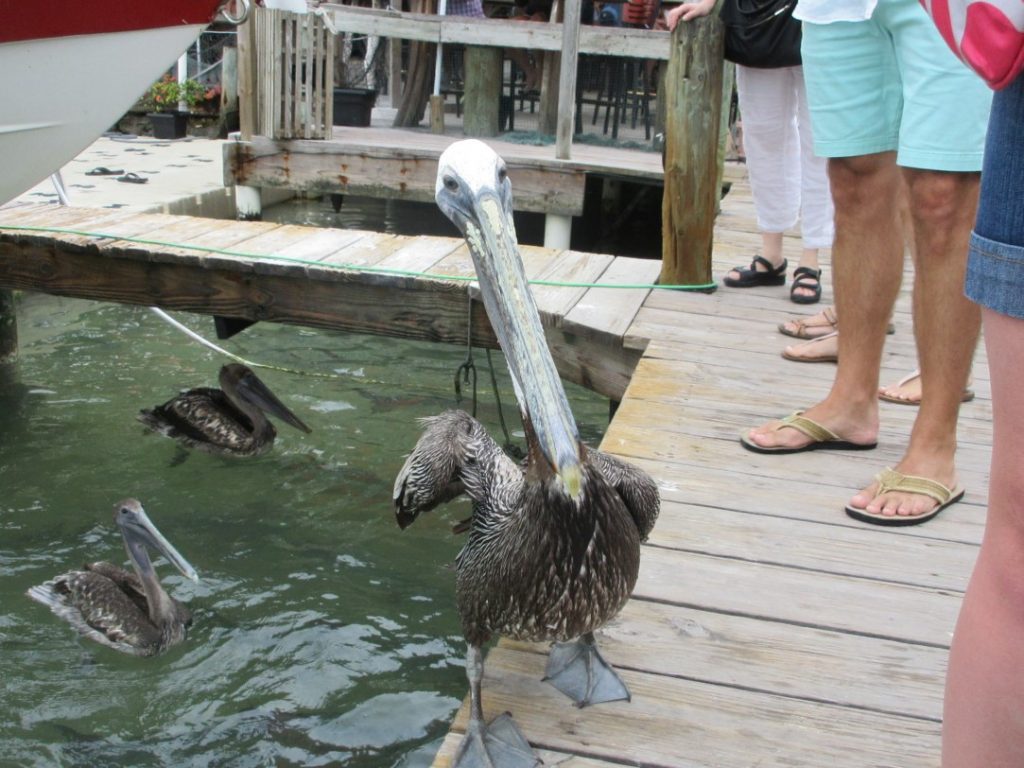 We got on Florida Turnpike and south to the Keys we went! We stopped in Islamorada at Robbie's so my kids could feed the tarpon and we could stretch our legs. It was about $20 for 3 buckets of fish so we could go out on the dock and feed the tarpon.
This was fun, my youngest really enjoyed it. Be cautious when you go here because the pelicans are very aggressive. As my youngest was holding a fish about to throw it in the water, a pelican snatched it right out of his hand. They will surround you on the dock if you're not careful. Hold on to your bucket and shoo them away if you can. The tarpon are pretty large and fast. It's fun to watch them eat.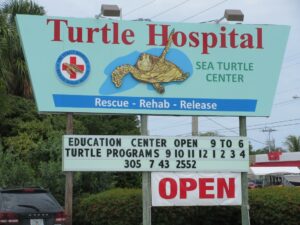 They have removed tumors, trash, corrected "bubble butt", shark attacks and other issues that sea turtles encounter. Sometimes a sea turtle is just in too bad of shape to release back into the Gulf of Mexico or the Atlantic Ocean so they have places there for them.
It was a very nice place and my kids enjoyed it. It was $72.45 for the 4 of us.
Once we were finished at The Sea Turtle Hospital, back on US 1 we went and kept driving. Over the 7 Mile Bridge we went (yep, it's really 7 miles, I measured it) and into the lower keys.
The views driving down US1 are just awesome. Heading south, on the right hand side of you is the Gulf of Mexico and on the left hand side is the Atlantic Ocean.
It's so pretty to look out over the water, to see all of the boats, abandoned bridges, fisherman, and tiny islands that compose the Florida Keys. It'd be nice to drive on a warm summer day in a convertible. Unfortunately, I was in a Santa Fe. Oh well, maybe next time.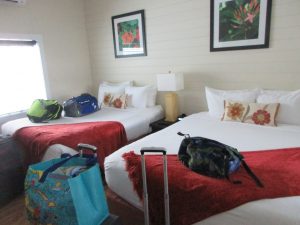 Finally we reached Key West and on to our hotel. We ended up staying at Southwinds which is only a block from the Southernmost Point & Higgs Beach. I found it on Hotels.com and had good reviews. It was a nice place, comfy beds, no complaints. It was in a perfect location also. We were a block from Duval Street. If you're not familiar, Duval Street is the artery of Key West. It runs from the Gulf of Mexico to the Atlantic Ocean, and is full of shops, restaurants, and points of interest.
We got all of our luggage unloaded and settled into the room. Then we were hungry so decided to walk down Duval Street to see what we could find. I loved the chickens everywhere. Such pretty roosters roaming the streets. Now they had chickens running wild pretty much everywhere we went along with other animals, but the roosters in Key West were beautiful in color.
As we were walking, we passed a street vendor trying to get money from people to hold his bird. Well I had already paid for the boys to hold an alligator, be seen with the sea lion, hold a monkey in St. Kitts and be with a donkey in St. Kitts also. Why not. I paid the guy and the boys got their pictures with a parrot on their head.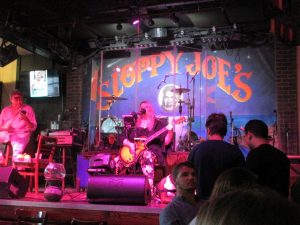 We ended up walking down to Mallory Square to watch the sunset and then some of the street performers. Mallory Square is where everything happens in Key West, that isn't happening on Duval Street. The performer we watched was really good, and very funny. We enjoyed him. We would have stayed longer but we were starving and the kids were whining. So we ended up walking up to Sloppy Joe's Bar for some dinner.
The food was okay, everyone enjoyed it. I of course got a Sloppy Joe. I must say, Del Monte Sloppy Joe Mix from the grocery store makes better Sloppy Joe. I just wasn't as impressed as I thought I would be. It was still good though. It was $57 for the 4 of us.