While we were in Cancun, we decided to go over to Isla Mujeres and enjoy a day on the island.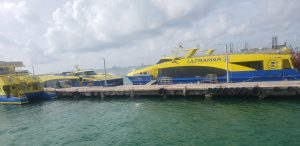 From our resort, we took a taxi to Puerto Juarez to get on the Ultramar Ferry. The ferry from Puero Juarez goes to Isla Mujeres, departing every half hour. The cost is $20 per person USD for a round trip ticket. The ferry terminal at Puero Juarez is nice with plenty of shops and places to sit. The ferry itself is really nice and has plenty of seating on it. The ferry from Puerto Juarez to Isla Mujeres takes about 20 minutes. It's a nice ride with a nice breeze across the beautiful blue water.
Once we arrived at the ferry terminal at Isla Mujeres, we went to get out golf cart. I had a golf cart reserved through Rentadora Joaquin which was a 4 seater golf cart with trunk. That way all 4 people were sitting forward. We got out golf cart and off onto the island we went!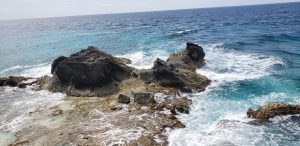 We went to Ixchel Ruin which is at the far end of the island one way. It cost $3USD to enter the ruin which wasn't bad. We walked out and saw the ruin which was neat. Then we walked down the steps by the sea to check it out, and walk back. This was a nice walk but be careful if you have small children.
From the ruin, we just spent the rest of the day riding around every street we could find on the island. This is very easy and do'able on a golf cart. Once we were ready for lunch, we went to Muelle 7 to grab lunch. This is right on the main drag on IM and easy to find. The food and service here was great and we'd definitely go back.
After we spent the day on IM getting burnt, it was time to head back to the resort. We dropped the golf cart off, walked back to the ferry terminal and went back to Cancun. This was an excellent day and I HIGHLY recommend you going to Isla Mujeres if you're in Cancun. I'd love to go back to this island.