Gettysburg, Pennsylvania
Day 1
The famous Gettysburg Pennsylvania
I will say when we were planning this trip, I was kinda dreading it. Let's be honest, I am not into history and the wars and all of that. It just doesn't interest me at all.
My wife wanted to take her dad for Father's Day so we did. We found a nice Civil War era house on AirBNB in the heart of Gettysburg. It was a block from everything downtown.
When we got there, we checked into the house and went walking. All of the area around downtown is very nice and definitely old. All of the houses are from the Civil War and have markers indicating that.
We got there several hours before my in-laws did so we just walked up to the candy store and a few other little shops. Once they arrived, we walked across the street to the grocery store to get some groceries to fix dinner with that night.
Gettysburg, Pennsylvania
Day 2
Today we took my father in-law to the battlefields and spent the whole day touring them. He really enjoyed it and that's what matters. In the end I admit I had a good time. It was great to see him having such a fun time, and knowing my wife was loving being with her daddy.
It was a long day in the battlefields. I was hungry!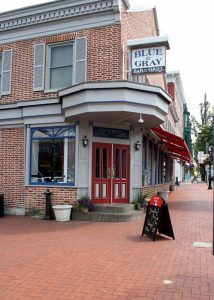 We ended up going downtown Gettysburg which was a block from our house. We went to the Blue & Grey Bar & Grill which was busy and they said they would text me when a table opened up. We waited maybe 20 minutes and they texted me. We went in and got our food. I told our waitress that I ate wings like a 5 year old and jokingly said I needed a towel from the kitchen. Well, she brought me one.
The food was really good but man those wings were HOT (spicy) – Definitely no complaints on the service or food though.
After we finished eating, my son and brother in-law and I went next door to the Sunset Ice Cream Parlor to get some ice cream and milkshakes. Man they were good!
Then we walked back to the house, stopping at a few stops for my father in-law to check out. After he was done shopping, we went back to the house and played cards the rest of the night until bed.
Gettysburg, Pennsylvania
Day 3
Today was our last full day in Gettysburg so my father in-law wanted to go back to the battlefields again to see some more stuff. Off we went!
We spent most of the morning here looking at things again and letting him take it all in. Once we finished at the battlefields around lunch time we headed down to The Outlet Shops at Gettysburg. This was for the ladies. Before we shopped, we stopped at the TGIFridays there at the shops and had lunch. We were hungry!
After we ate we went shopping of course. After we finished shopping we went back to the battlefields…..again. By this time, me and the kids were just tired of seeing grass. Finally everyone had enough of the battlefields so we went home.
Later that evening my brother in-laws wife is from that area so they wanted to meet her parents for dinner. We ended up going to Pike Restaurant and Lounge. I do not know who recommended this place or how they found it but it was absolutely terrible. It was very overpriced and not good at all. I definitely wouldn't recommend this place to anyone, despite their good reviews on TripAdvisor.
After we left dinner we went back to the house and played cards the rest of the night. This was our last night.
I will say it was nice to have the whole family together in 1 house having fun for a few days, just relaxing. I wish we could do it again.
Gettysburg, Pennsylvania
Day 4
When my in-laws go on vacation they always wake up before the roosters and leave. Personally I am never in a hurry to leave vacation so we didn't wake up at no certain time. 
Once we woke up, we cleaned the house for our host and packed things up. Then we headed back to Virginia and passed the battlefields on the way out. No, we did not stop.