Bermuda on the Carnival Legend from Baltimore
We have not cruised since June, so we had a month between cruises. In June we did the ABC Islands on the Carnival Horizon out of Miami with the kids. So this month, we wanted to do something as a couple. We always take a trip in July without the kids for our anniversary. This year, we chose Bermuda! This was a short cruise (6 days) on a very small ship (Carnival Legend). The Spirit Class ships are fantastic though. While they're super small, they aren't as small as the Fantasy Class, and there aren't many people on board. That's one advantage to the small ships. The Legend while being small, was still a great ship. The crew on board were fantastic, the ship was very clean and maintained and the decor was really nice. I'd definitely sail on the Legend again. 
Day 1 of Vacation (Baltimore)
Normally we fly out of Raleigh for a cruise, unless we drive to Charleston a few days prior to a cruise, which is what we did back in April. This time, it was nice to leave from our house to begin vacation without having to drive or fly anywhere. That's rare for us. 
We took an Amtrak out of Roanoke directly to Penn Station in Baltimore. Our train was set to leave Roanoke at 8:45am on Saturday morning. We left the house and headed to Roanoke Saturday morning, and stopped by Chick-Fil-A and picked up some breakfast. After we grabbed our food, we went downtown Roanoke and parked. 
Roanoke has an unmanned platform for Amtrak. It's also the beginning of the line for the Northeast Regional line that goes all the way to Springfield MA. The beauty about boarding in Roanoke is that there's nobody else on the train. They are expanding service to the New River Valley eventually though, so Roanoke will be the second stop eventually. The train from Roanoke to Baltimore is dirt cheap. It's under $20/pp one way. You cannot drive anywhere that cheap. 
The train parks nearby just outside of downtown overnight, so it's always on time arriving in the morning. Once it backed up to the platform, everyone loaded the train. However a Norfolk-Southern train was disabled beside of us, so we had to wait on them to fix their issue before we could begin our trip. It was about a 45 minute delay waiting on them. Once they fixed their issue, Amtrak was able to take off. 
The train ride north was uneventful. When you take the NE Regional, it has a stops in Lynchburg, Culpepper, Charlottesville, Burke, Alexandria, Manassas and Union Station in Washington DC. At Union Station, the train does stop for about 30 minutes to change engines from diesel to electric. You have a very short time to run into Union Station and grab fast food if you need it. 
After we left Union Station, we had a stop at New Carrollton Maryland, then BWI Airport in Baltimore, then the next stop was ours in Baltimore at Penn Station. Penn Station opened in 1911 and has great architecture. They are currently renovating it and there's not much inside except a restaurant, a little store, bathrooms, luggage storage, and an Amtrak ticket counter.
We arrived at Penn Station and made our way upstairs to the main level where we would go outside and get an Uber and head to our hotel.
As soon as we walked outside, I reserved our Uber. It took about 10 minutes for our driver to arrive. I was surprised it took this long in a city as large as Baltimore. Normally there's a 3-5 minute wait on an Uber. Anyway.. Kongolo picked us up in his UberXL and took us the 1.8mi trip for $21.86. We were staying at the Hampton Inn downtown Baltimore, near Inner Harbor.
We arrived at our hotel and went straight to our room. We usually stay at Marriott, Hilton or Hyatt properties because we know what we're getting. I like the ability to check in on the app and get a digital key at hotels. In 2022 there's no reason to go to a hotel lobby for anything. This hotel is in an old bank. It's a renovated bank and has a ton of character to it. The hotel was very clean, the beds were very comfortable. Looking out our window we could see M&T Stadium (where the Baltimore Ravens play) which had a huge soccer game going on this weekend.
We did skip lunch at Union Station, so we were hungry. We had 7pm dinner reservations at Fogo de Chão in Inner Harbor. That's normally late for us, but we had plans once we got off the train. However with out delay, we skipped those plans, and just went to the hotel. Once we got settled in the hotel room, I called Fogo de Chão to see if they could move our reservations to 6pm, and they were accommodating.
We walked down to Inner Harbor from our hotel, which was only 1 block away. We found our restaurant which is on E. Pratt St. directly beside of the Power Plant. We walked in and were immediately sat. Now if you've followed my blog before, you know I am a foodie and always take pictures of my food. Guess what I didn't do this time? I could not believe it. In fact, this whole trip I missed so many food pictures and was disappointed in myself.
Fogo de Chão is a Brazilian steakhouse, and is a fantastic place. We chose the Churrasco Experience from the menu. It's $61.95 per person. This includes the market table and Feijoada bar. The salad bar was fantastic with lots of options. The market table is where they come around constantly with meats, and you just tell them what you want. They have filet mignon, ribeeye, bottom sirloin, pork, top sirloin, prime top sirloin, bacon wrapped chicken and steak, lamb chops, pork ribs, beef ribs, spicy pork sausage, pork chops, chicken, as well as an arrangement of sides. They also have Wagyu Ribeye ($145), Wagyu Strip ($135) and Tomahawk ($98). We had one of pretty much each cut of meat, as well as me having about 3 filet mignons. You have a little coaster on your table. If you keep it green, they keep bringing you food. Once you turn it to red, they stop bringing you food until you turn it to green again.  I felt like I was going to pop when I was finished. It was so delicious. I can not speak highly enough about Fogo de Chão. If you're ever in an area with a location, you have to go. It's fantastic.
After we left Fogo de Chão, we walked around Inner Harbor a little bit just sight-seeing and people watching. It was great weather and a lot was going on around Inner Harbor. After we were done in Inner Harbor, I called for an Uber to take us to a Target so we could get some Uno cards and soda for our cruise. It took about 3 minutes for our Uber to show up. Olajuyigbe picked us up and took us the 2.94 miles for $12.97. We got to Target, and they had no Uno cards!! They had 4 racks where they went, and all were empty. We bought our soda, and walked next door to Five Below where they had some. We got our cards, and called for an Uber to pick us up and take us back to the hotel. Randolph picked us up and took us the 2.99 miles back to the hotel for $12.97. With all of the Uber prices, Baltimore has a 25¢ surcharge. 
We arrived back at the hotel, and went to our room to shower and get ready for bed. It had been a long day. Tomorrow is cruise day! 
Day 2 of Vacation (Embarkation)
On most cruises, your arrival time begins around 9:00am. However Baltimore is a late arrival and embarkation port, since the ship arrives so late. We had a 12:00 arrival time for the port. 
We woke up around 7, which is typical for us. The hotel has free breakfast, but we wanted something a little nicer than hotel food. I am huge on TripAdvisor reviews, so I looked to see what was highly rated near us. Miss Shirley's popped up, in Inner Harbor. In fact, it was right next door to where we had dinner. We walked down to Miss Shirley's for breakfast and were immediately sat. The food was fantastic and the service was awesome as well. The place was packed. When we left, there were probably 75 people outside waiting to be sat. We got there at a good time. I had Challah French Toast with bacon, and my wife had waffles. We both had a soda, and the total was $47.70 before tip. It was great and we will definitely go back to Miss Shirley's the next time we're in Baltimore. 
After we ate breakfast, we still had time to kill so we walked around Inner Harbor some, just burning off some calories from breakfast. We spent time here until it was time to go check out of the hotel and head to the port. We walked back to the hotel, packed up our stuff and walked outside to catch an Uber. It was finally time to head to the ship.
Tibube picked us up in his UberXL and took us the 3.64 miles to the port for $14.82. 
We arrived at the port without any issues. We were dropped off at the porters where we dropped off our luggage and walked inside. The line was moving super fast and we did not have to wait any. We showed our VeriFly, Bermuda Travel Authorization and into the terminal we went. We didn't even have to sit down, we immediately got on the ship. It was nice to not have to wait anywhere. Baltimore is by far the easiest and most efficient port we have sailed from. 
We embarked and went to our cabin to drop off our sodas and wine. Then we went to grab lunch. I went to Guy's and my wife went to Blue Iguana. That was the only time I ate at Guy's the entire trip. We then went and explored the ship some until we could get to our cabin an hour later. Normally we have a suite so we can go straight to our cabin but this time we had to wait. We had a basic 8K balcony cabin on deck 7 (7246). 
Once we got into the cabin, my wife took a quick nap until it was time for sailaway. We watched the ship sail away from Baltimore while sitting on the balcony. Once we went under the second bridge, we decided to go ahead and go to dinner. 
As always, we do Anytime Dining. We do not eat at the exact same time at home each day, and we're not going to do it on vacation. We want to eat when we get hungry, not by a clock. Our head server was Mary Rose, from the Philippines. We really enjoyed her and decided we would use her each night. We had dinner, then went to the arcade for kids, then went to the arcade for the adults. 🙂 
Day 3 of Vacation (Day at Sea)
This morning we had a meet and greet for the Facebook group. I was not an administrator of this group like normal, so I didn't have no say-so in the planning. In fact the lady who was the admin, wasn't even on this cruise. The meet and greet was at 10am on the first sea day, which is super early since most people sleep in or are at breakfast. Normally the meet and greets take place the first day of the cruise, in the early afternoon. There were still a couple of people who showed up to the meet and greet. The people we met and talked to were super nice. They were also doing a gift exchange. We did not participate in that gift exchange. We spent some time there, then we went to get breakfast ourselves. 
After breakfast, we would spend the rest of the day just hanging out around the ship until dinner. After dinner, we hit the show and comedy club to see the comedians. It was a fun day.
Day 4 of Vacation (Day at Sea)
Today is Tuesday, July 19th. It's our 19th anniversary! 
We had a slot pull planned for this morning. This was an event that I organized. We had 53 people sign up for the event, and 33 of those people showed up. There was a $20 buy-in which gave everyone 4 spins on a $5 max bet. Everyone took their turn and we all had fun. After everyone took their spin, we all ended up winning $29 and change. I paid the change out of my pocket and just gave everyone $30. We all were winners! 
After the slot pull, we went to Blue Iguana to grab some lunch. After lunch we ended up going to the cabin and taking a very long nap!!  When we woke up, it was time to get ready for dinner. Tonight we had reservations in the steak house. We enjoy the steakhouse, because the meat is much better than the striploin in the main dining room. I ordered the New York Strip and my wife ordered the filet mignon. The food and service was good. Once we were finished, we spent the rest of the night in the casino having fun. 
Day 5 of Vacation (Bermuda)
We were supposed to be in Bermuda from 8a until 8p. We had a 9am excursion booked with a local vendor that we were excited for. 
However, NCL & Celebrity docked, and Carnival had to tender, on lifeboats. It was so slow getting off of the ship. I had zone 4 for our tendering, which I picked up at 6:45am. At 9:30am, we still weren't off the ship. It was very frustrating and everyone was getting pissed. Finally about 10am, we were able to get on a tender and go to shore. 2 hours after our arrival time, and an hour past our excursion time. 
Once we got to the shore, I asked a shore worker about our excursion. I knew it had left and I didn't expect them to wait that long on us. He called someone, and put us in a taxi. He paid the taxi and the taxi rushed us to meet our excursion at the second stop. I could not believe we actually made it to our excursion. We met them at Port Royal Golf Course in Southampton Parish.
From there, we went to Gibbs Hill Lighthouse. This lighthouse was built in 1846 and is one of only 3 lighthouses in the world made of cast iron. The other 2 are in the United Kingdom, and Ireland.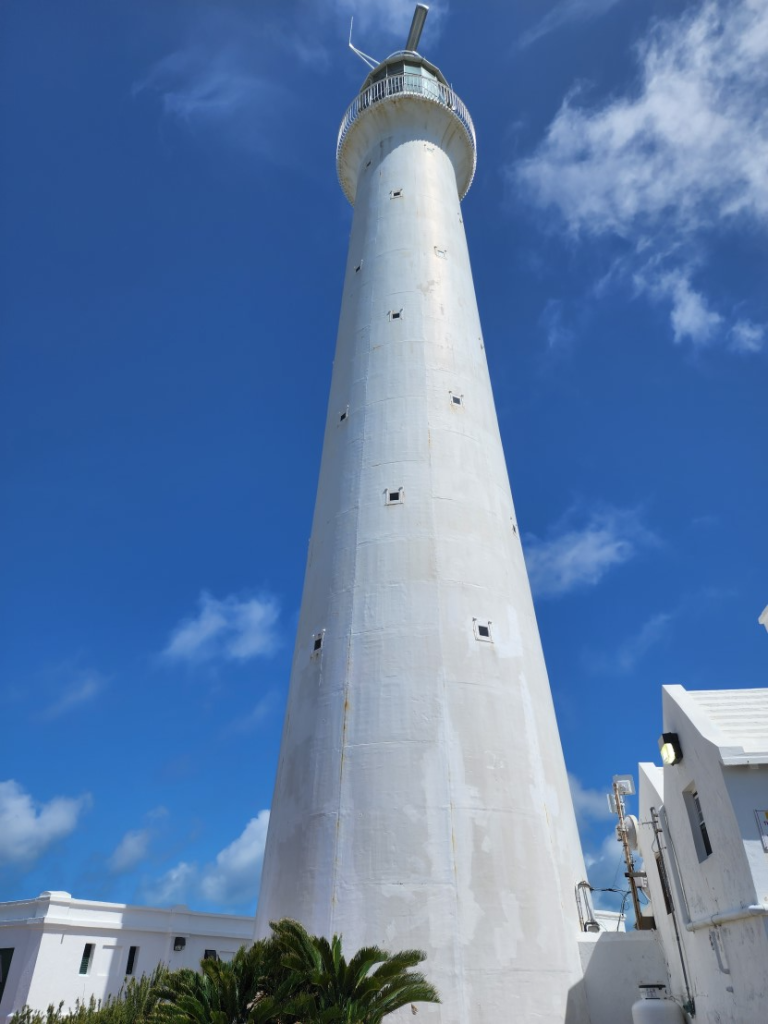 After we left Gibbs Hill Lighthouse, we continued our journey on the island. We would next go into Warwick Parish then into Paget Parish. We saw lots of beautiful beaches and historic homes. From there, we went to Devonshire Parish, then to Smith's Parish. We rode around the Castle Harbour over to the airport and then stopped in St. George's Parish. In St. George's Parish, we stopped for lunch and shopping. We ended up going to The Wharf for lunch. It was right on the water. The service was good and the food was excellent. I ordered fish & chips, and my wife ordered grilled chicken. We both had a Coke and our bill was $63.18. It was great food and I highly recommend this place for lunch!
After we left St. George's Parish, we started our journey back to the other side of the island. We went into the City of Hamilton. Hamilton is the Capital of Bermuda, founded in 1790 in the Pembroke Parish on the NW side of the island. We spent some time in Hamilton shopping.
After we left Hamilton, we continued our journey back, stopping at Horseshoe Bay Beach and Chaplin Bay. The whole island wrap around tour was excellent. On the way back, our driver stopped at Heydon Trust Chapel which was built in 1616. This was the first stop of the tour, but he went back because we missed it.
Our tour was booked through Bermuda Island Tours & More and Tony was our driver. I highly recommend this company, especially after how they accommodated us when Carnival screwed us by getting us there late.
Once our driver dropped us back off at Kings' Wharf, we decided to do a little shopping around the port. We then caught the ferry from the Royal Naval Dockyard over to Hamilton. We were pleasantly surprised Carnival changed our EOD time to 11pm. We went to Harbour Nights in Hamilton.
Every Wednesday they close the main road in Hamilton and have vendors set up selling crafts and food. There's also a parade that goes through. We really enjoyed this. We spent the whole evening in Hamilton. Then once it got dark, we were tired so we decided to head back to the ship. We caught the ferry back to the Royal Naval Dockyard from Hamilton. We made it back to the ship, took showers and grabbed some food before going to bed for the night.
Day 6 of Vacation (Bermuda)
Once again, Carnival didn't have their stuff together. We were supposed to be on shore at 7am. 9am, we finally got there. That was with a zone 3 tender ticket. 
We made it to shore and didn't really have plans for the day. We had to be back on by noon, so we just spent time in the Royal Naval Dockyard. First we went to The Dockyard Pastry Shop for breakfast. My wife got an egg sandwich and I got bacon and eggs. We also got a Swizzle to split. Our bill was $43.47. It was a great atmosphere there. Then, we did some shopping around the port area. We made it a very relaxing morning. 
Once we were done in the port, we decided to go ahead and go back to the ship. We got back on board, took showers and did ship activities the rest of the day. 
Day 7 of Vacation (At Sea)
We started off the day going through bad weather. Bad weather on a small ship going fast through the Atlantic Ocean is a recipe for disaster. Everyone was getting sick. Thankfully I always keep sea sick medicine in my luggage. I took some, but spent most of the morning in the bed. I felt like crap from the motion. They had barf bags posted everywhere for people. Even the staff was complaining about how bad it was. 
Finally in the afternoon, it calmed down and we were able to go out and do things. This was our last day on the ship, so we made the most of it. We spent a lot of time eating, and in the casino. It was a good day, once we were out of the storm. 
Before bed we sat on the balcony as we were entering the Chesapeake Bay. We wanted to watch the ship sail over top of the Chesapeake Bay Bridge. That was fun. Right after we passed the bridge, a Royal Caribbean ship passed us really close. It was neat!
Day 8 of Vacation (Baltimore)
We woke up early, and we were still in the Chesapeake Bay. We watched the ship pull back into Baltimore. Normally on cruises the ship docks early before we wake up, so it was fun to see us come back into port.
We let Carnival handle our luggage, and we had zone 3 tags to debark. We went to lido to grab some breakfast and wait to debark the ship. Finally our zone was called, and off we went. This was the smoothest debarkation process ever. No lines, no waits, it was great. We grabbed our luggage and went out to the pick up area. I called for an Uber but the wait was almost 20 minutes. I decided to go with Lyft this time since it was quicker. Moath picked us up in his LyftXL and took us the 6.45 mile ride to Penn Station for $23.77. 
We went into Penn Station to drop our lugagge off with Amtrak. It was $10 a bag so $20 to hold out luggage for the day. After we dropped off our luggage, I called for an Uber. We wanted lunch! Ahmed picked us up in his Uber and took us 1.69 miles to Inner Harbor for $12.92. We went to Uno's to grab a bite to eat. The service has declined since we were there last but the food was still good. They were just short staffed. I had a pizza and my wife had chicken. I didn't pay attention to the receipt to know how much it was. I think it was around $50 though. 
After we left Uno's, we went to It's Sugar to buy some candy. We stocked up on sweets. Then we went to CVS to get some drinks and snacks for the train. We also did a little shopping in Inner Harbor. Once we were finished, I called for an Uber to get us. Dukho picked us up in his Uber and took us the 2.02 miles back to Penn Station for $9.94. 
We made it back to Union Station, grabbed our luggage and had about a 45 minute wait until our 3:30 train arrived.
Our train finally arrived and it was time to wind down our vacation. The train was only 6 minutes late from Philadelphia & New York City which is pretty good. The train car we sat in did not have A/C and it was so damn hot. We finally moved to the cafe car after Union Station and it was cool. North of Lynchburg, the train had a mechanical issue with brakes, so we had to stop. We were stopped for about an hour. UGH I just want to get home. They got the issue resolved, and we were on our way. 
We finally made it to Roanoke at 11:15pm. We de-boarded the train and went to my car. I had a packing ticket, HA! The parking enforcement entered the tag wrong, generating a ticket. I emailed the company and they said disregard it. I had proof of my $62 payment. However, if I didn't pay it, the fine was only $40 so next time I will just take a ticket. 🙂
We got in the car and stopped at CookOut on the way home for some dinner. We got home, took showers and hit the bed. It had been a long day. The kids and dog were so happy to see us! It was a great trip but like they say, there's no place like home. Our next cruise is with Royal Caribbean going to Tortola, Perfect Day at CocoCay, and St. Croix. That will be fun.
We really enjoyed this cruise. The people were super nice, Bermuda was wonderful and the weather was perfect. However when we go back to Bermuda, it won't be with Carnival. Other cruise lines stay there longer, and actually get to dock.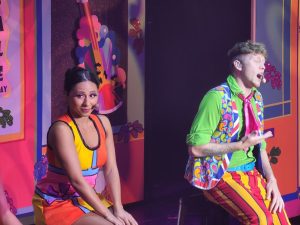 One thing I really liked about this cruise, was the Playlist Performers. This was the best cast we have seen on a Carnival ship. The cast had great chemistry and performed so well together. Plus one of the girls performing was local to us. Her name is Arianna. Beside of her is Aiden, which was my wifes favorite. He's from the UK. 
I will post The Fun Times & menus below. However with the menus, we ate in the steakhouse and in Bermuda twice, so 2 nights are missing.