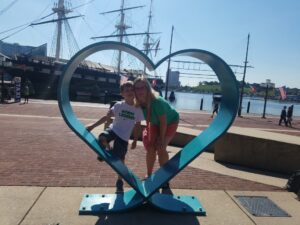 Let's be honest, there isn't too much to Baltimore. We went back this year and took the kids to Inner Harbor and man was I disappointed. Inner Harbor use to be a happening place. Tons of people, lively mall with lots of shops, things going on. Man it was dead.
The shops have all closed, the mall is dead, not many people around the area. Very sad to see that area going downhill the way it has.
We went inside of the mall and stopped by the Fudgery to get some chocolate and hear them sing. Even that place has gone downhill.
Then we walked over to Barnes & Noble to kill a little bit of time before lunch. Then we walked over to Uno's which is still in the mall. If you follow me regularly, you know we LOVE some Uno's!
We did go to the top of the World Trade Center which I think was $10 per person but well worth it. You get great views and also see some of the remainder of the original World Trade Center in New York City.
Come on B-town, get it together!