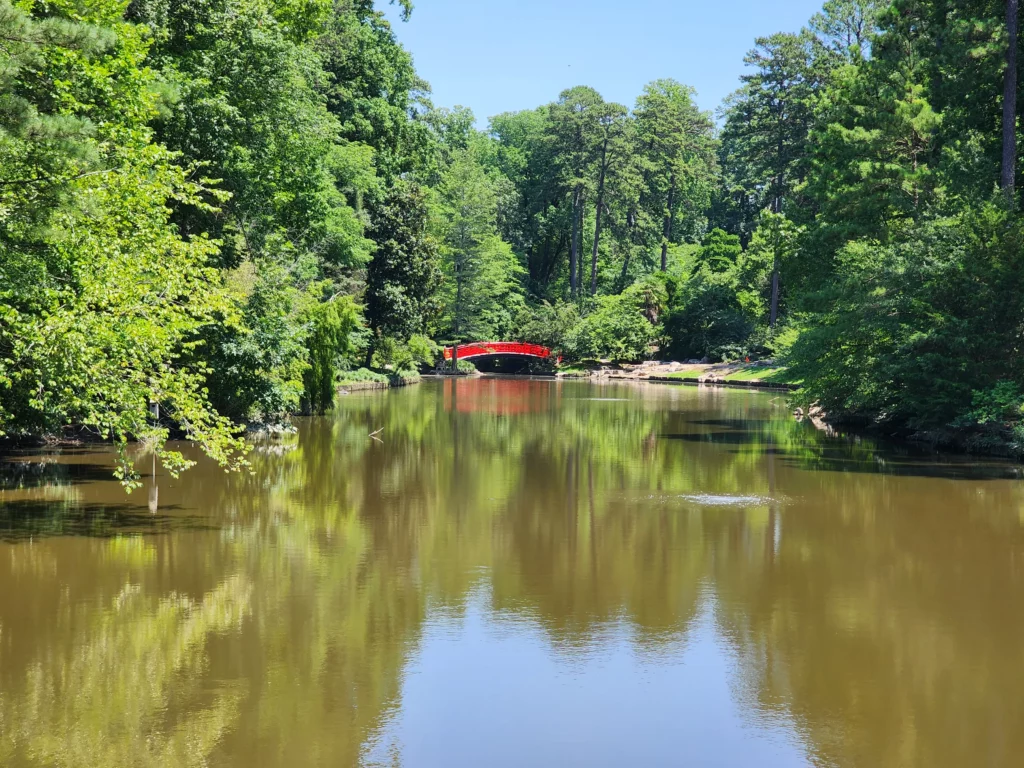 After we dropped our stuff off at the hotel, we headed over to Durham where we would go to the Duke University campus to visit the Sarah Duke Gardens. Now anyone who knows me, knows I am a Tar Heel representing the University of North Carolina at Chapel Hill. Anyone who knows colleges knows that Duke University and the University of North Carolina is one of the biggest rivals in the sports world. I had on my UNC attire, and was very out of place at Duke. I represented the better school proudly there though! 🙂
We arrived at Sarah Duke Gardens where we would walk through their beautiful gardens checking out the landscapes and great paths. It was free to get in and well worth the visit. We walked the whole trail all the way to campus where we would visit the Duke Chapel. We went in a few buildings to check out the campus of Duke and even looked for lunch. We ended up not eating here, but it was a very pretty campus to see. Not as pretty as the one in Chapel Hill though. 🙂
We ventured back through Sarah Duke Gardens to the car where we would hop back on the road. 
After we left Sarah Duke Gardens, we rode a short drive down the road near Duke campus to where I used to live about 25 years ago to see the house I lived in. It had changed, and they were remodeling it. It was really cool to see it though since it had been so long. The house is downtown Durham across from the DBAP field across the Durham Freeway. It was nostalic to see that house.
After we left Durham, we rode back over to Raleigh to grab some lunch and rest a bit. We ended up eating at Red Robin at Briar Creek. The Red Robin in Roanoke is horrible so we never go there, but the one in Raleigh was very good with very good service. It was across from our hotel so it was also easy to get to. Once we finished eating, we went back to the hotel to rest before the concert.
After we rested and killed some of the day, we decided to head to the other side of Raleigh to Coastal Carolina Credit Union (Walnut Creek Amphitheater) where we would see Matchbox Twenty, with Matt Nathanson opening for them. We got to the venue, parked and got inside to our seats. We had pavilion seats but there was a pole right in front of us. That was unacceptable! I went to find someone from Live Nation to upgrade our seats. I paid $40 to upgrade our seats to move closer to the stage. Thankfully our new seats had no post in front of them.
I had never heard of Matt Nathanson but he sang the song "Come on get higher", and he was fun on stage. After his performance, Matchbox Twenty came out. Rob Thomas never disappoints! They performed a flawless 24 song setlist which covered all of their hits. It was a great show!! After the concert, we headed back to the hotel where we would wind down and call it a night. We had a great first day of vacation at Duke and at the concert. We'll be back to Coastal Carolina Credit Union 2 weeks after the vacation ends for another concert.