Now before I begin my blog about us going to Jellystone let me preface our journey by saying, we've always had a camper. We had a 40′ Keystone VR1 travel trailer that was fantastic. The fact is though, we rarely used it. We decided to sell it and finally it sold. Well, 3 days after it sold, my wife decides she wants to go camping. Go figure.
She has never been tent camping so this is going to be fun. My boys have never tent camped either and it's been probably 20 years since I have. We bought a tent years ago for some reason. Not sure why. It was still brand new. It's an 8 man tent, so we went and bought some air mattresses, and another tent for my oldest so he would have his own space. We also bought everything else a typical camper would need. Flashlights, things to roast marshmallows with, fans for the tents, tablecloths, candles, lighters, you name it.
Sunday morning we woke up at no certain time and packed the 4-Runner completely full. Seriously, you couldn't even fit a shoe in the back once I was finished. The car was loaded and off we went.
Our first stop was just outside of Staunton, Virginia where we would stop for lunch. We decided to stop at Cracker Barrel. We normally stop at this location when we're heading north on Interstate 81. Not sure why this one, it's just always been nice.
I think I am the only person who got lunch, everyone else got breakfast. The service was good and the food was good.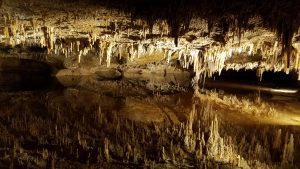 From here we got back on the Interstate to continue our trip. We got off at exit 274 which is the exit for New Market. We then started to head up the mountain and finally into the town of Luray.
Once we got to Luray we went ahead and stopped at Luray Caverns. These caverns are the largest caverns on the east coast and were formed some 400 million years ago. They really are beautiful. It was around $130 for us to enter the caverns.
The pathway is lit very well, very smooth and very well maintained. The entire trek through the caverns is about a mile and a half long and takes around 45 minutes to complete. Not bad at all. My boys were very intrigued by the caverns.
Your admission to the caverns also includes admission to a car museum next door as well as a toy museum.
The car museum was pretty neat. There were a lot of old cars in here that were very well kept. It's a self-guided walk through to see them. The same with the toy museum, however the toy museum is pretty small. It's something cool to see though and walk through. Definitely kicks in a lot of nostalgic feelings.
After we finished with the caverns and the 2 museums, we went into the hedge maze. I think it was $8/pp to go through here. It's like the corn mazes that are everywhere at Halloween except this is designed out of hedges. It was fun and cool. The pathway was good and the maze was very well kept. It was something fun to do to kill a little time.
Once we had spent a good amount of time at the caverns, 2 museums and the maze we decided to grab some dinner before heading to the campground. We asked for a recommendation and the lady at the maze suggested Uncle Bucks which is in the town of Luray, not too far away from where we were.
Now in the town of Rocky Mount where we live, on Saturdays they roll up the streets at 6pm and turn off the streetlights. The town closes until Monday. It's still an old town that has old ways.
Luray is smaller than Rocky Mount so I figured Uncle Bucks would be closed at 7pm on a Sunday but nope, they were open!
We were quickly sat and ordered our food. When my wife ordered, she ordered steak with A1. The waitress said ok and went about her business. My kids got a hamburger and I got wings. When my wife's steak came she asked for the A1 and was informed they didn't have A1. HELLO she mentioned it when ordering. She would not have ordered a steak if you didn't have A1. So that was a meal wasted.
My wings were good but they were cold by the time I got to eat because I had an important phone call from Carnival up-selling me a grand suite on our cruise next month, which I will blog about with that vacation.
Overall Uncle Bucks was okay, typical small town diner food. We wouldn't go back though for the sole purpose of them not having A1 and we already wasted money there on 1 meal.
We rode the short ride up the road and found Jellystone, which I knew where it was since we'd taken the camper there before.
Check-in was a breeze since they had everything ready. There was an older woman who checked me in, she wasn't very friendly nor did she have a personality. She wasn't rude or anything, just not someone I would pick to have dinner with.
We got our pass to get in and stopped at the Ranger Station to find out where to go. The ranger told us where to go, so off we went. We easily found our spot. I started setting up the tents while the wife and oldest started setting everything else up.
Once everything was finished being set up, we walked down to grab the golf cart we had pre-reserved for the duration of our visit. The rest of the day we just hung out at the campsite and played Uno, rode around on the golf cart, and relaxed.
Monday morning we woke up and went to the pool. This thing was ice cold and it was the end of June. My youngest got in and loved it. None of us did though since it was so cold. All 3 pools and the slides were like this.
We just relaxed by the pools, did some activities that the campground offers. Afterwards we went to Walmart to get some groceries to cook at the campground.
In the early afternoon we decided to go back to Luray and grab dinner. We chose Mrs. B's since it was advertised in the campground paper. It was a little place, and nobody was there eating when we got there.
After we ate, I understood why. It was definitely HOMEMADE pizza. They used crust and Ragu pizza sauce you'd get at Walmart. It was not good at all.
Tuesday morning we woke up and went to Hardee's for breakfast. Now normally I don't like Hardee's but they do have good breakfast and Luray was no exception.
We all are then headed back to the campground for the day. The rest of the day we'd spend doing activities, crafts, etc. around the campground until dinner. At dinner I cooked hamburgers then we went to play candy bar bingo. This was our last night camping, boo!
Wednesday morning we packed up which took all of 30 minutes. Then we checked out to head south.
We stopped in Staunton to eat and my kids decided they wanted Chick-Fil-A rather than Cracker Barrel for breakfast. Well guess what, the closest one was the Chick-Fil-A in Roanoke, 2 hours away. Damnit kids!  We made it to CFA and were STARVING!! After that we made it home, unpacked and rested.
Final thoughts:
The wife and oldest would be hesitant about tent camping again. It wasn't as fun for them as it was for me and the youngest. We'd do it again in a heartbeat. We had a lot of fun.
Luray is a quiet little town with not much to offer aside from the caverns. Jellystone is a nice campground but is desperate for some adult supervision. The place is ran by kids and it's a cluster. Candy bar bingo was a disaster since the teenager girls were more interested in eating pizza and talking to one another rather than calling numbers.
Out of 150 candy bars in the "pot", probably 20 were given out during the duration of bingo. The other 130 were given out to an adult, many in the "jackpot game" at the end. Definitely made a lot of people mad and upset.
The café had 3 things on the menu; funnel cake fries, onion rings, and drinks. Very disappointed that we had to go out for food so often. Then the arcade, 80% of the games were broken. The claw games, the claw didn't go down far enough to reach any of the prizes. The camping aspect of the place was great and we had fun. Just the Jellystone amenities need a lot of TLC. Would I go back here? In a heartbeat, it's a great clean place with lots to do. Would I put any money into it aside from reserving a golf cart and camp site? No way!