We arrived in Roatan at 9am and were in port until 6pm (7a-4p local time). I hate being in ports in different time zones. It makes it harder to keep up with time.
Once we disembarked the ship, we found our way through the cruise terminal. It was pretty empty around where we were going which was great. We had arranged a private tour through Rony's.
Rony's came highly recommended on numerous cruise sites. They're the #2 tour operator in Roatan only behind Victor Bodden. The cost for us 4 to do a private tour was $100 + $10 admission to Daniel Johnson's.
We walked through the cruise terminal, across the parking lot, up the stairs, down a long hill and outside of the security gate.
Once outside of the gate there were tons of vendors wanting business. They're eager to get someone to use them. It was the same way on our Facebook roll call, several vendors joined advertising their businesses. It was kind of annoying. Anyway.
We found the guy holding the Rony's sign and he put us in a small Nissan Sentra. Very tight and hot. We were about to go when someone else (looked more like they knew what they were doing) came and asked us to get out, we were in the wrong car. They then put us in a Honda Civic with Arnold. There was more room in the car and he had the air going. Much nicer vehicle also. Off we went!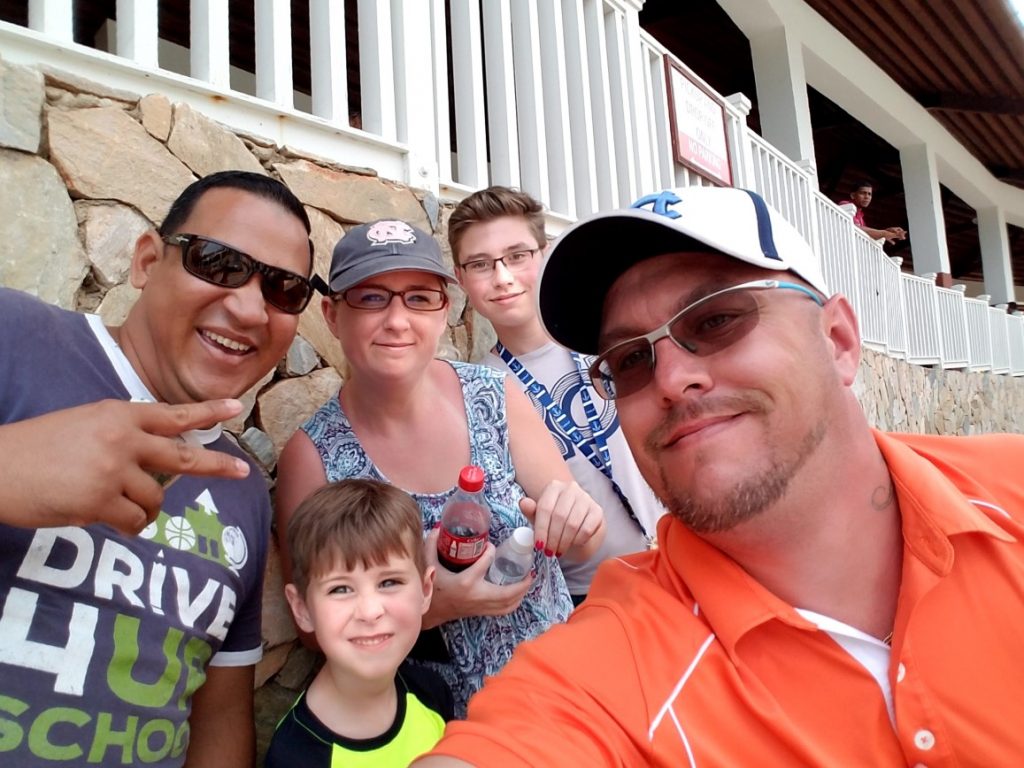 Arnold spoke perfect English and asked us what all we wanted to do. We told him we wanted to ride around and tour, go to West End but most importantly go to Daniel Johnsons. He said Daniel Johnsons was fairly small (which it was) and got very busy quick (which it did) so we would go there first and beat the cruise traffic (which we did). We were the first people there actually.
Daniel Johnson's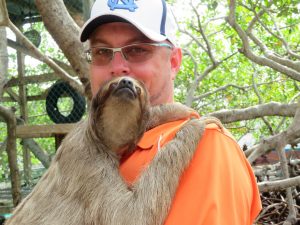 Once at Daniel Johnson's we paid our admission fee and went inside with another family that had arrived right after us.
We had a really nice guide but I don't remember his name. He walked us around to each animal and talked about each one, giving detailed information about them. Most if not all were native to Honduras.
They had some beautiful birds, really cute monkeys but most importantly, the sloths! This was the highlight of my entire vacation, holding a sloth. They were so cute!! They are smaller and soft and super slow. I loved these little guys. If you ever go to Isla Roatan you HAVE to go to Daniel Johnson's Sloth & Monkey hangout. It's an awesome experience.
Once we left Daniel Johnson's, we headed out onto the island. Arnold showed us the bad side of the island first. We wanted to see it ALL.
The bad side wasn't exactly "bad" in American terms, it was just bad as in impoverished. He took us into his hometown and showed us his home as well as his parents home. After that he took us to the highest peak there in Roatan where we could see all of Isla Roatan as well as the mainland of Honduras. Also at this peak was an outdoor market area where everyone was trying to sell their item(s). We bought a few things here to take back home with us.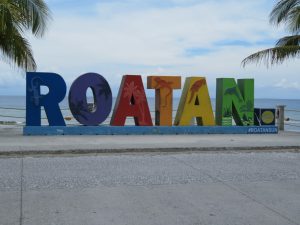 After we were done shopping we rode around through town heading up to West Bay area which was more for tourist and the "rich" folks. We did stop for lunch here, me and the boys got a hamburger and mom got a chicken sandwich. I think she enjoyed hers but the burgers definitely weren't great. I think the kids and I both ate half of our burgers at best. It was a nice place otherwise, right on the water. I did buy lunch for Arnold since he had been so great to us this day so far.
After lunch we headed back to the opposite end of the island to tour the other half, and go the direction of the ship.
We made a stop on the way back for drinks and to take some photos. We made it back to the port and through security. Albert was able to drive into the secure area since we were with him and had our ship ID with us. He dropped us off right at the entrance.
We did a little shopping in port before heading back to the ship around 5 to get ready for dinner since we were all hungry.
Arnold was very mindful of the time so we would be back to the port in time, very caring about what we wanted to see and do, showing us everything possible and explaining things. This guy is awesome.
If you ever go to Roatan I cannot talk highly enough about Rony's Tours. I will use them every time we go back.
Rony cares about his clients! When we returned he emailed me wanting to make sure everything was good with our trip. I did recommend him to 1 couple though who their driver was very rude, rushed, and kept talking about a tip. It was night and day from Arnold.
I feel so bad because I recommended them but I have confidence Rony will make it right. I don't know what all Victor Bodden does to keep his #1 rating but Rony is right up there and in my opinion should be #1. Maybe it's that 1 bad guide he has that keeps his ratings down? I don't know. I won't use anyone else though after using Rony's Tours!