Cozumel was one port that I was excited about going to. We had reservations for Mr. Sancho's that we made months prior to our cruise. I made reservations directly through Mr. Sancho's for a $20 deposit with $165 due when we arrived for a total of $185.00 USD ($mex 3,677.12 pesos). This was for the all inclusive day pass which is all you can eat and drink. Let's just say when someone tells me "all you can eat and drink", they've sold me. So I was excited! The only downside to this, was we were only in port from 7a-3p (6a-2p local time) but I figured I could make the best of it.
Then comes Tropical Depression Alberto.
Wednesday night the seas were so rough as we were sailing through Alberto. Thursday morning we docked in Cozumel and it was raining so hard. We knew we wouldn't enjoy a beach day at Mr. Sancho's. We took our time getting out of bed and then ate breakfast on lido deck. We were disappointed but nobody can control the weather and we understood that.
We decided to make the most out of our day so we figured we could at least get off of the ship and shop in port.
It was raining hard and I had bought some ponchos with us. Now you know the ponchos once taken out of the vacuum sealed package they take up a lot of room. We figured it would rain in Orlando and wanted to save our ponchos so we ended up buying 4 of them on the ship for $3/ea.
We put on our ponchos and went out into the rain to the port to do some shopping. Well, everyone had the same idea. There were 3 ships in port, the Carnival Magic, Caribbean Princess and the Carnival Paradise. It wasn't horrible though. We went to a few shops and didn't buy too much, a few t-shirts. However we did stop at the rum cake store on the way back and that's where we did the bulk of our shopping in Cozumel. We love rum cake! We ended up spending $147 here on rum cakes and vanilla. Let's just say it took up over half of my large Nautica luggage. Thankfully we always pack an empty duffle bag with us to bring back things.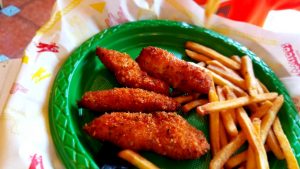 After we finished shopping, we were headed back to the ship when we decided to eat in port. Honestly I wanted some tacos so we stopped at Three Amigos there by the pier. Well, they didn't have beef tacos (really??) so I ended up getting a hamburger. My wife got some flatbread something and my youngest got some chicken strips. His looked REALLY good. My wife said they tasted like the ones I make at home in the air fryer. I didn't try them though. My burger was pretty good. My oldest again, didn't eat. He was holding out for Guy's Burgers on the ship. We also got some of their chips and salsa which were really good. For the 3 of us to eat was pretty cheap at $43.49. Not bad!
After we finished eating in port, we went back to the ship so my oldest could get his Guy's and the rest of us could dry off. It wasn't a bad day in port, despite the rain. I just wish we could have went to Mr. Sancho's but there's nobody to blame for that one. Next time Sanchos', next time!