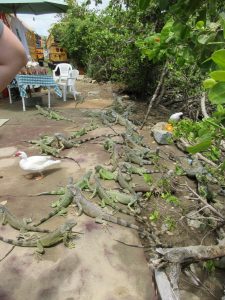 We were excited about St. Maarten. St. Maarten is part of the Leeward Islands in the Caribbean Sea. It comprises 2 separate countries, Netherlands & France.
We had booked an excursion through Bernard's SXM Tours independently, we don't like going through cruise lines for excursions. We met Bernard's Tours at the cruise terminal and boarded an air conditioned van with our driver and guide, DJ Dave. DJ Dave was hilarious, we REALLY enjoyed him.
We first went to the iguana farm which was really neat. Like Florida, iguanas are wild animals there. The iguana "farm" is simply a shop set up along the banks where a ton of iguanas live. These aren't pets or kept in captivity. They are all wild. People stop to feed them, take pictures, etc.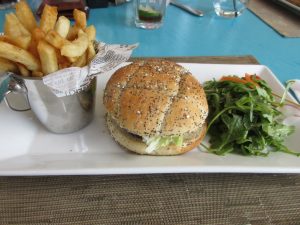 After we left there, we stopped at the Dutch/French border. Then onto Oyster Pond, overlooking the island of St. Barths. This was a pretty stop, we also saw a house owned by Chuck Norris. Rumor has it, Chuck Norris created that island out of molding clay. (Ok, just kidding).. After we stopped at Oyster Pond for photos, we headed to Orient Beach (non-nude side) and stopped at La Playa for some lunch. Some people went swimming since we were here for almost 2 hours. Instead we just had lunch and watched the ocean. Our food was fantastic and cost 88,00 Euros which is $104.93 USD. Great food, great setting, everything was perfect here.
After we were done at La Playa, we headed to Marigot which is the French Capitol. Here they had an open market which we shopped at and just enjoyed the atmosphere. This is also where the boat scenes in Speed 2 were filmed. Very cool place. You can haggle any price. I wanted a shirt, asked the price and the guy said $10. I said "did you say $5? I couldn't hear you" he said "No, I said $8".. I said "ok, thanks" and walked off. As I was walking off, he said "Yes, $5" so I got my shirt. 🙂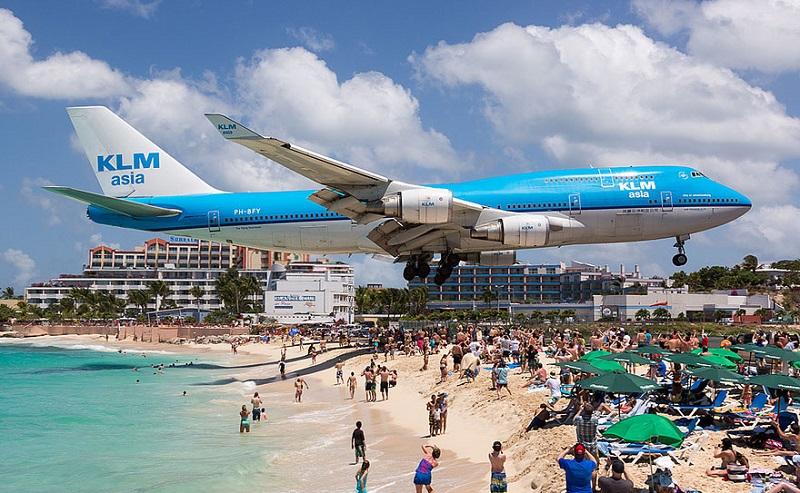 From Marigot we traveled to Princess Juliana Airport at Maho Beach to see the low flying planes. Now a lot of people said the huge KLM flight doesn't come there any more. They're wrong, it does. Unfortunately it comes after we had left. (6:30 that night).
We did get to see planes come and go though, people blown away, sandblasted, etc. One thing cool I found here, is at Maho there is a bar. If you walk behind the bar ocean side, there are THOUSANDS of sea urchins. I couldn't believe it.
After we left Maho Beach, we drove down through Harold Jack Hill where we got a good view of Simpson Bay Marina, airport and Anguilla. After that, we headed back to Philipsburg. When we got back to Philipsburg, we shopped around the port area a little bit before heading back to the ship.
Once we got back on board, we took showers and got ready for dinner. I had my usual, steak and shrimp. We were very tired from getting up early and having a long day. We called it an early night after dinner.