The Everglades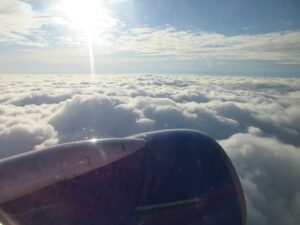 Our flight to Miami was really nice. There was no turbulence and the staff was awesome as always on Southwest. We always fly Southwest because they are the cheapest for us. They offer free luggage, free snacks and free TV. That helps kill time. I was able to watch some morning show on the way down. Not to mention Southwest has open seating so you can sit wherever you want, unlike other airlines. They are just so much better in my opinion.
Once we arrived in Ft. Lauderdale, we quickly got off of the plane, got our luggage and went upstairs to the rental car agency to get our vehicle. We had rented a mid-sized SUV through National. National was a little more expensive than Alamo or any of the other places but they had better reviews so that's who I went with.
I am an Emerald Club member so I skipped the counter and went straight outside to pick out our car. There were 2 isles to pick from, so I ended up picking out a Jeep Compass. It looked nice from the outside. Once I got it, it was very basic though. Definitely not a vehicle I would purchase, just very plain. Anyway, we packed up the Jeep and off we went.
We had rented an apartment in Miami Beach and weren't supposed to be there until after 3pm, so we headed over to the Everglades Safari Park. There are several tour operators in the area but we went with this operator because they had a Groupon that we purchased. If you're visiting the area, definitely check Groupon for deals.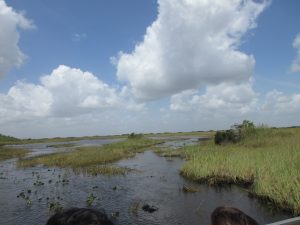 I want to say this tour lasted about an hour but could be off. One tip: If you're going to do one of these tours, sit in the front row. We were in the second row which was fine for us but anyone behind us, they had to look over our heads to see anything. Most of the gators were in the water in front of us. There were a few on the sides where people could see but the majority were in the front.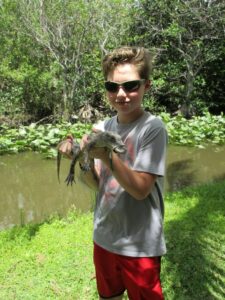 It was really neat to see all of the gators out in their natural habitat. The Everglades is simply awesome. The highlight of our tour was for my oldest son. He got to hold a baby alligator afterward. They would let people hold it and take pictures for a small fee. $3 I think? One thing I did learn on this trip is that The Everglades actually has a river. Most people think of it as a swamp with stagnant water but it's actually a river. I had no idea of that. I would recommend an Everglades tour to anyone going down to Florida. Especially if you've never been able to experience going out into The Everglades. Now keep in mind this is just a short loop out into The Everglades, maybe a mile.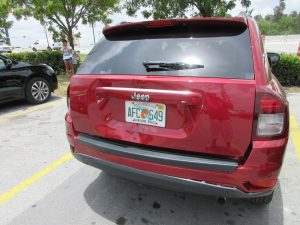 We waited a while on the Miccosukee Police Department to show up since it was on a reservation. Once the officer showed up, he said it was actually Miami-Dade jurisdiction. So then we had to wait more on Miami-Dade Police Department to show up. Well they showed up, finally and said that the area was their jurisdiction but since it happened on the road that it did, that was the jurisdiction of Florida Highway Patrol. UGH! NOBODY seemed to know which law enforcement agency had jurisdiction. So we had to wait MORE for FHP to show up. FHP finally showed up and took the case. The officer took a while to do the report but it was finally done. The Jeep was totaled. The entire back was pushed in and the hatch would not shut after I pried it open to get our luggage out. When I was pushed into the truck in front of us, his trailer hitch went through the radiator as well as smashed the front of the Jeep. 
Now I know the pictures don't look like much but trust me, it was more than the pictures give credit for.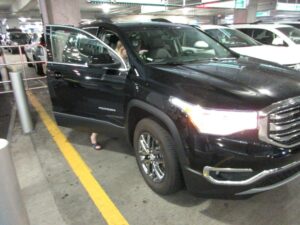 The entire time I am dealing with Miccosukee PD / Miami-Dade PD / FHP, my wife was on the phone with National to let them know what happened and to arrange plans moving forward. The tow truck was there within 5 minutes. Faster than any law enforcement agency. They took the Jeep and National said to get a taxi/Uber and come back to FLL Airport for another car. Well, UberXL wasn't available in the area we were in (WHY?) so we had to take a taxi back to FLL. National said they would reimburse us for the taxi, which they did. So a $140 taxi ride later we made it back to FLL. I had to deal with a manager because when my wife called the 1800# to report the incident, they apparently forgot to notify the location at FLL so they had no idea where the car was. I got all of that straight and was ready to move forward with our vacation. National told us to go pick another vehicle so I ended up getting a GMC Acadia. This thing was super nice. It was fully loaded which was nice, also a bit more stout so I felt more comfortable in it. It's a step down from a GMC Yukon Denali. Still super nice. We enjoyed it. Anyway it's starting to get later in the day at this point so we skipped lunch and headed to our apartment.
Finally after the whole ordeal, we made it out of FLL and to Miami Beach.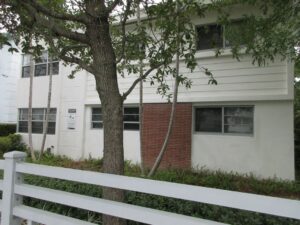 We rented an apartment through Airbnb and Chris was our host. His host name is "John" in honor of his brother who was killed on 9-11 in the WTC. From day 1 dealing with Chris, he was simply amazing. He commutes between Miami and NYC weekly and he owns the entire complex we were in. The place was fantastic. It had a fully furnished kitchen, living room with 2 couches, bedroom with comfortable bedding, bathroom, washer/fryer, just a great place. The location was 3 blocks from the ocean and 1 block from Lincoln Road Mall. Everywhere in South Beach was within walking distance to the apartment. This was nice because Chris also includes parking for his guests so I could keep my car parked where it was and allow us to walk everywhere which was nice.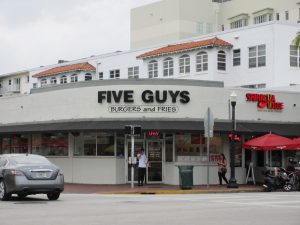 Once we finally got everything unpacked and settled into the apartment, we were hungry so we skipped lunch due to the accident. Five Guys was just around the corner so we walked down there for dinner. We were simply exhausted by this point due to the early flight down, The Everglades tour, the accident and then dealing with everything else. I just wanted food and a pillow. I didn't care about fancy food, I just wanted something quick and easy and close. It was only $50 for the 4 of us to eat here. It was great food and great service. We got to people watch while we ate and people watching in South Beach is always a treat.
After dinner we went back to the apartment and all took showers and went to bed. This was a very eventful day.