Belize is one city that I wasn't excited about visiting because of all of the bad things I had heard on other cruise websites about how dangerous it was, how bad it was, etc etc. I am the type of person who doesn't let others opinions influence mine and 99% of the time I am glad of that. This is one of those times.
We were scheduled to be in port from 8a-5p (6a-4p local time). I did extensive research on things to do in Belize before we went. I ended up booking a private tour with AlTournative Belize Services with King David Castillo. He had great ratings and the price wasn't bad in comparison. The price was $85/pp for a party of 4+.
Once we arrived in port, it was fairly dead since it was so early local time. We quickly found the exit from the cruise terminal and there were a few vendors out there. I quickly found King David by looking for his shirt (a tuxedo shirt, also wearing a crown). He took all of his groups to the lower end of the parking lot where each group got into their respective vehicles. We were in a nice little SUV with our driver, Robert.
Robert was super! We left the cruise terminal and off we went. He explained the history and showed us things as we were driving through Belize City. There was a lot of traffic coming into the city for the morning but not much going out. Our first stop was the Howler Monkey Sanctuary.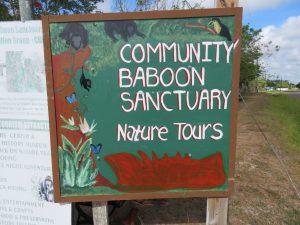 Once we arrived at the Howler Monkey Sanctuary, better known as CBS (Community Baboon Sanctuary) it was just opening. We parked the car and the lady and us started walking. Now I didn't know what I was expecting, I thought this was a zoo or something. I don't know that I thought. We walked across the street and into the woods. No, this wasn't a zoo. We were about to see these animals in the wild, in their natural habitat!!
Normally guests have to walk a ways into the woods to see the animals but since it was just us and we got lucky, we didn't have to walk far at all. We saw a complete family up in the trees. It was so cool to see them in the wild. Our guide would make some sort of calling noise and they would call back. She explained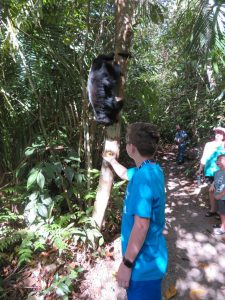 in detail about them and we learned so much. Then she was able to get 2 of them to come down from the trees and take fruit from our hand. They would come down, grab the food and scurry back up into the trees. It was amazing. This was a GREAT experience.
After we finished checking out the monkey's, we walked out of the woods and back across the street to see their little museum, which was cool. It had a lot of information about the Howler Monkeys and we learned a little more. This was definitely a cool experience. I would highly recommend anyone in Belize to check out this place and support them.
PRO TIP: If you're booked with King David and go here, your admission fee is included
After we finished at the Howler Monkey Sanctuary, we headed over to the Altun Ha Mayan Ruins. This was more for an educational experience for the kids. The Altun Ha reached its peak around A.D. 500-600 with around 10,000 residents! There were over 250 major structures housing 3,000 people in the central area. The earliest settlement at Altun Ha dates back to 200 B.C. and was occupied until A.D. 900. There are 2 main plazas with 13 structures. In 1968 they found a Jade Head depicting the Sun God Kinich Ahau in the ruins. Today, that Jade Head is the largest piece of carved jade within Mesoamerica and the western hemisphere. The insurance value on it is $10 million US dollars!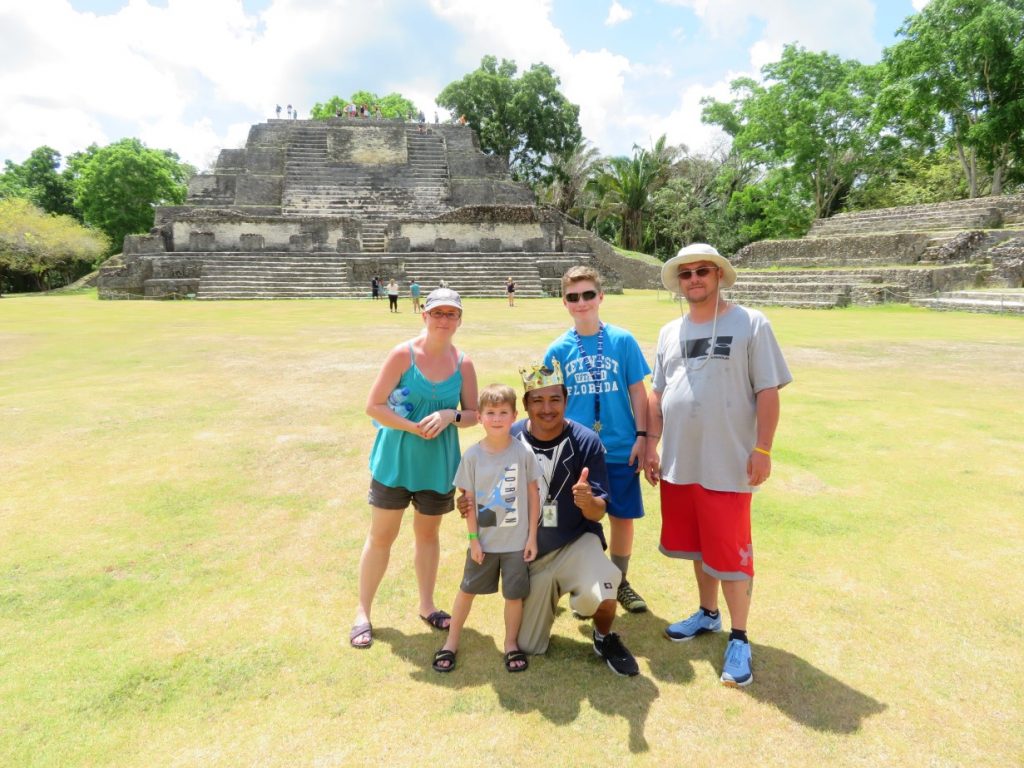 The Altun Ha Mayan Ruins were really interesting as Robert explained about them and their history. It was very hot here as well. As we entered, David had his group behind us and bought everyone water. Boy did we need it! My son and I climbed the tallest ruin to get pictures.
After we were finished checking out the ruins, we went into their museum to learn a little bit more about the history there as well as check out some artifacts from the site. It was very interesting and we all learned a lot. Once we were done, we walked through their little shops on the way out. It was a fun time here.
PRO TIP: If you're booked with King David and go here, your admission fee is included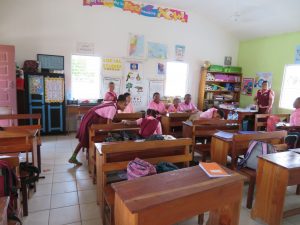 After lunch, Davids group headed back into Belize City as did we. However we stopped at a local school. When I booked with David, he had mentioned that a lot of times people bring school supplies for the children there. We were no exception, we took school supplies as well.
I had a bag full of things to donate to their school. We went into the school and the classrooms to check them out and meet the kids. They were so nice and thankful for us bringing things. This was a highlight for me, seeing those awesome kids. School is about out for them so they will hold them until next year and distribute them to the kids needing them the most. If you're going to Belize, please take some school supplies!
After we left the school we headed back to the port, zig-zagging through Belize City to check out some other sites. We made it back to the port and through security with no issues. We found the line for our tender since there were three ships in port this day. We made it back to the ship safely with no issues.
In concluding this post I want to say one thing. Don't listen to other people when they tell you how dangerous and bad Belize is. Belize is a beautiful country and lots of wonderful people. I never once felt unsafe, I never felt it would be a bad place to be. In fact I would love to go back and visit again and do other things. There were kids walking around the streets by themselves going to the stores, school, etc. Would you let your kids walk around alone in YOUR neighborhood? In fact, my nearest city of Roanoke seems to have more places I would avoid than Belize.
As far as King David, he's the #1 tour operator in Belize and I certainly see why. I wish he was our guide but I am thankful to of been able to meet him and talk to him a while. His guide Robert was fantastic as well. When I first booked this, I thought the price was kind of expensive but once I realized that the admission to everywhere and lunch is included, it wasn't a bad price at all. Very cheap actually. Belize is a great place, you better Belize it!