Aruba, Bonaire, & Curaçao from Miami
We cruised last month on the Sunshine which was fun, but it was a last minute cruise and wasn't the greatest cruise ever. We were due for a good cruise, so this was it! We booked this cruise in June of 2021 so we had exactly a year to wait on it. Thankfully we had several cruises and vacations between the 2. This was also a celebration cruise for us. My youngest graduated elementary school and my oldest graduated high school this year. So this was a getaway for them to celebrate also. 
This was an 8 day voyage to the ABC islands on the Carnival Horizon out of Miami. 
Day 1 of Vacation (Raleigh)
Normally our vacation begins with me picking up my youngest from school and us hitting the road. This time, he was out of school when we left. The morning we left, the boys helped me pack and get everything ready. I didn't have much to do, just load things up and wash the car. I went to the car wash and got gas. Then I came home to meet my wife when she got off work and we could hit the road!
We began our vacation like we always do; by stopping at Chick-Fil-A in Martinsville. We all got some lunch then went across the street to Walgreens to get our Covid test since it was still required to cruise. It was quick and easy since we tested ourselves in the drive-thru. Once we were finished, we hopped on the road and to Raleigh we would go!
We made it to Raleigh with no issue. Since this is a trip I make pretty often, it's pretty simple. A fast drive down 86 to Chapel Hill then I-40 into Raleigh. We went to our hotel first to drop our luggage off. We were staying at the Staybridge Suite at RDU airport. Normally I prefer Hilton, Marriott or Hyatt properties but this is our go-to hotel when we fly from RDU. We get a 2 bedroom suite which has 2 doubles in 1 room and a king in the other, with a kitchen and den area. It's plenty of space and the price is very cheap. Plus we can keep our vehicle there for the duration of our vacation at no charge. The location is about 2 miles from the airport with a free shuttle. We dropped our luggage in the room, and off to downtown Raleigh we went. We had plans!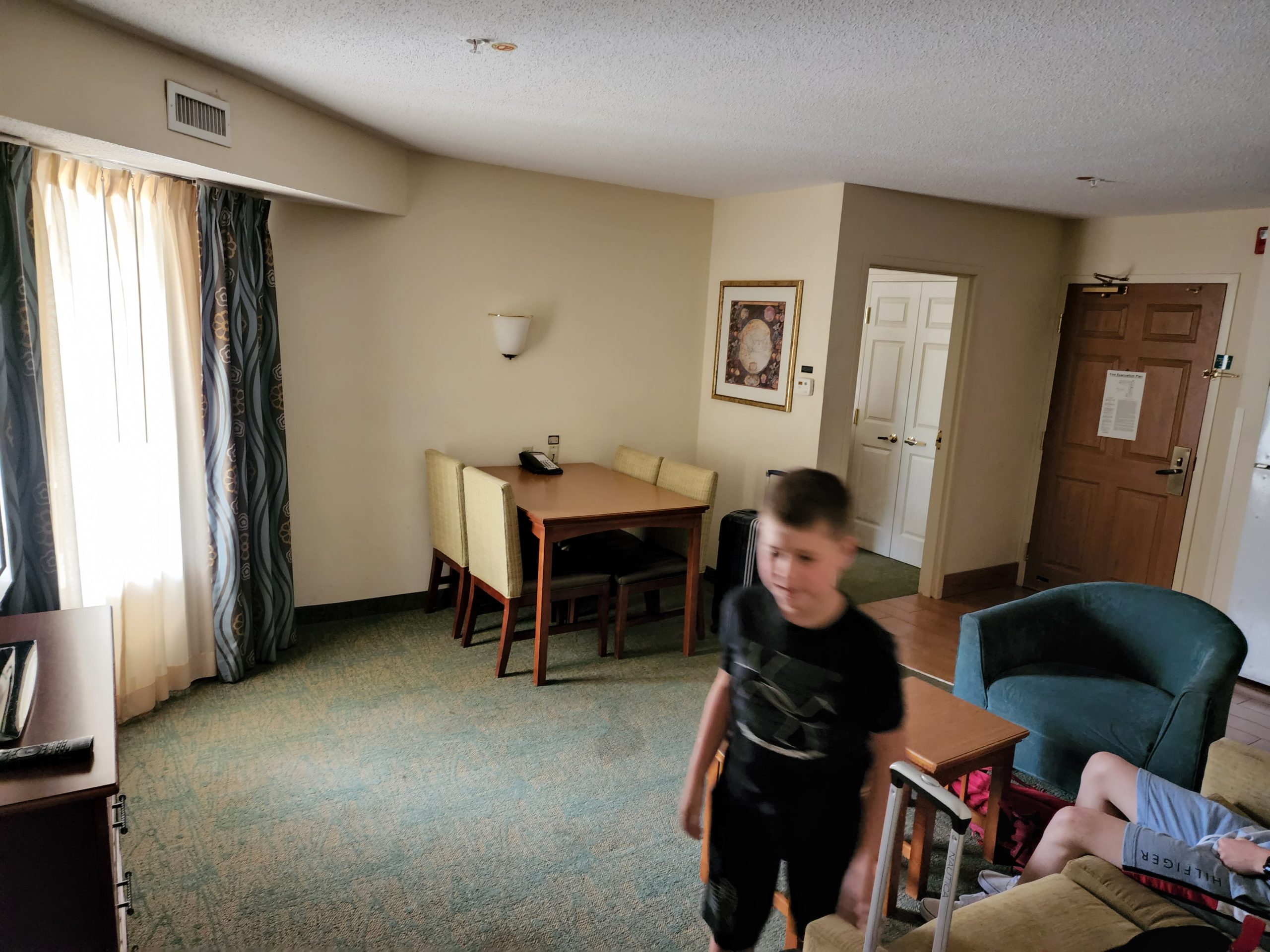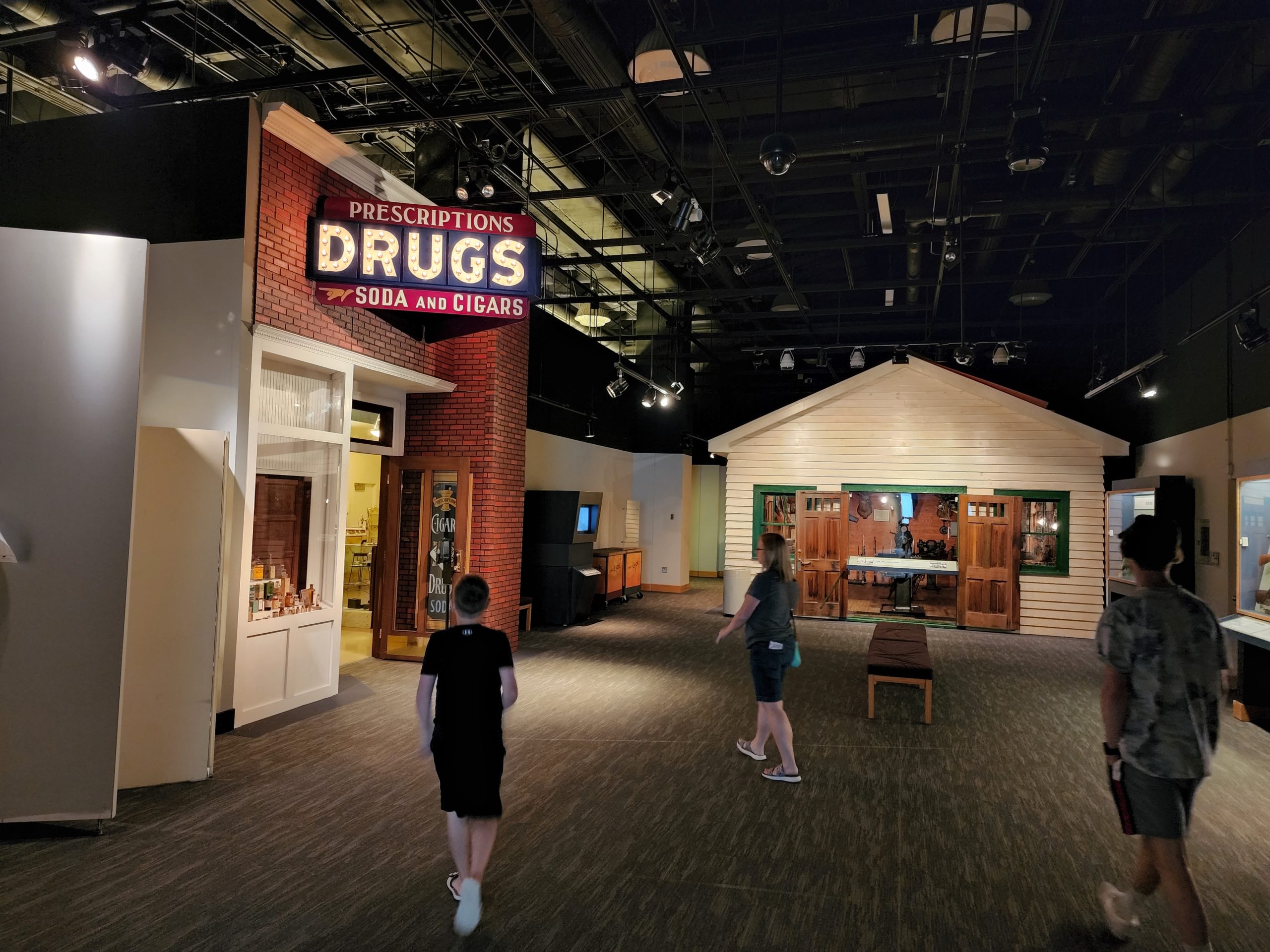 Once we dropped off our luggage, we went to the North Carolina Museum of History which is located downtown Raleigh. This museum is part of the Smithsonian Institute, and is free to enter. Free is always good, right? 🙂 We spent about 2 hours at this museum checking out the exhibits. The museum was very clean, laid out nicely and since it was mid-day on a Wednesday, it wasn't crowded at all. In fact, it was pretty empty. 
Once we finished at the North Carolina Museum of History, we had about an hour until closing so we went next door to the North Carolina State Museum of Natural Science. Again, this museum is part of the Smithsonian Institute as well, so it was free. Just as the history museum, the science museum was empty, clean, and very well laid out. We enjoyed our time there. They had some neat exhibits. My kids really enjoyed it here as well. They had everything you would expect for a science museum. 
It was closing time for the science museum, so we had to leave. It was still light and we had some time, we we went over to the North Carolina Museum of Art. I knew the museum was closed, but the outdoor section was open until dusk so we went to park there to take some photos of a few exhibits. The weather was perfect for us to be out. There were a few people in the park walking the trails, taking pictures, exercising, etc. 
Once we were finished with the 3 museums it was getting to be about dinner time and we were all hungry. I realized there was a Texas Steakhouse near our hotel. Normally we have go-to places we like to eat in Raleigh but Texas Steakhouse used to be a staple at home and they all closed down. I wanted to go there since I had not been there in 15+ years. The service was good and the food was good as well. Not as good as I remember from yesteryear but it was still good. 
Once we finished dinner I went to top off the 4Runner with gas for our ride home post-vacation, and get drinks/snacks for the hotel tonight. We then went back to the hotel to get settled in for the night, because tomorrow was an early day! 
Our day began when we woke up at 3:30am, super early. We originally had a 7am flight to Miami directly from Raleigh. However a few months prior Southwest changed our flights so we wouldn't leave until 2pm. I did not want to leave that late, because that would put us there later in the day. So I switched our flights to a 6am flight with a connection in Baltimore. That way we would get to Miami earlier in the morning. Who wants to begin vacation late in the day? Not us! 
We woke up and got ready and went downstairs of the hotel to get our shuttle to the airport. 
We were on the first shuttle to the airport, which is a quick ride. We made it to RDU and the Skycap wasn't open yet, so we had to go inside to drop our luggage off. I hate going inside of an airport and standing in line. We always use the Skycap but this time we had to stand in line. It was a quick moving line though. All we needed to do was drop the luggage off and have it tagged. I already had the boarding passes on my phone. 
The computers were having issues at the Southwest counter but we eventually got the luggage dropped off, and off we went to security. Security at RDU is upstairs, so we went up to go through TSA. The lines weren't too horrible but thankfully we have TSA-Pre so we skipped what line there was. Once we got to the X-ray machine, their scanner was acting up so we were held up at TSA while they got it fixed. FINALLY they got everything working and we were on our way to our gate. 
RDU is a pretty small airport and you don't have to walk far at all to get to your gate. We made it to our gate and sat down to kill time since we still had almost an hour until boarding. Once it was time to board the plane, we got on and up in the air we went without a hitch en route to Baltimore.
We made it to Baltimore fairly quickly and had some time to kill. We went to Chick-Fil-A for breakfast and sat and enjoyed our biscuits. The best part about BWI is there is no premium pricing at restaurants. You pay the same thing at Chick-Fil-A BWI as you would at home. 
After we ate, we went to our gate to wait on our flight. BWI is a busier airport since it serves the Metro DC area. We made it on our flight in time, and off we went. South Florida, here we come!
We landed in Ft. Lauderdale on time with no issue. The flight was pretty smooth. We had a nun convention on the plane I think. There were lots of nuns together. 
We went to baggage claim, found our bags and went outside to grab an Uber to our hotel. Jn picked us up within 3 minutes, and off to South Beach we went! The total Uber ride from Ft. Lauderdale Airport to South Beach Miami was $103.54 after tip. It was 27.97 miles (48 minutes).
It was 1:08pm when we arrived at our hotel in South Beach. The drive down was quick and uneventful. We were staying in the Courtyard by Marriott in South Beach on Washington Ave. This was a nice hotel with good reviews and the price was good. It was $666.90 for the 2 nights. That included a room with 2 queen beds and a sofa bed. It was spacious and the location was perfect. We were a block from the beach, and a block from Lincoln Road. We were able to walk everywhere. There was a rooftop pool where we could spend time relaxing, a bar, restaurant and other typical hotel amenities. If our Airbnb is booked next year, we'll likely go back here.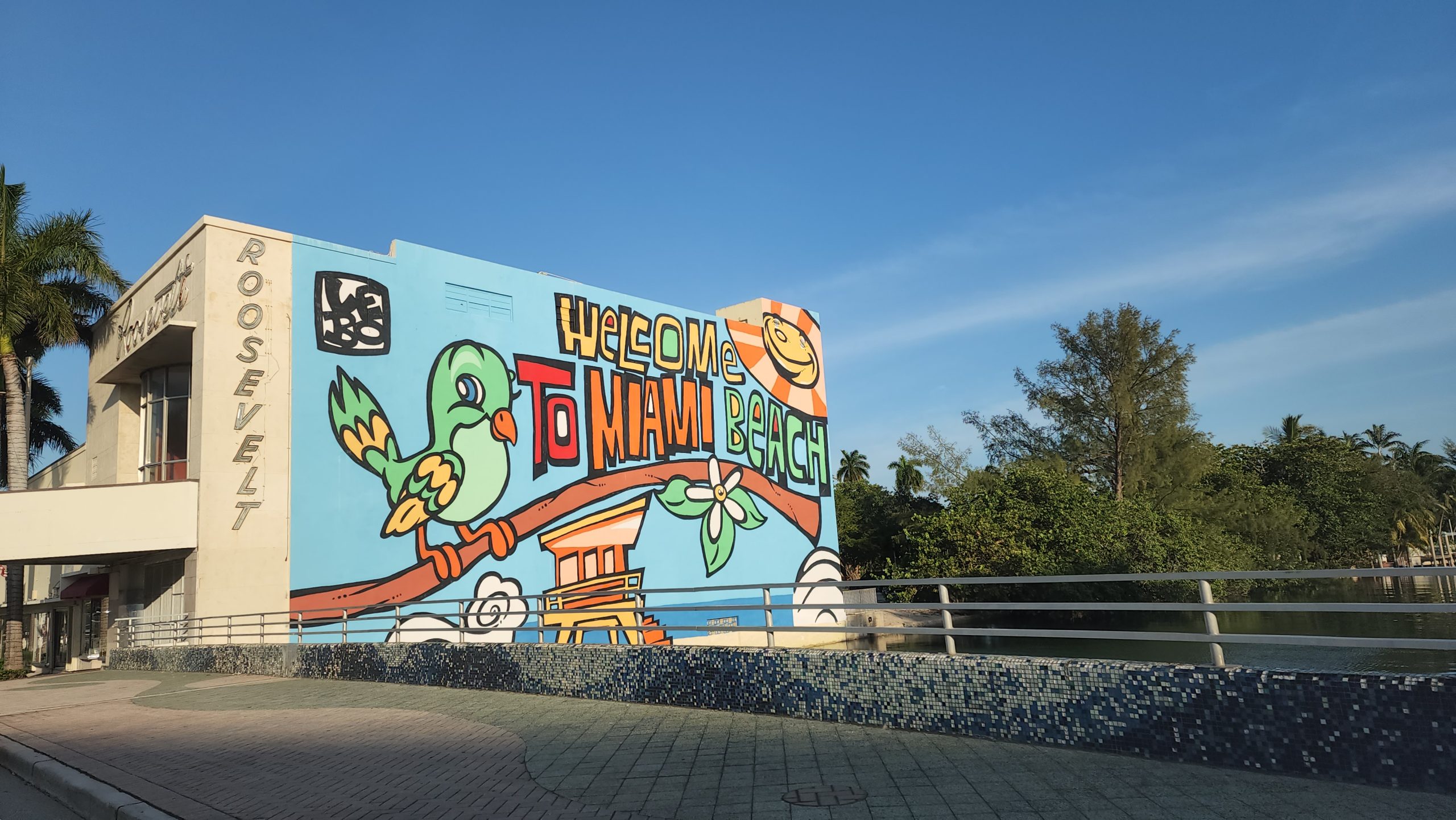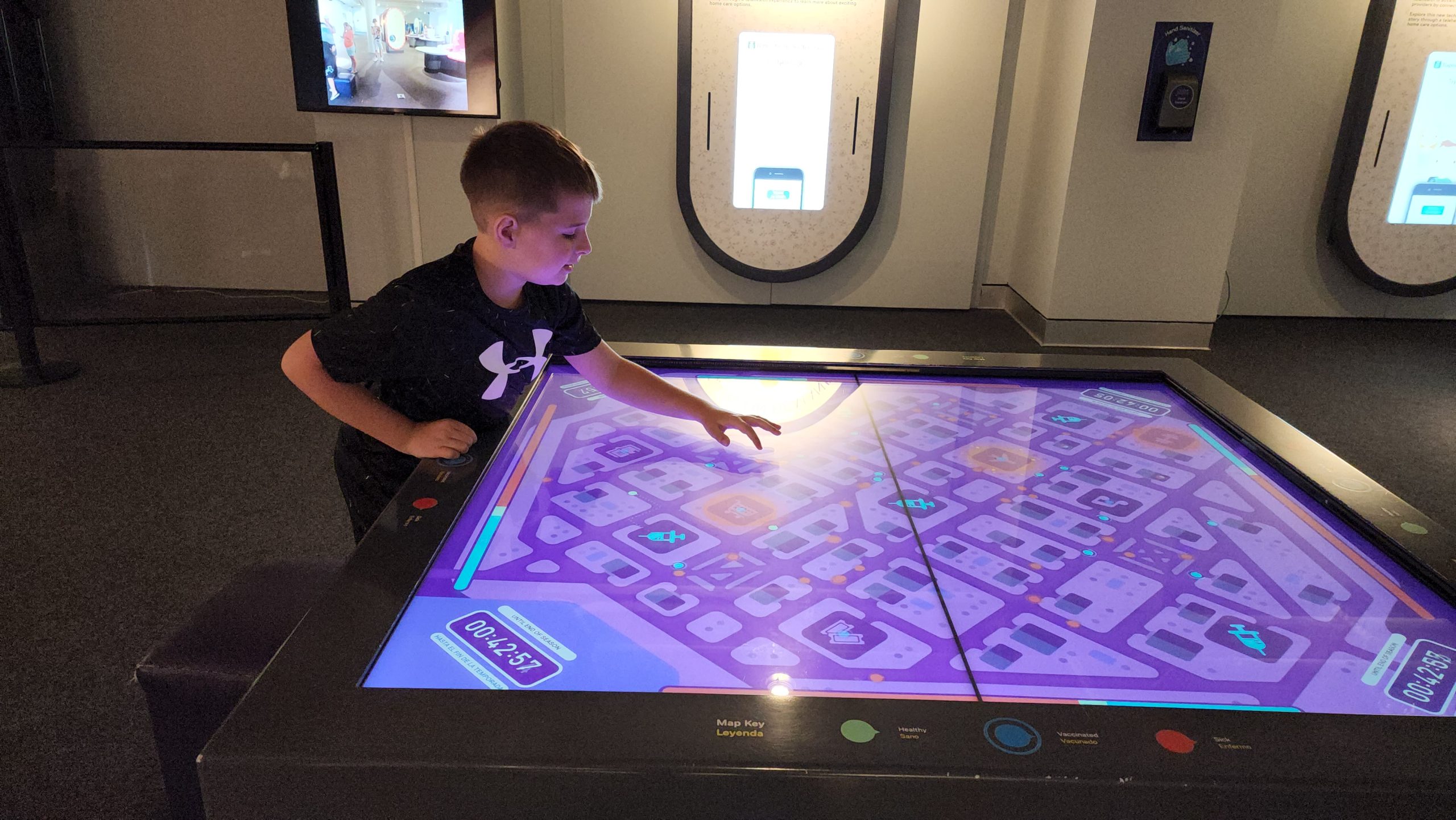 We dropped our luggage off in our room and off we went. We had plans! (Although we were suuuuper tired!)
We decided we wanted to go to the Frost Science Center. We were going to go here last time we were in Miami but it had not opened yet. I called for an Uber, and Joney picked us up almost immediately. He took us to the Frost Science Center and dropped us off. It was $26.48 for the 5.22 mile (14 minute) ride into Miami to the science center. 
The science center is really nice and they have lots of exhibits. It's also laid out very well, and has a ton of hands on things. It's also very clean, and was not crowded when we were there. That made things even nicer. It was $114.80 for the 4 of us to visit here, which includes a planetarium show. 
We spent a majority of the afternoon here checking everything out. It was really nice. We saw the "Worlds Beyond Earth" planetarium show which was cool. The Frost Science Center is definitely somewhere I would recommend going. It's located on Biscayne Blvd in downtown Miami, near Bayside. 
Once we finished at the Frost Science Center, we were ready for dinner. We had not eaten since breakfast in Baltimore! We were starving. We were right next to Bayside Marketplace so we walked over there for dinner. I kinda wanted Hooters for dinner so that's where we were headed. Once we got to Bayside, we found out that Hooters closed. We were so hungry, so we just stopped at Chili's since it was somewhere we eat at home, very frequently. The service sucked here and they forgot our chips and salsa. It was just not a great Chili's location and I would not recommend it. 
We ate our dinner, and decided to head back to the hotel. We had been up since 3:30am and were beat. I called from an Uber, and it was an instant pickup. It was $28.26 for a 5.7 mile (30 minute) ride with Oscar back to the hotel. 
We got back to the hotel and relaxed in the rooftop pool until bedtime.  Once we were done in the pool, the kids went to bed, and mom and I caught an Uber to Publix to get drinks & wine. It was $10.26 for a 1.19 mile ride with Lesly to Publix. It cost the same to return back to the hotel with Andres. 
Today is Friday and we got to sleep in a little. We needed to catch up from yesterday. We woke up and got ready to go out. We had another busy day today. 
We went downstairs and I caught an Uber to Wynwood Walls. The Wynwood area of Miami is full of street art and murals from across the globe. It's a very vibrant area. The Uber ride to Wynwood Walls was $20.96 for the 6.38 mile ride (19 minutes) with Berna. 
The cost to enter Wyndood Walls was $38.52 for the 4 of us. The area was very clean and laid out nicely with lots of nice artwork. Normally I am not a fan of art, but I look street art. The people who did some of the exhibits were amazing. I highly recommend checking this out. 
We spent a while at Wynwood Walls, then it was about time for lunch. We were hungry and we had plans!
I called for an Uber to pick us up for our next destination. It was $22.99 for Yunier to pick us up at Wynwood Walls and take us to the Lincoln Road area back in South Beach. It was 6.5 miles (21 minutes). He dropped us off at the Lincoln Road area, because we weren't quite sure what we were going to do. From there, we walked over to Ocean Drive. 
We knew that the airplanes would be practicing today for the Hyundai Air & Sea Show. This is something we've watched before, and really enjoy. It's a free air show! We decided to stop at Havana 1957 on Ocean Drive to eat. The food was fantastic and we got to sit on the beach and eat while watching the air show practice. It's really neat because the jets are super low. It was $105.35 for the 4 of us to eat at Havana 1957.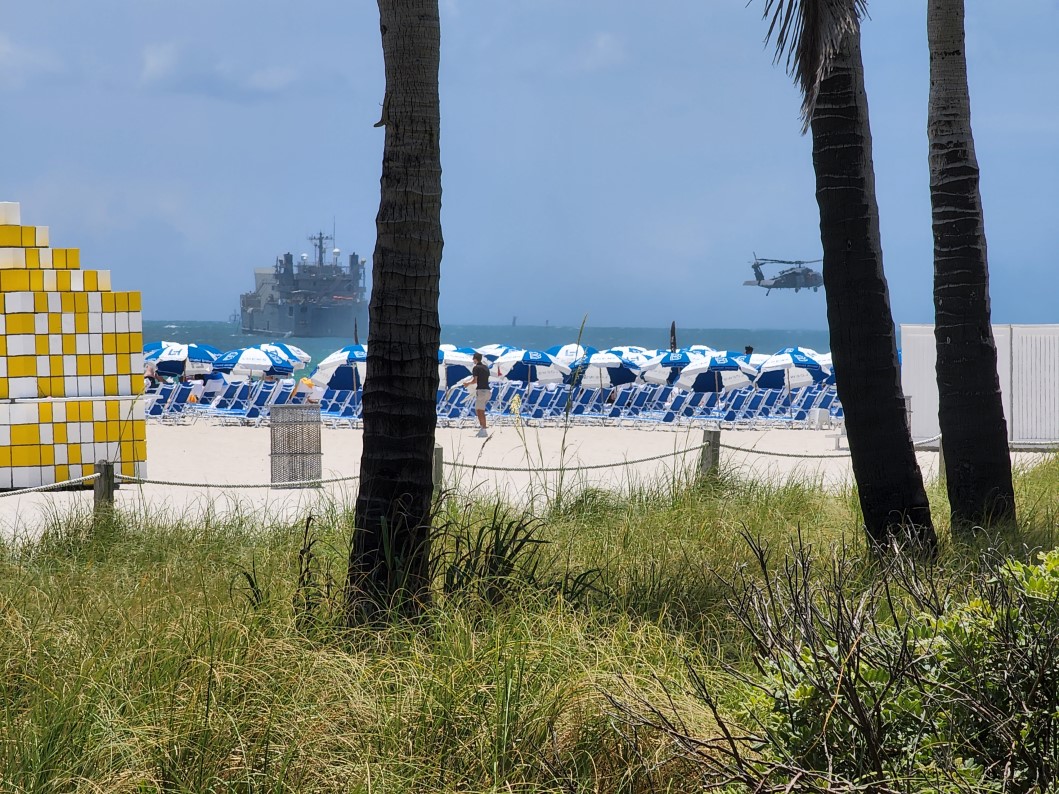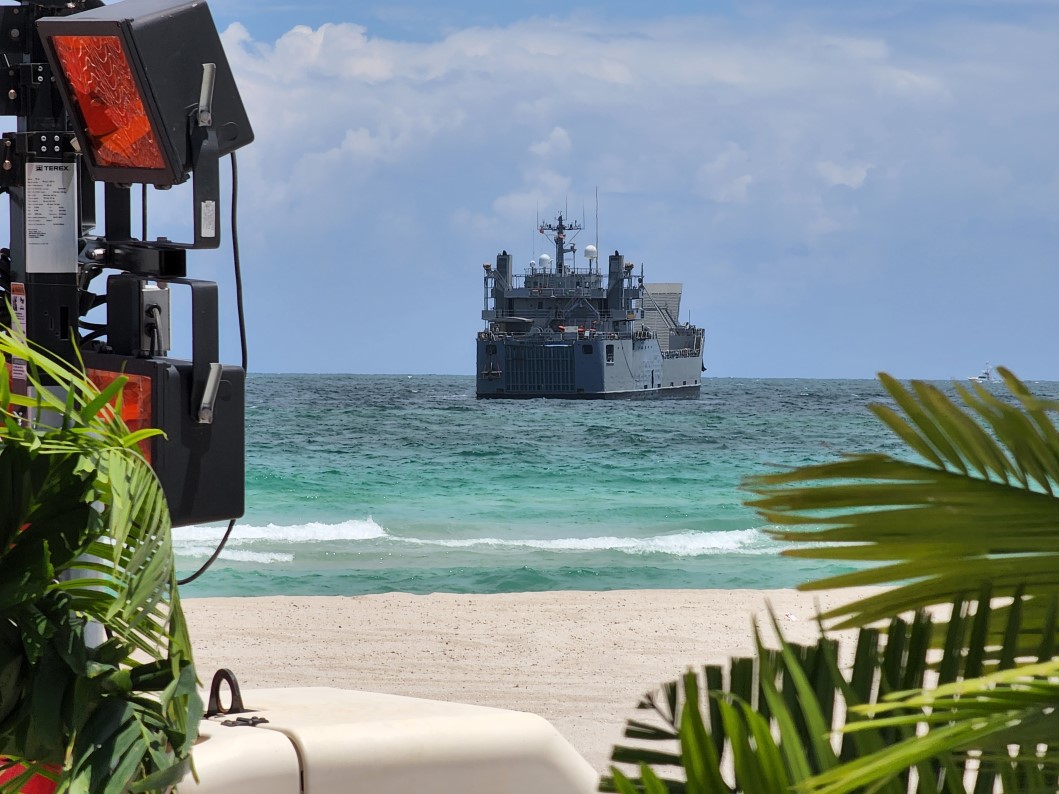 We sat on the beach for a while watching the jets fly over, the helicopters and the military sea craft. It was fun, and LOUD!
After we finished watching the air show, we decided to go back to the hotel for a little while, and also do some shopping in South Beach. We ended up walking back to the hotel since it was only a block away. Once we got back, I did a few loads of laundry to get us caught up. 
Later in the afternoon we were ready for more shopping and eating, so we walked up to Lincoln Road. We walked the whole strip to get to Shake Shack. It was a cheap meal and quick which is why we picked there. We all got a burger and milkshakes.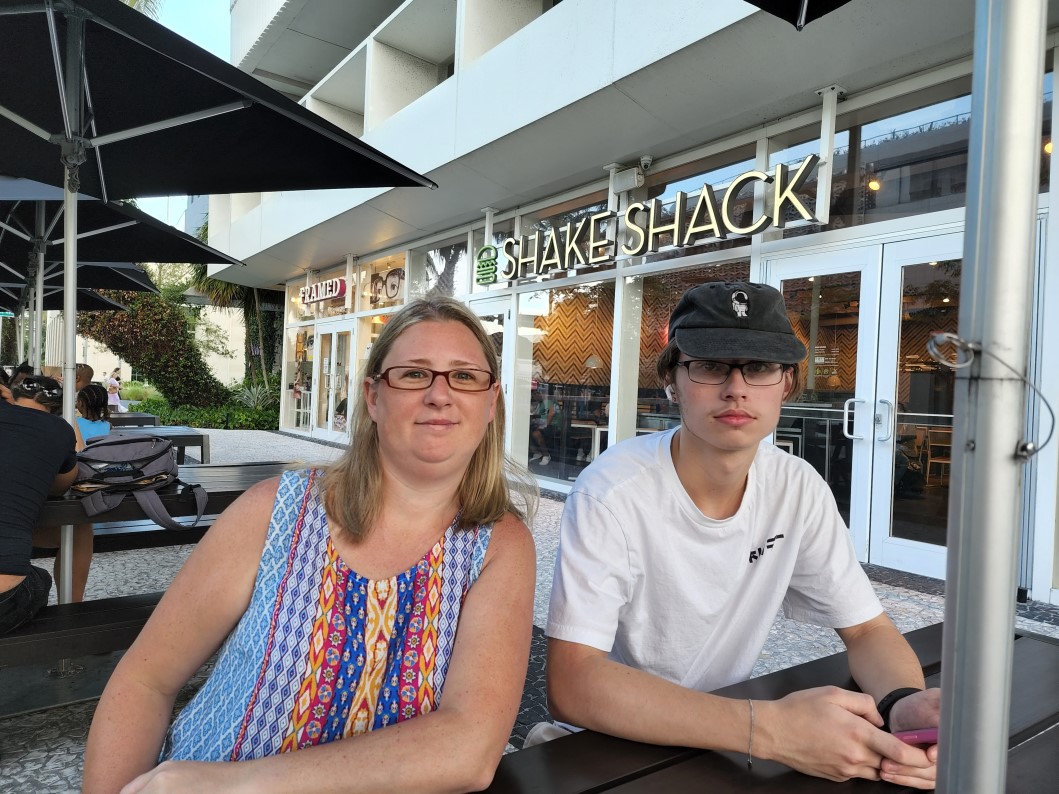 After we finished eating and people watching, it was getting dark so we wanted to go enjoy some South Beach nightlife on this Memorial Day weekend Friday night. I called for an Uber and Matthew picked us up and took us 1.1 miles away to the Clevelander for $10.41.  We walked up and down Ocean Drive in SoBe just hanging out, people watching, checking out the clubs, etc. If my youngest wasn't with us, we probably would have gone into The Clevelander for a bit. It was fun and my oldest had a blast. He's very boujie. 🙂 
After our time on the strip, we walked back to the hotel which was only a block away. We needed to pack things up and get ready for tomorrow, which is embarkation day! 
We got to the hotel and got to bed about midnight, and off to never never land we went. Zzzz
Day 4, Embarkation (Port of Miami)
We slept in a little, but not too late. We were ready to head to the ship! We had a 10:00am arrival appointment so that's when we planned to get there. This was the first cruise we've ever been on where we weren't priority, and will be the last. From now on, it's priority baby!
I called for our Uber and Eracilia picked us up and took us to the Port of Miami for $31.95 for the 7.03 mile trip. 
We dropped our luggage off with the porters and inside the terminal we went. Everything was a breeze until we got to the check in agent. I think this was her first day. She didn't quite know what she was doing, but finally made it. When Miami starts boarding, it goes very quickly since there are 2 gangways.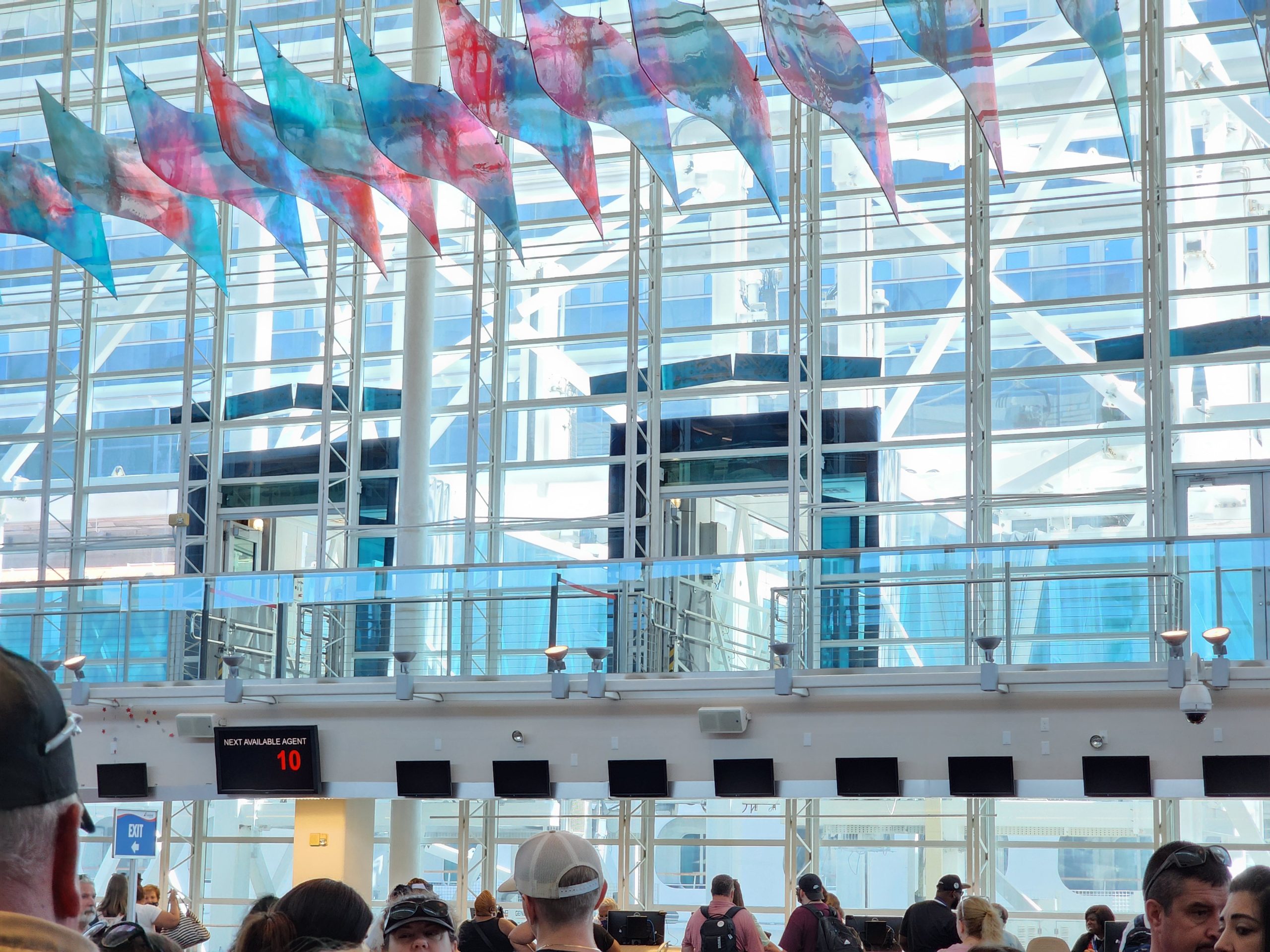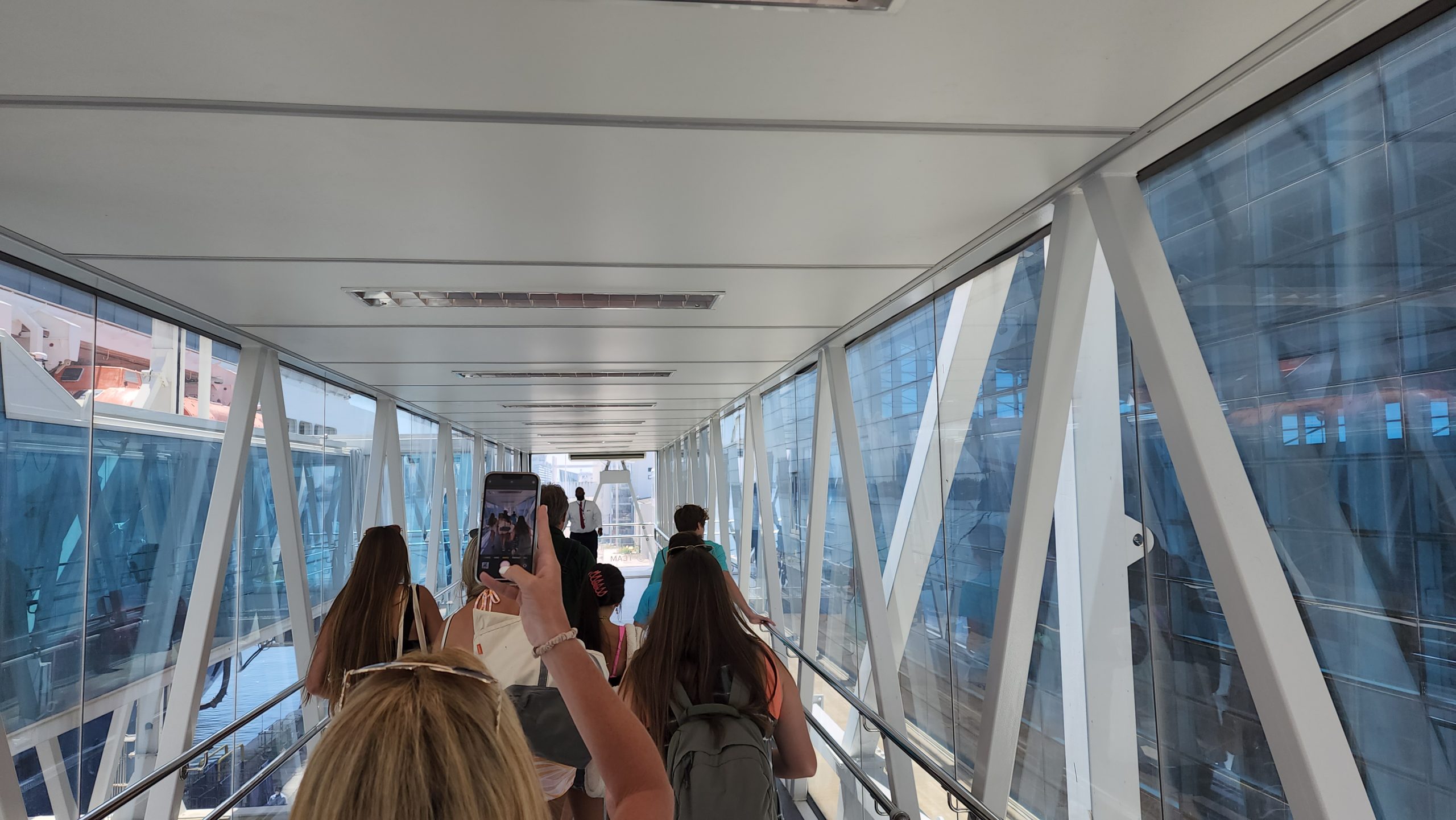 We embarked and was finally on the Carnival Horizon!
We went to our cabin to drop off the sodas and carry on luggage, and then we would go grab lunch. I went to Guy's Burgers with the boys and my wife went to Blue Iguana. We ate and people watched a bit, then we would go explore the ship. The Carnival Horizon is absolutely beautiful with lots of areas to enjoy. She is a Vista Class ship launched in 2017. She holds 3,960 passengers.
We were in cabin 2412 which is a cove balcony in the Family Harbor area of the ship. The cabin was your typical balcony cabin with a king bed, a couch conversion and a pull-man. We typically put the kids in their own cabin and us have our own cabin. This time we shared, I am not sure why I didn't book 2 cabins. You really need 2 cabins with 4 people. Otherwise it's super tight. 
We had 3 Facebook groups for this sailing. 1 was meant to be a small one, but I had it set as public and other people joined. Then there was another one which I kinda mirrored everything. There was a third, but it had a totally different vibe and different types of people in it. For the first 2 groups, we had our meet and greet which was fun. We met a lot of nice people, and was a great way to kick off the cruise.
After the meet and greet, I went down and we sat on the balcony watching the air show taking place in Miami Beach, until we sailed away. This was so much fun. We watched the air show until we were at sea and it was time for dinner. 
We always choose Anytime Dining when we cruise because we want to eat when we get hungry. We don't want to be tied down to specific times on vacation. We went to the dining room to get dinner, and enjoyed the sail-away. Today is Saturday and we're at sea. 
We would spend today checking out more areas of the ship, and spending time at the water park. We also spent time in the game room. For lunch, my oldest and I would go to Cucina del Capitano. This is a free option for lunch. It's not the Cucina menu, it's Pasta Bella but it's still fantastic. 
Today we slept in pretty late. Yesterday was so busy with embarkation, doing things around the ship, night shows, etc. We were just all beat. I'm not as young as I once was. 
Today we did the same thing, just hung out around the ship. We went to various events on the ship, the arcade, watched the bands, donated to the casino, etc. Tonight was the first elegant night in the MDR. However last night we walked by Bonsai Teppenyaki and it smelled so good. I ended up booking us dinner for the night at the hibachi in Bonsai Teppenyaki. The service was great in there, and the chef was very funny. I had filet mignon and my wife and youngest had chicken and filet mignon. The food was fantastic and I am so glad we booked this. Our next cruise is on the Legend which doesn't have the Bonsai Teppenyaki but the next time we sail on a ship with this restaurant, I'll definitely book it. This is not an included restaurant so you have to pay for it. It's a set fee per seat regardless of what you eat. With the 18% service charge and tip, it was $175 for us to eat here and worth every penny. If you sail on a ship with Bonsai Teppenyaki, be sure to book the hibachi! 
Click below to read about our day in Aruba!
Click below to read about our day in Bonaire!
Click below to read about our day in Curaçao!
Curaçao was an early day for us, since we had to be back on the ship at 5pm. We came back to the ship, took showers and got ready for dinner in the MDR. After dinner, we went to Deal or No Deal. This is a fun game to play and everyone has a chance to win. It's $25 a card or 2 for $40. We didn't win anything but it was fun. Then after the show, the Love & Marriage show was at 10pm. This is always a show we love to watch. 
Today is Friday and it's another day at sea as we head back toward Miami. Tropical Storm Alex was hitting Miami and Cuba pretty hard so we were going slow to avoid the storm. 
We slept in a little. Once we got up, we went to the MDR to get breakfast before wondering around the ship some more. Today everyone decided they wanted to ride the SkyRide on the ship. This is free to ride. You must be 52″ tall, weigh less than 250lbs and wear dry clothes and closed toe shoes. Everyone rode this twice before we went to the water park. We saw Andy and Aubree up there and then Robin and Sheila eventually joined. We hung out here, before we ended up going to Guy's BBQ for lunch. 
After we were done with the daytime activities, we went to dinner in the MDR before doing the nightly activities, and making casino donations. 
Today is Saturday and it's our last day on the ship. 🙁 We wanted to make the most of it. We kicked off the day by going to an IMAX movie on the ship. It was pretty cool and very well priced for an IMAX. I think it was $15 per person.  We did all the shopping and activities we could. I ended up buying my wife 2 purses from the Kate Spade sale in Victoria's Secret. She picked them out, I just went and got them. We also spent the day back on the Sky Ride and water park. We went to the Sky Course but it was closed due to the wind. I think the boys liked the Sky Ride the most though. That night, we did our usual, doing ship activities and making casino donations. We also went to several shows and really enjoyed our last day on board. 
Day 12, Debarkation / Ft. Lauderdale Beach
This is always a sad day. Carnival likes to kick us off of the ship. Typically kicking and screaming with tears flying everywhere. But, here we are.
Everything has been great up to this point. Perfect weather, great friends, fun times, great staff, great service, etc. The only snag we hit the entire trip so far is here, at debarkation.
We debarked the ship pretty early in Miami. Getting off of the ship was a breeze with no issue. Once we got into the terminal, the workers were complete assholes. We did not have anything to declare so we did the facial recognition to skip CPB. However the agents separated families. It was so chaotic in there, it was hard to find one another, and that's not good when you have small kids. Then we went to get luggage and they wouldn't let the kids stand at the wall while we grabbed luggage. A complete shit show. We finally got 3/4 bags and could not find my wifes. I spotted it 3 zones down!!! I went and got her luggage and we finally were able to get out of the cruise terminal. As almost 4k people are debarking, there is 4k people waiting outside to get on the ship. It was complete chaos. 
We walked across the first loop road to where the pickup zone was. I called for an Uber and Fleurima picked us up to take us to Ft. Lauderdale. The cost was $108.31 for the 32.19 mile trip to Ft. Lauderdale Beach.
We arrived at our resort with no issue. We always get the same Airbnb in Ft. Lauderdale Beach. We've stayed there several times. It's in the Marriott Beach Place Towers, just a block from Las olas. 
Since it was only 10am our room wasn't ready yet, which we knew wouldn't be. No big deal. We went ahead and checked in, and dropped off our luggage. We then walked up to Primanti Brothers. Now if you're not familiar, Primanti Bros are huge in Pittsburgh. They are very well known. They have an establishment in Ft. Lauderdale Beach that's open 24×7 right on the beach. 
We went there for an early lunch, and relaxed a few. Then we walked back town to Beach Place, where we would do a little shopping in the area before going back into the hotel. The hotel is very nice. It has a game room, activities, a huge pool, multiple hot tubs, etc. We spent time in the game room until our room was ready.
Once we were able to, we went to our room to unwind a bit. We were tired so we all took naps. 
After we took naps, it was about time for dinner. Now if you've ever read my blog when we're in Ft. Lauderdale, you know our go-to spot. LULU'S BAIT SHACK!!!
We were go glad to be back here. We went down to Lulu's for dinner where we would spend some time eating and listening to live music. We love this place and eat here LOTS. It was $108.78 for our meal, which was fantastic. 
After dinner, we went to CVS to get some drinks and snacks, then went and got in the pool at the hotel for the rest of the night. 
Day 13, Ft. Lauderdale Beach
We slept in again. After all, it's vacation.
We woke up and knew instantly where we wanted to eat. Boccaccino! This is the best breakfast spot in Ft. Lauderdale Beach, hands down. It's only 2 blocks from the hotel, and it's right on the beach. It was delicious as always. It was $89.90 for our breakfast. 
After we left Boccaccino, we decided to have a beach day. We walked back to the hotel, stopping at a few stores on the way to do some shopping. We changed into our bathing suits and walked down to the beach. 
Ft. Lauderdale Beach is very clean, and not crowded at all. We spent several hours just relaxing in the ocean. Unlike the nasty beaches off the coast of Virginia and the Carolinas, you can see the bottom of the ocean floor as far out as you walk. My youngest loves the sand. He spent a lot of time playing in the sand and we just relaxed in the water. 
Once the boys were tired of playing at the beach, we went back to the hotel to play in the pool until dinner time. 
Once it was time for dinner, we took showers and went down to Lulu's for dinner again. It was good as always. After we were done with dinner, we went back to the room. A day at the beach in the hot South Florida sun will drain you. Everyone rested, and I went downstairs to do laundry since we had a pile going. After laundry, we decided to go back into the mall area to people watch. 
I saw Circuit (formerly The Free Ride) and we hopped in that. Circuit will take you anywhere around the Ft. Lauderdale Beach / Las Olas area you need to go, free. Just tip the driver. So we had the driver just drive us around. We went and saw some of the mansions, and rode up Las Olas and back. It was about an hour ride because of the drawbridge being up both times. I ended up tipping him $40 but it was worth it, and a great way to spend the evening. Once we arrived back at the Marriott, we went up and got ready for bed.
Day 14, Ft. Lauderdale Beach
Once we finally woke up, we were ready for breakfast. So we walked back to Boccaccino Cafe for our breakfast. We all ordered the same thing we did yesterday so the price was the same. After we were finished breakfast, we walked up to Nanou French Bakery which is another go-to place for us in Ft. Lauderdale. My wife wanted to buy some macaroons. They are a family owned business from France. They make the best bakery items! 
Once we left Nanou, we did some shopping around our hotel again. We had a few last minute things to buy that we wanted. 
After we were done, it was time to go to the room and pack up. Our time in Ft. Lauderdale was coming to an end. 
We checked out of our Airbnb at noon. We walked downstairs to Escapeology to kill some time. Our escape room journey started at this Escapeology years ago. We loved it and did every room they had. This time, they had a new room, SCOOBY DOO!! 
The Scooby Doo room was fun. It was difficult enough for seasoned escape room people like us, but fun enough for a new person. We did escape! It was a lot of fun. Escapeology is a fun place to go.  It was $171.16 for the hour.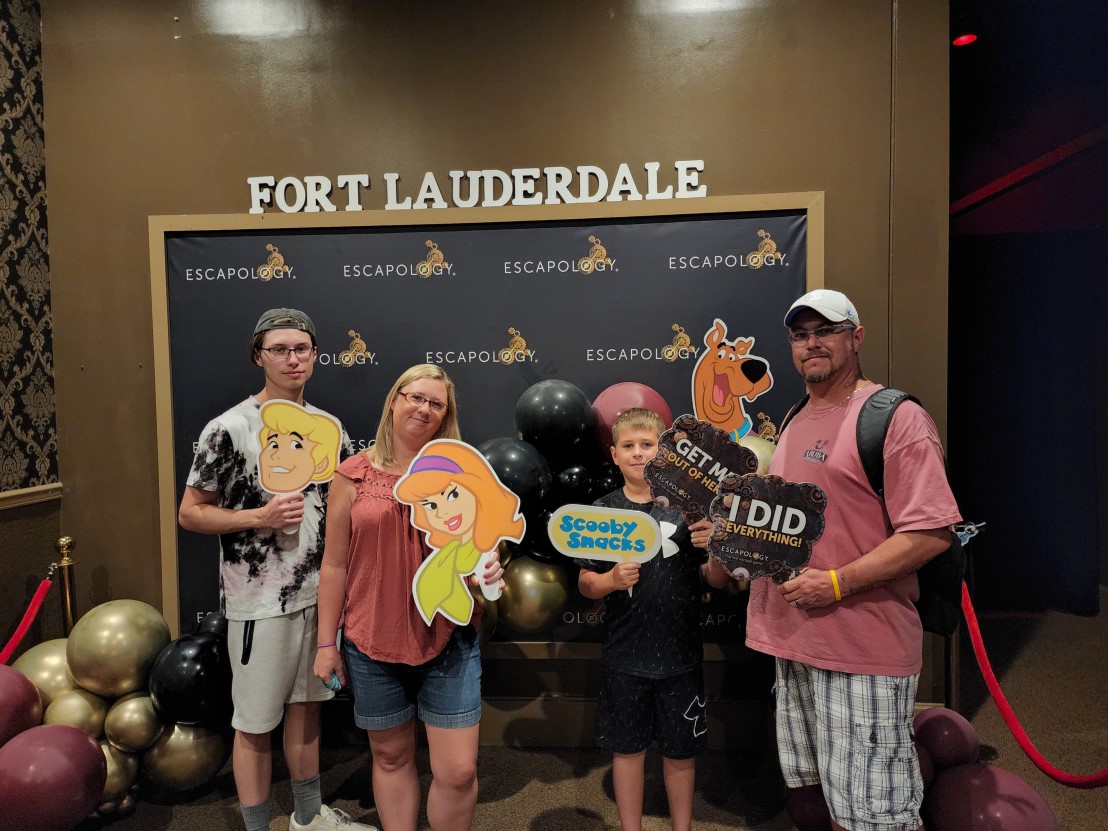 Once we finished the escape room, we had a little less than 2 hours until our flight, so we decided to go ahead and head to the airport. I called for an Uber, and Carmen picked us up and took us to Ft. Lauderdale International Airport for $30.92 for the 6.3 mile ride. 
I dropped our luggage off at the skycap for Southwest, and into the terminal we went. Our flight was delayed by 20 minutes, and kept going up and down. In the end, I think we were delayed by 40 minutes. This was making us nervous because we had a connection in Baltimore. 
While we waited, we decided to grab airport food in case we weren't able to in Baltimore with the short layover. We ended up going to BurgerFi and grabbing a burger. It was $46.05 for the 4 of us to eat. Ft. Lauderdale Airport was EMPTY!! Now I understand why it's so much cheaper to fly on Tuesday & Wednesday. 
Finally, it was time to board our flight. We were on flight 2772. We had a decent boarding position so we got to sit fairly close to the front. In case you're unaware, Southwest has open seating so you can sit wherever you want. You're not tied down to a certain seat or have to pay for your seat selection like other airlines. 
When we arrived at BWI, our connecting flight started boarding as we were landing. We were at C16 when we landed and had to get to B9 to board our next flight, on the opposite side of the domestic area of the airport. The flight from FLL -> BWI was so cold. I have never been on a flight so cold. Seriously it was hovering around 9 degrees on the plane. When we got off, nobody could feel their feet since we had sandals on. 
Running from one end of the airport to another with sandals on, when you can't feel your feet is damn near impossible. But, we made it. They were still boarding the A group when we made it to our terminal! We were A group, so we got right on, AND had a decent seat. I am not sure how we made it, but we did. Plus the second plane was a decent temperature. We sat on the tarmac a bit waiting on the other pax from gate C who had just arrived. Finally, it was wheels up. Raleigh, here we come!
We made it from BWI to RDU fairly quickly with no issue. We landed in Raleigh, and not only did we make it, our luggage did also! 
I called the hotel as soon as we landed, and they came to pick us up and take us back to the hotel to get the 4Runner. We loaded our luggage into the car and hopped on I-40 to head home.
We made it home right at 2am. We came inside, took showers and all went to sleep pretty quickly. It was a great trip, we had a blast and can't wait to do it again. But you know what they say, there's no place like home. Until July….