The Everglades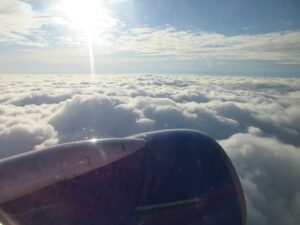 Our flight to Miami was really nice. There was no turbulence and the staff was awesome as always on Southwest. We always fly Southwest because they are the cheapest for us. They offer free luggage, free snacks and free TV. That helps kill time. I was able to watch some morning show on the way down. Not to mention Southwest has open seating so you can sit wherever you want, unlike other airlines. They are just so much better in my opinion.
Once we arrived in Ft. Lauderdale, we quickly got off of the plane, got our luggage and went upstairs to the rental car agency to get our vehicle. We had rented a mid-sized SUV through National. National was a little more expensive than Alamo or any of the other places but they had better reviews so that's who I went with.
I am an Emerald Club member so I skipped the counter and went straight outside to pick out our car. There were 2 isles to pick from, so I ended up picking out a Jeep Compass. It looked nice from the outside. Once I got it, it was very basic though. Definitely not a vehicle I would purchase, just very plain. Anyway, we packed up the Jeep and off we went.
We had rented an apartment in Miami Beach and weren't supposed to be there until after 3pm, so we headed over to the Everglades Safari Park. There are several tour operators in the area but we went with this operator because they had a Groupon that we purchased. If you're visiting the area, definitely check Groupon for deals.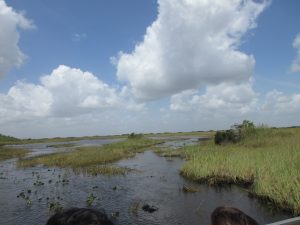 I want to say this tour lasted about an hour but could be off. One tip: If you're going to do one of these tours, sit in the front row. We were in the second row which was fine for us but anyone behind us, they had to look over our heads to see anything. Most of the gators were in the water in front of us. There were a few on the sides where people could see but the majority were in the front.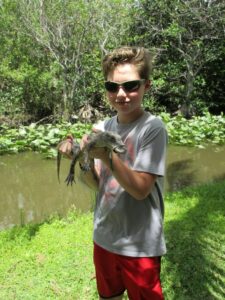 It was really neat to see all of the gators out in their natural habitat. The Everglades is simply awesome. The highlight of our tour was for my oldest son. He got to hold a baby alligator afterward. They would let people hold it and take pictures for a small fee. $3 I think? One thing I did learn on this trip is that The Everglades actually has a river. Most people think of it as a swamp with stagnant water but it's actually a river. I had no idea of that. I would recommend an Everglades tour to anyone going down to Florida. Especially if you've never been able to experience going out into The Everglades. Now keep in mind this is just a short loop out into The Everglades, maybe a mile.
Once we were finished at The Everglades Safari Park we decided to head back into Miami and get lunch and head to our apartment. We were coming out of The Everglades and was taking off from a stoplight and  *BAM*! Some jackass behind me was on her phone and not paying attention. She rear ended us, pushing us into a truck that was in front of us. She had to have been going a decent speed because it was a hard hit. It busted my youngest sons lip and it was bleeding. None of us needed medical attention though.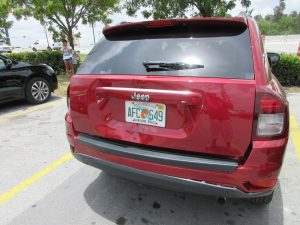 We waited a while on the Miccosukee Police Department to show up since it was on a reservation. Once the officer showed up, he said it was actually Miami-Dade jurisdiction. So then we had to wait more on Miami-Dade Police Department to show up. Well they showed up, finally and said that the area was their jurisdiction but since it happened on the road that it did, that was the jurisdiction of Florida Highway Patrol. UGH! NOBODY seemed to know which law enforcement agency had jurisdiction. So we had to wait MORE for FHP to show up. FHP finally showed up and took the case. The officer took a while to do the report but it was finally done. The Jeep was totaled. The entire back was pushed in and the hatch would not shut after I pried it open to get our luggage out. When I was pushed into the truck in front of us, his trailer hitch went through the radiator as well as smashed the front of the Jeep. 
Now I know the pictures don't look like much but trust me, it was more than the pictures give credit for.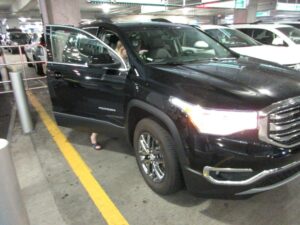 The entire time I am dealing with Miccosukee PD / Miami-Dade PD / FHP, my wife was on the phone with National to let them know what happened and to arrange plans moving forward. The tow truck was there within 5 minutes. Faster than any law enforcement agency. They took the Jeep and National said to get a taxi/Uber and come back to FLL Airport for another car. Well, UberXL wasn't available in the area we were in (WHY?) so we had to take a taxi back to FLL. National said they would reimburse us for the taxi, which they did. So a $140 taxi ride later we made it back to FLL. I had to deal with a manager because when my wife called the 1800# to report the incident, they apparently forgot to notify the location at FLL so they had no idea where the car was. I got all of that straight and was ready to move forward with our vacation. National told us to go pick another vehicle so I ended up getting a GMC Acadia. This thing was super nice. It was fully loaded which was nice, also a bit more stout so I felt more comfortable in it. It's a step down from a GMC Yukon Denali. Still super nice. We enjoyed it. Anyway it's starting to get later in the day at this point so we skipped lunch and headed to our apartment.
Finally after the whole ordeal, we made it out of FLL and to Miami Beach.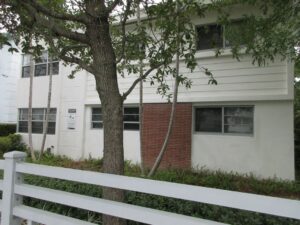 We rented an apartment through Airbnb and Chris was our host. His host name is "John" in honor of his brother who was killed on 9-11 in the WTC. From day 1 dealing with Chris, he was simply amazing. He commutes between Miami and NYC weekly and he owns the entire complex we were in. The place was fantastic. It had a fully furnished kitchen, living room with 2 couches, bedroom with comfortable bedding, bathroom, washer/fryer, just a great place. The location was 3 blocks from the ocean and 1 block from Lincoln Road Mall. Everywhere in South Beach was within walking distance to the apartment. This was nice because Chris also includes parking for his guests so I could keep my car parked where it was and allow us to walk everywhere which was nice.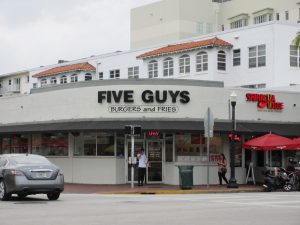 Once we finally got everything unpacked and settled into the apartment, we were hungry so we skipped lunch due to the accident. Five Guys was just around the corner so we walked down there for dinner. We were simply exhausted by this point due to the early flight down, The Everglades tour, the accident and then dealing with everything else. I just wanted food and a pillow. I didn't care about fancy food, I just wanted something quick and easy and close. It was only $50 for the 4 of us to eat here. It was great food and great service. We got to people watch while we ate and people watching in South Beach is always a treat.
After dinner we went back to the apartment and all took showers and went to bed. This was a very eventful day. 
Miami, Day 2
Zoo Miami, Miami Seaquarium, Lincoln Road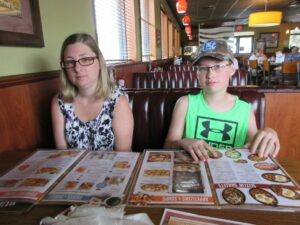 Oh Lord please don't let today be as eventful as day 2 was. We woke up and went to Zoo Miami. We always like to take the kids to zoos and aquariums when we travel to see what each has to offer. We got to the zoo a little before they opened and were hungry so we decided to grab breakfast. There was a Denny's nearby so that's where we went. The food was decent as was the service. Denny's is no 5 star breakfast but it's better than McDonalds. We ate our breakfast and headed back to the zoo which was only about a mile away.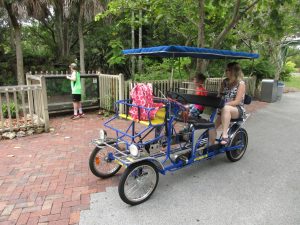 We got there and it was drizzling rain and also the middle of the week. There weren't many people there. This played into our benefit! We rented one of the bicycles you can rent there. The cost of the bike was $40 on top of the admission. With the drizzle it was perfect because it had a roof. This was great because we stayed dry the entire time. Well, except when my wife poured water on me… grr. It was all level and easy to pedal around. Everyone has pedals so the more that's on the bike, the easier it is. We got to stay on to see each exhibit. Each animal was on a moat rather than a bunch of fences so you could see everything so much better. I will honestly say this is probably one of the better zoos I have been to. We really enjoyed our day here. I would definitely recommend Zoo Miami to any visitors to the area. We had a great time here and will definitely go back. I also recommend the bikes if you're physically able to ride one. They have smaller ones for couples but we paid for the larger one since we have a family of 4. It was perfect for us.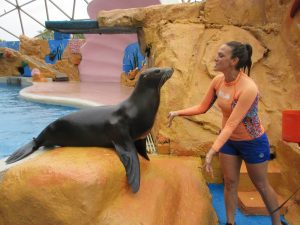 After we left the zoo, we went to Miami Seaquarium. We love aquariums but this one is difference since it's all outdoors. First we watched the dolphins do their thing, which was really neat. I love dolphins, they're such amazing creatures. Probably my favorite marine animal. Then we went to see Flipper. Yes, Flipper. Miami Seaquarium is the original film location for "Flipper" from the 1960s and the famous bottle nosed dolphin we all loved is still alive and swimming around at the Miami Seaquarium. After watching Flipper and his friends perform, we went to the sea-lion show. Sea lions are so cute! We ended up getting a "meet & greet" with the sea lion, where we were able to pet him, and even get kissed by the sea lion. That was really neat. Then we journeyed on over to the killer whale show which was amazing.Let me just say a killer whale can make a HUGE splash. I think my shoes are still wet. One interesting fact about killer whales, they're actually dolphins, not whales, despite their name. They are the largest of the dolphins and also one of the worlds most powerful predators.  It was $50 for us to eat here though, so I would recommend eating before you come, or afterward.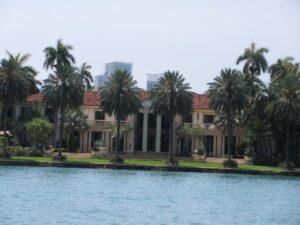 After we were done with the sweet creatures at Miami Seaquarium, we headed home for the night. However on the way, we stopped in Star Island to see some of the movie stars homes. Star Island or Bridge Rd is right off of MacArthur Cswy. It's a gated community but I just drove up and asked if we could drive in. Since this is a city funded neighborhood, they let us in. Apparently the gated community & guard scare a lot of tourists off and they don't get to go in here. These houses were massive and amazing. Some of the people who live here include Sean Combs (Puff Daddy/Diddy/P-Diddy/Puffy/whatthehellever), Gloria Estefan, Don Johnson, Rosie O'Donnell, Shaq, Phillip Frost.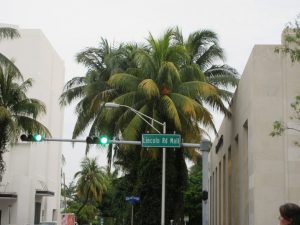 After we left the rich & famous, we went back to the house to drop off the car. We then walked over to Lincoln Road Mall. This is an awesome 10 block outdoor mall. We ended up walking up to Shake Shack to get some burgers. Remember, we're eating cheap here.. Well Shake Shack is up at the far end of Lincoln Road Mall so we were able to check out more than half of the mall. When we got to Shake Shack, they had a band playing with plenty of outdoor seating. We sat outside and ordered our food. Now I've always enjoyed Shake Shack, especially the one in Washington D.C., but Miami Beach didn't disappoint. The burgers were on point as was the deserts. My son got an ice cream thing with a doughnut in it. Now this trip to Shake Shack was different than any other. When I was ordering, there was a guy behind the counter acting like he was eating a burger, taking pictures with staff members. Lots of people were getting pictures. I had no clue who it was at the time. After we ate, I ended up talking to the guy to figure out who he was. Yea, I am a people person I guess and will talk to anyone. It was Randy Garutti, the CEO of Shake Shack! He was very humble and down to Earth. Especially to be a man worth 7 million dollars, running a 1.25 billion dollar company. He was down in South Beach enjoying a family vacation and of course wanted to check on one of his stores. He ended up giving us 2 shirts from Shake Shack and offered gift cards. Unfortunately I didn't take any gift cards because there are no locations near me. I did mention to him he should bring some locations closer to me. Perhaps in the Greensboro area. That'd be cool. So at least the bug is in the CEOs ear about GSO! Shake Shack is a pretty cheap eat too! It was $40 for the 4 of us to eat.
After dinner we went back to the apartment to wind down for the evening.
Miami Duck tour, Beach day!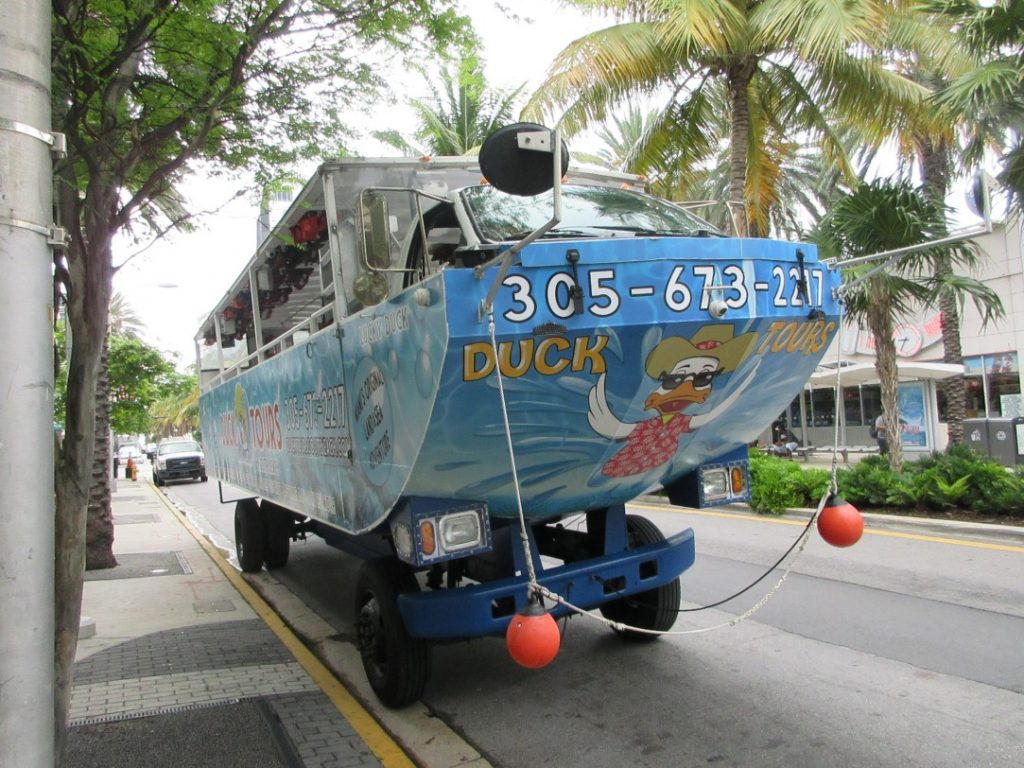 In case you have not noticed, our first 2 days in Miami have been packed with things to do. Why should day 4 be different? We woke up and walked down to the south end of Lincoln Road Mall, to get on the Miami Duck Tours. If you've never been in a city that has this, they are so cool. These are boatvehicles that can go on land and water and were used by the military back in the day. We boarded the "duck" and rode around Miami Beach, exploring some of the city and seeing some of the awesome things there are to see in Miami Beach. We saw Club Madonna which had an interesting history to it. Madonna the singer sued this company for copyright infringement years ago to make it change its name. However, Club Madonna had been around since before the 80's when the stage name "Madonna" got her start. In a high court, the singer lost her case and Club Madonna remains open today. We also saw the Copa Room, which was formerly owned by the artist Prince, before he passed away. There was a Burger King "Whopper Bar", one of only 4 in the world. This Burger King also has a bar in it. After touring the city, we drove into the water and rode around Star Island, seeing the backs of all of the houses we saw the night before on land. However no obstruction on the water side. These houses were amazing. Duck Tours cost $107 for the 4 of us. After we got done with this tour, we were hungry since we skipped breakfast again. We walked down to the ocean. This was Memorial Day weekend and there was an air show slated to happen on Sunday. The military was practicing this day so things were hectic around South Beach this weekend. However, Miami Beach Police Dept. had Ocean Drive closed! This was great for us. We stopped at
Madero on Ocean Drive
to grab lunch. They had amazing food. We sat outside and watched the air show while enjoying great food. I HIGHLY recommend this place. It's at the upper part of Ocean Drive on South Beach. It was around $80 for the 4 of us to eat here, not bad especially considering this is in South Beach.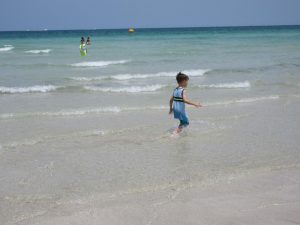 Once we were done eating, we walked across the street to let the boys play at the beach for the rest of the day. I absolutely love Miami Beach. The beaches in Virginia, North Carolina, South Carolina suck compared to south Florida. The water in Miami is crystal clear, turquoise, warm. The water in Virginia, Myrtle Beach, etc is so brown and yucky. Major difference. We spent the rest of the day playing at the beach, building things out of sand, and enjoying our evening in South Beach, Miami. This was our last day in Miami Beach, we wanted to relax and enjoy it. After we finished basking in the sun and getting our feet out of the blue water, we walked back to the apartment and took showers. We walked over to Lincoln Road Mall for dinner. We ended up stopping at
Cantinetta
for food. They had some really good food. I ended up getting a NY Strip which was fantastic. Definitely no complaints. It was around $100 for the 4 of us to eat here.
After we ate, we walked back to the apartment and washed our clothes and packed everything up. Tomorrow is the day we board the ship! We all got packed and called it a fairly early night. I laid down and finished watching the ACC Baseball Championship. It helped me relax and unwind from our fun, eventful Miami trip. Despite a rough start, we had a great time in Miami Beach and can't wait to  come back. There's so much to do and where we stayed was so convenient and close to everything. Our host was fantastic.
One thing I HIGHLY recommend if you're not only traveling to Miami but ANYWHERE is to make sure you have travel insurance. This will help cover you if you're in a car crash including with rental cars, but if you lose time on your vacation, need medical attention or anything else. I recommend Travelex for your travel insurance. With over 55 years of experience, they're a world leader in travel insurance.