After we left the Riverbanks Zoo & Garden in Columbia, we hopped on the interstate and continued our journey on down to Charleston, South Carolina. We arrived at our hotel that evening and rode up the street to Outback Steakhouse for dinner. We ended up staying at Mainstay Suites in Mount Pleasant. This was a nice hotel. I am not sure why the reviews only gave it 3.5* but it was much nicer in my opinion. The price was perfect also.
The hotel is at the end of the Arthur Ravenel Bridge on the Mount Pleasant side of downtown Charleston. GREAT location! Our room had 2 bedrooms each with queen beds in each room, a living room with sofa bed and a kitchen. They also allow you to keep your vehicle there for the duration of your cruise.
This hotel is directly across from the Patriots Point entrance. When we go back to Charleston, we'll definitely stay here again.
This is our first full day in Charleston so we wanted to make the most of it. It was a nice day out so we decided to go to Patriots Point. This is an amazing place to go. Anchored at Patriots Point is the U.S.S. Yorktown (aircraft carrier), the U.S.S. Laffey (destroyer) and the U.S.S. Clamagore (submarine).
For the price of 1 ticket you can go inside of all 3 of these amazing vessels. Prepare to spend several hours here! It was simply amazing.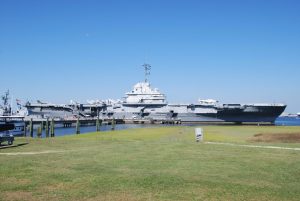 It's amazing how huge an aircraft carrier is. I like going on these old ships and a lot of them you can only see a few rooms and most things are blocked off. Here, you can go everywhere and see everything. It's great. They are also very well maintained. My only recommendation is to make sure you have PLENTY of time to go through.
After we went through the aircraft carrier, we went through the battleship as well as the submarine. It was an amazing experience.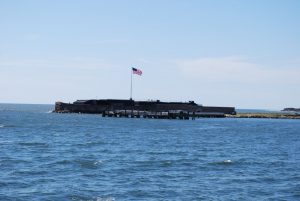 After we left the ships, we caught the ferry over to Fort Sumter. This was a really cool experience as well. The ferry takes you over and drops you off for I want to say was 90 minutes? It may of been 60, I cannot remember. It was really cool just to sit back and think of what went on there and the history of the fort. I do recommend this. The only problem for us was that it was so hot this day.
After we finished at Fort Sumter and Patriots Point, we went back to the hotel to change and go to dinner. Tonight we went to T-Bonz downtown Charleston.  We're picky eaters btw. Anyway we loved the food and service. After we ate, we walked across the street to the outdoor market. This was a very neat place and we loved it. We bought some stuff here, but can't remember what. It's huge though. After that, we headed back to the hotel for the night. After going through the 3 ships AND Ft. Sumter today, we were beat!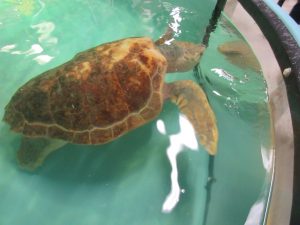 This was our last day in Charleston so we wanted to take our oldest to the Sea Turtle Hospital at the South Carolina Aquarium. This was a pretty small aquarium, not what we're used to. It was nice though, just small. We enjoyed it, then went down to the sea turtle hospital. It was a really cool experience to see how they took care of the sea turtles. I highly commend these people and we made a good donation to them.
After we left the aquarium, we decided to just ride around Charleston. I stopped by the Emanuel AME Church which is where the shooting had taken place about 2 weeks prior.
After that we went back to T-Bonz again for dinner. It was raining so we didn't stay and shop. We just came back to the hotel to get things cleaned up and ready for the next morning. That's when the fun begins. 🙂 Tomorrow is embarkation day!!
Charleston Day 4
Embarkation!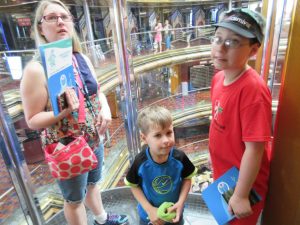 We're leaving our car at the hotel, so we called for an Uber and he was there in under 5 minutes. We had a black Yukon Denali for the 4 of us. He took us right to the front door of the port. The total was $17 from Mt. P.
We had FTTF so we passed the 500+ people in line waiting to get in, got our pictures and went straight onto the ship. That was nice. We went straight to our cabin to drop off our luggage and sodas. After that, we went up to lido for some food and just to relax.
Finally at 4 we went to muster drill, then did the sail away party. WOOOO!!!! Everyone was tired for some reason though, haha. It was a fun day. We spent the day exploring the ship and eating food and playing in the water.
Nassau Bahamas was our first stop!