If you follow my blog you know last year we went to the Dominican Republic in July of 2020 when Covid cancelled our cruises. The Dominican was open and we loved it there. We decided to go back this year to the same resort! We took our kids to Cancun last month so this month was a trip for just the wife and I. Plus, Sanctuary is an adults-only all-inclusive resort. They couldn't go anyway.
Pre-Flight
Since it was just my wife and I going, she took off work about noon on Friday and we decided to start our trip early. We stopped at Chick-Fil-A in Martinsville, grabbed lunch and hopped on the road to Raleigh.
I had requested an early check in at our hotel, the DoubleTree by Hilton by RDU Airport. I got notification on the app that our room was ready, while we were still in Martinsville getting Chick-Fil-A. This was great because we could drop our bags off at the hotel before going to be a local tourist. I consider myself a local tourist in Raleigh because I use to live there, we always go there to fly from, and I am there every weekend during the fall. It's my second home.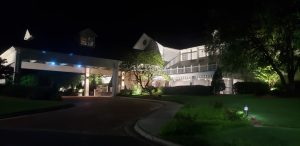 I arrived at the DoubleTree and parked next to a door near our room. We unloaded the 3 suitcases and went to go in. The damn door sensor didn't recognize my phone to unlock the door. Sweet baby Jesus, please don't make me have to go to the hotel lobby and get a key. I hate hotel lobbies and try to avoid them. I found another door, which worked and we went in and to our room to drop off the bags. We had a standard king room with a balcony overlooking the pool. The hotel itself was nice and clean. It had a very country feel to it, and was nestled in a little wooded area off of I-40. It was quiet, secluded and cute. The bed was comfortable and of course it was a DoubleTree so there were free warm cookies.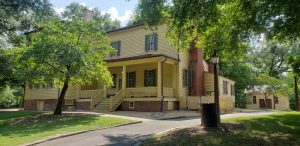 After we dropped the luggage off at the hotel, we got in the car and headed over to Mordecai Historic Park in Raleigh. This is a very nice park with some historic places in it. First is the Mordecai House which is a house built c.1785. This is a huge, beautiful house. We were there after the tours closed, so we did not get to go inside of the house. In front of the house is the Badger-Iredell Law Office which is a law office from c.1810. Next to the law office was a cute little church which could hold probably 15 people. Beside of the church was an early office building that's from c.1847. Across from the early office building is the Andrew Johnson House which was built before 1803. This is the birthplace of President Andrew Johnson, the 17th President of the United States.  There are also 2 other historic buildings on the property which are cure barns and a kitchen. Mordecai Historic Park is free to enter but you can pay for a tour. I highly recommend visiting here.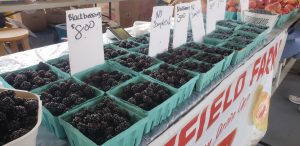 After we left Mordecai Historic Park, we started to head toward Yates Mill County Park. This is a park with an old mill that's nestled within the NC State University campus. However on our way there, we noticed a huge building and wondered what it was. As we got closer we saw the sign that it was the Raleigh Farmers Market. This place was huge!! We had to stop. We went into the farmers market and were just in awe at how much they had. They had literally everything. It was so nice in fact, we're going to head back down there probably this weekend to do some shopping. Unfortunately we couldn't shop while we were there because anything we bought would have spoiled in the hot car for 10 days.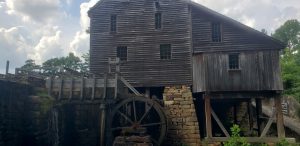 Once we finished at the Raleigh Farmers Market, we continued on to Yates Mill County Park. This was a very pretty park with a long shaded trail you could walk around the pond on. At this pond is also a creek with an old mill. We visited the old mill and checked out the grounds. We didn't stay too long here because the thermometer in my car read 101° when we got out. We were anxious to get back in the air conditioning.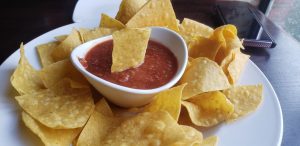 By this time, we were starting to get hungry. We decided to head downtown Raleigh to Tobacco Road Sports Café to grab some dinner. I found this restaurant on one of the Raleigh local pages and it had great reviews. They have a distillery inside of the restaurant as well. The service was good here and the food was great. I got wings and my wife got a chicken sandwich and only ate the chicken. We split some chips and salsa as well. We spent some time here just cooling off and relaxing. Between our stops in the heat, we were beat! Plus we had both gotten up early for work so we were tired. We decided to head back to the hotel for the night.
We arrived back at DoubleTree and went and got our warm cookies. Then we sat outside of the hotel in the rocking chairs just relaxing and unwinding from the day, and thinking about our trip tomorrow. It was a great day with my wifey in Raleigh and I can't wait to do it again.
Getting to the Dominican Republic!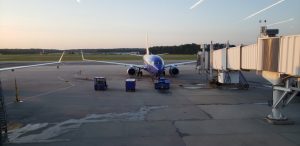 We woke up fairly early so we could take showers and get ready to get on an early shuttle to RDU because we had an early flight. We got ready and headed downstairs to the hotel lobby to get on the shuttle to RDU. The shuttle was on time and the driver was very nice. There were 2 other people on the shuttle with us, both of them were pilots for American Airlines. We talked to them the whole way to the airport and learned a lot about a pilots life in such a short time. We arrived at RDU and went inside to the ticket counter to have our passports verified and drop our luggage off. I wish you could do this at the skycap without having to go inside but unfortunately with International flights you can't. We got our tickets, went upstairs and past the line of people to the TSA-Pre√ line, and in the terminal we went. Now just to wait for our flight!
It was time to head to the Dominican Republic!
We had a connection in Baltimore at BWI. It was actually nice because we could get real food. Food at RDU sucks! We got to BWI in about 45 minutes with no issue. We got off of the plane and went to Chick-Fil-A for breakfast. Then we stopped at Cinnabon to get some snacks for the plane as well as drinks. Then we went to our terminal to wait. Finally, it was time to board. Punta Cana, here we come!
Arriving in Punta Cana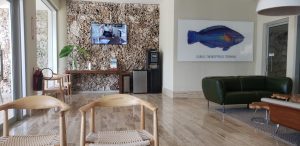 The flight from Baltimore to Punta Cana was very uneventful. We touched down in Punta Cana on time and was ready for vacation to begin!
Once we deplaned, there was a VIP agent in a golf cart at the bottom of the ramp waiting on us with a sign with our name on it. This was very nice because otherwise it's a walk from the plane to the terminal where you go through customs behind hundreds of other people. The agent took us on the golf cart to the VIP lounge where we would sit down with free beer, rum, wine, and snacks. We would relax in the nice air conditioned room while she processed our paperwork. She took care of everything for us, then went and got our luggage for us, and walked us out to our transportation. As of this posting, the only thing required to enter the Dominican Republic is your Passport and the health QR code that you fill out 72 hours prior to your trip. We got in our transportation van which we arranged through DAT (Dominican Air Transport) and headed to Sanctuary in Cap Cana, which is 15 minutes away. Our driver said it's been taking people a little over 2 hours to make it off of the plane and through customs at the airport. We made it from the plane to our transport in under 20 minutes. It was great and the VIP service was very well worth it. We'll use it moving forward.
Sanctuary, Cap Cana
We arrived in Cap Cana, went through the security checkpoints and made it to Sanctuary. We have been here before so we knew what to expect. DAT dropped us off at the main lobby where we gave our information to the bell boy. From there, a butler came to pick us up in a golf cart and take us to The Castle, where we were staying.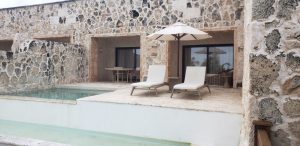 Check in was easy and fast. Normally they explain everything to you, where things are, how it operates, etc., but being previous guests we knew everything so they skipped that. Then our butler grabbed our bags and we went to our room, which was 3044, a honeymoon suite. We love the honeymoon suites because they have a private pool and nice patio. The bathroom has a double vanity sink, walk in shower, and private room for the toilet. There's also a minibar area, a living room, and the bed is very comfortable. Of course being in The Castle, we also had butler service as well. Our butler was Juan and he was great. We also got to see Emilio from last year and interact with him.
We spent most of our time in the pools. We'd pool hop from the infinity pool, to the pool below that, to the shamrock pool, to the main pool. Then once we got tired of those pools, we'd go to the pool at The Castle. When we got tired there, we'd spend time in the pool in our room. We spent every day in the water.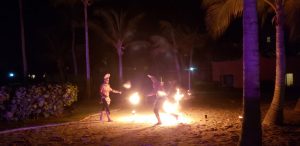 Each night there was a show going on in the terrace behind the main lobby building. The first night was the beach party. This was a lot of fun. There's a DJ and everyone is dancing. During the dance party, they have dancers come out wearing light up gear and a drummer wearing a electronic helmet that's lit up. It's pretty neat. To cap off the beach party, there's a fire show. This is very exciting to watch. 3 guys juggle fire and do other fire stunts. I give them 5 stars as they did an amazing job. There were also 3 musical performances, 2 being live music and 1 being a lip-sync show. They also had a circus one night, and did karaoke one night. The shows were fun. The only issue I had was for the first 5-6 days there was a guy who was always drunk and was down right obnoxious. You couldn't hear music over his laughing, always wanted to be in the front "dancing" and was just trying to be the main attraction of every show. SEVERAL people talked about being so glad when him and his wife finally left. Aside from Mr. Drunkman, the nightly shows were great! The entertainment staff is awesome. Chocolatte, Black Diamond, Pinky, Spicy, Gasolina, Francisco and Juan are great. One day I want to learn to dance like them all. In the meantime, I'll just continue to look like a drunk penguin having a seizure when I attempt to dance.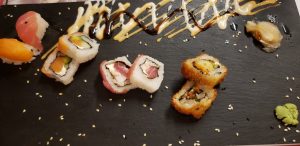 The food at Sanctuary is a notch above most all-inclusive resorts. We ate at the Italian restaurant one night, which was good. We only ate there once because it just isn't something we were into. I had spaghetti and my wife had  lamb. The food was good, but we're just not huge fans of Italian. Felix was a great server though and did everything he could for us. We also ate at the hibachi one night inside of The Wok. This was a lot of fun. I don't like Asian food but this turned out to be a fun experience and the food wasn't bad. We both tried sushi, we had egg rolls, chicken, steak and rice. For dessert we had fried banana with ice cream. The hibachi was really fun. We met 2 friends while eating here, Chino and Rebecca from New Jersey. Gregory the cook and Elben the server were fantastic. They were very funny and this was a fun experience.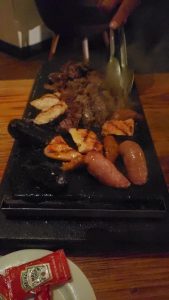 We also ate at the buffet one night, on Dominican Night. The food here was decent but not our favorite. In fact, we left here and went to Sanctuary Town to get more to eat that we'd like. Every other night we ate at The Steakhouse which is great! Most nights we ate filet mignon which was wonderful. One night we did try the dinner for 2 on the hot stone, where they cook it at your table. That consisted of steak, pork, and chicken. It was really good. I wish we would have done that twice but the filet is hard to beat. We requested Nairoby every night for dinner because he was our favorite server. We also had him at breakfast. We're now friends on Facebook so we can keep up. Unfortunately he's leaving Sanctuary next year as he has a contract with Norwegian Cruise Line. We're Carnival cruisers, not NCL so I doubt we'll see him again.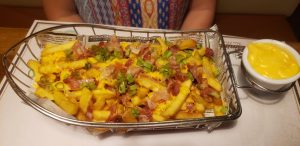 After the shows each night, we went down to Sanctuary Town to get a late night snack. Typically we went to The Burger Factory. I did get a burger there one night which was fantastic. Normally we got cheese fries and/or nachos and cheese with pico de gallo. At The Burger Factory, Ricky and Eladio were our servers and they were absolutely fantastic. Very friendly. They looked for us each night to come down the steps and would all be waving at us as we came down. One night we did go to Mamma's Forno & Pasta and ordered a pizza. Honestly the pizza wasn't that great. We ate half of it I believe. I do think every night we went into The Sweet Spot to get some ice cream or other sweet or popcorn. The one place we did not eat in Sanctuary Town was the International restaurant. There wasn't anything on the menu that appealed to us. Everything at Sanctuary Town is included at no charge, except the International restaurant. There is also a cigar shop but we did not visit that since we don't smoke.
F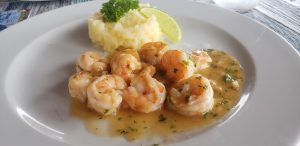 or breakfast every morning we went to the buffet as it was pretty good. There was a decent selection and the eggs were cooked to order. For lunch, we always went to The Blue Marlin. We normally had Jhonny as our server. He was nice. Every day I got shrimp in garlic sauce, and my wife got a chicken breast. We capped lunch off with a crepe. Blue Marlin is great and the views can't be beat. We only used room service once, to have a burger delivered to us at The Castle pool. The bars are all great, but the bar at The Castle makes the strongest drinks.
One day we went to the spa and got a couples massage. They have a "better together" special when you check in. It includes 1 hour of hydrotherapy access in the sauna, hot tub, steam room and dynamic pools. After that hour you get an 80 minute signature massage which include deep tissue, hot stones or aromatherapy in a romantic massage room. You also get a spa foot ritual which is nice. You get a bottle of….something when you're done. The cost for this is $445 per couple and worth every penny. The stuff they put on your feet is nice. I am a guy with rough feet and nothing seems to work to keep mine from feeling rough. What they used, actually worked. I ended up going back to the spa and buying some of their scrub. It was $80 for the scrub and some lotion.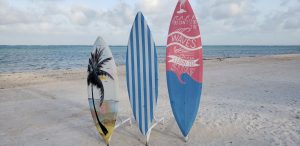 The beach at Sanctuary is very small, and currently there's a lot of sargassum there. This isn't something I blame Sanctuary for though, as they do try to keep it clean. We have been all around the Caribbean and there's sargassum everywhere. It was just as bad in Mexico last month. I'll be glad when it subsides on the islands. If you want a nice beach at Sanctuary, it's easy to find. There's a great beach next door, on the other side of the Margaritaville construction. We walked all the way down to Secrets and there was plenty of empty, white beaches.
Saona Island Excursion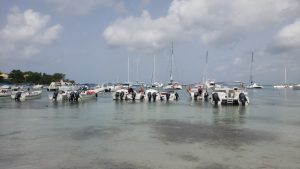 I had booked this excursion ahead of time through Mike Fisher based on his reviews. His company picked us up on time at Sanctuary, and we went to Secrets to pick up 4 other people. So we're up to 6 people. Then we left Cap Cana and stopped at the store as you exit Cap Cana, to pick up 4 other people. There were 10 people total on this excursion which is the max people he puts on an excursion. There's nothing worse than going on an excursion with a bus full of people and having to be herded like cattle and go at someone elses pace. 10 people was a good size. We took about a 45 minute drive to Bayahibe Marina which is just next to La Romana. At the marina we would get our boat and meet the captain of the boat. We were in a speed boat where we'd head to Saona Island. Our guide for the day was Udo. He reminded us of an overweight Robin Williams, from Germany.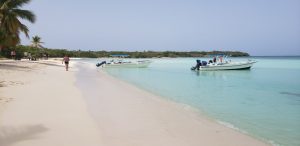 Along the way we first stopped at a nice secluded beach. When we arrived there was only 1 other boat there with a family of 4. We had the entire beach to ourselves. The water was clear, the bottom was soft, it was very nice. If you've been to Turks & Caicos, the beach we stopped at reminds me of the beaches in Turks & Caicos. Specifically around Governor's Beach in Grand Turk. We spent about an hour here just floating around in the Caribbean, and 6 of us just relaxed and talked in the water. Finally it was time to leave and continue our journey. We got back in the boat and was off to Saona Island.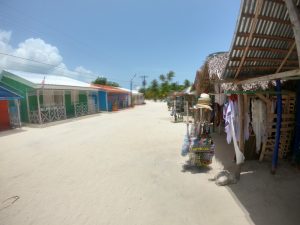 We arrived to the island and as we were getting off of the boat, my fat ass fell into the water. It was funny, everyone laughed. I was embarrassed but it was funny. We went over to a picnic table where we would be served lunch. They had chicken, pasta, fruits and something else. They also had plenty of rum, Coke and water. We all ate lunch together and would spend about an hour on the island. We were the only boat at the island when we arrived, but 1 other group would arrive later on. There were some small shops on the island where you could shop. It was nice because they were not pushy in the shops. They had some cute stuff to purchase. They also had fresh coconuts and pineapples on the island you could purchase.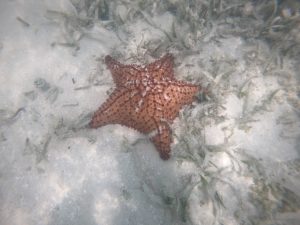 Once we left Saona Island, we started the journey back to the marina. Along the way, we stopped at a natural pool where we would all jump off of the boat and snorkel. This was really cool because there were a bunch of star fish you could see. I have never seen a star fish before outside of an aquarium. They are MUCH larger than I ever expected. We spent about an hour here snorkeling and drinking rum. The captain made sure nobody had an empty cup of rum and Coke at any point.
After we finished snorkeling, we headed back to the marina where we would debark the boat to head back to the resort. Thankfully we were the first people to be dropped off. We were tired and hot. This was an excellent day though and I would recommend it to people. We did have a few hiccups with the boat where the engine would turn off, but the captain got it started again. Then on the way back, we ran out of gas. It took less than 5 minutes for a rescue boat to come along and get us refueled though.
Higüey Excursion
This is another excursion that I had booked prior to our arrival through Punta Cana Mike. I have known Mike a long time from the TripAdvisor forums but have never used him before. He had excellent reviews though so that's who I went with.
Mike is Canadian but has lived in the Dominican Republic for many years. There was no language barrier between us which was great. We could ask lots of questions and he could explain things to us with no disconnection. Mike picked us up on time from Sanctuary and we began our tour.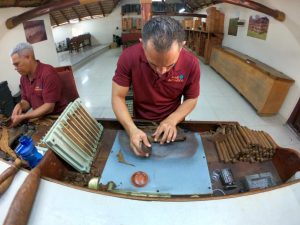 We would ride through Barceló and check out the sights in the town before stopping at Don Lucas Cigars. This is also a chocolate and rum stop. First we went into the chocolate store where we would learn the process of making chocolate from the cacao to the end product, which we sampled several varieties. There are lots of chocolate options here which they were all very good. We bought quite a bit of chocolate from this store.  Once we were finished with the chocolate portion, we walked over to the cigar factory.
First we went to see a gentleman sorting tobacco leaves. Now let me say, we live on a huge tobacco farm so seeing tobacco isn't a big excitement for us. However cigars are a different ballgame in the production of them. The guy was sorting leaves from a tote. After they are sorted, they go into a drying room where they will spend time drying under heat lamps. From there, they go a rolling station. At this point, 2 guys were rolling the cigars to almost perfection. After they are done at this station they go to a humidor where they sit for months to settle. We went into this room and the fumes were killing us. They were natural fumes, not anything man made. After this, they are hand inspected, and hand wrapped to be sold to the public from that point.
After we left the cigar factory, we went over to the bar where we would try shots of different sorts of rum. There is a small selection you can purchase from, we ended up buying 2 bottles. From my understanding though, they normally have more of a selection but due to Covid, things are limited there. We understood that. We purchased some Rhumba pineapple rum, and some Devil's Touch cinnamon & chilly rum.  This was a fun stop and the whole complex was clean, the people were friendly and we really enjoyed it.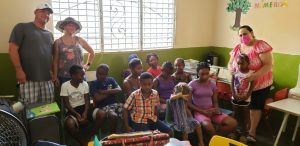 When we left Don Lucas, we would head toward Barrio where we would first stop at a little store owned by one of the locals. The stores there are about the size of a shed you would keep your lawn mower in. They had most things you would need though. The owner was very nice and we learned a lot from him such as how much it cost to operate, where the money went (his family) and more. Outside of the store is where everyone hung out from that village. We got to see where they lived, what they did for fun, etc. From there, we walked down to the local school, Centro Educativo Shalom. We went inside with the students and got to see the classrooms, meet the teachers, talk to them and the kids and see how the schools there operate. The school did not even have electricity, it was an open air school where everyone was together. The kids were so well behaved and polite. This was a great stop and I really enjoyed the school. If you do go on this tour with Mike, please be sure to take some school supplies to donate to them. You can also give a monetary donation. They do not ask for it, it just makes you feel good to do it.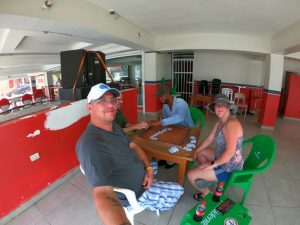 After spending some time in Barrio with the locals, we got back into the car and toured the city some more en route to Hoyo de Friusa where we would tour some as we made our way over to the car wash. Once we got to the car wash, we got out and was led to a table where we would play Domino's with a local, Hector. We had never touched a Domino in our life so we had no clue what we were doing. We learned fast though. This was a lot of fun playing with Mike and Hector. We played several rounds with all of us, then watched Hector hustle Mike in a few games. 😉 My wife ended up downloading Dominos on her phone to play, she had so much fun. We really enjoyed this, and wish we had spent more time here. Hector was a blast!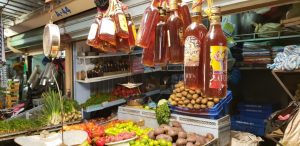 After Hector took Mikes money and made us laugh, we got back into the car to head toward Higüey. In Higüey we would stop in town and walk into the market. Now this is nothing to shop at from a tourist perspective but it's where all of the locals shop. At the market is where you buy your fresh fish, have your chicken butchered, buy fresh meat, fresh produce and spices. This was a super fun stop for me, because we truly felt like locals here. It was neat to see. Honestly though if I lived there, I'd probably turn vegan. It was cool to see the spices and everything to buy. You buy them from huge barrels, not in little containers like you get in the US and Europe. We really enjoyed the market.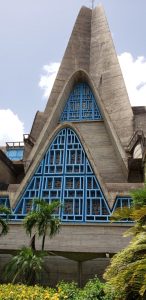 Once we left the market we made our way to Basilica Nuestra Señora De La Altagracia. This is a huge Roman Catholic cathedral. This is a very large and modern church that's very special to the people in the Dominican Republic. We spent a few minutes at the church taking pictures, before our next stop, a local supermarket. This was a modern supermarket where we would be able to buy anything we needed, see local prices and things they sold there.
Once we left the supermarket, we would make the journey back to Cap Cana. This was a very fun day and we had a blast. We have been all over the Caribbean and done dozens of excursions and this is one of our favorite excursions we've ever taken. Thank you Mike for an amazing day with my wife an myself. We look forward to using you again when we return.
Leaving Punta Cana
Sadly the day has come that we have to leave. Our butler Juan had scheduled us to get our Covid test 2 days prior to departure. The guy in the testing facility was NOT nice. His name was Carlos. He's the ONLY negative person we encountered this entire trip. We had our results emailed to us in about an hour, no issues. I had our transportation to the airport scheduled again with DAT to pick us up. They picked us up and took us up on time and got us to the airport in about 15 minutes. Again we had VIP service at PUJ so we went to the VIP office. The lady there processed our passports and QR code to leave. Then she walked us to the front of the line at the Southwest ticket counter to get our tickets and drop our luggage off. Then we went to the security area, but a private security area where nobody else was. It took no time to walk through. Then we went to the VIP lounge from there where they had alcohol flowing and finger food to eat and free Wifi. We then went to shop in the airport and grab lunch, and come back to the VIP lounge to hang out until it was time for our flight.
Once it was time for our flight, we boarded our flight back to Baltimore. The flight to BWI was uneventful. We made it to BWI and through customs in no time. Our flight to RDU was delayed, again so we went to Chick-Fil-A for dinner. Then we went back to Cinnabon for airplane snacks, then to our terminal. Finally we boarded our plane to RDU and we were off.
We landed in RDU with no issues. I called DoubleTree to pick us up at the airport and they were there in about 15 minutes. We made it to the hotel, got my car and hit the road to come back home. 2 hours later I pulled into my driveway. We were tired. Our oldest son met us at the door and we saw him. We went to bed about 1am. It'd been a long day.