When our May 2021 cruise was cancelled we did exactly what we did in 2020, book an all-inclusive resort. We wanted to go back to the Dominican Republic but were going with some cruise friends who wanted to go to Mexico, so we booked an AI in Cancun. I did tons of research on resorts in Cancun that would fit our needs and ended up booking at Seadust. This is a family friendly resort with 10 restaurants, a 3 tierd infinity pool, an adults only area and lots of activities going on all of the time. There is literally something for everyone at this resort. No matter if you want a casino, a kids water park, a water park for older kids, a relaxing beach, relaxing pool, or lots of nice bars.
We booked this resort on February 26th 2021. When comparing prices, it was a few hundred dollars cheaper to book via a mobile device instead of a computer, so that's how I booked. Our friends booked the same way.
Fast forward to June of this year. Our friends do not actively stay on top of their email for some reason, and missed an email from Seadust that there was an issue with their credit card. They called them later (after the tolerance window closed) and the price had more than doubled for the resort and they couldn't help them. Seadust had the time and date they ran the card but our friends said that their credit card company said they never tried to run the charge. I have a feeling it was either a mistyped number or the fraud department thought it was fraud. I honestly don't know. They ended up booking at the RIU Dunamar about an hour from us. I was really disappointed we didn't get to stay together at the resort, but glad we were all going to be in Cancun together.
Pre-Flight
The night before our flight, we stayed at the Staybridge Suites in Morrisville, NC right next to the Raleigh – Durham International Airport. This is an IHG property which I tend to avoid but I have stayed at this specific property before and it's nice for a nights stay before a flight. We got to the hotel about 4pm and our room wasn't ready. I was already frustrated with this hotel because I have not been to a hotel lobby to check in to my room in years. Most hotels have digital check-in now and you can use your phone as your room key. That's what I am used to. At this hotel you have to go to the lobby and check in and use a key card. I was already frustrated at this. Add the 20 minute late check in to the mix and well, I'm not starting this day off happily.
We came back 20 minutes later only to be told it would be "5 more minutes". This kept being repeated for about 30 minutes. Here we are close to 5pm and our room wasn't ready. The front desk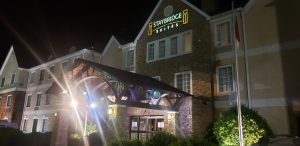 and manager kept apologizing but we were frustrated, hungry, and tired. I just want to drop my damn bags off in my room!
We finally made it to our room. We had a 2 bedroom suite which had 2 double beds in 1 bedroom for the kids, and a queen in the other bedroom for my wife and I. It also had a kitchen and a den area. It was a nice room and I had no complaints about the room.
One of the main reasons I booked this hotel is because they said they had a 4am shuttle. We had an early flight from RDU that was International so I knew we had to go to see a gate agent to get our documents verified, unlike domestic flights.
After we dropped off our bags, we went to Crabtree Mall so my son could go to the Apple store. He did his business there, then we went to the Amazon store, and were done. From there we went to Chili's on Glennwood Ave. This was a great Chili's and our server Isaiah was amazing! Then we went back to the hotel to go to bed early. We had an early day tomorrow!
We woke up the next morning at 3:30 and was downstairs in the hotel lobby at 3:45am. The lobby attendant informed us the shuttle driver doesn't even come to work until 4am. It was 4:30 until he arrived to pick us up! Finally he got us loaded up and off to RDU we went.
When we arrived at RDU, the line at the Southwest counter was forever long. We always use the skycap for domestic flights, and I thought to see if we could use it for an international flight. The lady took our documents and went inside to verify them. I knew she could skip the line and get it done quickly. I slipped her a good tip and she gave us our tickets, took our luggage and sent us on our way. We went upstairs to the security area. We have TSA Precheck which allowed us to skip the line, thankfully. Had the skycap not helped us and we not had TSA precheck, it would have been close on time thanks to the hotel getting us out 30 minutes late. While this is a nice hotel, we won't be going back here. I'll definitely stick with my Hilton and Marriott properties from now on.
Flight / Arriving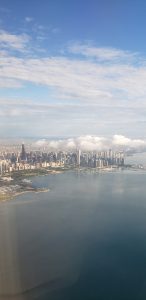 We boarded our Southwest flight in Raleigh with no issue. We had a short flight to Chicago Midway for our connection. We arrived in Chicago with no issue. It was beautiful coming into Chicago over the great lake and seeing downtown Chicago from the sky. We came into Midway and wow I was shocked at how busy this airport was. I figured it wouldn't be as busy because most people go to O'Hare but I was wrong.
We were able to get some Dunkin' Donuts and snacks for our long flight out of Chicago. We got our food and drinks and found the way to our gate to wait.
Finally our flight was boarding and we were on our 3hr 35m flight to Mexico!!
We arrived at CUN in Cancun with no issue and was ready to get our vacation started. 🙂
I know a lot of people have asked, "do you need to be vaccinated?" or "do you need to quarantine" or "do you need to be tested?".. The answer is no, no, and no. No vaccines are needed, no testing is needed, no quarantine is needed. The only thing you need to enter Mexico is a valid Passport and your migration paperwork better known as your FMM form. You can fill it out and print it from this site -> https://www.inm.gob.mx/fmme/publico/en/solicitud.html
We deplaned, went to immigration where the immigration officer checked our Passports and took their half of the FMM form. They give you back the other half of your FMM form. DO NOT LOSE THIS, PUT IT WITH YOUR PASSPORT IN YOUR HOTEL SAFE! If you lose your half of the FMM form, it will cost you $50 to replace it and you MUST have it to leave Mexico.
After we got out of immigration, we went to get our luggage. Here we were able to see the friends who were going with us. Our planes landed at the same time somehow, which was pretty cool. We spent a few minutes in the luggage area talking to them and catching up. They were tired since they didn't have a hotel the night before. Thankfully we did and were able to sleep.
After we were done, we went to find our ride to the resort. I had prearranged transportation through CARM and they sent me instructions on where to find them. We had to walk through "the shark tank" at CUN which if you don't know what this is, it's timeshare agents, rental companies, transfer companies, etc on each side of a hallway and they smother you trying to get you to buy something, use their service, etc. "No gracias" and keep moving. Don't stop, don't answer questions, ignore them. Keep walking, and you will be fine. We exited the airport, went past the Circle C and found the CARM agent. He got our van in place and loaded us up and off to Seadust we went!
The Resort
We arrived at Seadust about 20 minutes after we were picked up. Seadust is in the 'Hotel Zone' of Cancun. A hotel employee met us at our shuttle and checked us in while the bell boys took our luggage. We went to the registration desk to complete our check-in. This was a quick and easy process, and we all got our arm bands here. We then went up to our room. The first room we went to was HOT so we called down front to have them fix the AC. They tried, but after about 2 hours they just moved us to another room. I had booked a family suite which had a king size bed, and bunk beds with trundle for the kids.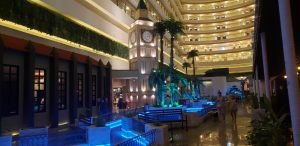 The room was spacious, the bathroom was huge and had a lot of storage space for all 4 of our things. The TV of course is in all Spanish, and my son brought his AppleTV and hooked it up so we could watch TV while we were there. Without his AppleTV we would have had no TV!
The resort has 10 restaurants to choose from and reservations are required to go to them. You can make reservations on the Seadust app each morning, which is what I did. Since I am used to EDT and Cancun is CDT I was an hour behind in my mind, and was up early each morning. This allowed me to make reservations each morning early. On this night though since we arrived later in the day, all of the restaurants were booked but we were able to eat in the buffet.
The buffet was very good and had LOTS of options to choose from. They had a grill, seafood, sushi, Mexican, salad bar, dessert bar, vegetarian bar, pasta bar, and I think I am missing 2 others. Each station had a bunch of great food. We would eat here several times after dinner for a late night snack. We also ate all of our lunches here, as well as breakfasts. If you cannot find something to eat at this resort, you're a lost cause. 😉
Each night we ate at Big Ben Steakhouse which was really good. One night we ate at the Mexican restaurant, but the rest we were in Big Ben. The service was good and the food was really good.
Throughout the day all day every day they have activities going on such as iguana feeding, soccer, water polo, bracelet making, basketball, yoga, beach volleyball, you name it. There's ALWAYS something going on to keep you from getting bored. Then each night there's a show. We saw several shows but our favorite was the neon show. Due to Covid, the theater at the resort is closed so everything took place in the hotel lobby.
The pools are huge and there are 3 tiers to them, plus an adults only pool on floor 5. There is also a casino and karaoke bar on the same floor. There are 2 souvenir shops plus a pharmacy where you can do some shopping. There's a gym and spa as well. The beach has plenty of chairs as well as a lifeguard. This is a very nice resort and I would give it 7 out of 10 stars. I'd definitely go back.
Coming Home The resort did the required antigen Covid-19 testing for us before our flight. The cost was $20/pp and the results were emailed to me within 10 minutes. As much as we have traveled and with Covid being around for well over a year now, this was the first time I have ever been tested. It wasn't horrible. We had our results and were ready to come home at this point. CARM picked us up on the day we were to come home, and got us to CUN with no issue. We arrived at the airport and had to go to the Southwest counter to have our documents verified and drop our luggage off. At this counter is where they asked to see our Covid-19 test results. We showed the agent, she gave us our tickets, took our luggage and off we went. The next stage of the departure process was the Mexican health stage. You needed to have your health form filled out to show them the QR code on your phone. You fill this out on your phone the day you're flying home. You can find the form here https://siat.sat.gob.mx/PTSC/DPE/  — They scanned our QR codes and into security we went. They scanned our carry on and us, and into the terminal we went. We did some shopping here, and sat down to wait on our flight. Surprisingly, our flight was delayed a little though not much. This was because a tropical storm was going on. When we went to board the plane, they took our ticket as well as our FMM form. They informed us ahead that if we did not have our FMM form, we needed to go see an immigration official. Thankfully we were organized. We got on the plane, and off to Baltimore we went! We arrived in Baltimore with no issue aside from a bumpy flight and a little late. We had to go through US Immigration, then get our bags, go drop them off again for the domestic flight, go through security (THANK YOU PRECHECK!) and get to our gate. We got there since we had little time left at this point. Once we got there, we found out that our flight attendants inbound from Las Vegas was delayed by at least an hour, so we were delayed, again. UGH. Finally the Vegas flight came, we got the crew and we were off to Raleigh. The flight from BWI to RDU was uneventful and VERY smooth and fast. We touched down in Raleigh, got our bags and hit the road to come home. We made it home about 1am and hit the bed. We were beat! We had a wonderful vacation and I cannot wait to do it again. 🙂 Thanks for reading!