Normally we fly Southwest Airlines out of Raleigh anywhere we go. However due to Covid we were stuck flying American Airlines from Roanoke. It was a good reminder as to why we do not fly from Roanoke, nor American Airlines.
This airline charged us not only for our bags, but to pick a seat on the plane. That's ridiculous. I spent more money in luggage on American Airlines than I typically do on the flight itself on Southwest. Plus on Southwest, we pick our own seats for free. Anyway…
We arrived at ROA an hour prior to our flight. I could not check-in online since we were flying International, so I had to check-in at the airport. At least, that is what they told us.
We got to ROA and checked in, printed off our boarding passes and checked our luggage. Then we went upstairs to go through TSA and to our gate. ROA only has I think 4 gates, it's a very small regional airport. TSA was a breeze and it was even faster since we have TSA-Pre so we didn't have to take off our shoes or any of that. From the time I parked the vehicle until the time we were at our gate took maybe 10-15 minutes. It was quick. Then we got there, and waited.
Finally we were able to board our plane, on time. Of course it was a puddle jumper but it got us from point a to point b. By the time we took off and reached altitude, we were descending to land in Charlotte for our transfer.
We arrived in Charlotte 20 minutes earlier than scheduled which was nice. We were hungry by this point. Unfortunately due to Covid, most places in CLT airport were closed.
Bojangles was open though so we went there for breakfast. The line was long but moved efficiently. We both got a Cajun chicken biscuit, fries and a tea (combo) and it was $20. That's insane but it's airport prices. We were able to sit down and enjoy our meal. From there, we went into one of the stores to buy snacks and drinks for our long flight to the Dominican Republic. We found our gate and sat down and waited. We only had to wait about 15 minutes until our flight boarded. The flight from CLT to PUJ was uneventful and was pretty smooth.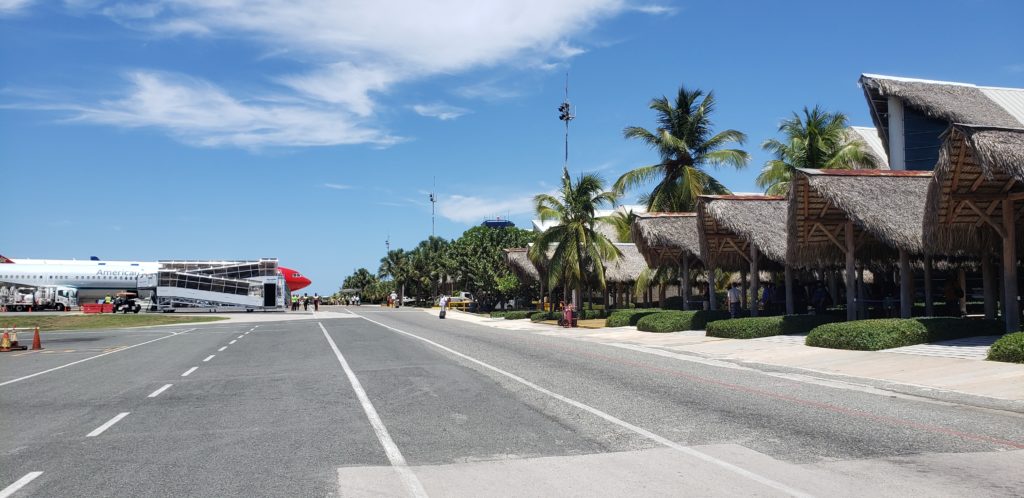 On time, we arrived in Punta Cana which let me say is one of the cutest airports I've ever seen. It's like little huts. Not a typical airport you would find in other countries or even here in the states. I loved the airport.
We deplaned on the tarmac which is where all passengers from all planes deplane at, as they do not have gates at this airport.
We were directed to the entrance which we went to. As we entered the airport, there was an infrared scanner you walked past with an agent monitoring it. No stopping, no standing, just keep moving. I assume they stop you if your body heat exceeds a certain temperature.
We proceeded directly to the immigration counter where we had to show our passports as well as our immigration papers and a health paper which I had filled out before we ever even left Virginia. The process was very fast here.
Then we went to baggage claim where we waited on our bags. With American Airlines they have an option on their app to "track your bags". Well, only 2 bags were showing up as loaded on the plane. The other showed it was still in Charlotte, which scared us. However as we were waiting on our bags at baggage claim, all 3 bags came down the belt which was a relief. We gathered our bags and found the exit to the airport.
Once we exited the airport, I was trying to find our transportation to our resort. There were lots of companies & taxis lined up trying to take people to where they needed to go.
I had pre-arranged our transportation through Renny Travel prior to arriving so that was taken care of. I finally found Renny where Luis and 2 other guys took our bags and loaded the van. They sanitized our bags and hands before we ever got into the van. Once we were loaded up, off we went to Sanctuary!
Cap Cana is only about 10 minutes from Punta Cana Airport so it was a short drive.
We arrived at the Cap Cana compound where we went through the security gate. There are several resorts in the Cap Cana community including Sanctuary, Secrets, Hyatt Ziva, Hyatt Zilara and they are also building a Margaritaville there.
We arrived at Sanctuary, where they unloaded our bags. Once they unloaded everything, they took our temperatures again via an infrared scanner, sanitized our bags and our hands again. They asked our information at the main lobby, then loaded us on a golf cart and drove us to The Castle, which is where we were staying.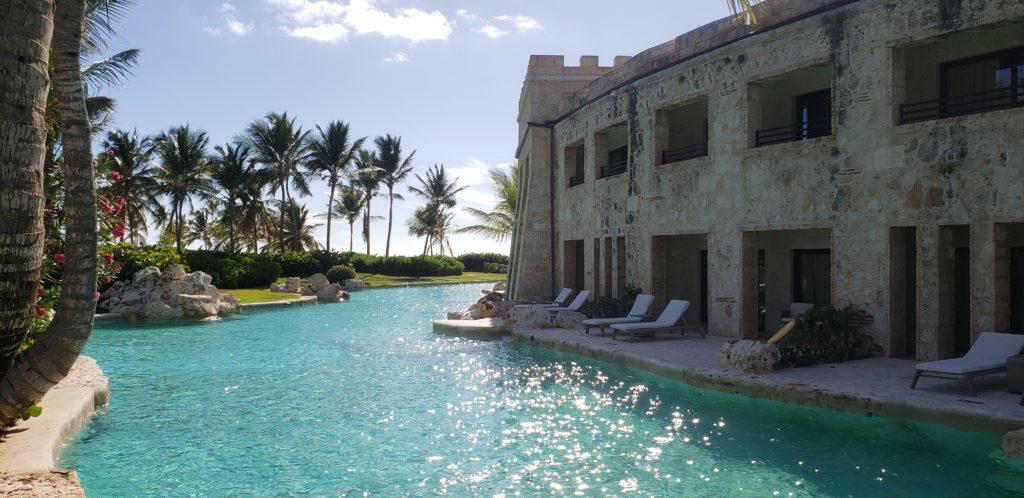 We arrived at The Castle where we went inside to check in. We had to wait for our turn to check in.
Sanctuary is operating on a skeleton crew right now due to the virus and also had only opened 4 days prior to our arrival. Once we finally checked in, our room wasn't ready, so they took us to lunch on the resort property at The Blue Marlin. The food was great here, and we really enjoyed the food and the view. After we finished eating, we went to our room, the 1 bedroom suite.
We arrived at our suite and started to unpack. It was very hot in the room, but we figured the air had been off and it was a huge room. We went back out to enjoy ourselves for the day.
Later on we came back to get ready for dinner and it was still hot. Our room had a private plunge pool so we spent the evening in the pool prior to dinner.
For dinner this night, we had a romantic dinner on the beach which included a salad, a ribeye, a bottle of wine and dessert. Now this is where the disappointment really was. This meal was almost $200 and we didn't eat any of it. The steak was full of fat. I made sure to leave that in my TripAdvisor review as well as let them know in my post-stay survey. I do regret not telling them then, as perhaps it could have been deducted but I was already frustrated with the room being so hot, I didn't want to be "that guest" that comes and does nothing but complain. I let it go.
After dinner, we spent the night in our room and in our plunge pool. Finally, we went to bed. It had been a long day.