Again we had an excursion booked. This time it was the Old San Juan City & Fortress tour through Island Marketing. We went ahead and booked a private tour, which was nice because it was just us. There was a hiccup in the beginning because there were two people from Island Marketing contacting me, which was a bit confusing. Finally our driver arrived in a black Mercedes van and picked us up and off we went.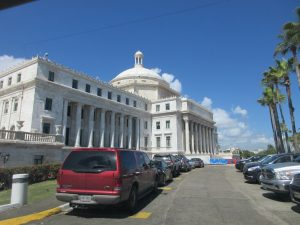 First we went through the heart of San Juan to see the main tourist area, which reminds you of Miami. Very modern, very stylish. Then we went to see the hotel where the Piña Colada was invented at. That was pretty neat.
He then took us to Ventana Del Mar park which was absolutely stunning. From there we went to the Puerto Rico State Capital. This was really an awesome place. It reminds you of the buildings in Washington D.C., where everything is made from white marble.
From the Capitol, we went along the coast and stopped at Fort San Felipe Del Morro. We chose not to go into the fort due to time and the long walk from the road. We did grab some ice cream and check out The Santa Maria Magdalena de Pazzi cemetery which was really fascinating. After the cemetery, we went to Fort San Cristobal. This fort we did go in. It was a great view from the top to see all of San Juan. Both forts are part of the United States Park Service, so if you're a USPS member then you can enter these forts for free. I think we paid $10/pp. Not bad though, considering it wasn't going to some big company, rather the US Park Service.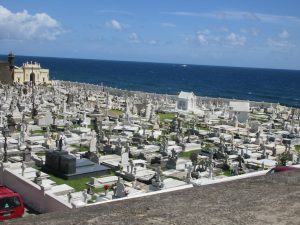 From there, we rode around San Juan some more, saw the home of Juan Ponce de León which was really cool. My son learned about him in school so it sparked his interest.
I must admit I was least excited about San Juan but after being there, it was great! It reminded me so much of Miami Beach. It was so beautiful. Beautiful buildings & decor, cobblestone streets, super nice people, low humidity, and was just great. I'll definitely go back to San Juan.
San Juan was a short day and we were back on the ship fairly early. We did stop at Walgreen there at the terminal to buy some more soda and I needed some more deodorant. I didn't run out but I was close. Oh and we needed a car charger for our phones since my wife left ours in the wrecked car by accident.
We got back on board the ship and took a short nap. Then, it was time to get ready for dinner. Tonight was the second elegant night of the cruise. Can you guess what I ate? haha! (Steak & shrimp for those who haven't read the other posts)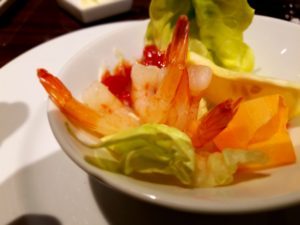 After dinner, we had more pictures taken, then went back to the room. The boys were really tired since this was an early port. The oldest agreed to watch the youngest again so the wife and I could go out. They went to bed fast!
She and I went back to the second concert by 88 Keys. We had a personal invite from Kay, our new friend that was part of the group. We got there early and sat front and center. This concert was more of ballad songs from the 80's which was still cool. They did really good, we enjoyed it.
After we left the concert we headed back to The Punchliner where we watched comedian JR Brow. This guy was really funny and I enjoyed him. After that, we ended up heading to watch some karaoke some more, then eventually to bed. It'd been a long day.