If you're on the fence about buying insurance for your trip, let me try to help you out a little bit to let you know why I think travel insurance is so important. You have insurance on your vehicle, your house, and your body. Why do you have the insurance to cover these things? Because the bills to fix anything that goes wrong is usually very high and cost more than most people have in the bank to replace everything. It's the same concept with a cruise.
A lot of people think trip insurance is just in case you miss your ship on embarkation day. That's simply not the case at all. Did you know that if you need to have a medical evacuation on a cruise ship, it can cost around $10,000 just to get you to the nearest hospital? That hospital will probably be in a foreign port. Then you will need to have transportation back to the United States because your ship is not going to wait on you in port. That medical transport can easily reach $30,000. Right now you're at least $40,000 in the hole just on flights, not including your medical bills. If you need intensive care transfer, you're looking at over $100,000. Also keep in mind that most insurance carriers in the United States do not cover you if you're out of the country. All of these fees were obtained from the United States Coast Guard.
66% of all passengers buy cruise insurance. Regardless of if you buy it directly from Carnival or through a third party, they all make it very easy to buy a short-term policy.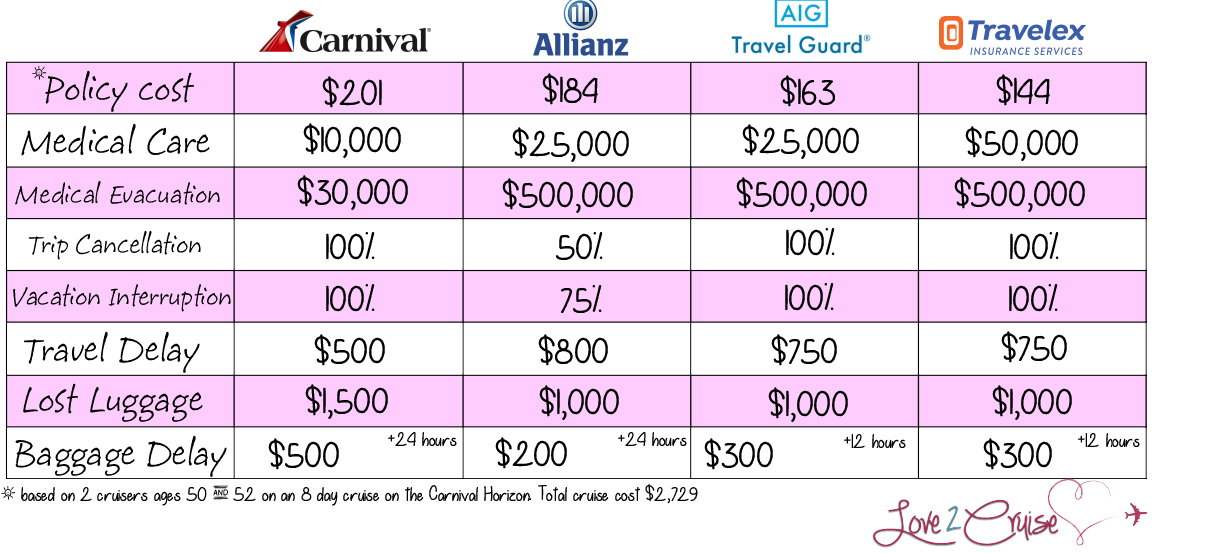 Medical care
This covers you in case you slip or fall during a shore excursion, on the ship, or anywhere really. It could also be a heart attack, heat stroke, unexpected illness, excursion mishap or anything. This includes the services of a physician, hospital charges, anesthetics, x-rays, ambulances, drugs and therapeutic services. You should have a minimum of $50,000 in coverage. I would never buy Carnival insurance for the simple fact they cap at $10,000 on your medical care coverage.
Medical evacuation
If you have a heart attack, you must be evacuated for treatment. This isn't done on board. This coverage includes your expenses necessary for supplies and transport for emergency evacuation. This will be recommended by the attending physician. Also if you have unattended children and are in the hospital more than 2 days, the company will return your children home with an attendant, if necessary. If you're in a hospital more than 7 days, the company will bring a person to join you to be by your bedside. You should have a minimum of $250,000 in emergency evacuation coverage.
Trip cancellation
If you get called in for jury duty and cannot get an exception, cannot get off of work, or a death in the family, then you will need to cancel your trip. This also covers sickness/injury, flood/fire/hurricane/military duty, laid off from work.
Vacation interruption
If a hurricane forms and a portion of your itinerary is cancelled, you're sick/injured, or weather causes you to miss 50% or more of your trip.
Travel delay
If you lose your Passport causing a delay in departure, or your trip is delayed for some other circumstance.
Lost luggage
If the airline or cruise staff loses your luggage or they're lost in a flight transfer, or simply stolen.
Baggage delay
If your bags are delayed for some reason you may need certain things such as medicines, clothes, toiletries, etc. This should give you enough money to replace the item(s) needed until your bags arrive.
Some credit card companies will provide you with a certain amount of coverage if everything is paid through them.
Personally I recommend insuremytrip.com – You can put in your criteria and everything you want then it will give you a list of insurance carriers as well as their prices.
You can use the graph to decide which is best for you and your family but definitely "think outside of the box". Sure it's easy to click the "add vacation protection" button when booking your Carnival cruise but you'll likely be paying more for worse coverage if you do this.
Hopefully this will help you in your decision whether to buy trip insurance for your vacation, and help you make the correct choice.