If you're reading this, you're thinking about booking a cruise and looking for tips and ideas on where to start. Don't worry, it's not as hard nor intimidating as it may seem at first. Most people overthink this. It's very simple. Once you start cruising however, it is an addiction. It is a ton of fun and will likely not be your last cruise.
The first thing you need to do is choose a cruise line you want to go with. There are lots of cruise lines out there such as Carnival, MSC, Royal Caribbean, Disney, Celebrity, Norwegian, Holland American, Princess, Etc. Disney is top of the line in pretty much anything they do and cruise lines are no different. Disney Cruises are amazing. They're very expensive however, but you get what you pay for.
Personally, we prefer Carnival. My family is on the younger side of things (at least I like to think I am young, work with me here…) so Carnival appeals more to us. When I cruise, I want go have fun, be active, have lots of activities, etc. I don't want to be with white top retirees sipping wine and cheese for a week. That's just not for us nor does it appeal to us. If you like that sort of thing, Norwegian, Holland American, Viking and those lines may be better for you.
If I didn't cruise Carnival I'd probably go with Royal Caribbean. The reason I prefer Carnival over RC is because of price and RC nickel and dimes you to death. Carnival is also more casual which is what I like. When I go on vacation in the middle of the summer, I don't want to take dress clothes with me. That kills a vacation vibe to me. I want to relax and unwind. Here are some tips I've come up with to help you pick your next cruise.
The first thing people typically think of first is the cost. Years ago cruising was expensive and many people couldn't afford to cruise. Things are different today, cruising is very affordable and anyone who goes to Myrtle Beach or Pigeon Forge each year can afford to cruise. Let me break down the math for you. 
A family of 4 can get an ocean view room on a Carnival ship for 7 days with 4 stops and 2 sea days for $2,863.00. That includes your gratuities also. That's all inclusive. From that point, you don't have to buy anything else. That's your room, all of the food you can imagine, your port fees, everything. That averages $715.75 per person, for the 7 days. That's $102.25 a day per person for a 7 day cruise. Now you show me how you can go anywhere on vacation for $102.25 per person where that includes your lodging, meals and entertainment.
Early Saver Rates (ES Rate)
We typically book cruises in advance so I like to book ES rates. Be sure to read the fine print on ES rates when you book though, such as penalties to cancel, change, etc. When I book I know we have no anticipation of changing/cancelling anything. I book early so I can lock in the room that I want.
With ES rates, you are guaranteed the lowest fare as well. Prices fluctuate on the cruise fares so if the price drops, you fill out a simple form and get the price difference in OBC (On Board Credit).
Extras
When you're budgeting your cruise, add about 60% of what you plan on spending to that total. You will want it, though you may not need it. Everything is included in your final cost of the trip.
However, there are optional things that cost that you will probably purchase while on your voyage. The casino, alcohol, sodas, excursions, spa, pictures and shopping all cost extra. You can get by with spending $0 as long as your gratuities are paid in full up front and you don't do any of those extra things I just mentioned. You will probably want to do at least one of them though. After all, you're on vacation.
Deposits
On occasion, Carnival has a special where you can put a deposit on a cruise for just $50. If you're smart and plan ahead, you can put a $50 deposit down on a cruise a year or 2 in advance and make payments on that cruise leading up to the final cut off payment date of the cruise. If you use the $2,863 total I mentioned above and make payments over 20 months (booking the cruise 2 years out), you can make a $140 a month payment then won't owe anything on your cruise. This may be more manageable for people who may be on a tighter monthly budget.
Cost Comparing
Don't make this more complicated on yourself than it should be. Go to the cruise lines website and get your cost. You're not going to find it much cheaper anywhere else.
If you're not comfortable managing your own vacations or using the Internet, then you may want to use a travel agent. They can sometimes get you group rates, on-board credit, upgrades, etc., but they cannot undercut the cruise line per their contract. You can get the same price by booking direct.
Also keep in mind if you use a travel agent, the cruise line cannot talk to you or help you in any way. You have to go through that travel agent. Your best bet is just to book directly with the cruise line. Personally I would never use a travel agent but that's because I love the researching and planning of my vacations and I want full control over my families vacation. Also something to remember is that you're at the mercy of your travel agent for anything that you need. If you see a price drop at 7pm on a Friday and your travel agent only works M-F then if the price of the cruise goes back up by Monday morning, you're out of luck on that price drop. You just lost money.
How long should I cruise for?
If you want a young party crowd then you probably want a 3-5 day cruise to the Bahamas. The short cruises that are 5 days and shorter typically have a young party crowd on them. They're also known as "booze cruises".
Cruises that are 6 days and longer are more for the adult crowd and families. The Alaska cruises typically are geared toward the more older crowd.
What time of the year should I cruise?
Spring
Spring is a very popular time of the year to cruise. Lots of spring break cruisers are out on the seas. The short 3-5 day cruises are primarily spring break party-goers. If you like that vibe and atmosphere, then you want to cruise in the spring.
Summer
Summer is cheaper to cruise, although there are more families with kids on the ships. This is not a bad thing, but if you want to sail with less kids, then summer may not be the best time to cruise for you.
Fall
Fall is a cheaper time to cruise as well. That's because fall is hurricane season in the Caribbean up through December. So if you cruise in the fall, you have the risk of your cruise being cancelled or diverted due to a hurricane. There are less kids during this time, but it's still hot in the Caribbean.
Winter
Winter is the most expensive time to cruise, because that's when most people want to cruise. When it's cold in certain parts of the country, people like to get on a cruise and go to the Caribbean where it's 80 degrees. 
BOOK NOW!!
Regardless of WHEN you are going to cruise, you need to book your cruise now. Don't wait until the last minute to book your cruise.
Cruise prices typically don't drop much as the sail date gets closer. They have no problem selling out cabins and always sail full. They have no reason to drop prices to entice people to book. Book early, that way you lock in the stateroom that you want. If the price does drop, you get that amount back in on-board credit through the price protection as long as you booked an Early Saver Rate. 
The shortest movement on a fulcrum is the middle and lower points. You feel less motion the lower you go. It's also typically cheaper to stay lower. Also the ships forward and aft will feel more movement than the center.
So, if you're prone to seasickness, you want mid-ship, lowest floor.
Deck Plans
Before you book, check out the deck plans of the ship you're wanting to sail on. Also see what stateroom you may want to book. Look at what's above and below it. You don't want a stateroom under the lido deck, galley, clubs or theater. If you're under lido you may hear chairs being moved around early in the morning. If you're under the theater you may hear the shows going on until past your bedtime. If you're under the clubs, you'll hear the music until late at night. If you're under the galley, well, the galley is open all night so….
To give you an idea, in the following deck plan, I would avoid the following cabins highlighted. The first section I would avoid because it's right under the galley. The second 2 would be because they're around the IMAX theater and that may be loud.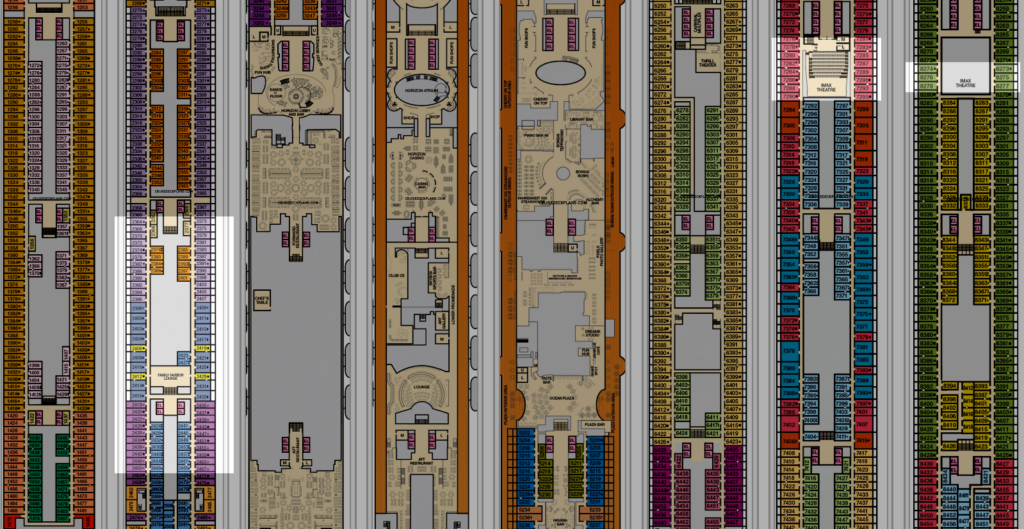 First I will start basic, because this is what you will likely be wanting to know. There are 4 basic types of rooms which are:
Interior – This is exactly what it says, an interior room. It has no window, just a basic inside room. (Category 1, 3 & 4)
Ocean View – This is a room with a window where you can look out. These vary between a porthole or an actual window. (Category 6)
Balcony –  There are several types of balcony rooms, 1 is a regular balcony and the other is a cove balcony. (Category 7, 8 & 9). There are also aft extended balconies, and Excel corner balconies
S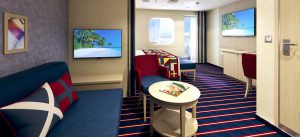 uite – A suite is a larger room with more things included with it and typically has a balcony. (Not referenced by category number)
Remember when booking, you're not going to be spending a ton of time in your stateroom so you don't need something extravagant. We always book either a balcony or a suite
Cabin categories
Each cabin type is then divided into categories based on their "desirability". A letter is used to denote the category.
Generally the later the letter is in the alphabet, the more desirable the cabin would be. The more desirable categories will have higher price rates. The more desirable cabins are typically on the middle to upper decks in the center of the ship. Although aft cabins are considered quire desirable.
Other things that affect desirability are obstructions, balcony size, noise, etc. For example, a 1A would be the least desired cabin. 
One thing to keep in mind that I see a lot of people misunderstanding is that people book under the "guaranteed upgrade" promotions, thinking they can book an ocean view and their upgrade moves them to a balcony automatically. That's simply not the case.
They may book their ocean view room in a category 6A room. Their guaranteed upgrade would move them to a 6B room, still an ocean view. In fact, that upgrade room may be only a few doors down from where they originally booked. Don't be tricked into the misconception that you're getting a huge upgrade. 
IS (Guaranteed)
PT (Porthole)
1A (Upper & Lower)
3J (Picture Window)
4A
4B
4C
4D
4E
4F
4G
4H
4J (Picture Window with Obstructed View)
4K (French Doors)
4S-4T (Cloud 9 Spa)
FA (Family Harbor)
HA (Havana)
Interior Cabins
OV (Oceanview Guaranteed)
6A
6B
6C
6L (Deluxe Oceanview - Lobby)
6M (Deluxe Oceanview - Main)
6S (Cloud 9 Spa - Panorama)
6T (Cloud 9 Spa - Sun)
FJ - (Family Harbor Deluxe)
FE -(Family Harbor Oceanview)
Ocean View Cabins
BL (Balcony Guaranteed)
7A (Obstructed View)
7C (Cove Balcony)
8A
8B
8C
8D
8E
8F
8G
8M (Extended Balcony)
8N (Extended Balcony)
8P (Cloud 9 Spa Balcony - Panorama)
8S (Cloud 9 Spa Balcony - Spa)
8T (Cloud 9 Spa Balcony - Sun)
9B (Premium Balcony)
9C (Premium Vista Balcony)
HL (Havana Premium)
HM (Havana Premium Vista)
FM (Family Harbor Cove Balcony)
FO (Family Harbor Extended Balcony)
HI (Havana Aft Extended Balcony)
HE (Havana Cabana Cabin)
Balcony Cabins
HS (Havana Cabana Suite)
FS (Family Harbor Suite with cove balcony) 
SS (Cloud 9 Suite)
JS (Junior Suite)
OS (Ocean Suite)
GS (Grand Suite)
ES (Excel Suite)
PS (Presidential Suite)
Suites
Interior – 186 SqFt
Ocean View – 220 SqFt (except Fantasy & Spirit Class ships, which are 185 SqFt)
Balcony – 185 SqFt
Junior & Ocean Suite – 275 SqFt
Grand Suite – 300 – 345 SqFt
Corner Excel Suite – 710SqFt
Excel Suite – 861 SqFt
Presidential Suite – 1,120 SqFt
8A through 8G – 35 SqFt
8M & 8N – 60 SqFt
9B – 75 SqFt
9C – 75-275 SqFt
Junior Suite (JS) – 35-40 SqFt
Ocean Suite (OC) – 65-85 SqFt
Grand Suite (GS) 85-115 SqFt
Presidential Suite (PS) 600 SqFt