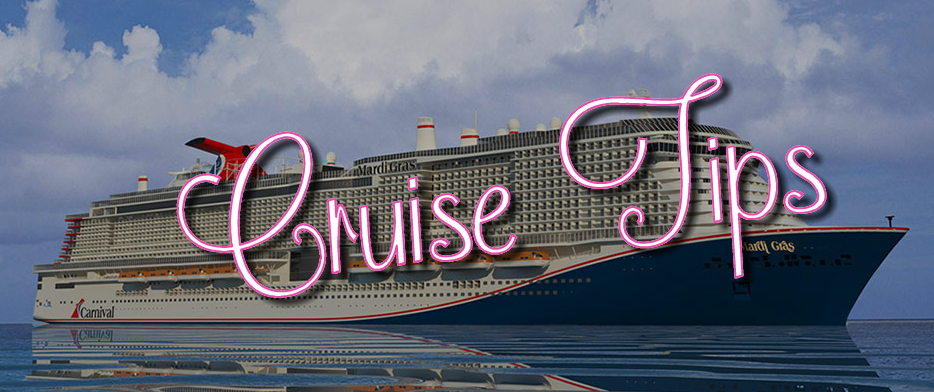 Arrival
This is where things get exciting.
When you did your online check-in 14 (or 16 for priority guests) days prior to your cruise, you selected a check-in time. That's the time you are to arrive at the port. That is NOT your boarding time. If you arrive earlier than this selected time, you're going to sit and wait until your time. There's a small chance you could get in earlier, but there's a bigger chance you'll be sitting outside in the elements for maybe hours, depending on when you arrive. Do yourself and everyone else a favor and don't show up to the terminal until your designated check-in time.
You are heading into the port area, you check in with port authority and present your boarding pass and identification to prove you're allowed to be in the secured area.
Once you get past port authority, you see your ship and go to your cruise terminal.
Be sure to pay attention to signs to know which terminal to go to for your ship. There may be several ships in the port that day so you need to know where to go.
Once you arrive at your terminal, porters will take your luggage from you once you're dropped off or before you park. It's customary to tip these guys. I generally give them $1 per bag. This is when things can move quickly and be intimidating.
The Terminal
Make sure you have all of your paperwork and everything is correct, all of your documents, your ID/Passport/Birth Certificate as well as any Covid-19 documentation that you may need.
You will go through a section where they will check your documents/ID and make sure everything is correct. Then they send you to security.
Security will then take your carry-on luggage and run it through an x-ray machine and you will go through the metal detectors and security screening.
Once you move from security, you will go to the counter where you present your boarding pass and documents.
This is where you can add money to your account, they make sure everything is correct. In the past you would get your sail & sign card here. Now, you will get your sail & sign card in your mailbox outside of your cabin when it's ready around 1:30pm. Your sail & sign card is your lifeline on the ship.
All ships are cashless so you use your sail and sign card for all purchases. It's also the key to your cabin, it has your dining/muster information on it, and it's also your key to get back on the ship in ports. DO NOT LOSE THIS.
Once you're finished at this counter, you will go sit in your designated zone that's on your boarding pass. You will sit in this area until the previous cruise has disembarked and cleared for embarkation.

Once it's cleared, you will then board the ship when your group number is called. Once your number is called, you get up and head toward the gangway, stopping for a photo (if you want one). After that, head up the gangway onto the ship.
THIS PROCESS VARIES BY PORT. SOME STEPS MAY BE IN DIFFERENT ORDER AT VARIOUS PORTS. 
The Ship
You made it!
Months of paying for a cruise, tons of research, lots of shopping and packing, tons of anticipation, chaos in the terminal, etc.
You're finally here. You're on the ship!!
YOU'RE ON VACATION!!!
Now as soon as you step foot on the ship you're going to be in awe. It will be much larger than you imagined. You will be amazed.
Also 3 steps in someone will have a tray in your face offering you an adult beverage. It's up to you if you want it or not. No, it is NOT free and you will be charged for it.
Unless you paid for FTTF, then your cabin is not ready until around 1:30 so don't even worry about trying to go to it. You won't be able to go past the metal fire doors anyway to see where it's at.
Head up to the lido deck and get you some lunch. There will be lots of people, long lines, but enough food. These next few hours are going to be very busy, long lines, and lots of anxious people in one place. Just relax, you're on vacation now. Enjoy yourself.
Go ahead and put your phone in airplane mode now while you think about it. This will save you a huge charge on your phone bill when you get home. Keep it in airplane mode until you return. If you're on Carnival, go ahead and turn your Wi-Fi back on and connect to the Carnival Wi-Fi, and open up The Hub app. You will be able to access everything on the app now.
At 1:30 you will hear the announcement that cabins are ready. At this time you can head to your cabin.
Shortly after you're in your cabin your room steward will come introduce themselves, ask if you need anything, what your cleaning preference is (morning, afternoon, or both. Yes, you can request both).  Go ahead and unpack. You can put your luggage under your bed for storage. If your bed isn't how you like it (2 twins vs king) tell your steward and they will fix it.
PRO-TIP: If you're using the fridge, keep the cabinet door open, it will stay much colder and keep your drinks cold. Otherwise it's nothing more than a cooler.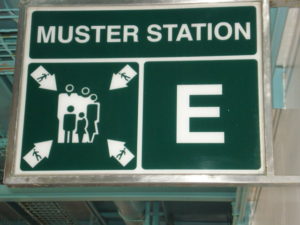 You can rest for a little bit at this point, or explore the ship.
Also as soon as you embark the ship, you need to go ahead and go to your muster station. This is printed on your sail & sign card. Since Covid, this process has changed. This is a quick and easy process where you learn how to put on a life jacket. That's it. 
After you're done with muster, head to lido for the sail away party. This when the anchor is pulled, ropes are removed and you're officially sailing away. Music will blast, streamers will fly, people will dance and party. Your cruise has officially begun!