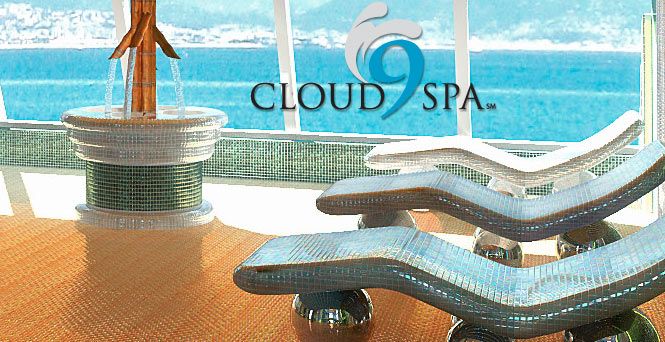 Whether you want massages, facials, body wraps, thermal suites, acupuncture or just relax in the Thalassotherapy Pool, Carnival has you covered.
Below are the prices for services in the Cloud 9 Spa. Remember you must be 18 to receive spa services.
The Cloud 9 Spa is available on the following ships
Click on each menu item to enlarge.
Once you have your deposit paid on your cruise and are registered online, you can view details under your cruise manager and book spa treatments under your cruise manager. Click on "Spa & Salon Services". Only those spa services relevant to your cruise will be displayed.
Pricing for spa treatments may vary depending on appointment time. Certain services may be offered at value pricing while the ship is in port. 
Once you select your spa treatment, the price is locked in at the time of pre-purchase. Full credit card payment is due at time of booking. 
Pre-purchase of spa treatments is available up to 3 days prior to your sailing. After the online pre-purchase cut off, you may purchase spa treatments once on the ship.
Due to availability, Carnival suggests ordering spa services in advance so you're not disappointed once you're on board.
Priority spa reservations (made by 6pm on embarkation day)
Private access to the spa via a spiral staircase/glass elevator
Unlimited access to the Thalasso pool, the 4 rooms in the Thermal Suite and the Fitness area
Extras such as (upgraded) spa stateroom amenities and complimentary fitness classes (2 per person)
The Spa package includes the following amenities: Elemis Spa products (shampoo, conditioner, shower gel and body lotion, and one soap disk), pillow spray, spa towels, terry bathrobes and slippers for use during your voyage. Elemis is a leading British luxury brand for anti-aging products and professional spa therapies with over 1,200 salons and spas around the world.
2 fitness classes per person (yoga or Pilates). These are normally $12/each
Only the first and second guest in each cabin will receive the access/amenities. The third and fourth guests in the spa stateroom are not entitled to the spa access/amenities
If a guest is upgraded into a Cloud 9 Spa cabin, they won't be eligible for the additional amenities
The Carnival Cloud 9 Spa age policy states that guests must be at least 18 years old to utilize all of these facilities. The age policy for using the services provided in the beauty salon and fitness center requires the guest to be at least 13 years old or older and accompanied by a parent/guardian. 
The Cloud 9 Spa balcony will cost you only about $50 more per person compared to regular balconies. The majority of reviewers like these cabins for 3 main features; they're quieter, prettier décor and exclusive access to the facilities. 
Cloud 9 Spa features & facts
The 2 deck (3 on Sunshine) spa area is a 40,000ft² and is one of the largest spa areas at sea. With exclusive staterooms, an extensive range of top-quality facilities, serene and elegant setting, uniquely special treatments and traditional massages featuring acupuncture, body wraps, slimming treatments, facials, tooth whitening, special spa packages, water therapies, fitness classes, and private spaces for relaxation. 
The Thermal Suite has four heat therapy chambers using dry and wet heat.
The dry heat uses Laconium which is a Finnish sauna-like chamber, which induces stress reducing body circulation at a temperature around 131°F and the Tepidarium is a relaxation area with heated loungers with temperatures around 100.4°F.
The wet-heat Caldarium is an Oriental steam bath, with a temperature around 104-112°F . There's also an Aroma Steam Bath with herbal steam and odors such as cinnamon, orange or apple, with a temperature of between 104-112°F
There are a total of 17 beauty and treatment rooms among which are the "Rasul Bath" (Splendor only, various mud treatments), "7th Heaven" which is a relaxation room, "Nirvana" and "Utopia" (for VIP couples, private treatment suites with whirlpools), one room configured for wheelchair access, and the "Serenity" area (outdoor, adults-only with luxurious chaise lounges.)
The beauty salon is full service, offering hair styling, coloring, manicures, pedicures, massages and facials.
The fitness center offers Yoga, Pilates, and Thai Chi classes
Tip: You can significantly lower the cost of your Cloud 9 experience by booking treatments while your ship is in port.