For us, Raleigh is home base. Raleigh is a short 2 hour drive from our house. I drive between Raleigh and Chapel Hill so often that I am used to the drive and it's a quick hop down 86. I lived in Raleigh for a while so I am familiar with the city and I just love the Triangle.
We always fly out of Raleigh-Durham International because it's so much cheaper than flying out of anywhere else.
Just to give you an idea, if I fly from Roanoke, Virginia to Ft. Lauderdale on the dates of my next cruise, it's $1507 for 4 people PLUS LUGGAGE and we have 1 transfer. I drive to Raleigh and fly on Southwest and it's $695 with free luggage. After the airlines in Roanoke charge luggage, I save over $800 just by driving 2 hours to Raleigh. Plus it's a direct flight.
It's a no brainer.
When we fly out of Raleigh I always like to get there the night before we fly, just as you would a cruise. Anything could happen. Car troubles, accidents, construction, delays, etc. Plus we schedule early flights so we can get to our destination early and have the entire day to spend at them rather than wasting half a day in an airport. (We usually fly out before 7am if possible)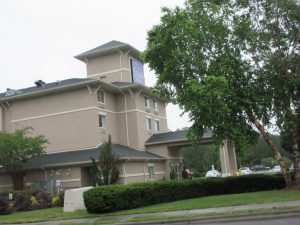 There is a Sleep Inn on Page Road that I like. It's simple yet convenient. It's located directly off of I-40 in a quiet and secure location.
The front desk staff is nice and the rooms are pretty cheap. They let you keep your vehicle here for the duration of your flight up to 2 weeks. After the 2 weeks it's only $4 per day.
They don't have a shuttle directly to the airport but they do use an independent service. The last time we were there the independent service wasn't very good. The guy driving was all over the road, and super slow. This is at no fault of the hotel though, it was just the driver with said company. We were in a minivan going here. We utilized the shuttle since it was free. Otherwise we would have taken an Uber. It's a very short ride from the hotel to the airport so it didn't bother us too much. I would definitely stay here again.
It's 2018, school is out, and it's time for another cruise! As usual, we head down to Raleigh to begin our vacation.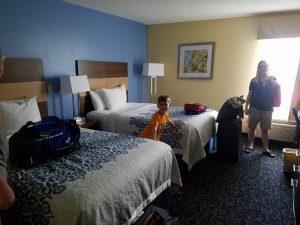 We checked the boys out of school around noon on Wednesday and headed down to the triangle.
We went straight to our hotel which we had booked the Days Inn on ParkSleepFly.com like I always do. We went with the Days Inn because we stayed here before when we went to Disney. It's less than 5 minutes from RDU and has a Cracker Barrel across the street. Not to mention it's right off of I-40.
This is just a cheap, no frills hotel that gets the job done for 1 night. Not to mention I can keep my car there for the duration of our vacation for 14 days at no charge. The cost of the hotel was only $108.61
We checked into the hotel so we could drop our luggage off in the room. We were going out for the night so I didn't want to haul our things around with us.
Once we dropped everything off, we headed to Crabtree Valley Mall which is the mall in Raleigh. We've been there numerous times so I was familiar with the mall.
We went to Polish Nail Wax to drop my wife off so she could get her nails done. They said it would be about an hour for her mani/pedi so I took my oldest son to the Apple store there where he would end up spending $170 on some wireless headphones for his phone. (I am NOT a fan of Apple products, I hated to see him do this). Once he got his headphones, we walked down to the Disney store so my youngest could look around. Once he was done, we went back to wait on mom. We waited….. and we waited. FINALLY she was done. It was only $54 to get her nails done + tip.
Once she was done, we walked up to The Cheesecake Factory for dinner. By this time we were all starving. I've been to The Cheesecake Factory before and was not impressed. We went back this time though because mom and the boys wanted it. Well, the same rang true in Raleigh. The food wasn't good and the service was super slow.
Finally once we got our food, we ate and went back to the hotel. We had an early flight in the morning.
Like I mentioned, our hotel had no frills about it. It's not somewhere I'd typically stay on a vacation but to put my head down for the night, it was perfect. They also have a free shuttle that runs to RDU beginning at 4am.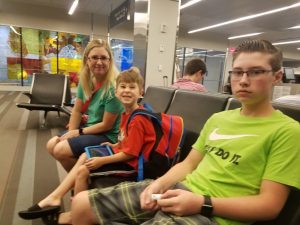 Our flight was at 6:45 so we got on the first shuttle headed to RDU to begin our vacation. The shuttle driver was nice and on time. We skipped the breakfast at the hotel since we left at 4am and breakfast didn't start until 4am.
We arrived at RDU at exactly 4:10 and there was already a line inside at the Southwest line so we decided to use the Skycap. I didn't mind tipping them $10 to skip that line inside. I just needed to drop off our 4 suitcases.
Once we dropped off our luggage, we went up to our gate to wait on our flight to Orlando. Vacation 2018, here we come!!