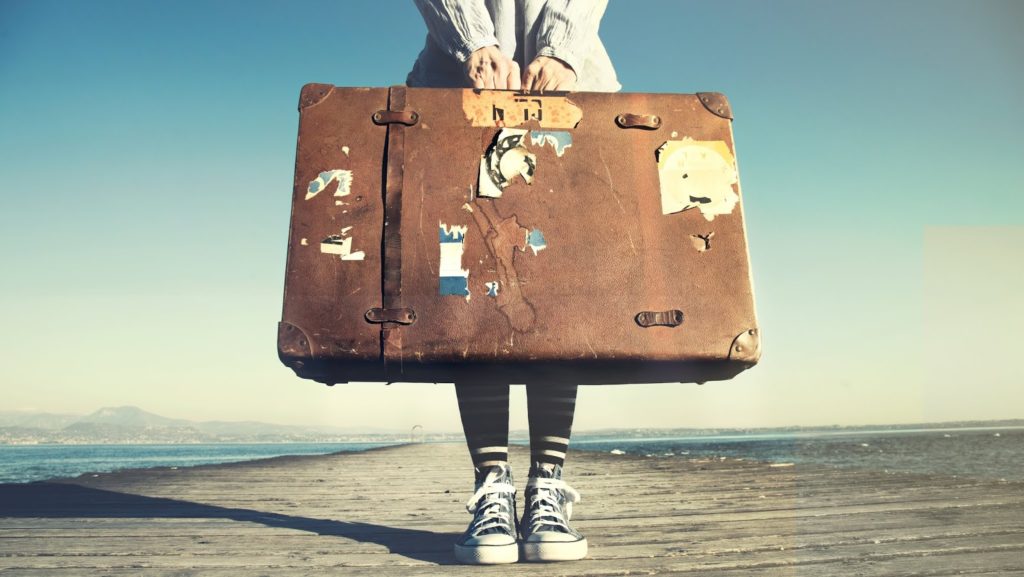 You will not need everything on this list and most new cruisers tend to over pack. Lots of people recommend things that you will never use and will only take up space in your luggage. If you need more than 1 suitcase per person, you're likely overpacking.
Before you can pack, you need luggage itself. Luggage comes in all colors, shapes, sizes, and prices. There are hundreds of different types of luggage on the market that you can buy.
My advise is do not skimp on luggage. I am a firm believer of you get what you pay for. Read independent reviews, do your research. Your luggage holds everything you will have for the duration of your vacation. You want to protect it. If you get some cheap luggage at Target or some other big box store, don't be upset if your handle comes off on your first trip, wheels break off, zippers go bad, etc.
By the time you replace damaged luggage enough times, you could of bought a good set initially that would have lasted. Put the money down initially and get you a good set of luggage that will last.
When you buy your luggage, you're proud of your new investment and you try to protect it and be gentle with it. However, that luggage isn't new or an investment to airport workers and porters at the cruise terminal. They don't care about your luggage, they care about getting all 9870 pieces loaded in X amount of time. They're not going to be gentle with your luggage. You want something that is going to withstand this abuse.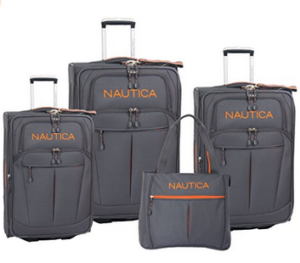 You also want to get luggage that's large enough. Yes you can get smaller luggage but that's also more for you to carry around. It also adds extra baggage fees if you fly an airline that charges for the bags (We love you #Southwest). It's much easier to deal with 1 large luggage with a handle and wheels.
Personally we have a set of Nautica luggage we bought on Amazon several years back. It's the perfect size, great materials, very stylish and not bad on price either. I paid around $300 for the set.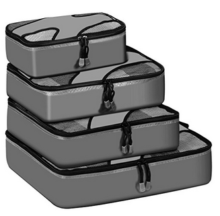 I have read on a few other cruise blogs that some people like packing cubes, so I figured I would include them on here. Now in theory these things are nice because they keep things organized. Sure it's nice to be organized, I am OCD and love being organized as well.
However, these not only take up room in your luggage, they also add weight. Yes it's very little weight but every oz adds up.
If you're flying and your airline charges for overages then this can be a burden. I would personally say skip these things, save your money and your room.
This is the most important part. You need the following things to even get on the ship
Passport
Although recommended, a Passport is not required for a closed loop cruise, which is a cruise leaving and returning to the same US port. You do not need a Passport. However in the event of an emergency and you have to fly home (this is rare but can happen), you're going to be delayed getting back with no Passport. You can get back to the US on just a birth certificate but again, it will delay you.
If you're getting a Passport, the Passport should be valid at least 6 months post-cruise.
You also need the Passport Book to fly, the Passport Card is invalid for air transportation.
PRO-TIP: If you're cruising out of a terminal that accepts it, I highly recommend downloading the Mobile-Passport app on your phone. This will make disembarkation go much faster at US Customs when you come back. 
Birth certificate
If you're not going to take your Passport, you will need to take a birth certificate (and marriage license for married females.) The birth certificate can be a photocopy but it must be of the actual birth certificate. It does not have to be "certified" nor does it need to have a raised seal.
It does however have to be of the actual birth certificate, not the novelty paper the hospital gives you. So many people think that's a birth certificate. It's not. 
Copies of documentation
Take copies of your itinerary, receipts for excursions you purchased independently as well as contact information.
You do not want to miss an excursion because you forgot the companies contact information or where to meet. I personally print all documentation into a PDF and save the individual PDF files on my phone and in the cloud. That way I can access them if needed.
Important Documentation Information
Keep your documentation with you!
Keep all of the above mentioned items in your carry on luggage, not in your checked luggage. Otherwise you will give your luggage to the porters before you even enter the terminal and once you get to security you won't have any paperwork. By then your luggage may already be on the ship and you won't be joining it.
Honeymoon cruises
If this is your honeymoon cruise, be sure to book the cruise in your MAIDEN NAME. Otherwise you will get to port and your booked married name will not match your maiden name on your documentation.
People often don't know what kind of clothes to pack for a cruise so I figured I would break it down for you. The main thing is, don't over pack. Don't overthink this!
Take all of the clothes you want to pack and lay them out. Now put half of them back, you don't need them. You can mix & match outfits and you're on a cruise. Nobody cares what you wear nor will they notice. Also there is laundry available on the ship, so pack a few laundry pods so you can wash your laundry if you want to reduce what you take even more.
If you're going to the Caribbean in the summer, you don't want to take all jeans. In fact I wouldn't take any. Take you enough shirts and shorts to last you for the duration of your cruise.
Clothes for elegant night
Years ago, Carnival had "Formal Nights" and "Captains Dinner". However this has slowly dissipated over the years. Now, Carnival has what they call "Elegant Nights". You will have 1, or 2 elegant nights depending on the length of your cruise.
If your cruise is 5 nights and shorter, you'll have 1 elegant night which will be the second night of your cruise.
If your cruise is 6 nights or longer, you'll have 2 elegant nights. This will be on night 2, and the second to last night of your cruise. It may or may not be a sea day, depending on your itinerary.
On the elegant night(s), a lot of people dress up, but it is not required. There is no right or wrong answer as to what to wear. You will see tuxes and ball gowns, and you will see shorts with t-shirts. Everyone is different. Find something that makes you happy and enjoy your vacation. While Carnival has a "recommended dress code", it's not enforced. I used to wear khakis and a polo with tennis shoes, and slowly changed to jeans, a polo and tennis shoes. Now, I just wear cargo shorts, a polo and sandals. 
On the elegant night(s), there are lots of photo backdrops around and lots of people take pictures. 
Shoes
Be sure to take your sandals. If you're going on a ship with sky course or plan on going to elegant night in the MDR, you'll want some tennis shoes also. However ladies, you do not need 10 pair of shoes to go on a cruise. You don't even need 5 pair. Be simple!
Swimsuits
There will be pools, hot tubs and water parks on the ship. Not to mention the beaches at ports. I recommend 2 swimsuits. That way when one is wet you can hang it up and wear the other one. There's nothing worse than putting on a cold wet bathing suit.
Jacket/sweater
If you get cold easily, you may want a light jacket/sweater. Personally I have never needed one but I know older folks tend to get cold easier.
Hat
This will help protect you from the sun. While on day 1 you may want to lay out and get as much sun as possible. On day 7, you will be regretting that decision.
When packing your clothes, roll them up and put them in your suitcase. You can save some room by doing this.
Sea-sickness medicine
You may want to take something for sea sickness just in case. Ginger works good as does Dramamine and Bonine. You can find all of these on Amazon or your local pharmacy.
Buy these now and take them with you. They're much cheaper on land than they are on the ship.
Also take the medicine right before you get on the ship and get it in your body. Don't wait until sea sickness hits you. It's much easier to prevent it than it is to fight it off.
Prescription and over the counter medication
Don't forget to take your prescription medications with you. Have your doctor refill any prescriptions you have prior to cruising so you have plenty to last. If it's a scheduled drug you may want to carry a copy of your RX with you if you're using a pill organizer or have them in the original pill container.
Also take any OTC medications you may normally take, with you. They're much cheaper on land than on the ship. Tylenol, Motrin, Imodium, Benadryl, allergy meds, etc.
One thing we personally do is fill up a pill organizer with OTC meds to limit bottles we take and also to help organize things. We use this same organizer at home and it is so handy!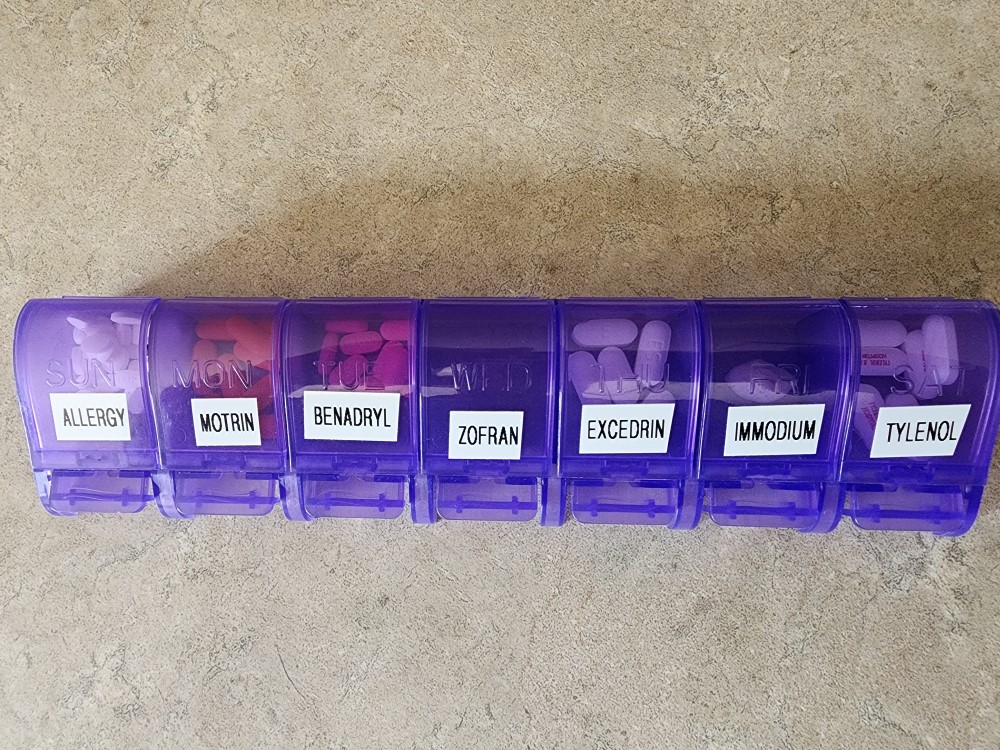 Basic toiletries 
The ship will provide you with body wash, shampoo and bar soap. This is basic hotel type stuff. If you want something more personal I suggest taking it. The ship does not provide conditioner, toothpaste, shaving cream, stuff like that.
Be sure to take what you need so you don't pay the on-board premium.
PRO TIP: Put Saran wrap over the openings of your containers then put the lid on them. This will help them from spilling and leaking anywhere.
TSA REMINDER: If you're flying, be mindful of what liquids you can travel with as well as their sizes. It may be best to buy your toiletries once you land in your destination city. 
Sunscreen & aloe
You definitely want to take sunscreen with you, and lots of it. If you live in Virginia or New York or somewhere, you're not used to the Caribbean sun. Yes it's the same sun but the Caribbean is MUCH different than northern places. You will burn and you will burn fast. Be sure to have some aloe in case you do burn.
9×11 manila envelope with a thin piece of cardboard
The photographers on the ship are fantastic and do a wonderful job. The Pixels staff will be everywhere taking pictures. From picture stations around the ship to dinner pictures to embarkation & port pictures, you're going to be in pictures somewhere along the line. You may want to buy some of these pictures and if you do, you can put them in the manila envelope with the cardboard to keep them from getting bent up and ruined before you make it back home.
Camera with gear
Be sure to take your camera. If you have a waterproof camera/GoPro, definitely take those. Don't forget the battery charger, extra memory cards, batteries, etc. Always carry an extra CHARGED battery and empty memory card with you. That way you don't run out in the middle of an excursion and can't take pictures.
Also take a waterproof lanyard with you if you're taking an underwater camera. That way if you drop your camera in the ocean or while snorkeling, you don't have to worry about it going anywhere.
Empty suitcase
If you pack your luggage full before your trip, you won't leave any room for your shopping or anything else you buy. You don't want to lug 15 plastic bags onto the plane for the trip home. You will have an extra luggage to put anything you buy in. If you don't take an extra suitcase, you may skip shopping or don't pack your bag full to begin with.
Even if you're driving, you still have to get anything you buy off of the ship and through US Customs when you disembark.
Wine & drinks
Each adult over the age of 21 is allowed to bring a 750ml bottle of wine on board with them. Remember to take something to open it with also. Otherwise the wait staff in the MDR reserve the right to charge you a $15 corkage fee. You can ask your room steward or any bar for wine glasses.
Also each human cruising is allowed to bring 12 cans of soda with them. No bottles are permitted and the cans have to be unopened. If you're carrying them in the original case, I recommend taking a bag or tape or something with you. Security at the terminal may open the carton to inspect them. If you run out of soda, you can buy more in ports.
If you want bottled water, Carnival sells bottled water in the fun shop that you can pre-order to have delivered to your stateroom. Their price is pretty good, it's around $5 for a 12pk of bottled water.
Antibacterial wipes & air spray
When we go into our stateroom (or any hotel room) we immediately wipe everything down with a Clorox wipe. The door handles, remotes, lamp switches, etc. Try to stay germ free as much as possible, especially on a ship and especially in a world post-Covid19
Air spray because unlike your house, when you use the bathroom the smell has nowhere to go. You may want to spray out your bathroom after use. Poo-Pouri is also a great addition to have. 
Address labels
If you like to send post cards, this is a way to save time. Print out address labels of everyone you want to send a post card to as well as return address labels. That way when you go to mail your post cards, you can slap them on and move on.
Remember to print out one for each port you're going to want to send a post card from.
PRO-TIP: Send the post cards from the ports you're in, don't wait until you get back to the ship. If you mail them from the ship, they will have a US postmark on them. If you mail them from the ports, you'll get that foreign postmark on them.
Know where the post office is in each port so you don't spend the entire time searching for it.
Ziplock bags
These come in handy when you're in port. You can put your address labels in them, money, phone, whatever. It helps keep things dry.
Magnetic clips
Most ship walls are made of metal. You can use these clips to put papers on the walls to help save counter space.
Lanyard
Again something else that I hate and don't ever use but a lanyard can help hold your sail and sign card. Personally we all keep ours in our pockets.
Power strip & extension cord
There is only 1 outlet in the room so you may want to take a power strip and/or an extension cord with extra outlets on it. Your power strip may not have a surge protector on it. If security finds a power strip with surge protector, they will confiscate it. Here's the one that we use and I love it. I take it everywhere with us. 
Over the door organizer
Once again, something else I wouldn't ever waste space in taking but some people find them handy so I am listing it. They use them to put things in and hang over the door.
Photos of luggage
Before you even leave your house, after you finish packing take photos of your luggage. That way if anything happens or you lose your luggage, you know what it looks like and can reference any damage. You can also show it to anyone trying to help with missing luggage. Also do this before disembarkation for the same reasons.
Chargers
Because who likes a dead device? Cell chargers, tablet chargers, video game chargers, etc.
Straws
Carnival has gotten rid of plastic straws and uses the biodegradable straws now. You only have to use these once to know, you never want to use them again. I suggest bringing a pack of plastic straws to use for your drinks. If you don't want to use plastic, get a reusable straw to bring.
Towels
I am putting this here to let you know that you do not need to pack towels. Carnival provides you with towels you can use while on your cruise. These are nice big thick blue beach towels. You can take them off of the ship an d use them in ports. When you return to the ship, you exchange it for a clean one.
Just be sure to turn it back in. If you lose it or steal it, there's a $25 charge per towel.